FYI - Photobucket has killed the thread. Go to the last pages
Back to give Beckett some love after the changes, I have been active elsewhere. Re-Introducing my unique collection to folks who are new and many that may remember. I have achieved a recent milestone in my PC, since my collection was featured in the May 2008 Beckett. My mentor is jaderock in keeping his PC alive, I will begin a new thread to continue share mine as well. Let me know if you can help out. Enjoy.
Edit: Make sure to keep checking back....currently at
447
for the PC......updated 9-02-17
Not only did I break the 150 mark, but I am happy to present numbers 149, 150 and
151
.....
07 SPx Steve Breaston 264/299
08 SPx Fred Davis Auto 264/399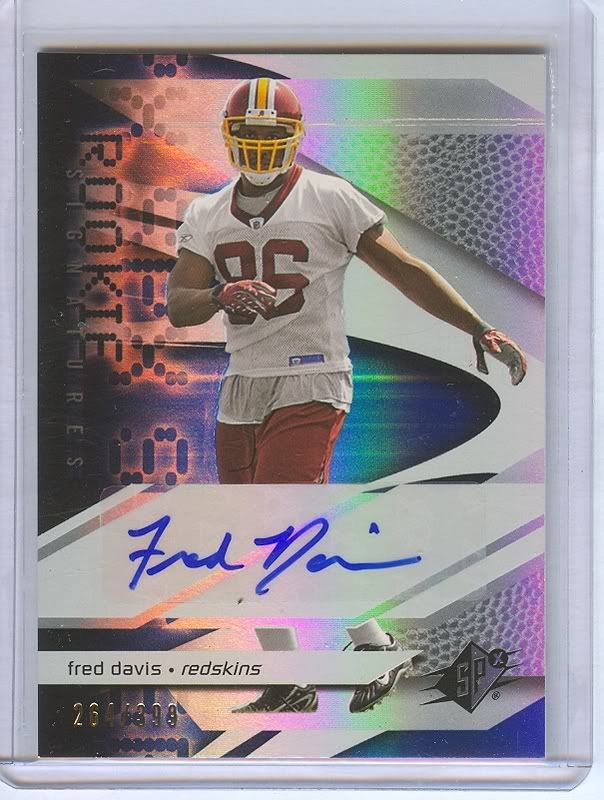 05 SPx Mike Williams Auto/Jsy 246/250
#152 is on the way in the mail, it will be a very nice addition. #153 waiting to be purchased tomorrow. #154 is waiting to be purchased Wednesday (found it in a lot, with just a picture, seller just confirmed). #155 is in the process of swapping a like card from a collector in CA that just purchased a 2005 SPx set with all RC. Seller confirmed a 0264/ forwarded contact information and buyer is just asking for a replacement and has all the SPx sets and will check for my number after the holiday.
Man the PC is going great. I currently have 14.14% of all available players for SPx from 1999 to 2008. Enjoy and thanks for the look.