Awhile back, I was wiring someone's house, and I stumbled across some boxes of miscellaneous football cards in the basement. I didn't start going through thing's, I have more respect for people's stuff than most contractor's. I struck up a conversation with the home owner, and he said all the sports card's belonged to his brother,who passed away about 10 year's ago. He told me he will be having a yard sale, and he would call me to come by and take what I wanted.
Well, he called me Saturday morning, so I went over to see what he had. I looked a little bit through the card's, and asked what he wanted for the lot. He was trying to just give them to me, but I couldn't just take them, so he said $25 for all of it. I get home, and it was mostly 89-90's era sets. 1989 Pro Set set, 1991 Bowman, 1988 Topps, 1991 UD, 1991 Pacific, etc.. I did pull out a Barry and Aikman RC from the Pro Set, the Favres from the Pacific and UD, And the Bo from 88 Topps.
The Jackson is in awesome shape, the rest are decent, maybe 8 or 8.5's.
I get to the last binder, and it's all vintage, with an almost complete set of 73 Topps. Now, some of these cards are beat, but some are in some very nice shape, and the binder hasn't been touched in 10 years.
Here are some pic's pf the decent cards:
Franco Harris RC, OC a little, but the corners are sharp, one beat up Stabler,
One Stabler, on par with the Harris for shape, and an awesome Bo Jackson RC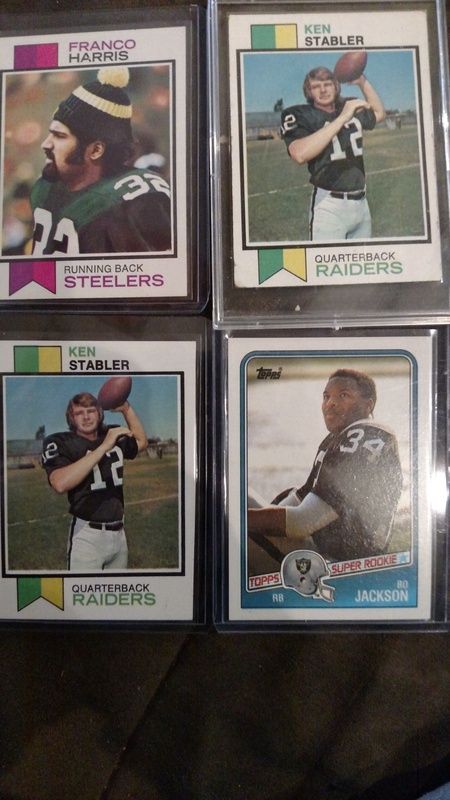 Roger Staubach again, OC and a small print mark, Art Shell RC, way OC (Actually I have 2, in the same shape) Dan Dierdorf RC, again, OC and a 97 UD Dated Foil Thurman Thomas.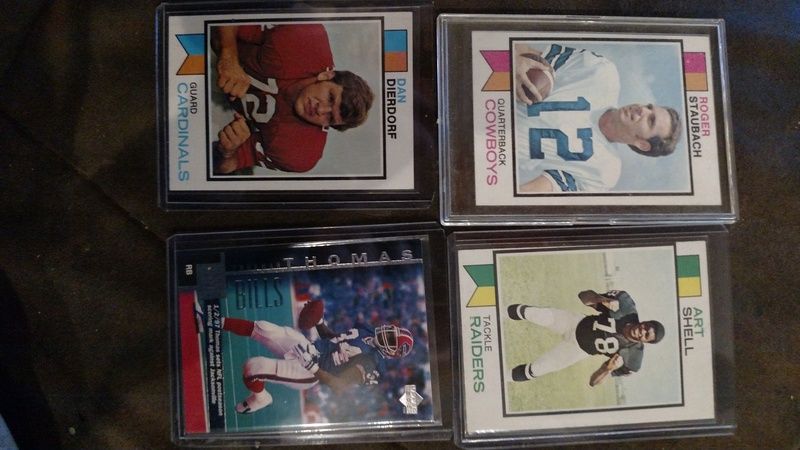 Fran Tarkenton way OC, 1970 Glossy Insert Johnny U (Creased on back) and the Favre RC.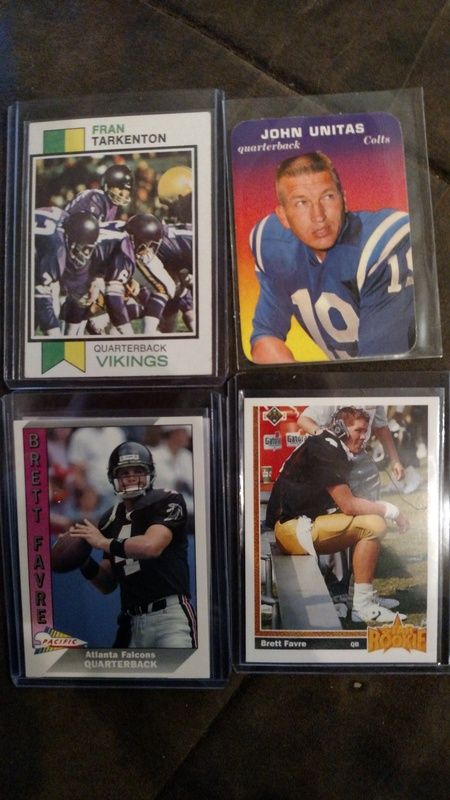 And a 95 Ultra Gold Medallion Marino.
I also picked up a 49ers, Dolphins, Cowboys, Patriots, and Chief's 1997 All-Star MVP Mini Figure sets.
I told the seller, I will more than likely keep it all for PC, but, if I do sell ANYTHING, I will call him, and I will split the money with him to be donated in his brothers name, for which ever disease he passed from.
Thanks for looking guy's, enjoy the summer!!