A little story.
A long long time ago, in what might seem like a galaxy far away to some, there was a time called "The late 1990's".
During the time of "The late 1990's", I lived in a cold and barren place called Buffalo New York and worked at a place called a "Video Rental Store". This was a dark time before fast internet speeds and video streaming. But I'm already rambling.
The store I worked at did a fundraising campaign for "HUNTER'S HOPE", the charity started by Jim Kelly and his wife Jill, named for their son Hunter.
For anyone who possibly doesn't know the story, this is the foundations website:
http://www.huntershope.org
So, as I was saying we were doing a fundraiser for the foundation. You may know the kind, you purchase a paper heart for a dollar and sign it. Well, Jim's wife Jill visited all of our locations (we had 5 total) to thank us for raising money, and presented each store with one of these :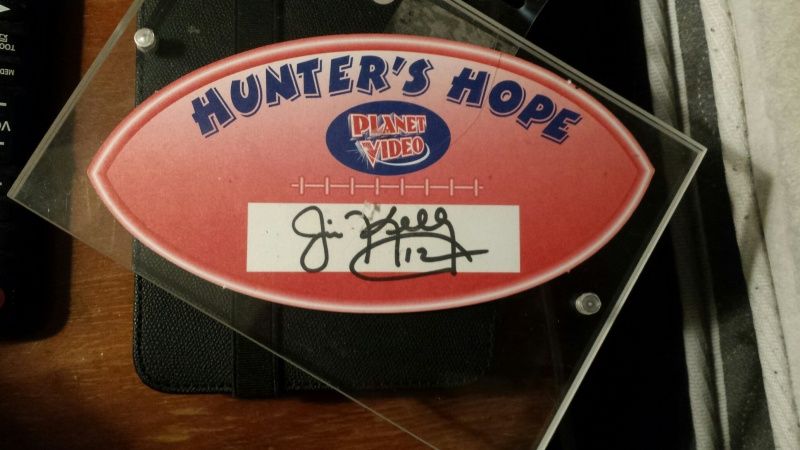 One of these was displayed in each store, and some of the stores did raffles for theirs to be won by a fan. In the case of the store I worked at, we gave it away to the employee who sold the most of these footballs to our customers (as well as many warm hearted sports fans) and that is how it came into my possession. I've never seen another show up anywhere else. As said, there would only be 5 at most.
I was clearing out some totes in the basement yesterday and rediscovered this. i just wanted so show off a unique, and perhaps a little bittersweet piece of my collection.
Thank You.