I really don't understand why companies sometimes don't give you ANYTHING for a older redemption card! In a way I feel that they no longer should be able to have their product on the market if they aren't going to honor older redemption cards. I understand the expiration date on cards as to fulfill that specific card, I get that and completely agree! Yet to still have your product on shelves when some of the hits in the box aren't going to be fulfilled is crazy. I mean to get NOTHING? Thats "UNSAT" in my book!
Long story short, I bought a box of 2006 Finest and unfortunately hit this!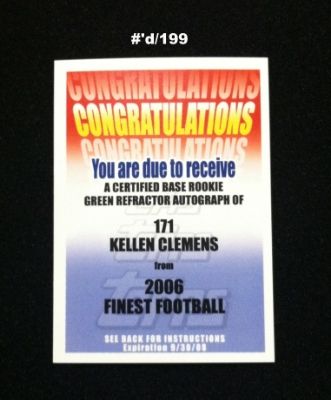 Now I understand its expired & don't even expect to get something of "equal to or lesser value" in return, BUT SOMETHING dang!! A game used nobody, a pack with nothing but base cards, SOMETHING or anything right? I mean I did after all hit an insert in their product. I think i'm more mad about the fact that I waited 45 mins on hold before getting told in a matter of 2 mins that nothing could be done!
To let it be known I'm not one of those irate customers who expects a 1/1 Andrew Luck AUTO RC from something like this. lol no no.
I'm simply just saying, that "they" should put something together to fix this issue! I really want to know what people think about this? Stories are welcomed!