So I haven't broken anything for a while and I was out and about today so I decided to hit the LCS while I was at it. I wasn't looking to spend a lot of money. I just wanted a few packs of the new Score. I don't collect Score (or even really like it) but I wanted to break some 2013-14 stuff and Trilogy is to expensive for me. All I really wanted was the Gallagher RC and the Galchenyuk (and maybe a Yakupov) but I rarely pull the big rookies, even from the cheap packs and score is a huge set. So I started with two packs and hit the Galchenyuk on the very first one. How's that for luck? So I cleaned out the rest of the box. Here's the damage:
Net-cam:
Devan Dubnyk
Gold:
Evander Kane
Mike Green
Cody Franson
Jake Gardiner
Ryan Reaves
Andy McDonald
Rookies:
Alex Galchenyuk NFT
Brendan Gallagher NFT
Erik Gryba
Michael Sgarbossa
Thomas Hickey
Only opened 6 packs and pulled both cards I wanted! Needless to say I was feeling lucky so I asked for 3 packs of SPA. Here's what I got:
Retro:
Brad Marchand
Phil Kessel
And this:
Chris Kreider Future Watch Patch Auto /100 WOW!!!
So that was it for SPA. Figured I hit the case hit so I figured I'd leave it alone. Glad I did because there was a fresh box of Artifacts on the top shelf. I bought one pack.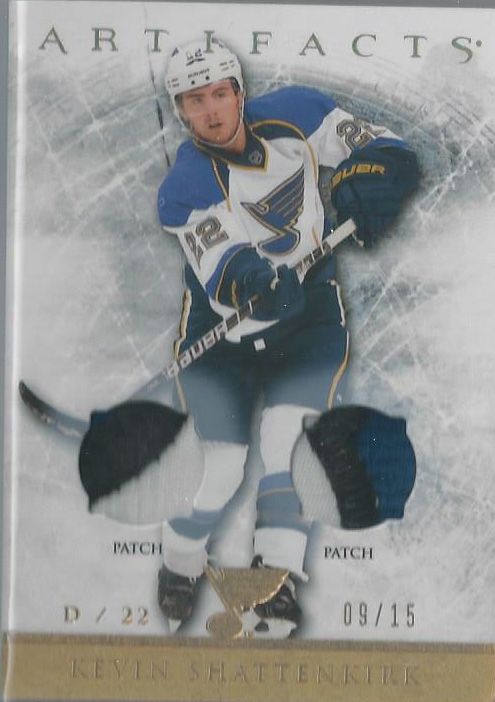 BAM! Kevin Shattenkirk Gold Spectrum Patch /15. 3 Colours too!
So no more Artifacts but I'm on fire! Let's see if I can keep it going. How about 2 packs of BTP?
First pack was all base but had a Patrick Roy puzzle piece which is PC.
Second pack had this:
Ed Belfour / Cujo Rivals Jerseys Silver. Sweet!
This is the best break I've ever had, I think. I've pretty much been getting hosed at the LCS for the last 2 or 3 years so it's nice to get revenge!
I didn't think they were out yet but I had to ask about the new OPC (being and OPCFan and all) and turns out he just got a case. So I got four packs.
Rookies:
Dougie Hamilton
Leo Komarov
Retro:
Patrick Marleau
Scott Hartnell
Doug Murray
Team Rings:
Vancouver Canucks
Rainbow:
Craig Smith
So no Gallagher or Galchenyuk there but I'm not complaining! After that I called it a day. Figured I'd quit while I was ahead. Most everything is for trade except the Habs rookies. The Kreider I think I'll put on eBay eventually unless someone makes me an offer I can't refuse.