HERE ARE THE CARDS I AM LOOKING FOR:
I will look at bucket for trade bait and Triple Threads autos as well.
Tim Lincecum Bowman Chrome AU RC (Base only)
Dustin Pedroia Elite RC AU
David Wright Bowman Chrome AU (Base only)
Todd Frazier Bowman Chrome AU (Base only)
Kendry Morales Bowman Chrome AU (Base only)
Anthony Gose Bowman Chrome AU
Rickie Weeks Bowman Chrome AU (Base only)
Bowman Chrome Rookie Cards
All of these are needed in the Bowman Chrome version, only looking to trade, preferably PWE low end deals. Will not buy.
Roy Halladay
Rafael Furcal
Josh Hamilton
Adrian Gonzalez
Matt Cain (2002 Bowman)
Jose Bautista
Joey Votto (2002 Bowman)
Brandon McCarthy
Ryan Howard
Nelson Cruz
Keith Foulke
Travis Hafner
Jake Peavy
Justin Morneau
Aaron Hill
Adam Lind
Pat Burrell
Francisco Liriano
2013 Bowman Autos (Base only)
Oswaldo Arcia
Bryan Buxton
Jessie Biddle
Jake Odorozzi
Paco Rodriguez
Clayton Blackburn
Taijuan Walker
Brian Goodwin (Pending)
Christian Betancourt
Victor Sanchez (Pending)
Roman Quinn (Pending)
Daniel Corcino (Pending)
Alan Hanson (Pending)
Doryss Paulin (Pending)
Adam Eaton
I DO NOT HAVE ANY OF THE CARDS LISTED ABOVE, THOSE ARE THE ONES I NEED HENCE THE BIG BOLD TITLE THAT SAYS 'HERE ARE THE CARDS I AM LOOKING FOR....WHY WOULD I MAKE 19 SCANS OF CARDS I HAVE AND THEN NOT SCAN OTHERS???????'
All are Best Offer, willing to negotiate. Willing to move a lot of these, especially the lower end autos so willing to work with people. Wont discount too much on the higher end/more sought after cards.
Shipping is 2.50 for anything under 10$, will not ship international unless you pay the entire shipping cost

I have a bunch of wrappers I can sell, will ship tomorrow if need be (Price Negotiable)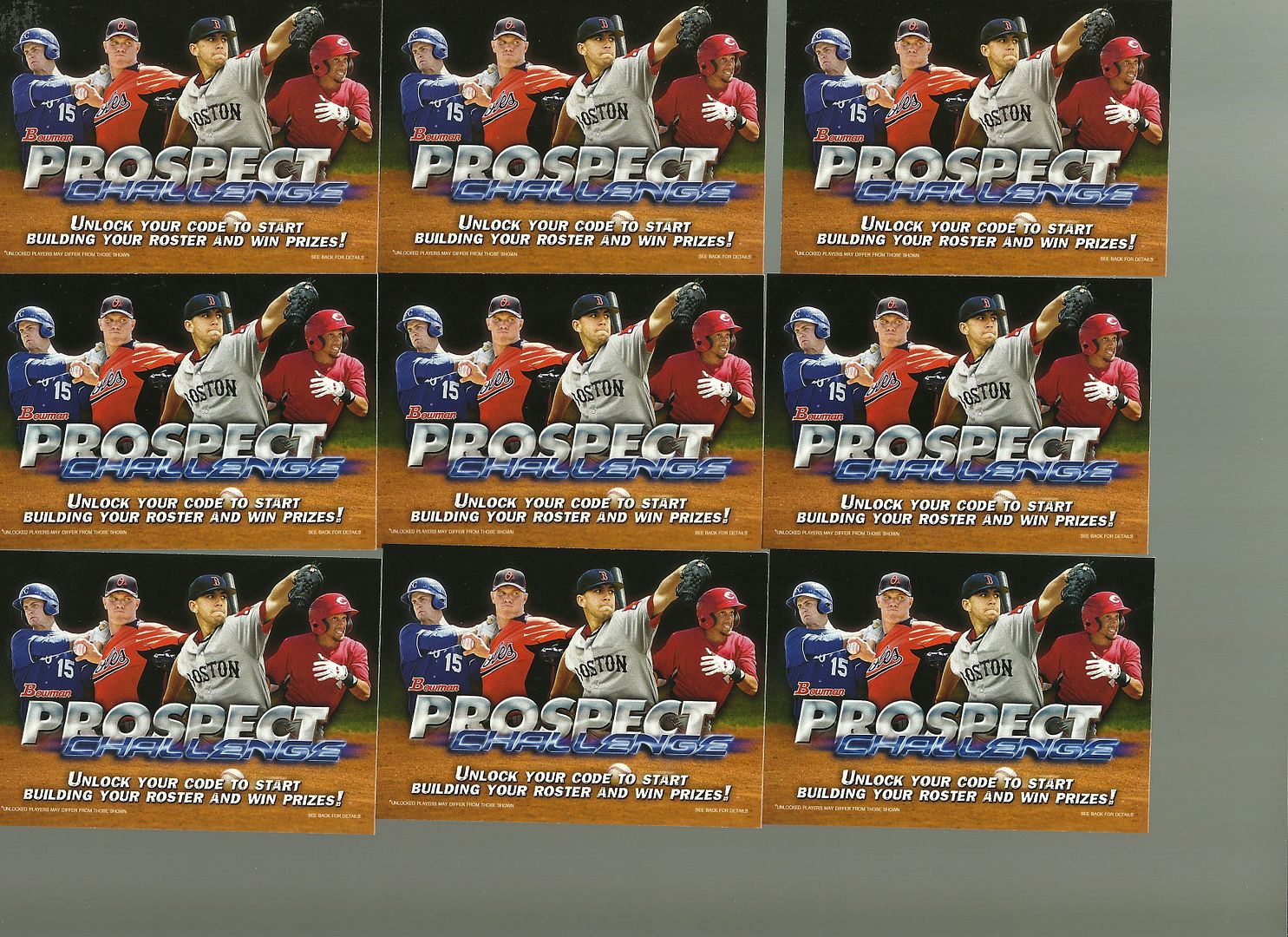 96 Prospect Challenge Codes (40$) 45 to ship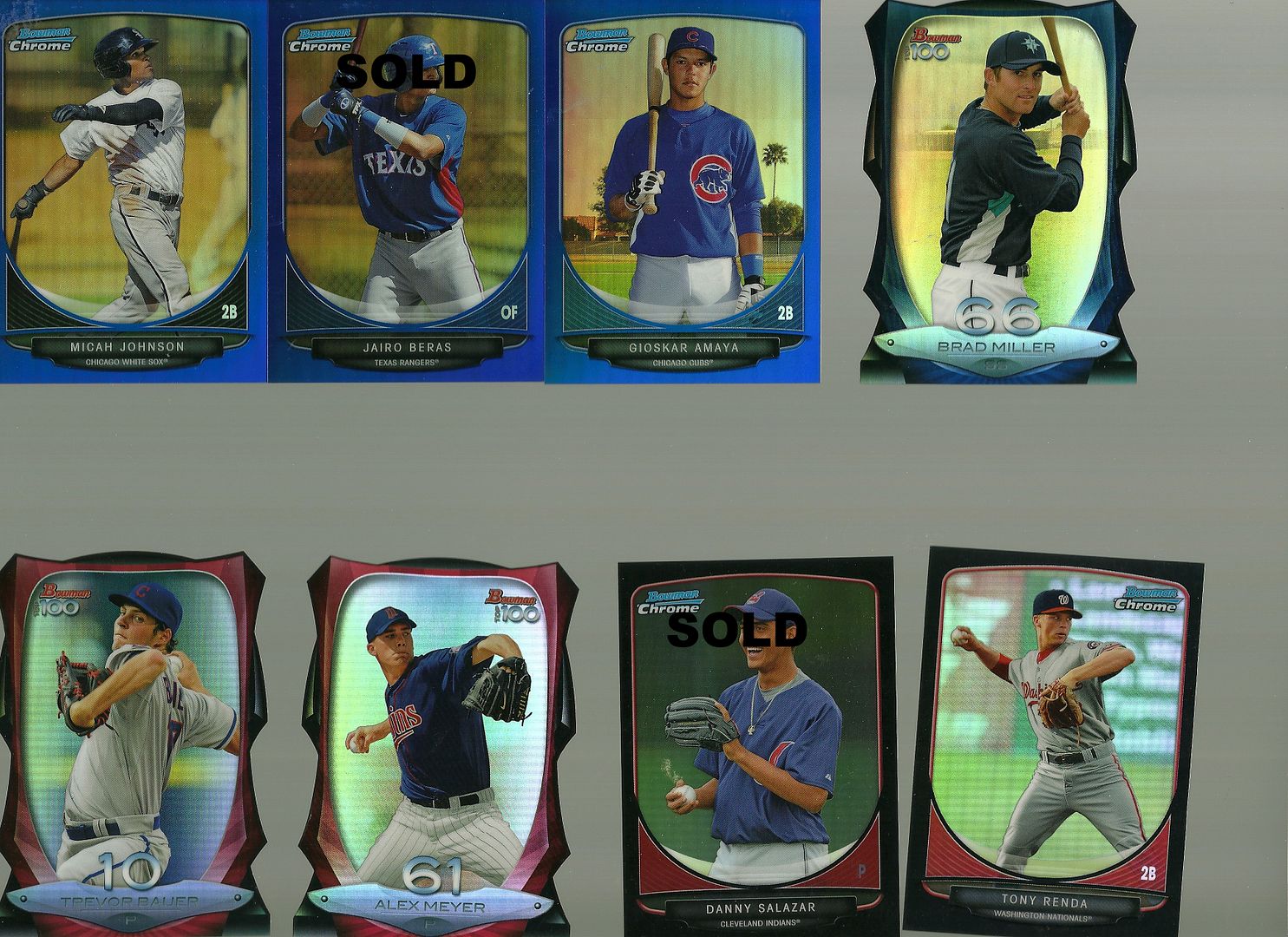 Alex Meyer /99 5
Trevor Bauer /99 6
Danny Salazar /99 5
Tony Renda /99 5
Micah Johnson Blue /250 5
Jairo Beras Blue /250 7
Gioskar Amaya /250 6
Brad Miller /99 5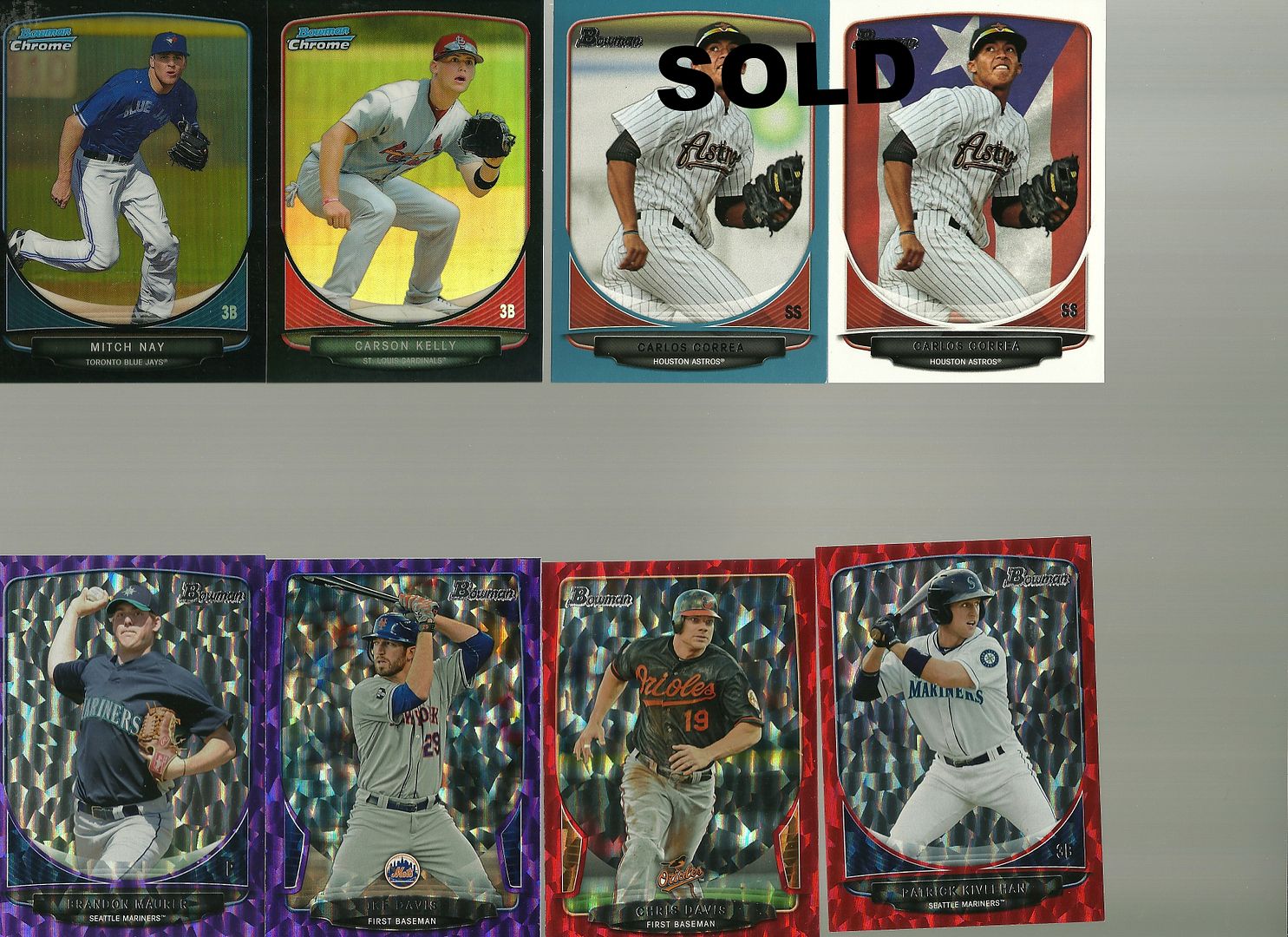 Brandon Mauer Purple Ice 15
Ike Davis Purple Ice 30
Chris Davis Red Ice 10
Patrick Kivlehan 15
Mitch Nay Black 5
Carson Kelly Black 7
Carlos Correa Blue Paper 7
Carlos Correa international 7
Mark Montgomery 10
Jesmuel Valentin Under Armour 20
Dari Ruf Refractor (Pending) 17
Eddie Butler Refractor 8
Sam Selman 5 each, 8 for both
Nick Maronde 5 each, 8 for both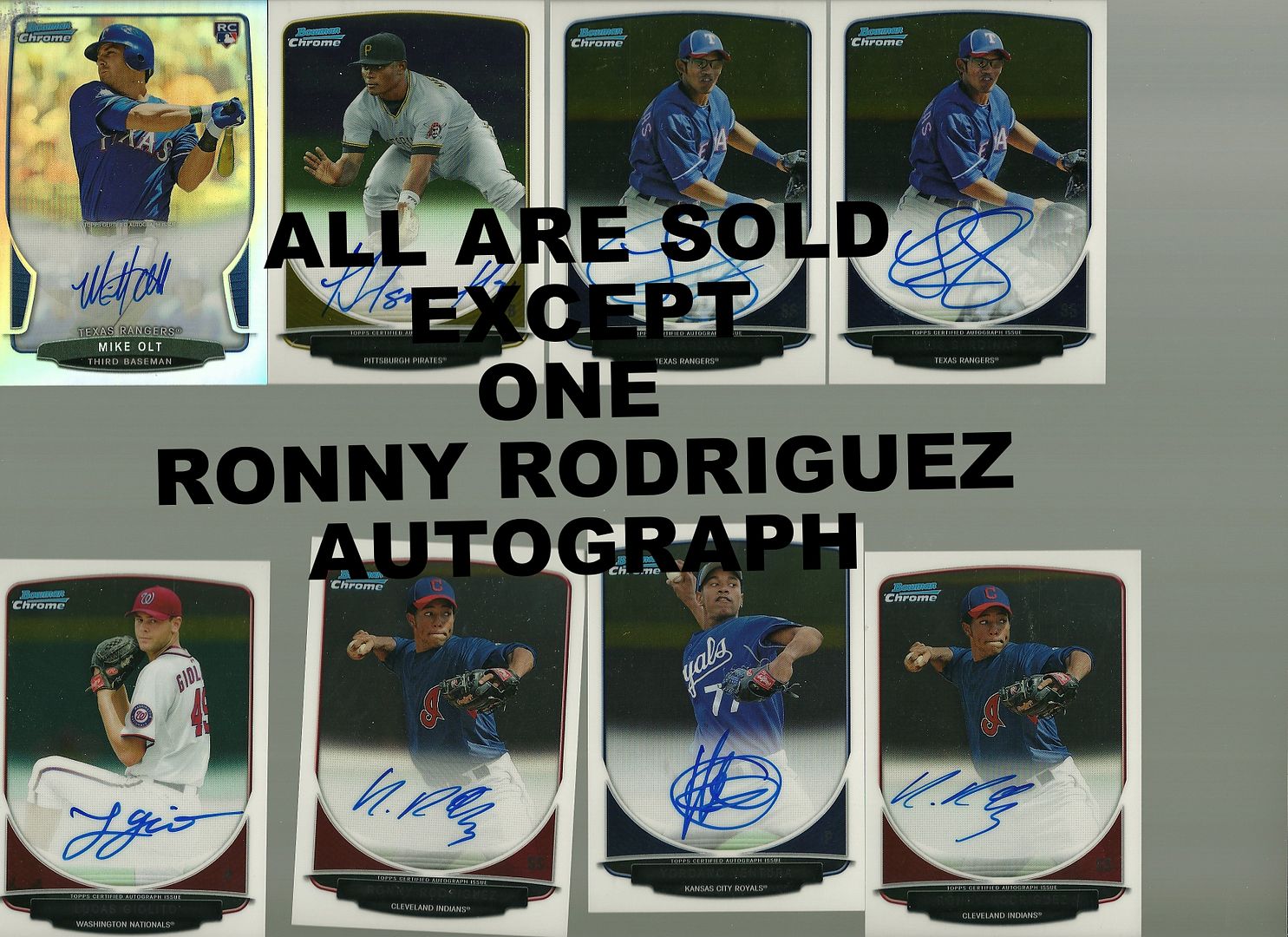 Lucas Giloito (Pending) 20
Ronny Rodriguez 8 each, 15 for both
Yordano Ventura 17
Mike Olt Refractor (Pending) 10
Dilson Herrera 10
Luis Sardinas 5 each
Andrew Aplin 5
Tyler Pike 7
Julio Morban 7
Eddie Butler 6
Drew Storen Elite 5
Robbie Grossman 5
JD Martinez 5
Reese Havens 5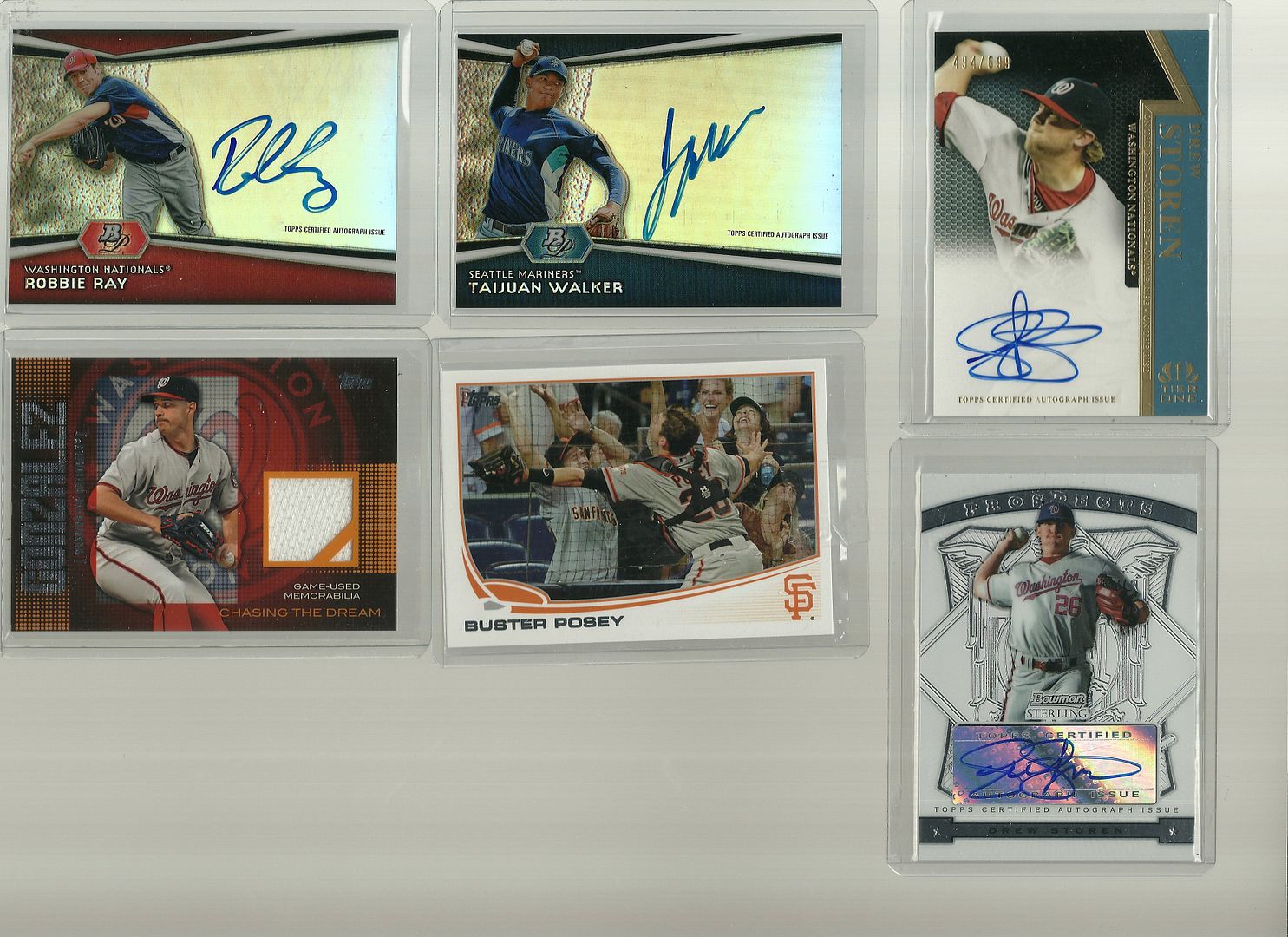 Drew Storen Tier One 5
Drew Storen Sterling 5
Taijuan Walker 12
Robbie Ray 5
Gio Gonzalez GU 3
Buster Posey SP 15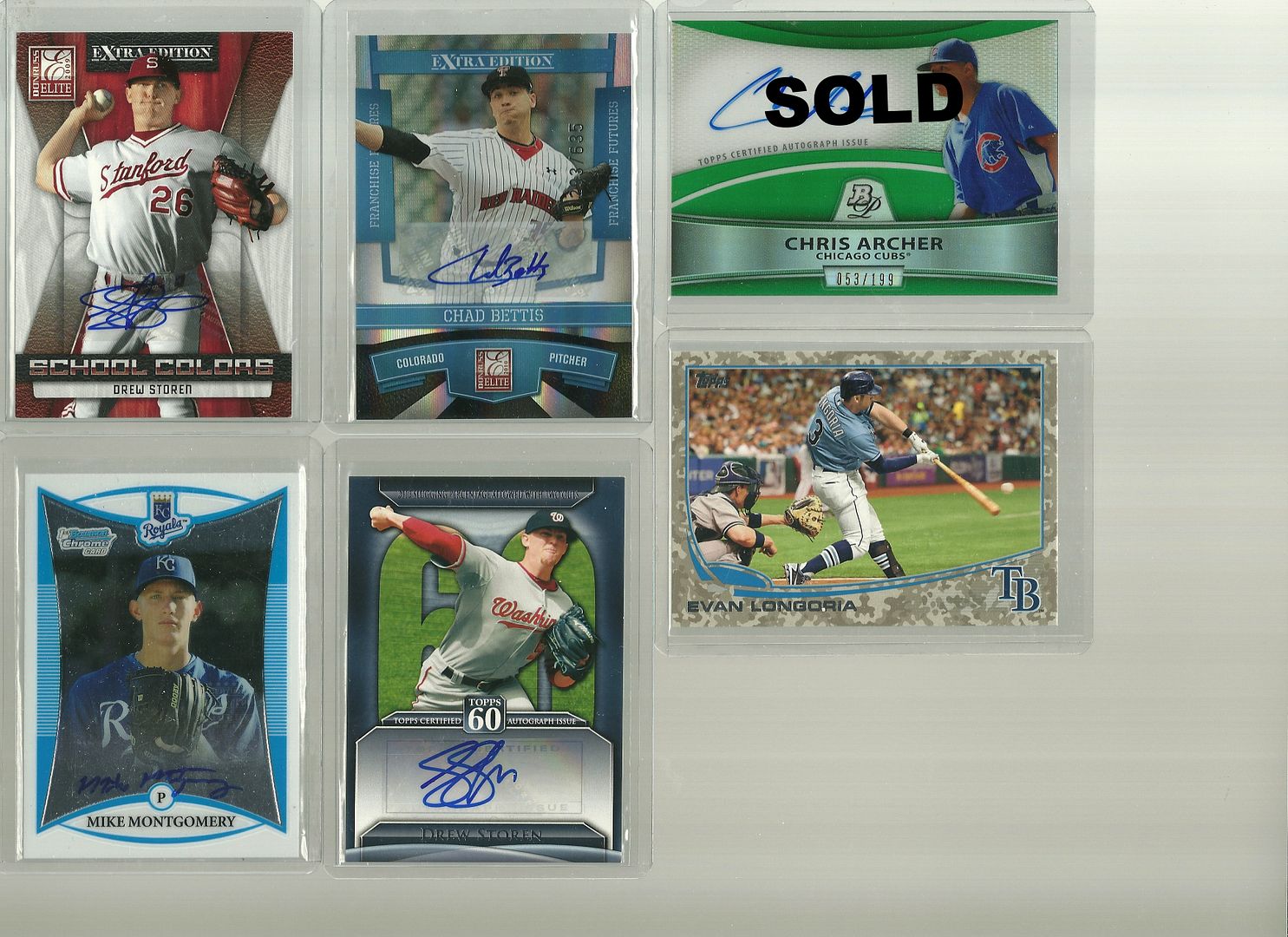 Chris Archer Green 10
Chad Bettis Elite 5
Drew Storen School Colors 5
Mike Montgomery 5
Drew Storen 5
Evan Longoria Camo 10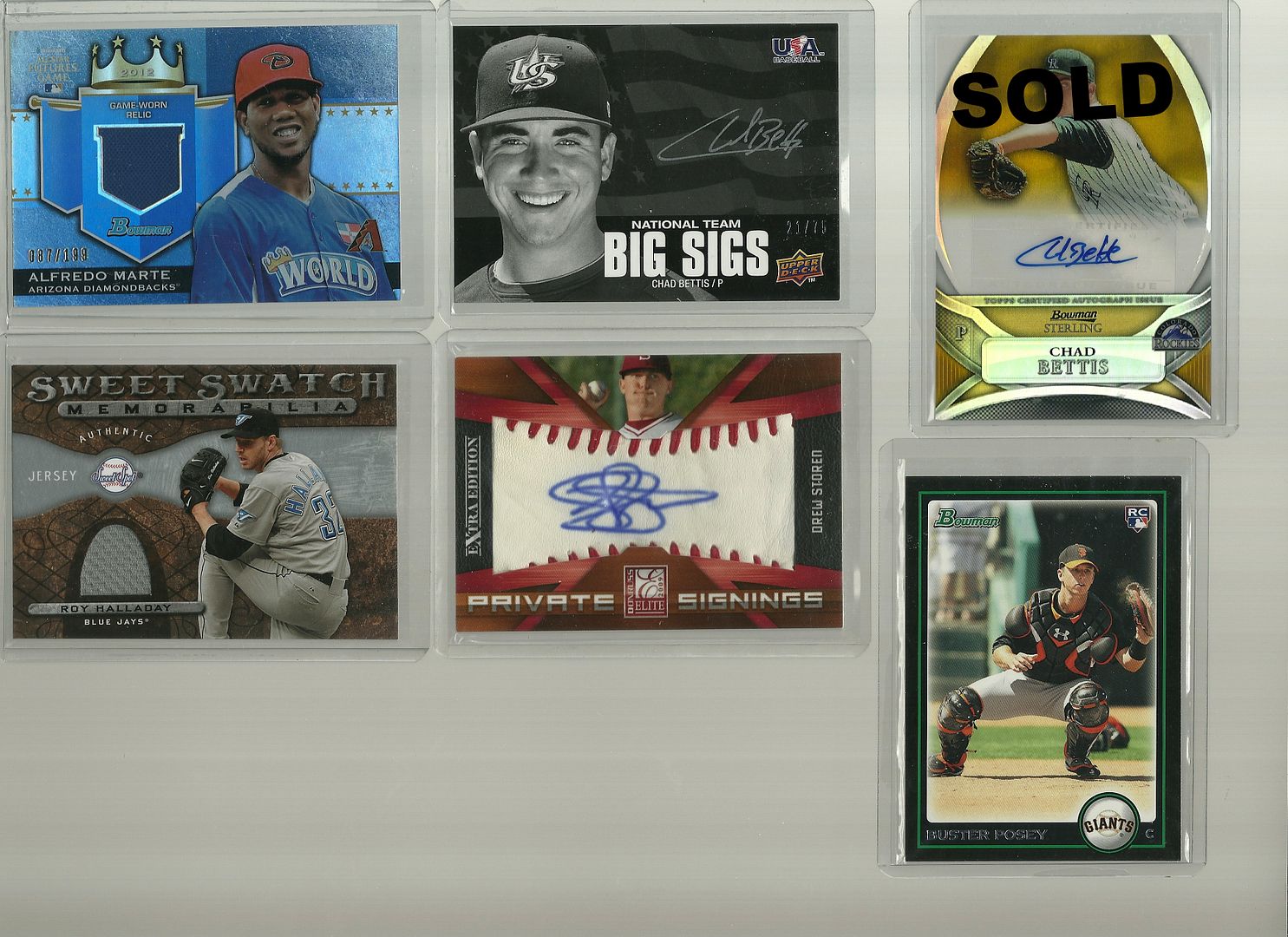 Chad Bettis Gold 10
Buster Posey RC 5
Chad Bettis Big Sigs 5
Alfredo Marte Gu 3
Roy Halladay GU 3
Drew Storen Private Signings 5
---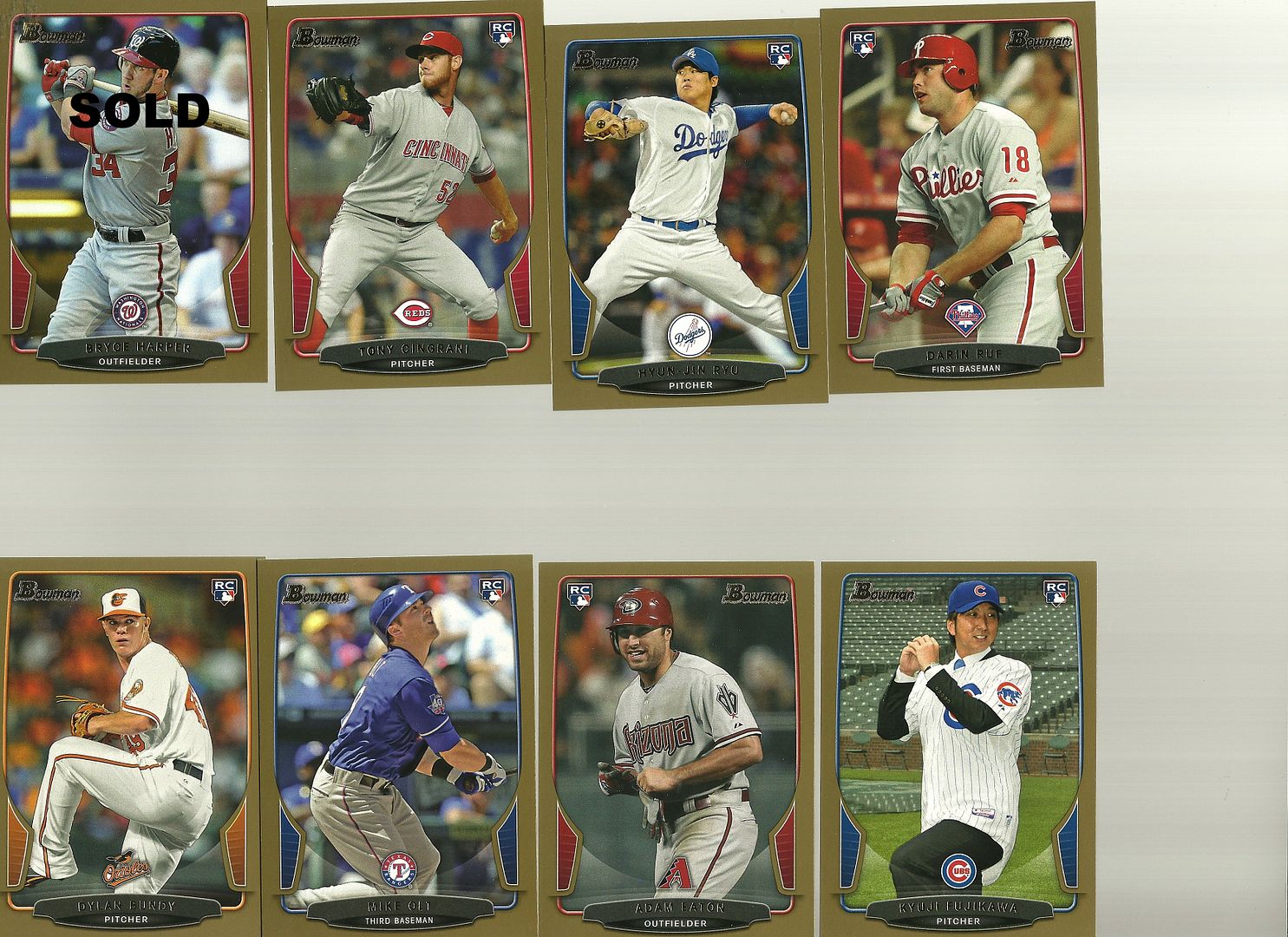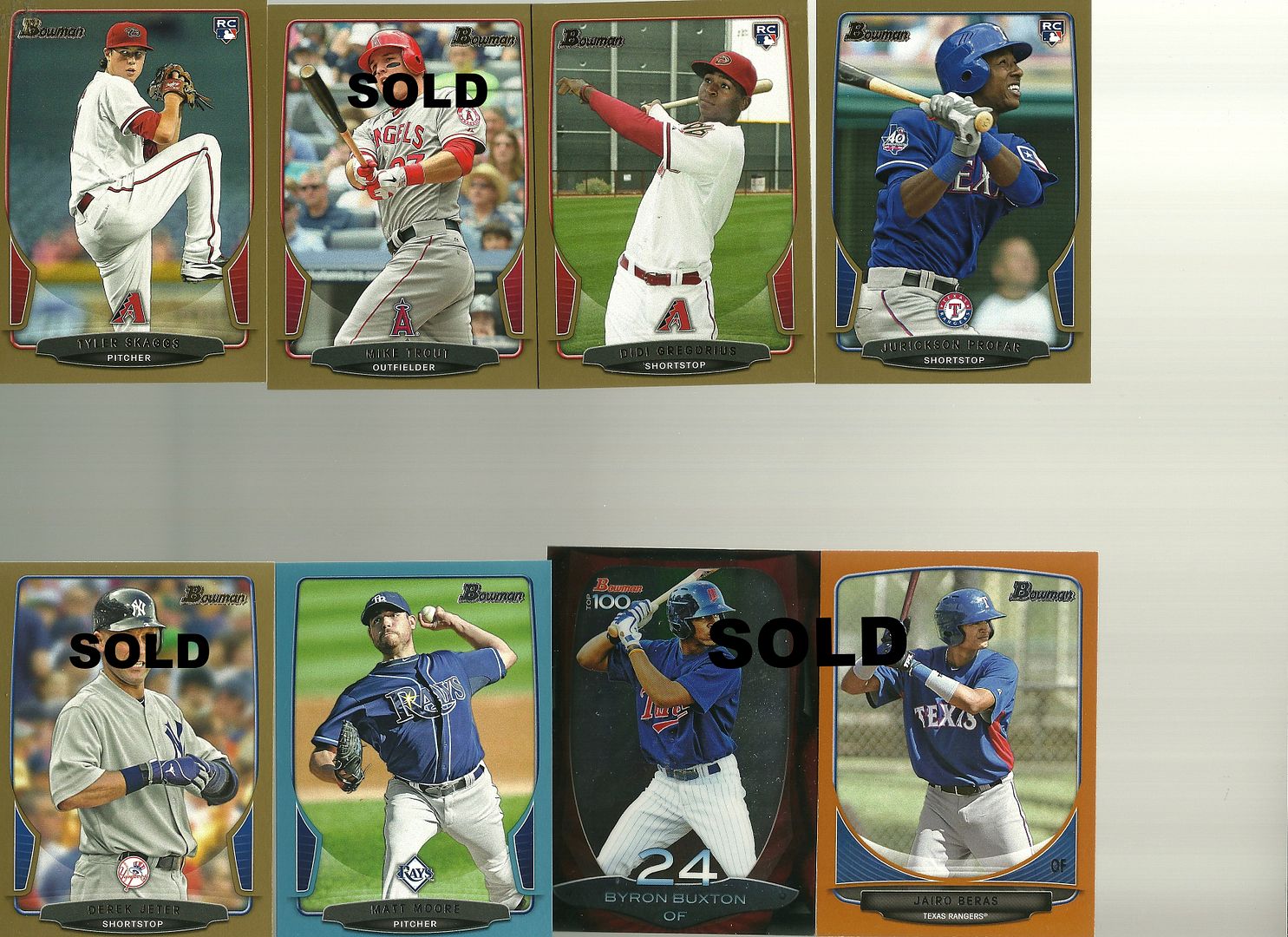 Random 2013 Bowman Gold, Blue, Orange, International 3$ each (Unless Noted)
Bryce Harper Ice
Dyan Bundy Ice 4
Jairo Beras Orange Paper 4
Random Rookie Cards, Inserts, Parallels 3$ (Unless Noted)
Hopefully to be used to get the RC's I want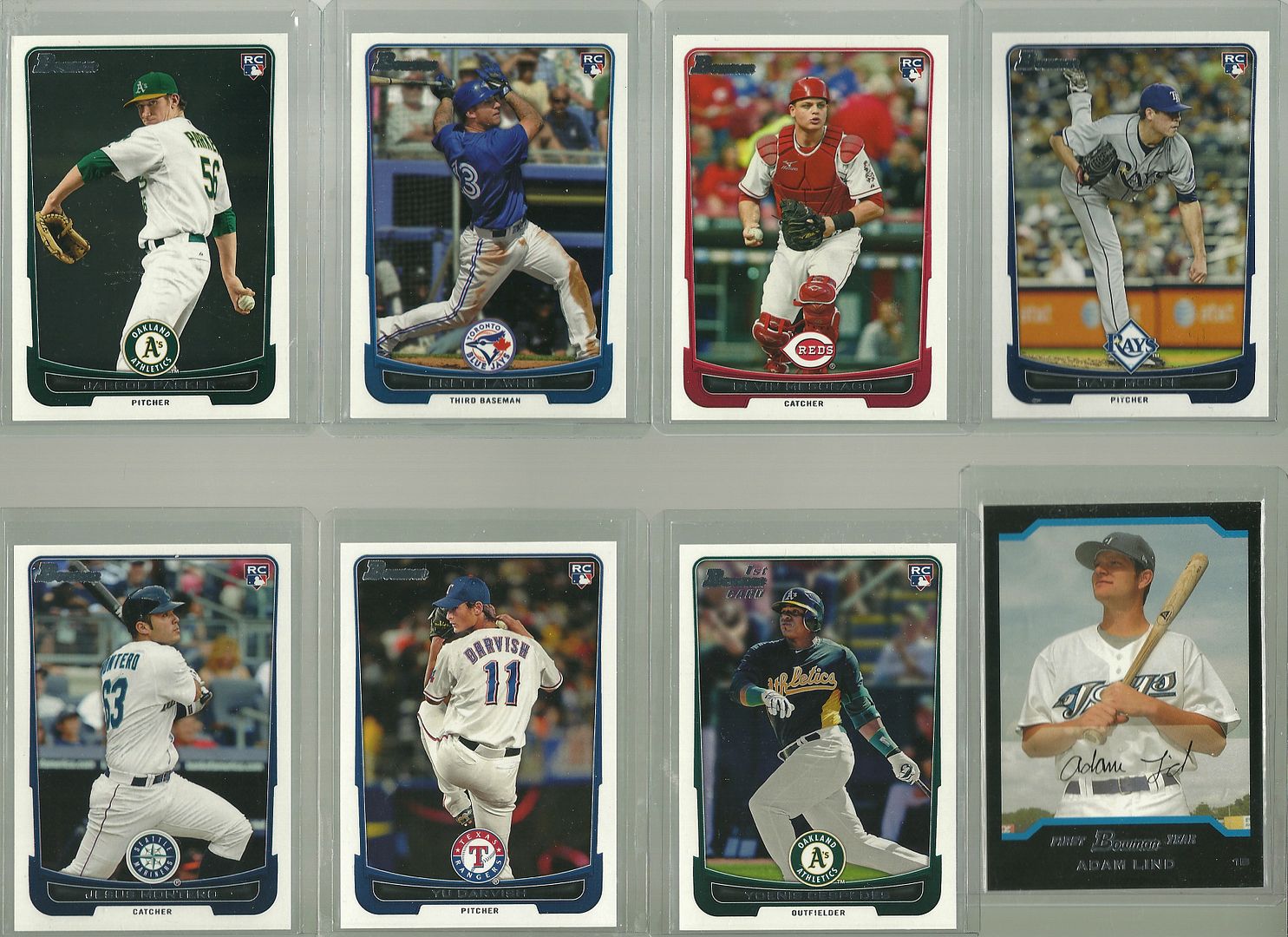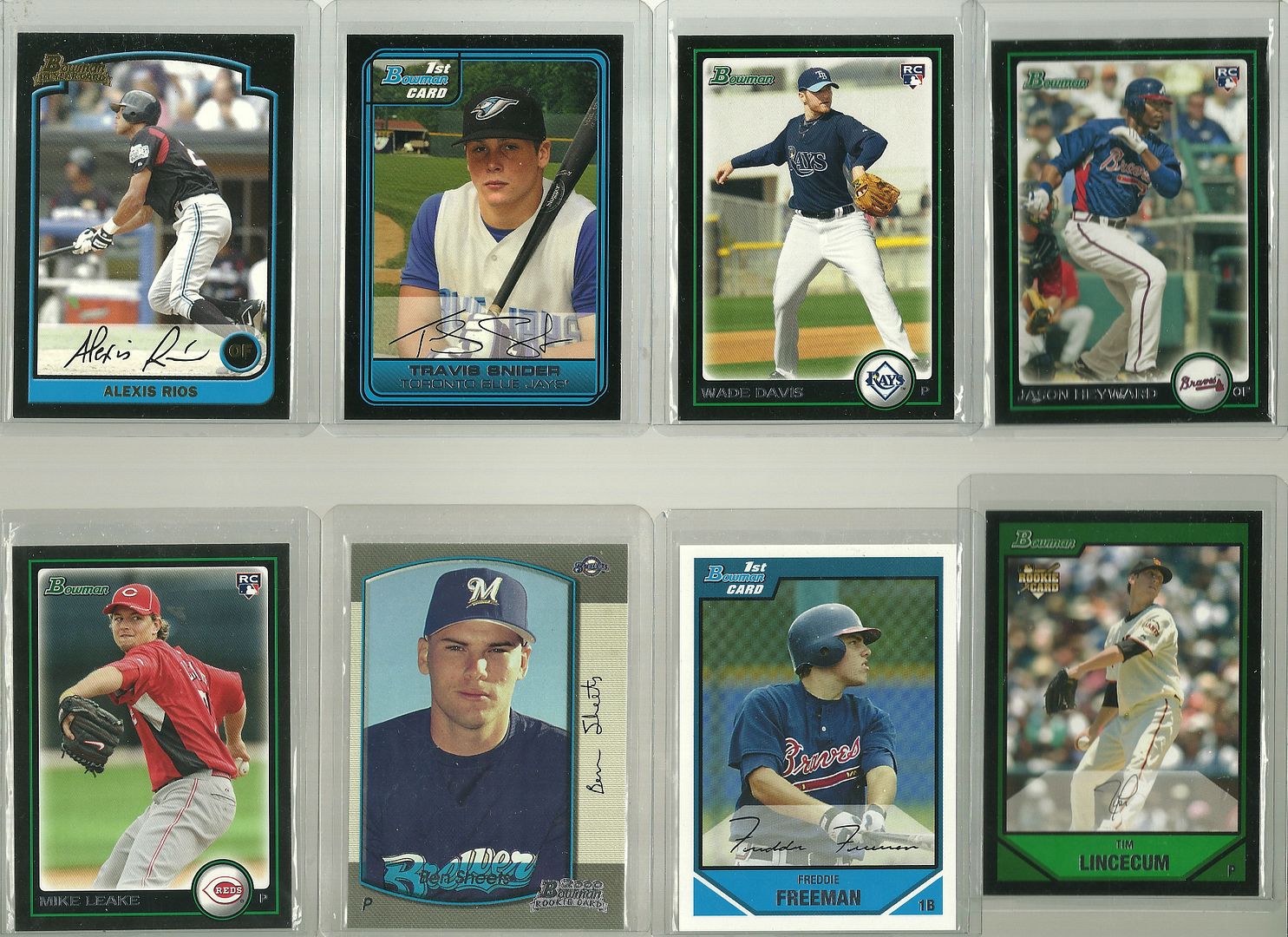 ---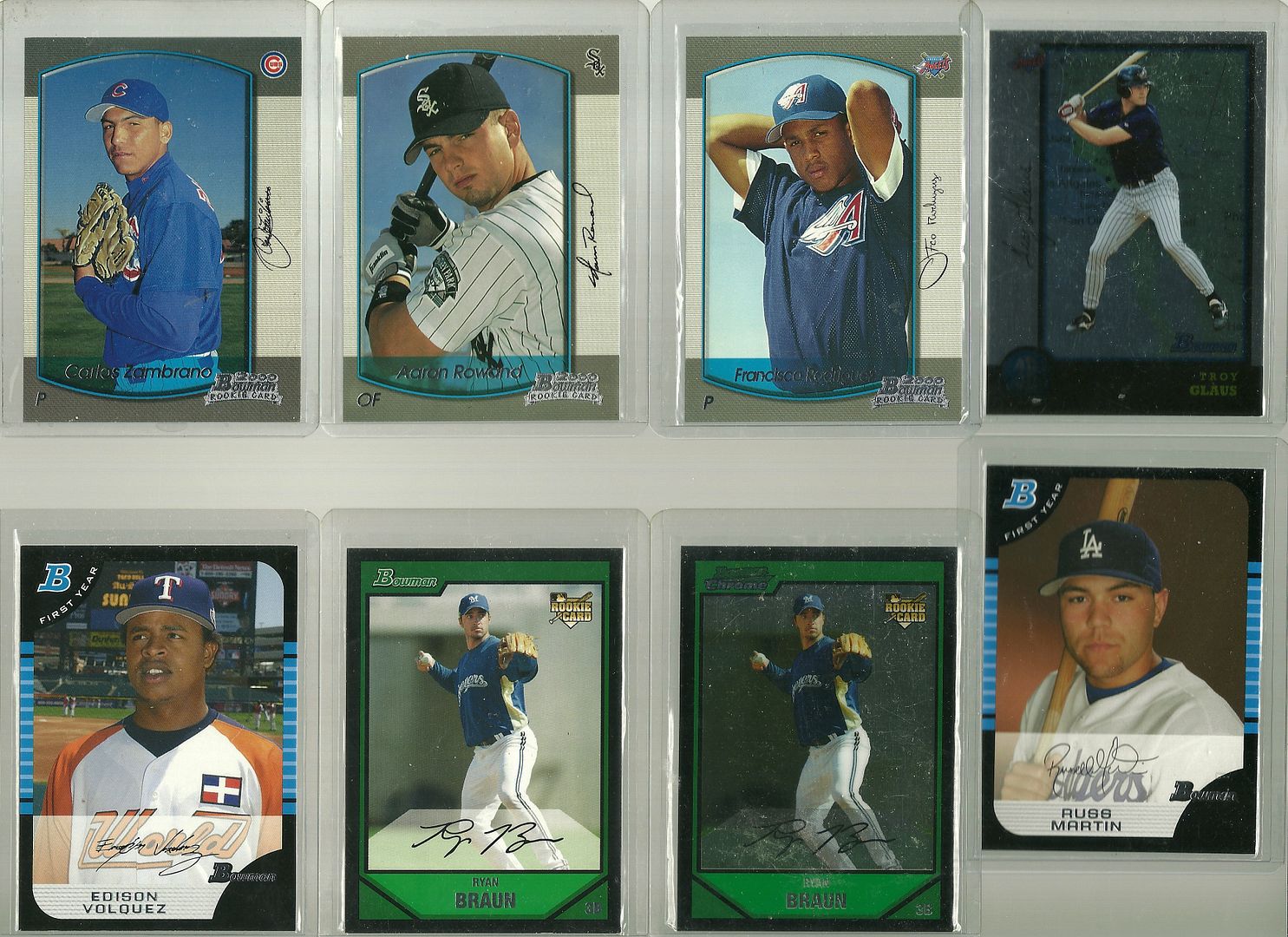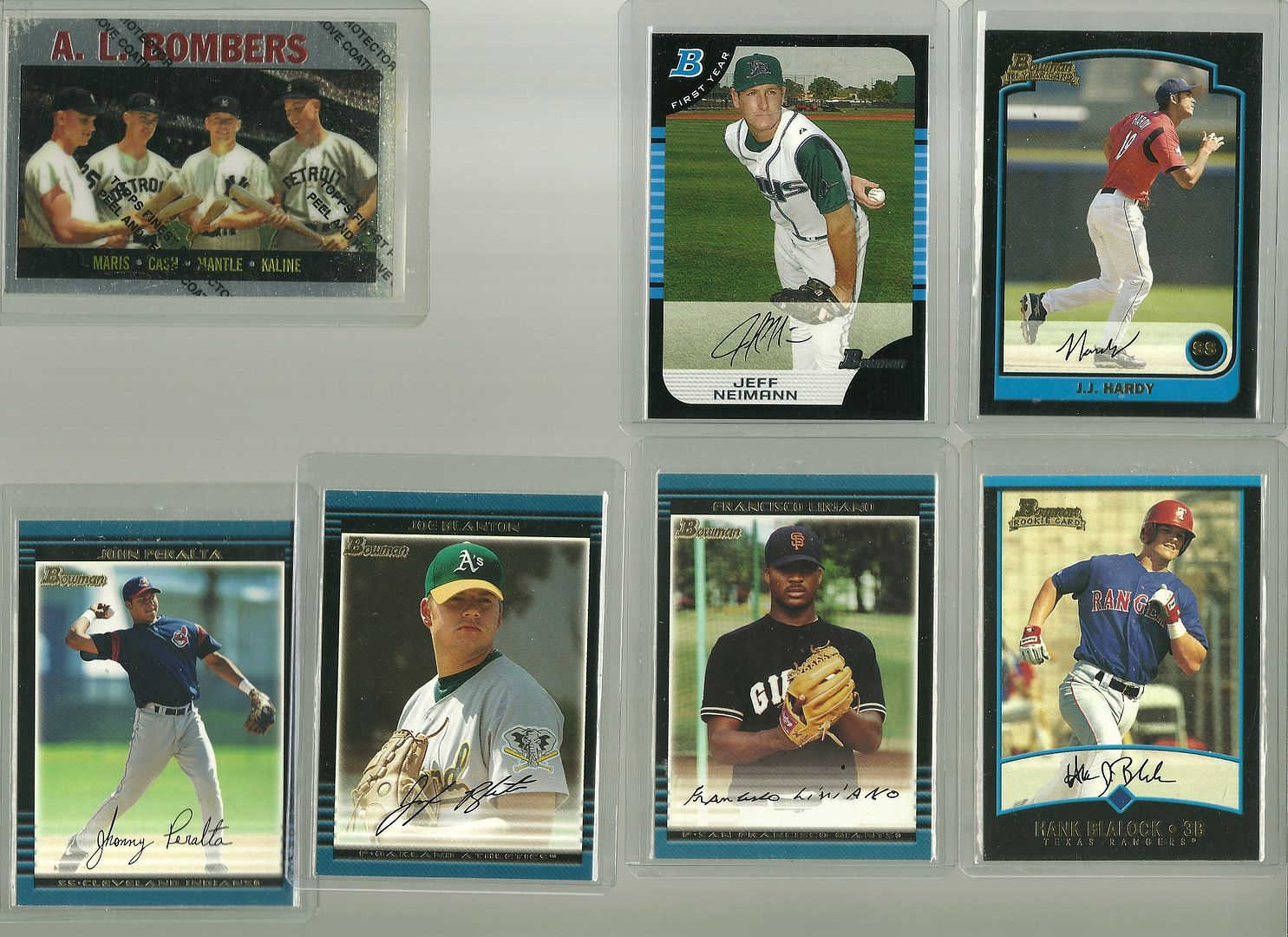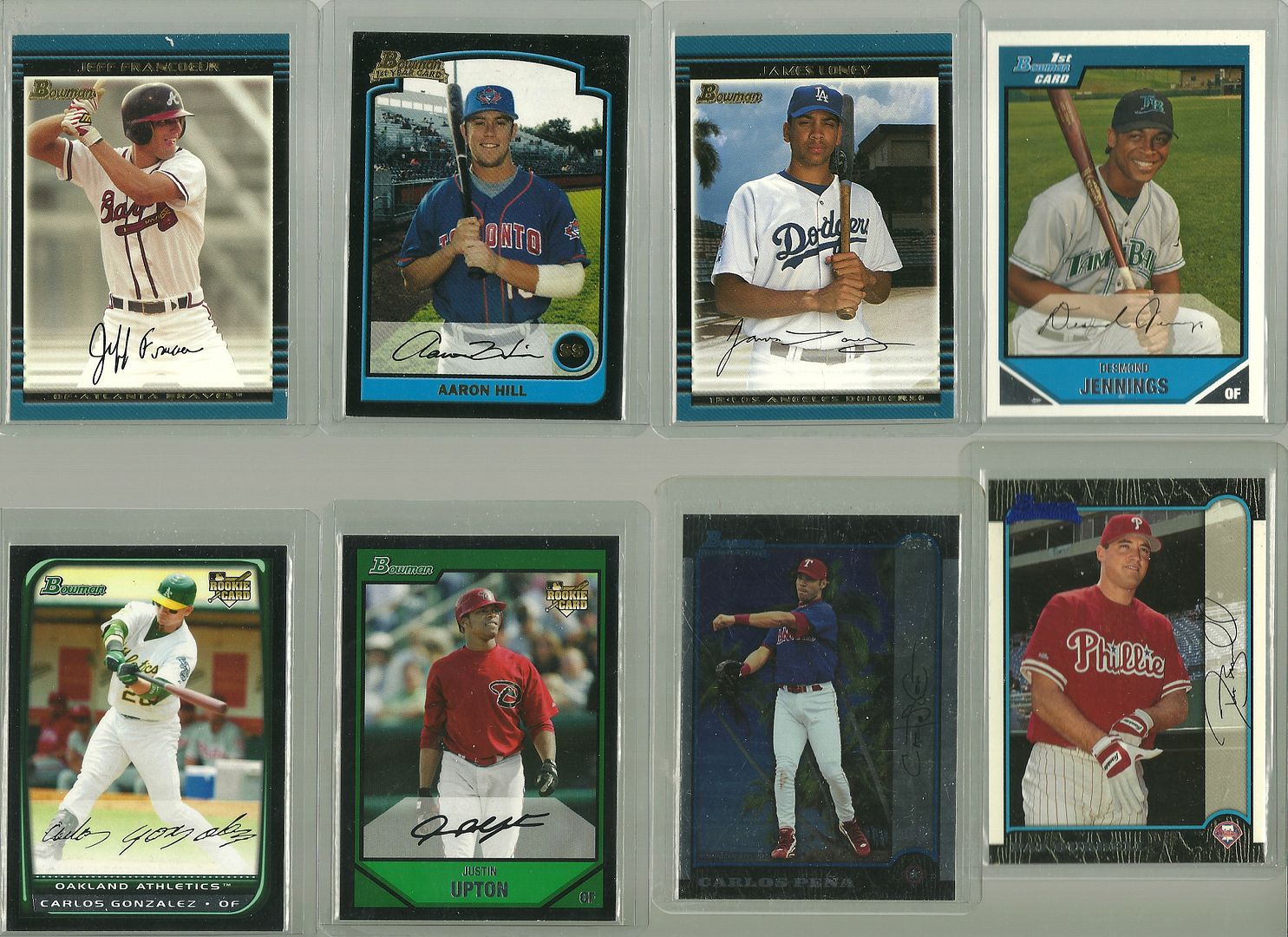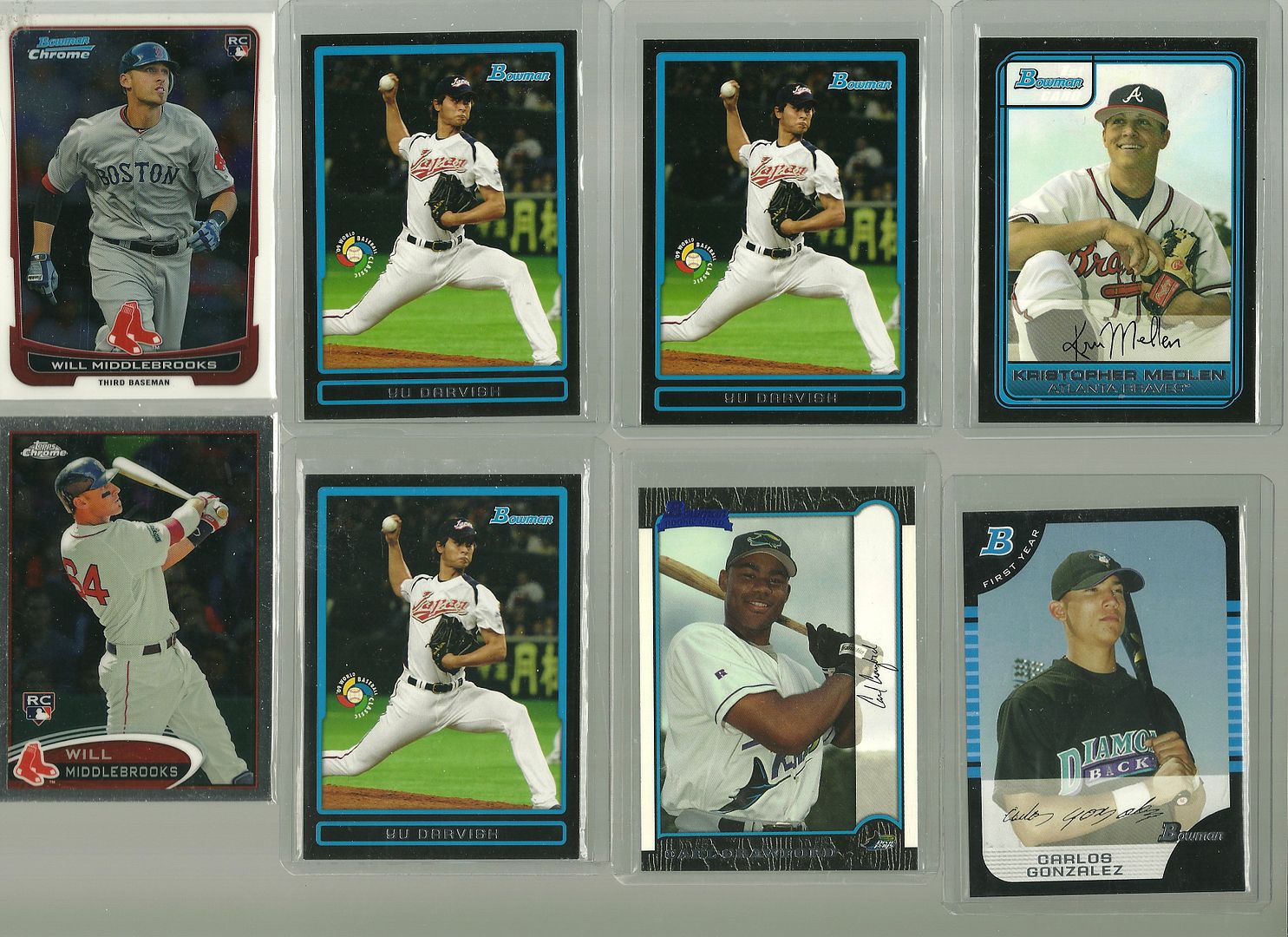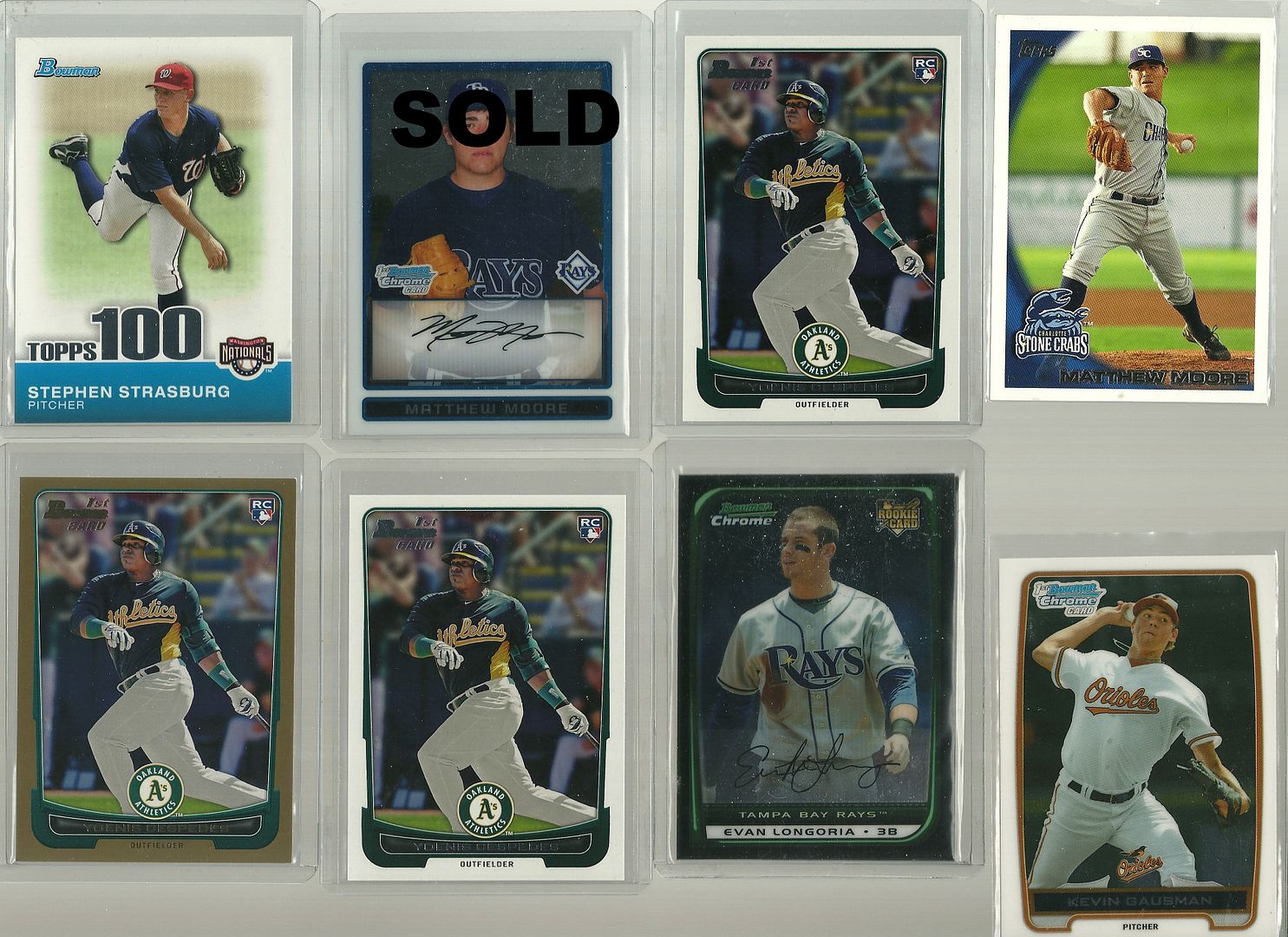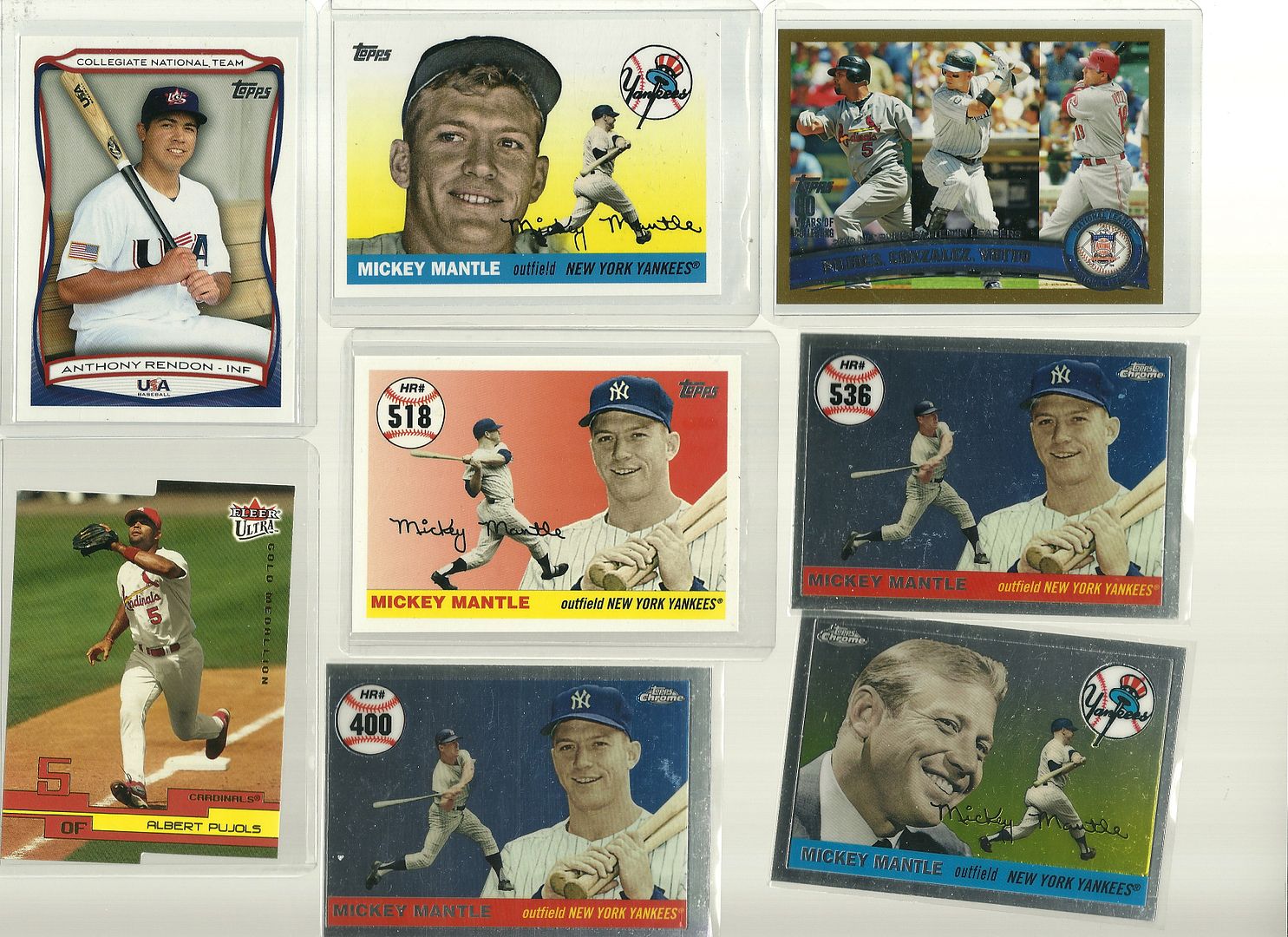 ---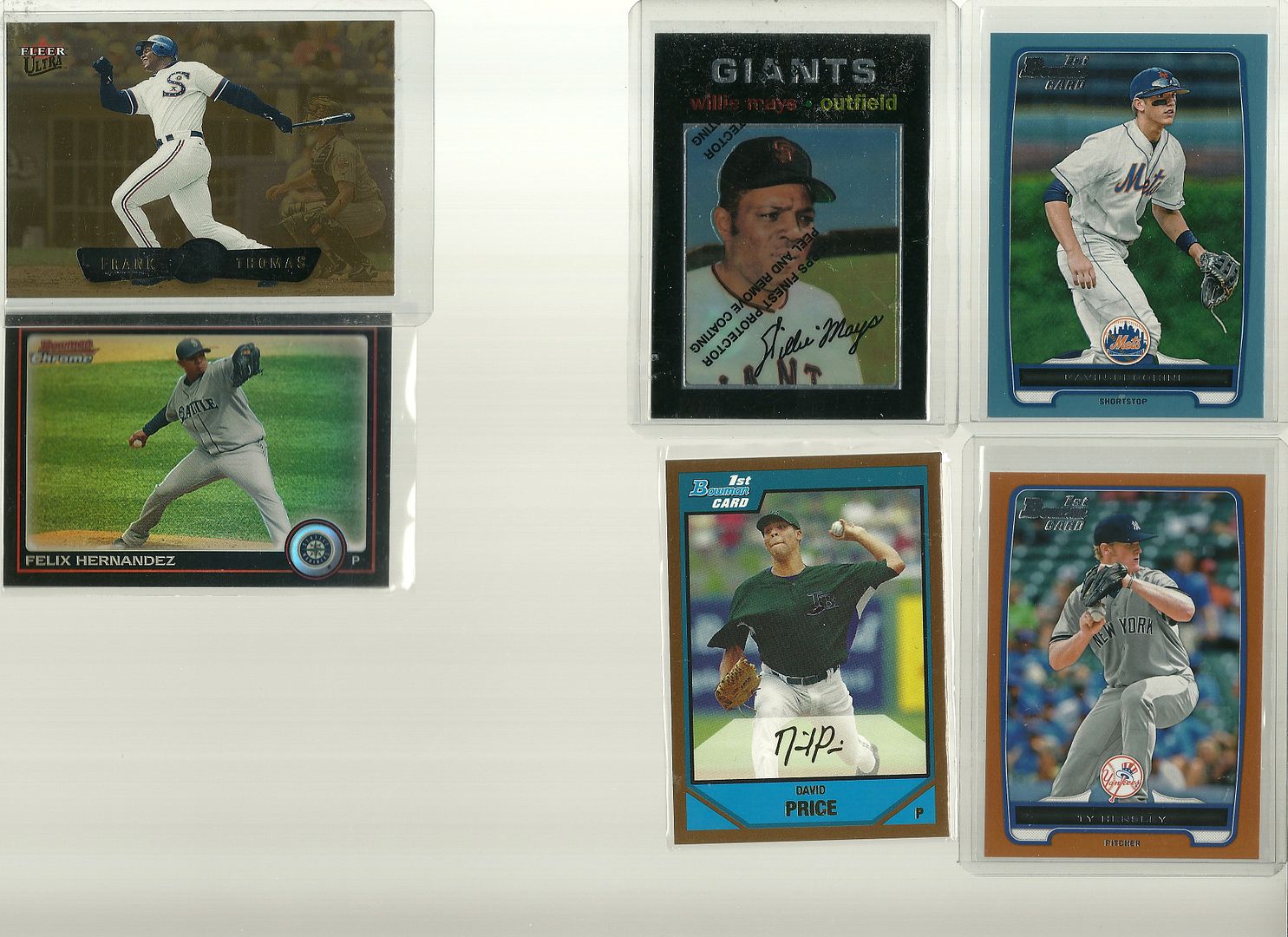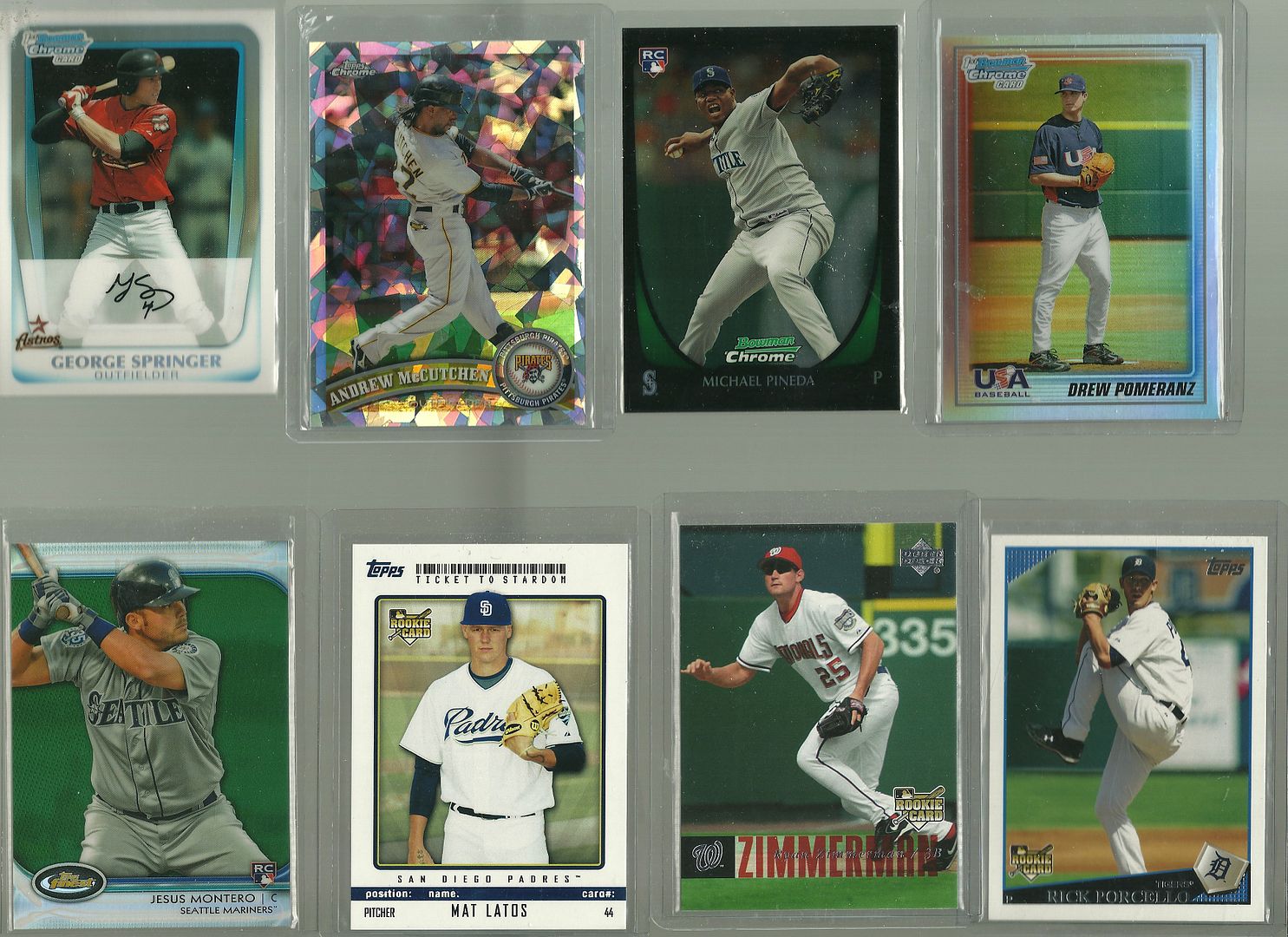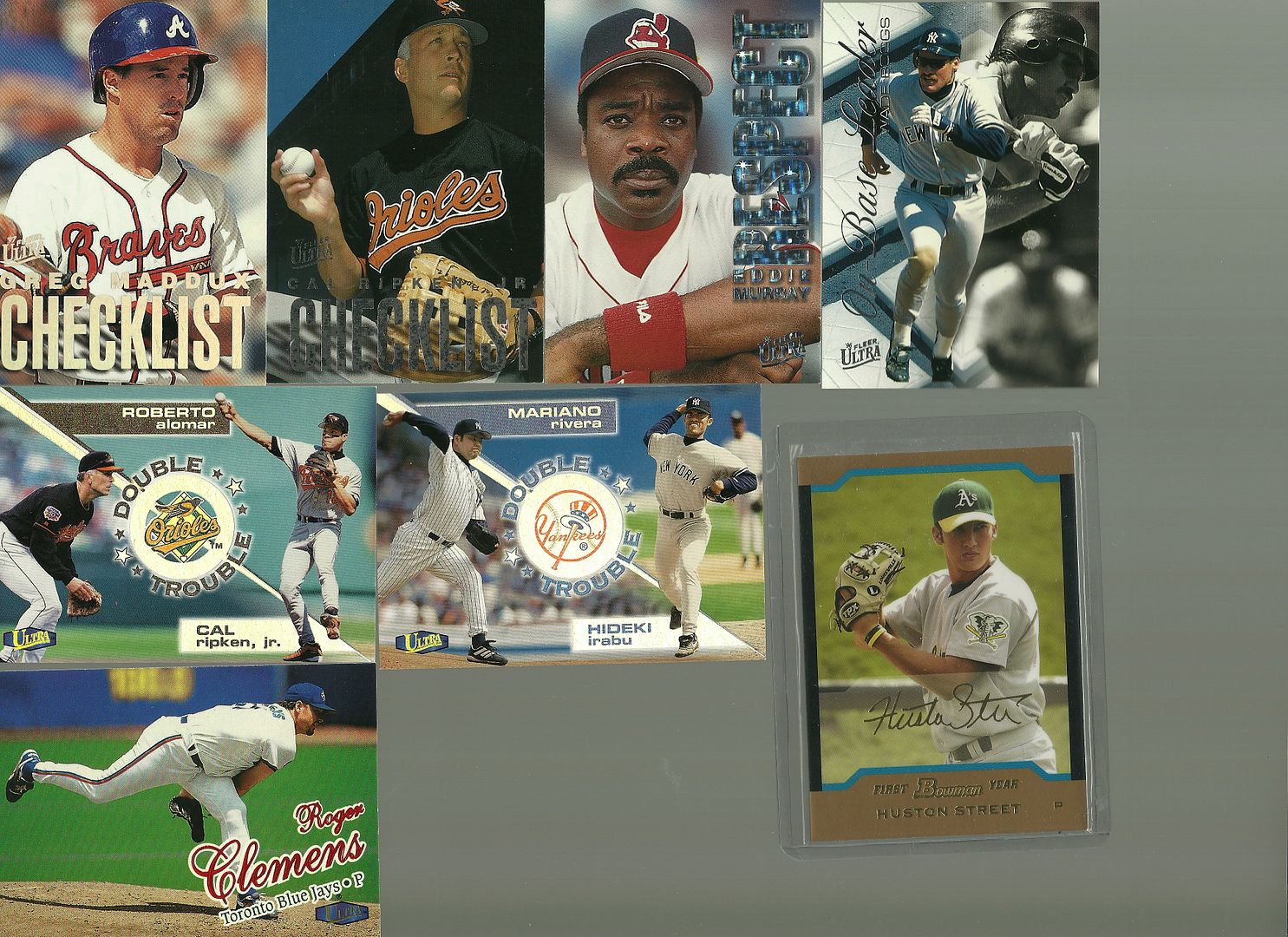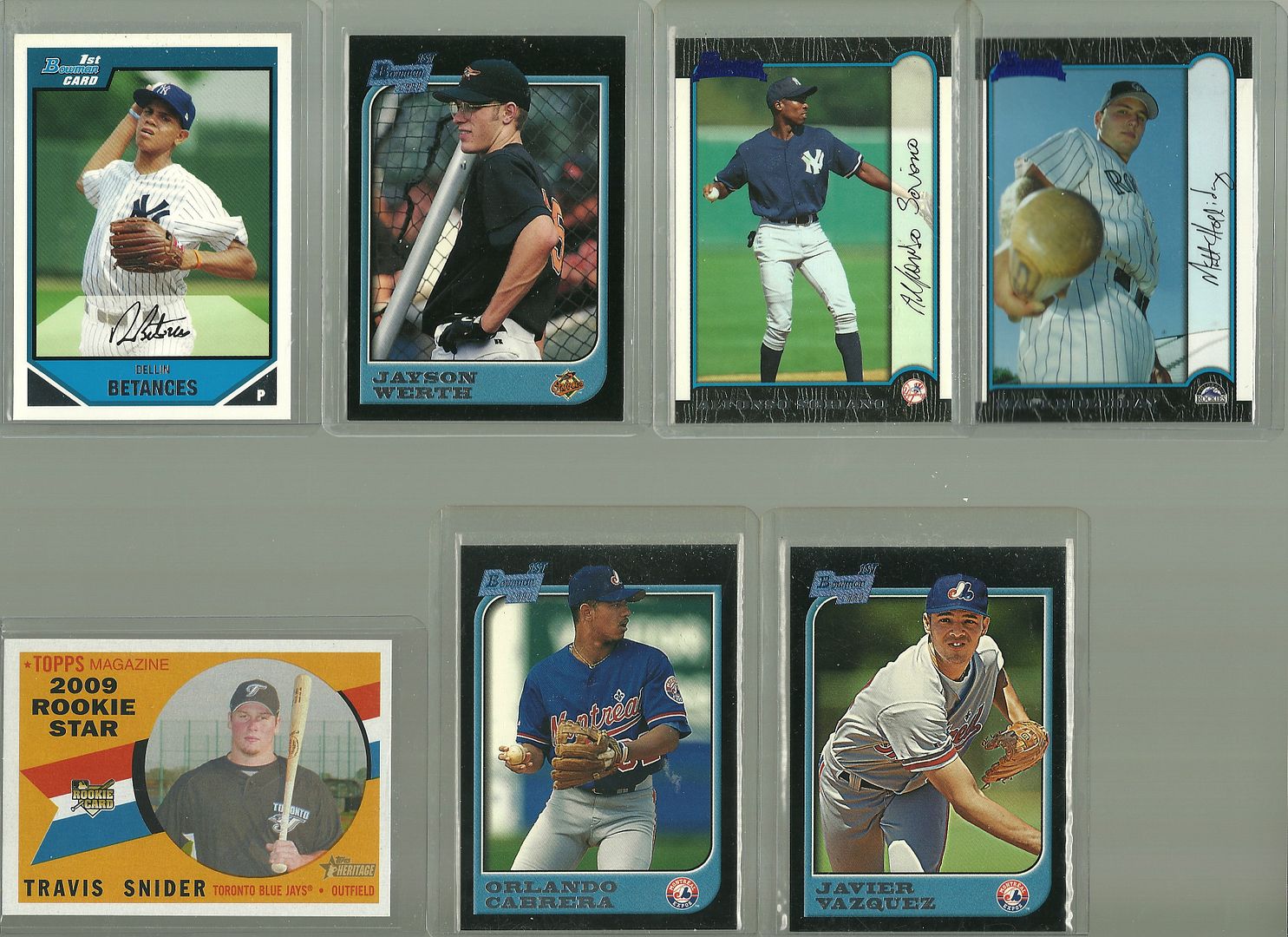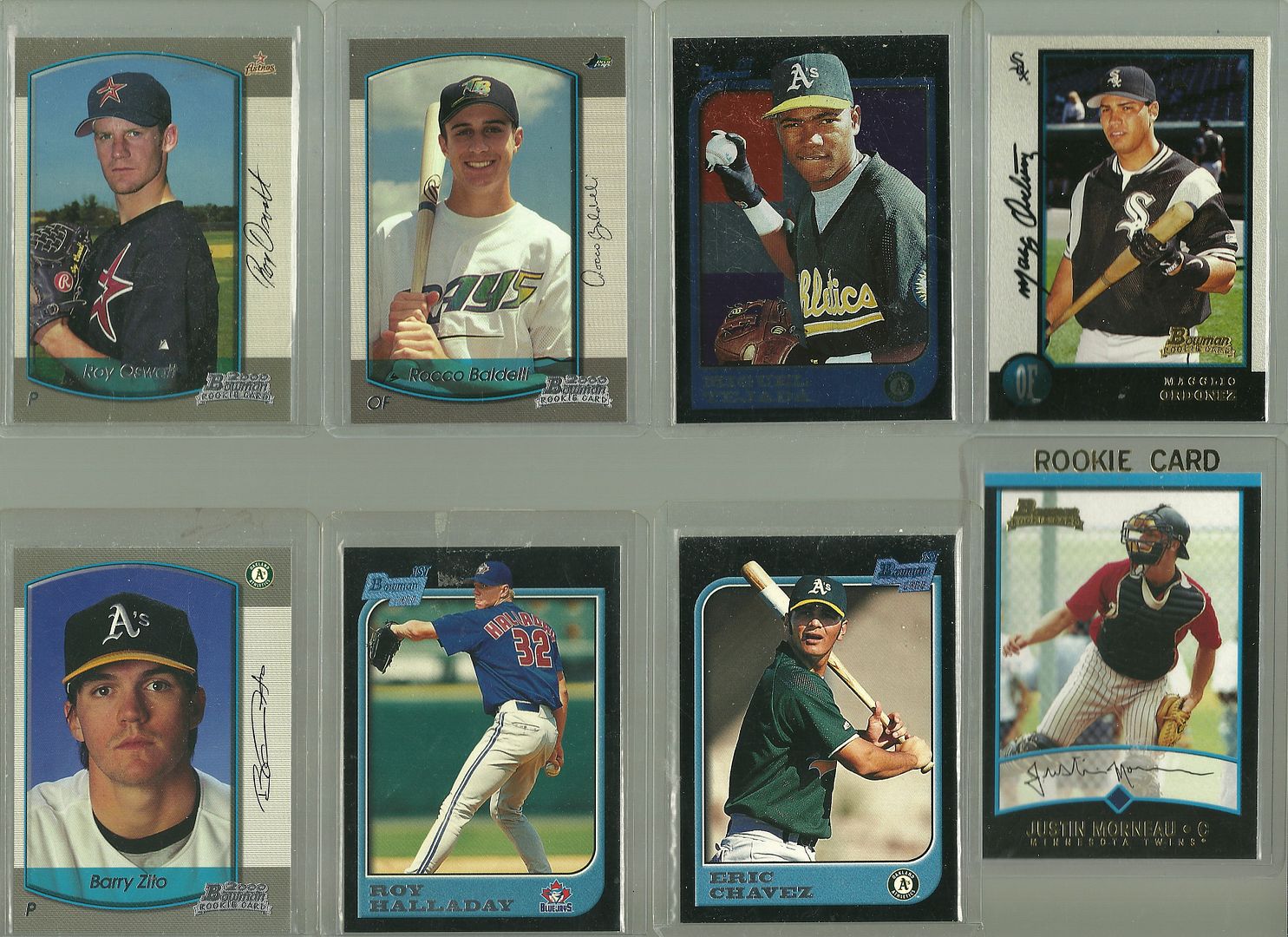 Jim Rice 5
Chad Bettis /50 10
Dellin Betances 5
Johnny Giavotella 5
Rickie Weeks Bowman Chrome Refractor 10
Ryan Braun Ultra RC 5
All Darvish cards 5
Robinson Cano Bowman RC 12
Roy Halladay Bowman RC 10
Josh Hamilton Bowman RC 5
Carlos Correa Bowman Auto 75
Andrew Aplin Purple 6/10 150
Wyatt Mathisen Gold 25/50 50
Yasmani Grandal Patch Auto 15/99 30