See my previous post regarding details about all the boxes I bought during Black Friday shopping. I started with opening some football boxes and moved to basketball. I figured I would do some baseball boxes tonight.
Box 1: 2006 Upper Deck Future Stars
Purple (#'d/1799): Mark Teixeira, Todd Helton, Jake Peavy, Jeff Kent, Scott Kazmir
Green (#'d/499): Lance Berkman
Red (#'d/299): Derrek Lee, Randy Johnson
Black (#'d/50): Chase Utley
World Future Stars Purple (#'d/1799): Pedro Luis Lazo, Yadel Marti
World Future Stars Blue (#'d/99):Dicky Gonzalez
Autographs: Jason Bergmann, Alay Soler, Matt Capps, Josh Rupe, Martin Prado (Expired Redemption)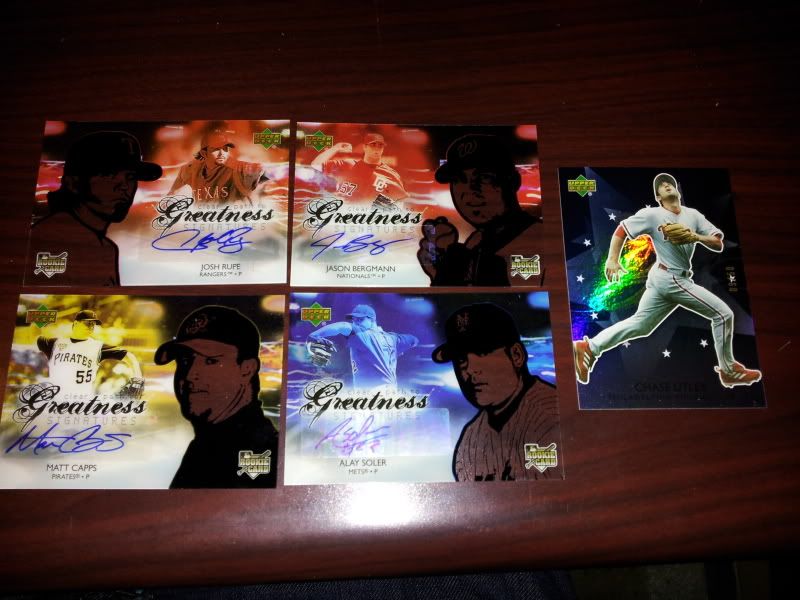 I really like this product and have opened many boxes. However this might be my last one, as I seem to have gotten the same group of autographs in almost every box, plus the expired redemption cards are a big turn off.
---
Box 2: 2008 TriStar Projections High Series
Green Parallel: Neil Walker (14/50)
Yellow Parallel: James Simmons (07/25)
Reflectives Green: Zolio Almonte (50/50)
Reflectives Yellow: Alcides Escobar (22/25)
Autographs: Blake Beavan
Autographs Green: Matt Mangini (41/50)
Autographs Reflectives Green: Justin Masterson (05/50), Prilys Cuello (25/50)
Printing Plate: Joshua Donaldson (Yellow) (1 of 1)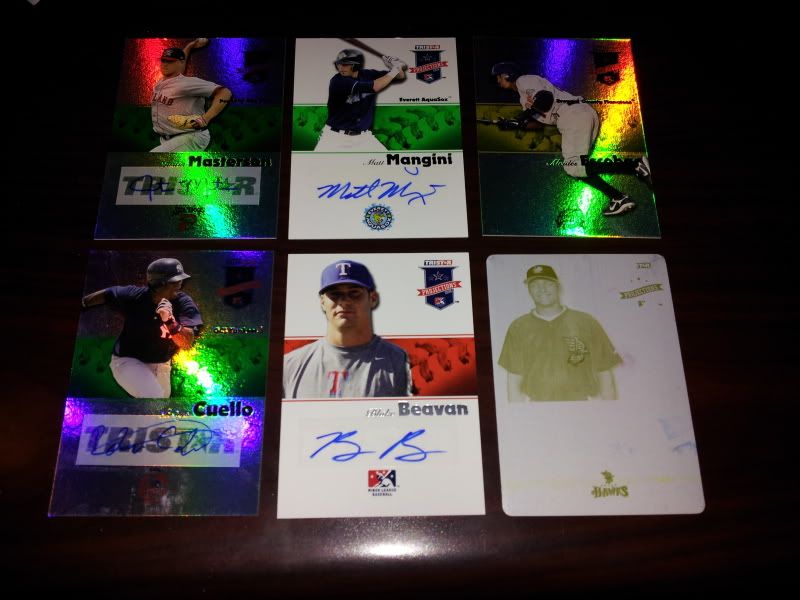 This is a box that I love to bust whenever they go on sale. I will definitely be buying more in the future.
---
Box 3: 2008 TriStar Prospects Plus
Green Parallel: Brett Marshall (44/50), College Teammates: Pedro Alvarez/Ryan Flaherty (49/50)
Green Parallel Die Cut: Boston Future Stars: Jonathan Hee/Bryan Peterson/Tyler Yockey (17/50)
Gold Parallel Die Cut: Eric Hosmer (07/25)
PROtential Game Used Jersey: Justin Smoak (020/199)
Farm Hands Autographs: Niko Vasquez, Xavier Avery, Brett Hunter
Fram Hands Autographs Green: Buster Posey (16/50)
Printing Plate Farm Hands Autograph: Mike Montgomery (Yellow) (1 of 1)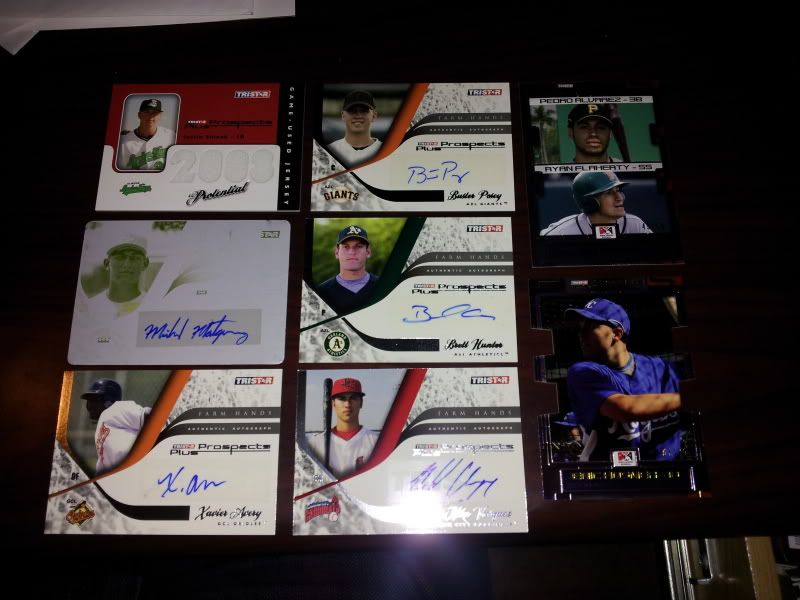 WOW! That was a fun box. I was excited when I hit the Eric Hosmer parallel, but the Posey Autograph was incredible, plus another printing plate and this one was autographed. I think I am going to stick with breaking baseball for the rest of the night.