HERE ARE THE CARDS I AM LOOKING FOR:
I will look at bucket for trade bait and Triple Threads autos as well.
Nick Markakis Autos (That I do not have) 2007 Triple Threads, 2008 UD Ultimate GU/AU, 2008 Triple Threads, 2007 Turkey Red, 2009 Ultimate Collection, 2009 Piece of History GU/AU,
Ryan Braun Bowman Chrome AU RC
Tim Lincecum Bowman Chrome AU RC
Dustin Pedroia Elite RC AU
Felix Hernandez Bowman Chrome AU
Gio Gonzalez Bowman Chrome AU
Ryan Zimmerman Bowman Chrome AU
Andrew Miller SP Authentic Letterman AU
Miguel Cabrera SP Authentic Letterman AU
Jim Thome SP Authentic Letterman AU
Catfish Hunter AU
Matt Kemp Bowman AU RC
Randy Johnson SP Authentic Letter AU or relic auto
Chipper Jones SP Authentic Letterman AU
Yu Darvish Topps or Bowman Chrome AU
Todd Frazier Bowman Chrome AU
Josh Reddick Bowman Chrome AU
Kendry Morales Bowman Chrome AU
Michael Brantley Bowman Chrome AU
2012 Triple Threads Autos:
Andrew McCutchen
Drew Storen
RA Dickey
2012 Bowman Chrome Autos: (Base only)
Will Middlebrooks RC
Ronald Guzman
Avsaril Garcia
Jorge Soler
Nick Castellanos
Jose Campos
I DO NOT HAVE ANY OF THE CARDS LISTED ABOVE, THOSE ARE THE ONES I NEED HENCE THE BIG BOLD TITLE THAT SAYS 'HERE ARE THE CARDS I AM LOOKING FOR....WHY WOULD I MAKE 19 SCANS OF CARDS I HAVE AND THEN NOT SCAN OTHERS???????'
All are Best Offer, willing to negotiate. Willing to move a lot of these, especially the lower end autos so willing to work with people. Wont discount too much on the higher end/more sought after cards.
Shipping 2.50 for anything under 10$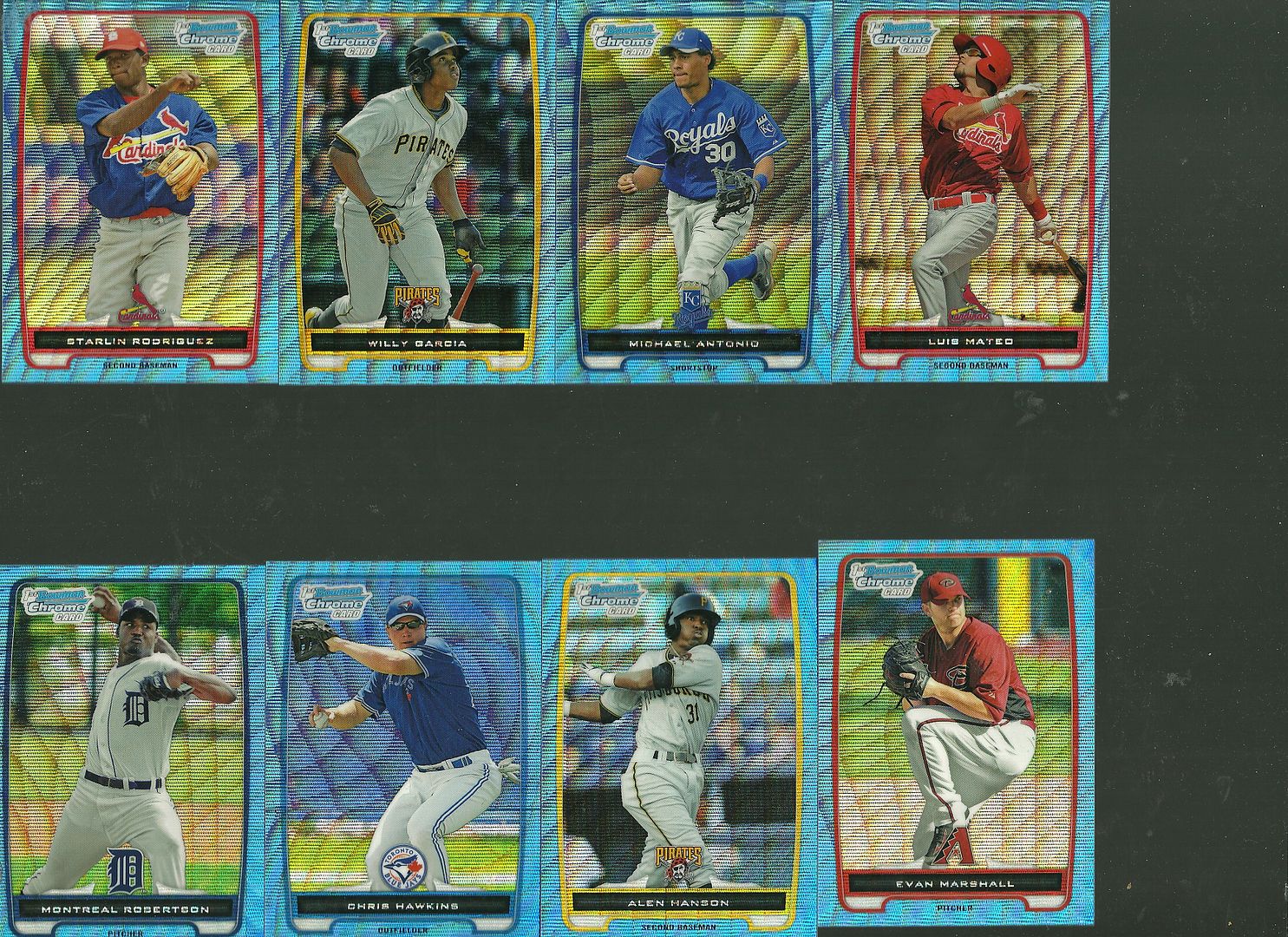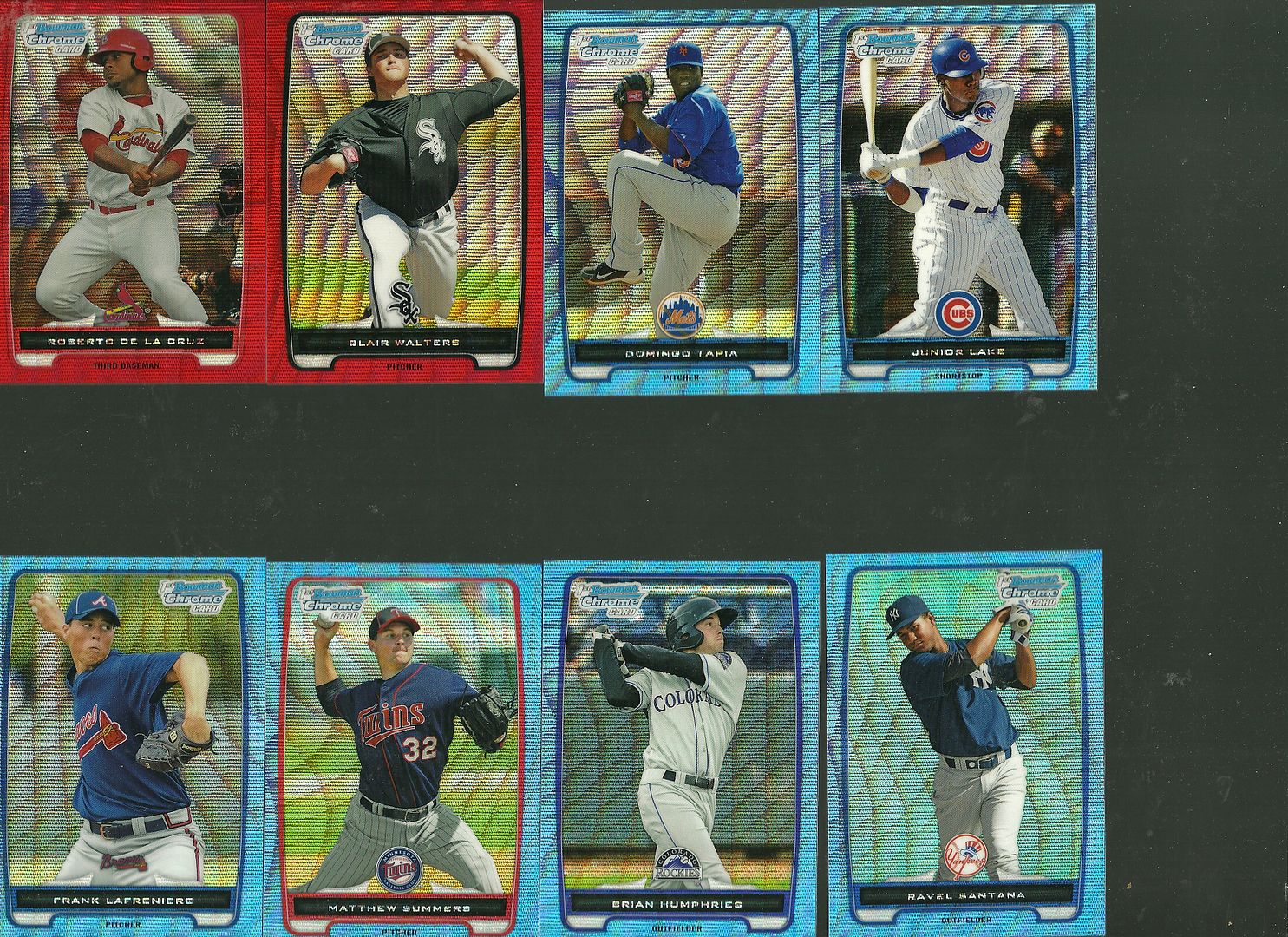 Blue Wave and Red Wave 25 for all, 5 each for the reds
Carlos Santana 8
Hunter Morris 10
Yordy Cabrera 5
Drew Pomeranz Blue 8
Felipe Riverio 5
Gio Gonzalez (Slight ding on corner from pack) 8
Matt Dominguez 10
Michael Brantley Refractor 7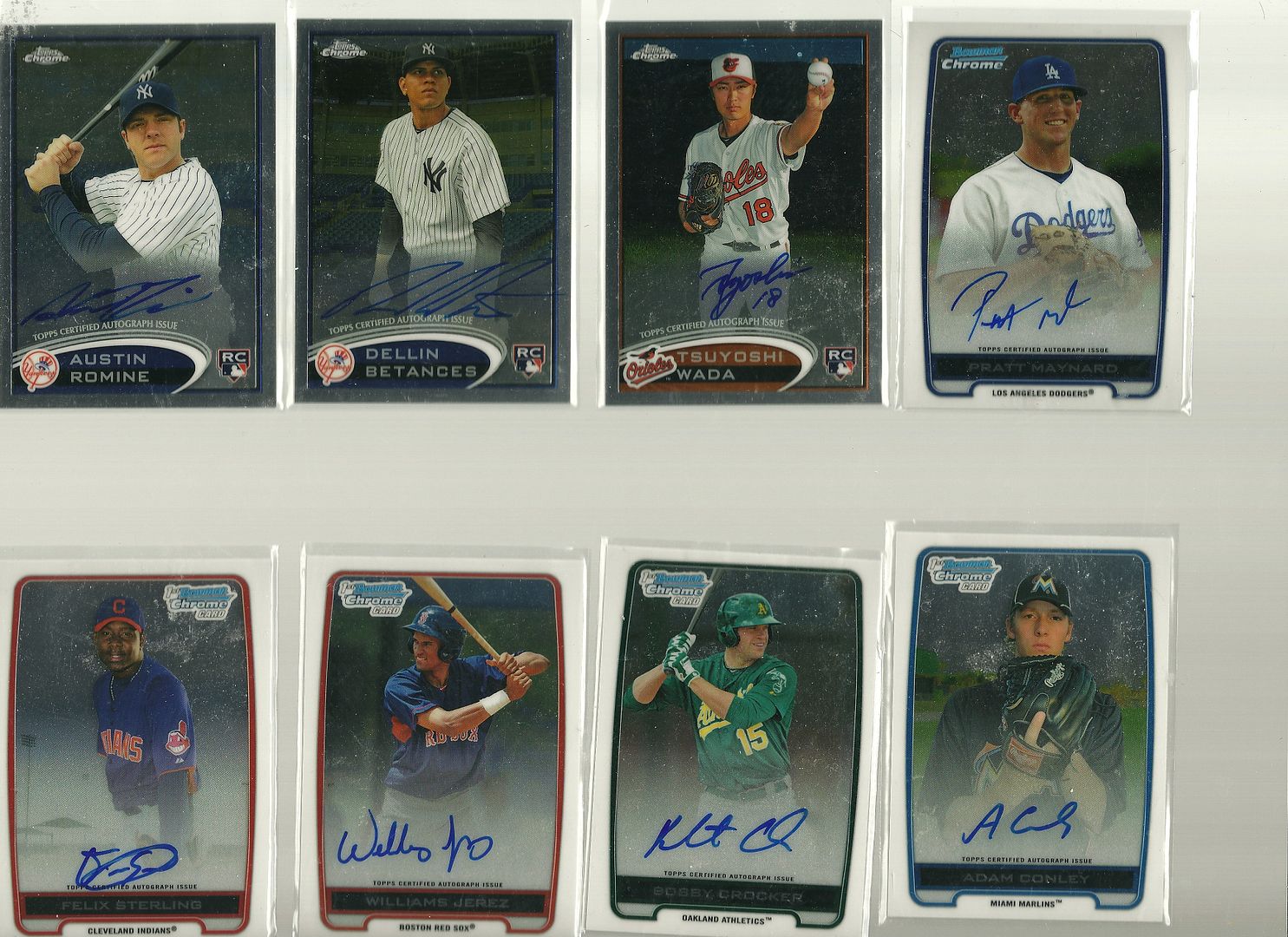 Austin Romine 5
Dellen Betances 5
Tysushi Wada 8
Pratt Maynard 5
Bobby Crocker 5
William Jerez 7
Felix Sterling 5
Adam Conley 5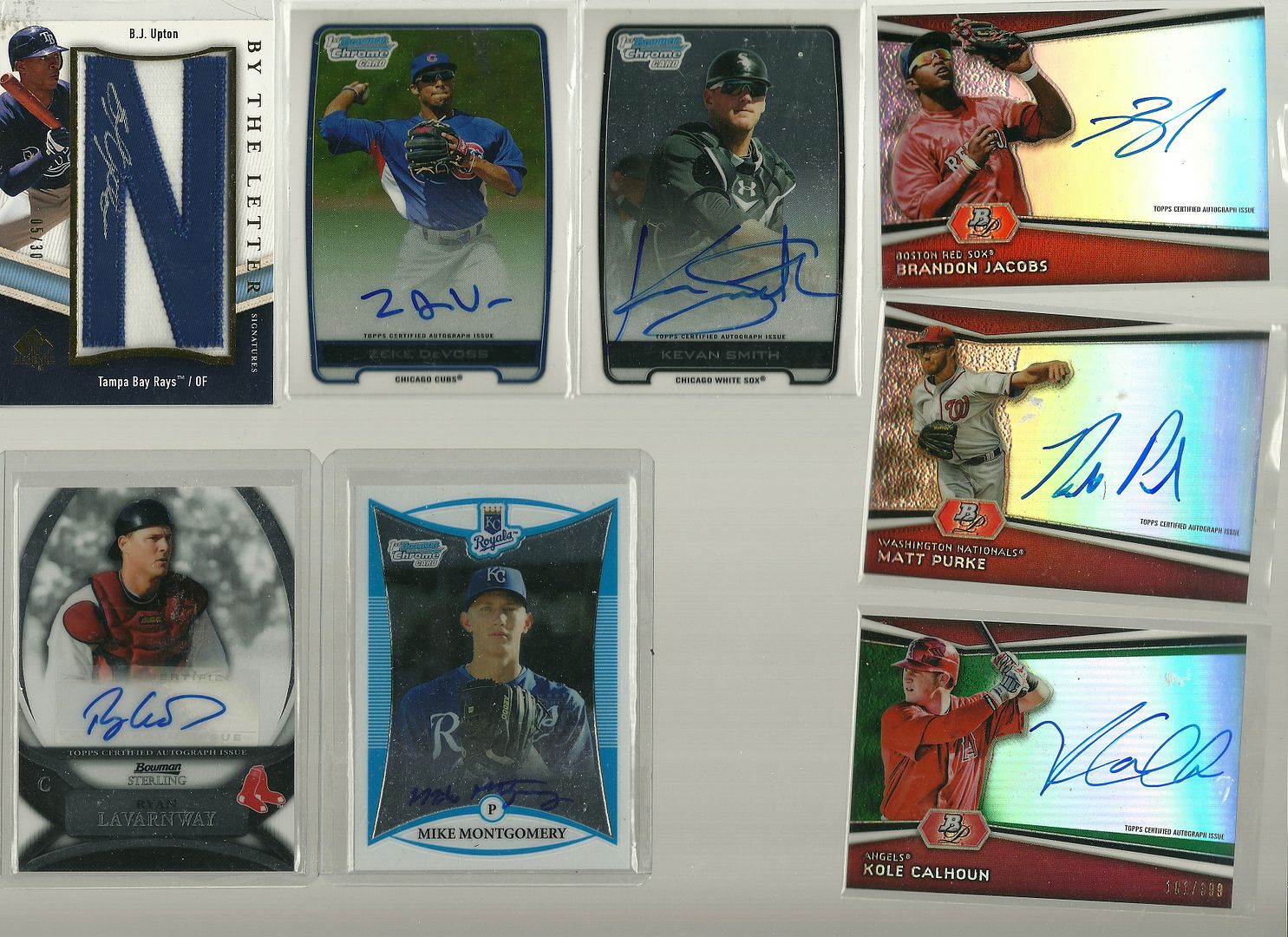 BJ Upton 10
Matt Purke 5
Brandon Jacobs 5
Zeke Devoss 5
Kevan Smith 5
Kole Calhoun Green 7
Ryan Lavarnway 10
Mike Montgomery 5
---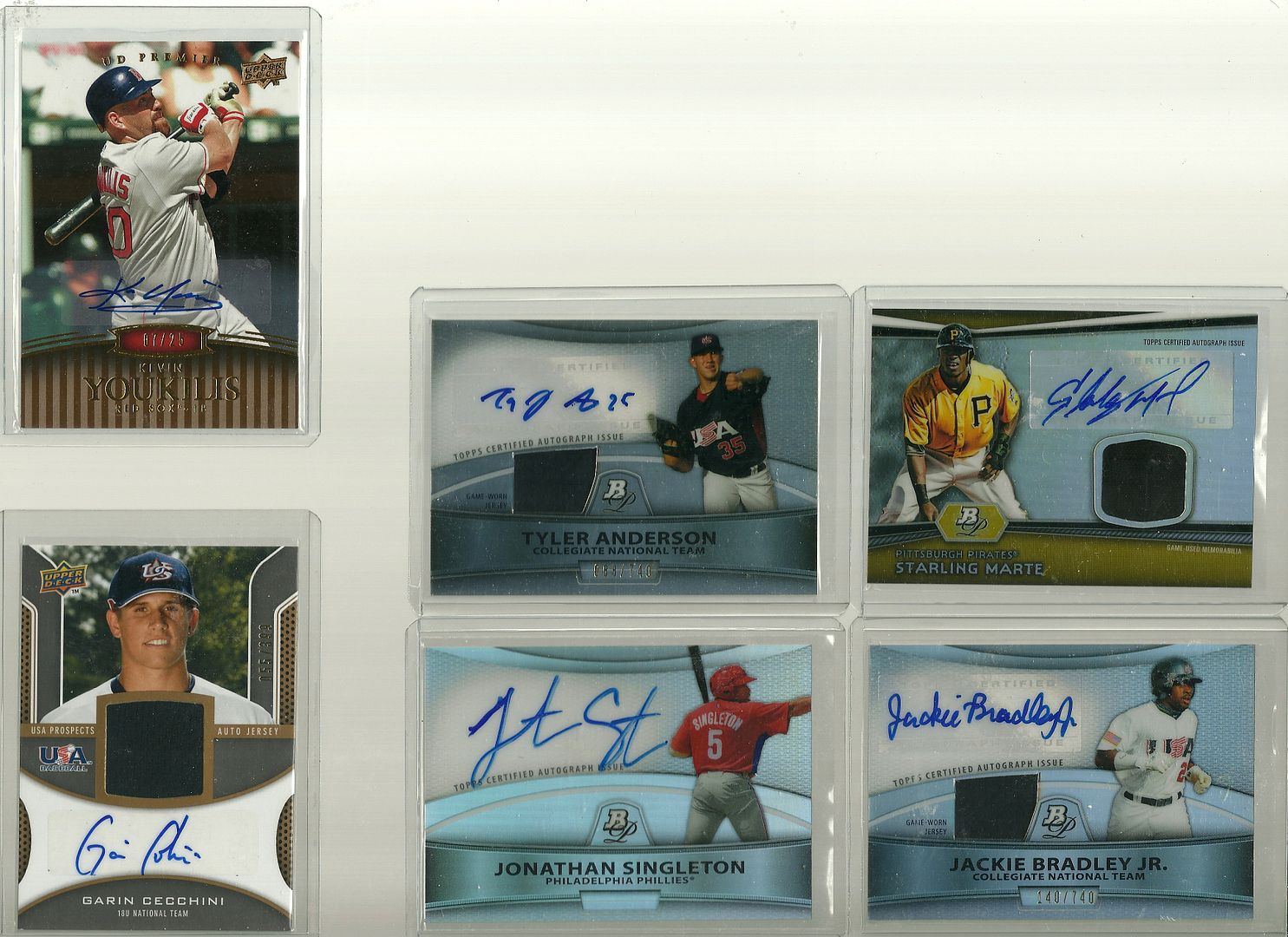 Kevin Youkilis 10
Garin Cecchini 5
Starling Marte 15
Tyler Anderson 6
Jonathan Singleton 15
Jackie Bradley Jr 20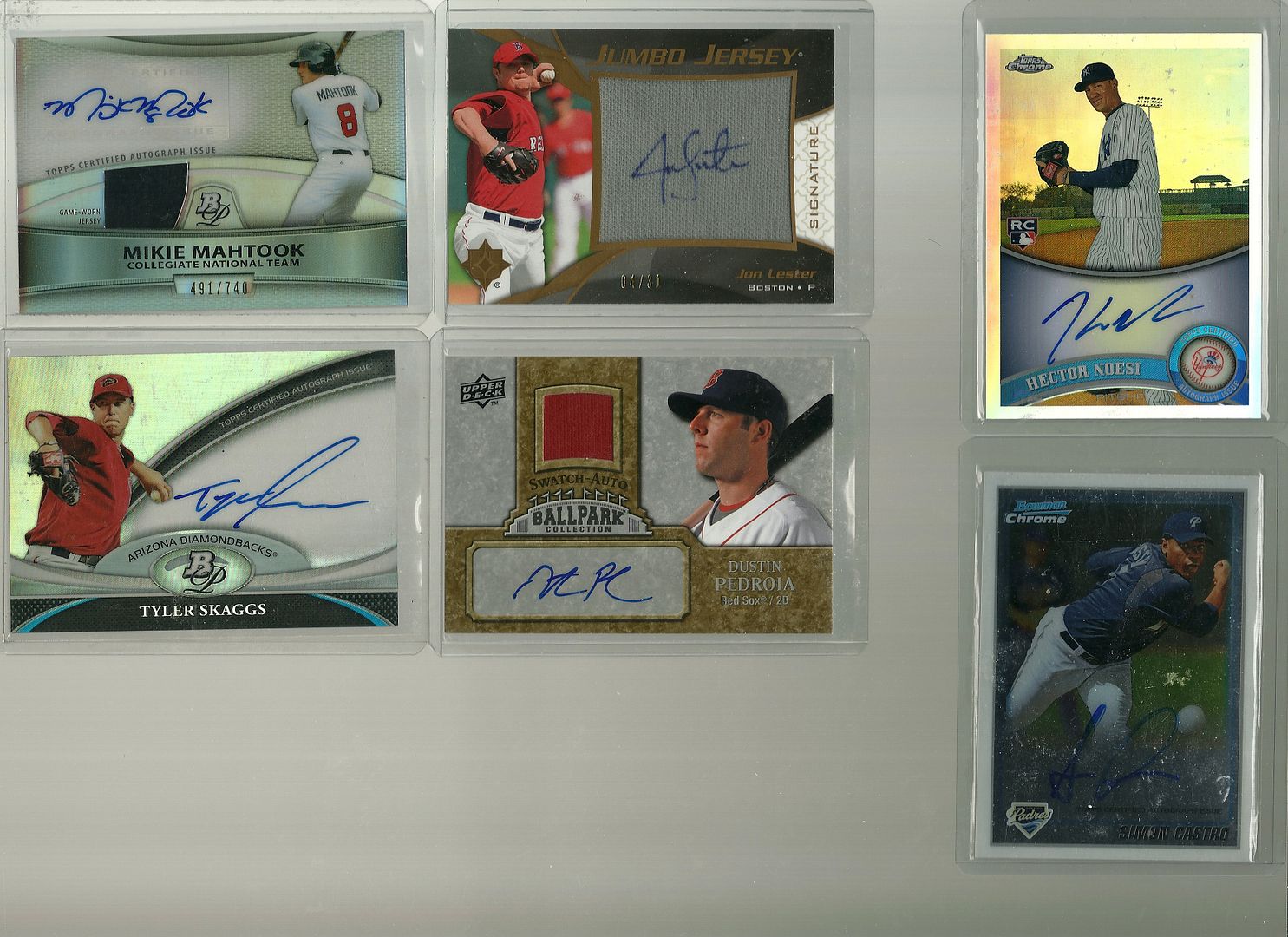 Mikie Mahtook 7
Tyler Skaggs 10
Jon Lester 25
Dustin Pedroia 20
Hector Noesi 6
Simon Castro 5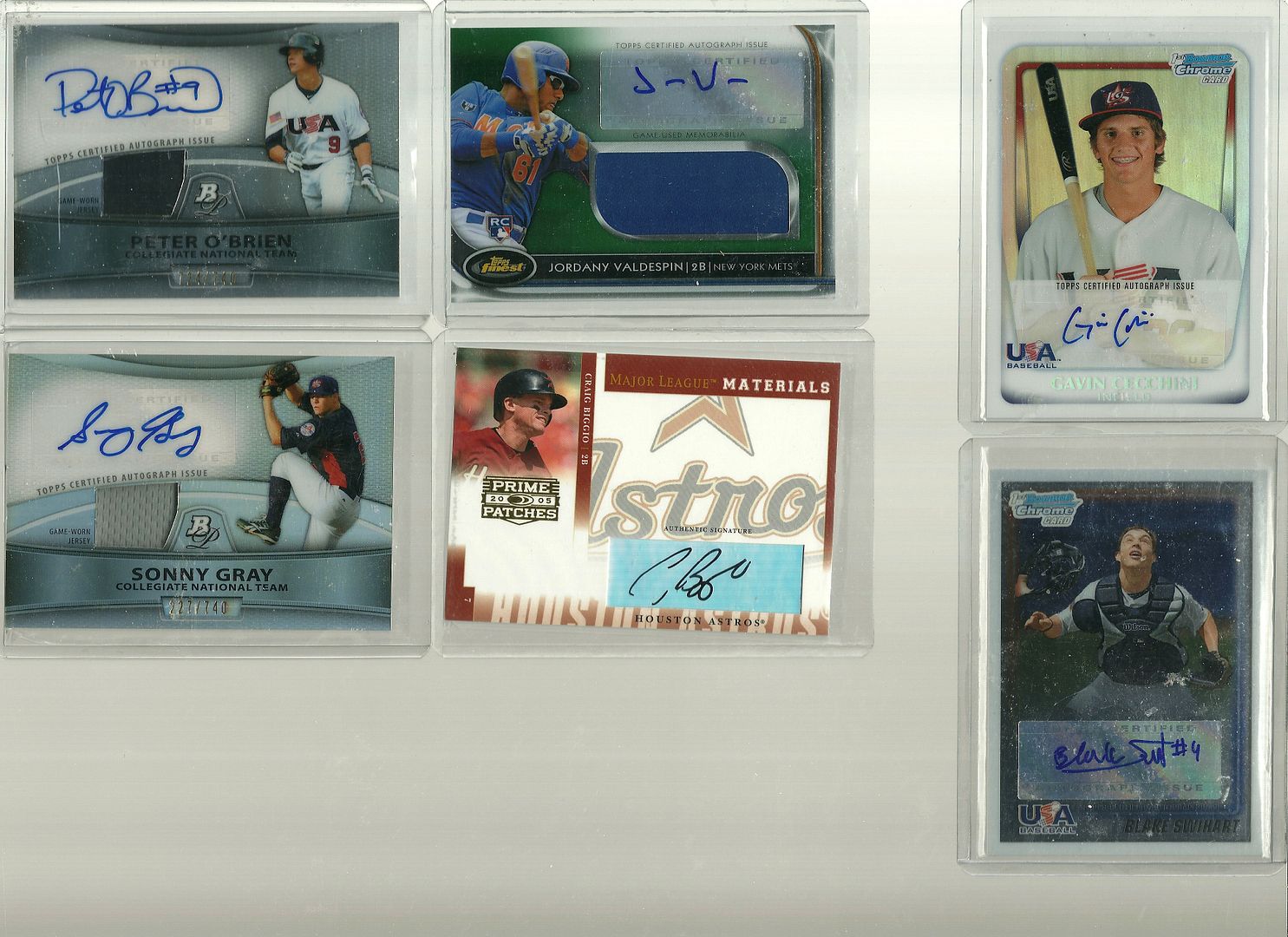 Jordanny Valespin 7
Craig Biggio 40
Peter O'Brien 7
Sonny Gray 8
Blake Swihart 10
Gavin Cecchini X Fractor 15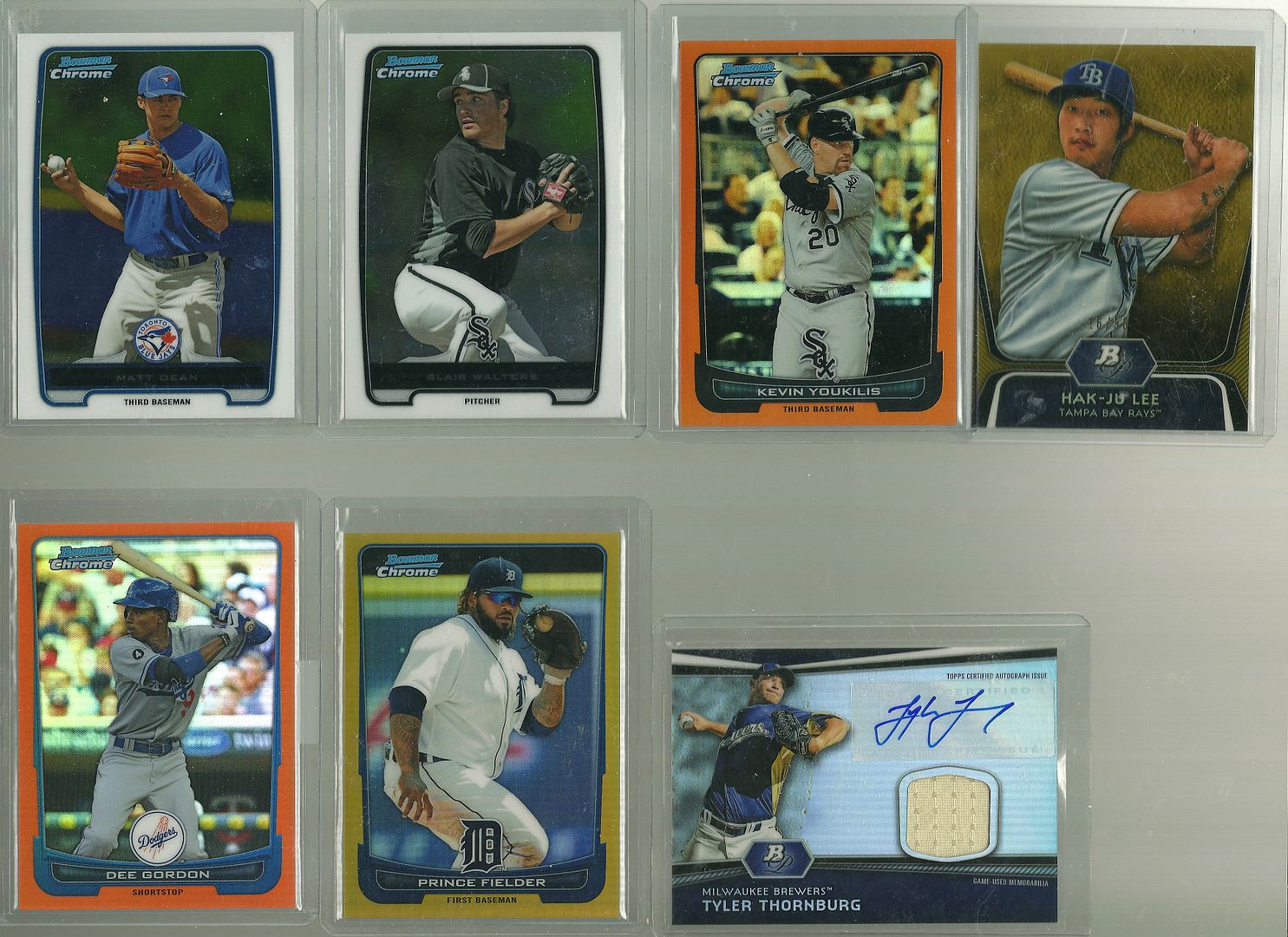 Matt Dean Variation 20
Blair Walters Variation 20
Tyler Thornburg 10
Dee Gordon Orange 10
Prince Fielder Gold 7
Kevin Youkilis 5
Hak Ju Lee 10
Ike Davis Refractor 20
Tyrell Jenkins 7
Justin Morneau Gold 7
Bryce Harper RC 7
Kevin Gausman 15
Austin Jackson Refractor 20
Gordon Beckham 7
Addison Reed Orange 7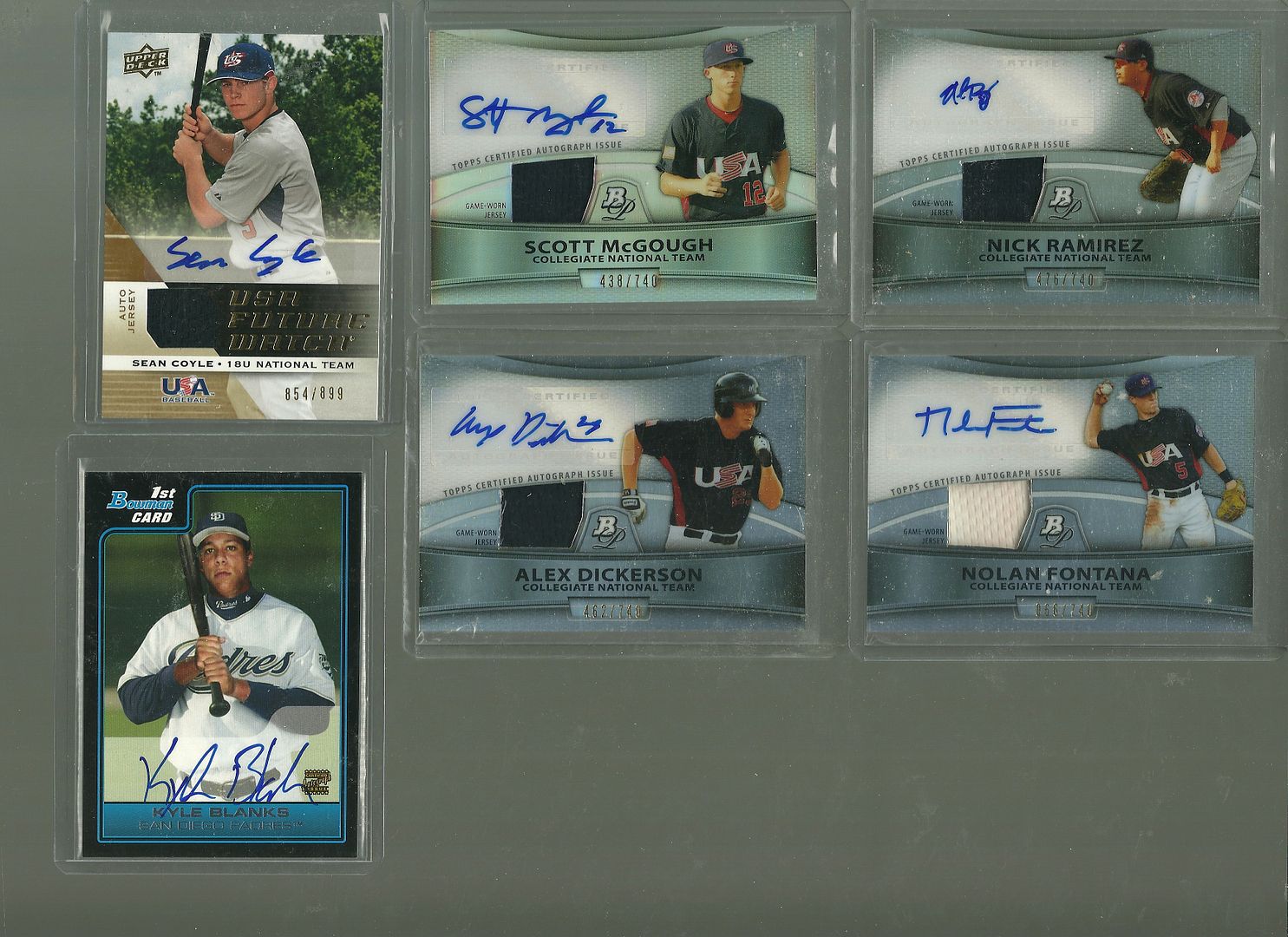 Scott McGough 5
Alex Dickerson 5
Nolan Fontana 7
Sean Coyle 7
Kyle Blanks 5
Nick Ramirez 5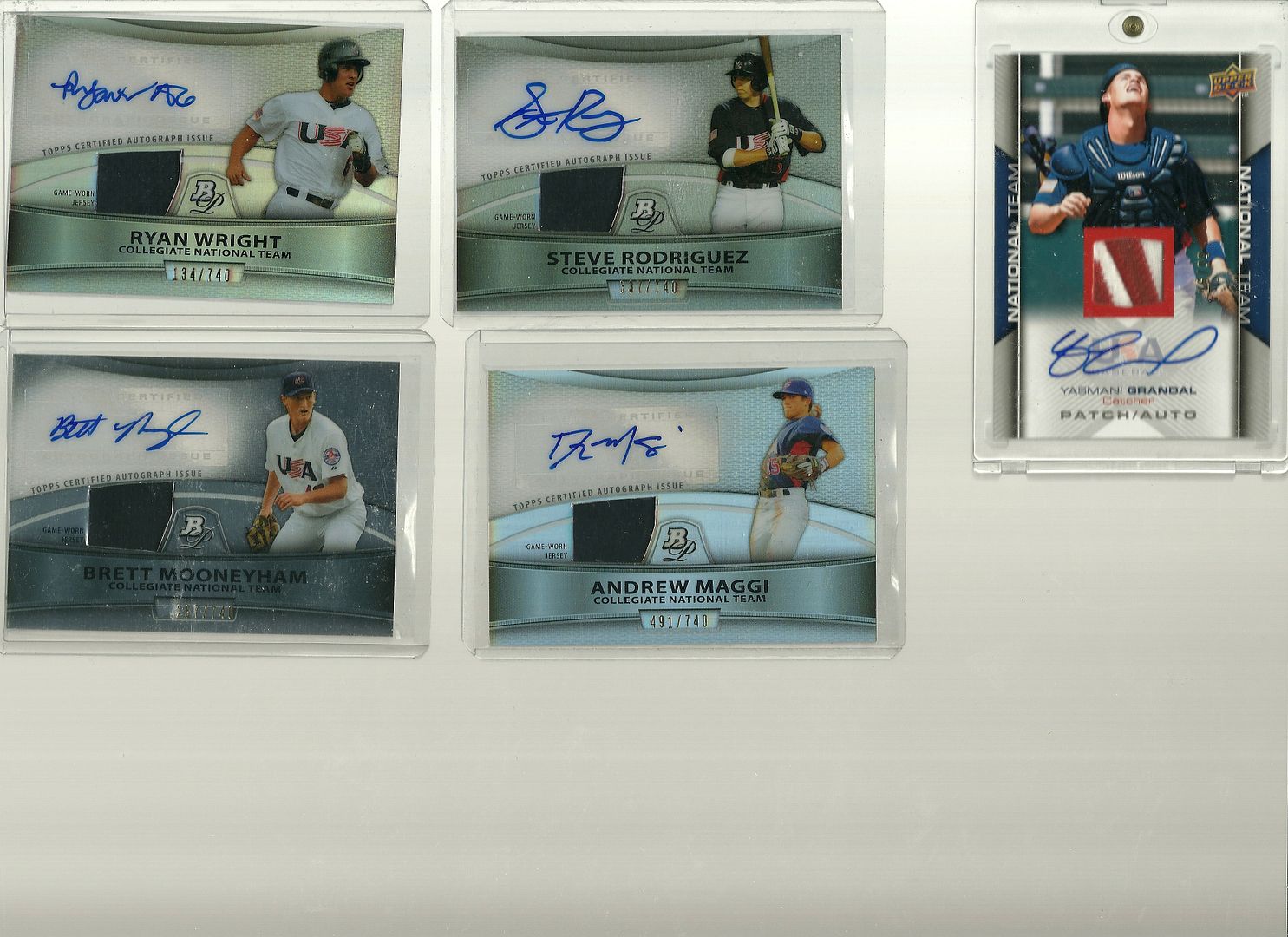 Yasmani Grandal 50
Steve Rodriguez 5
Ryan Wright 5
Brett Mooneyham 5
Andrew Maggi 5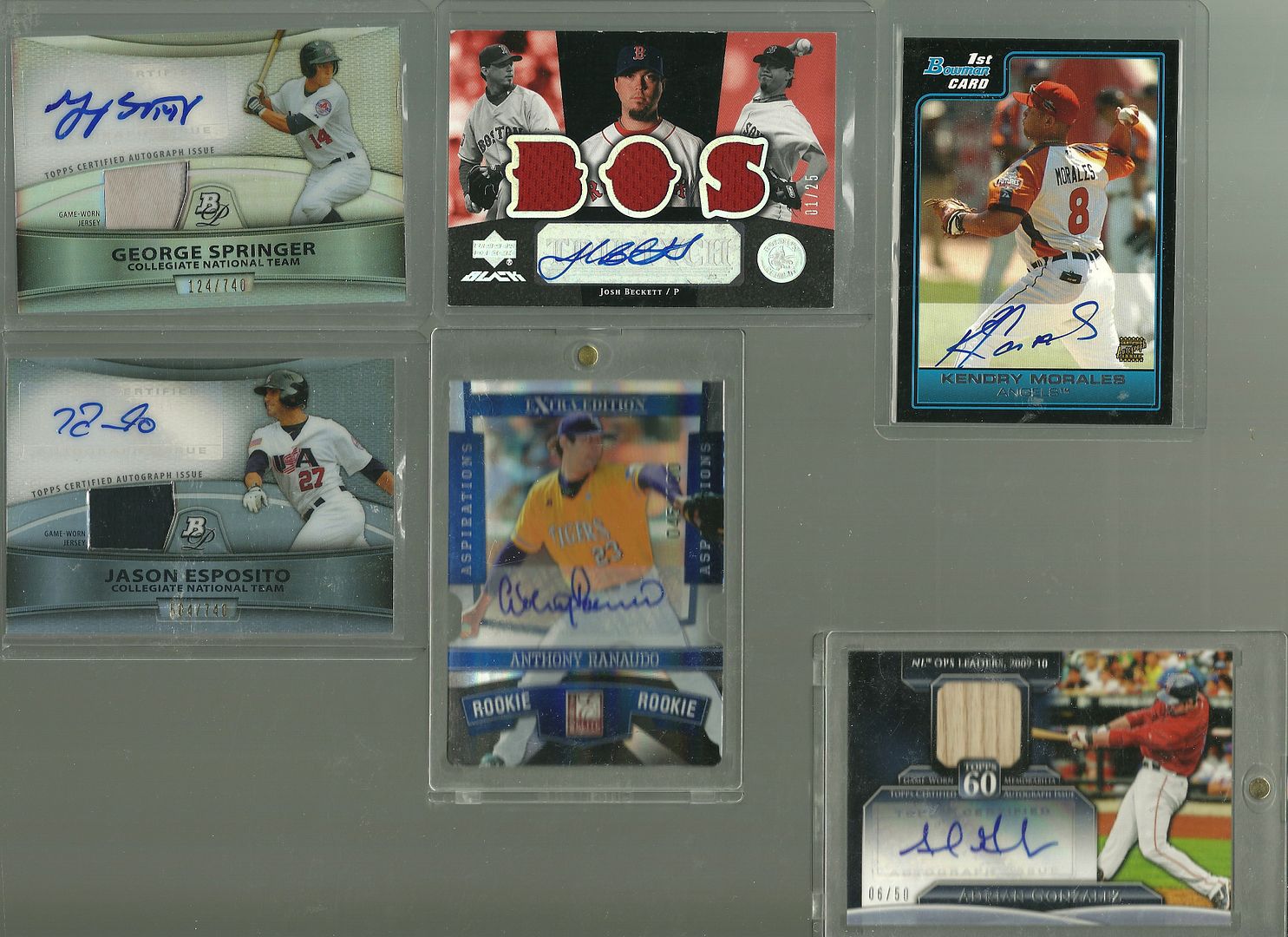 Kendry Morales 5
Josh Beckett 20
George Springer 10
Jason Esposito 7
Anthony Ranaudo 18
Adrian Gonzalez 25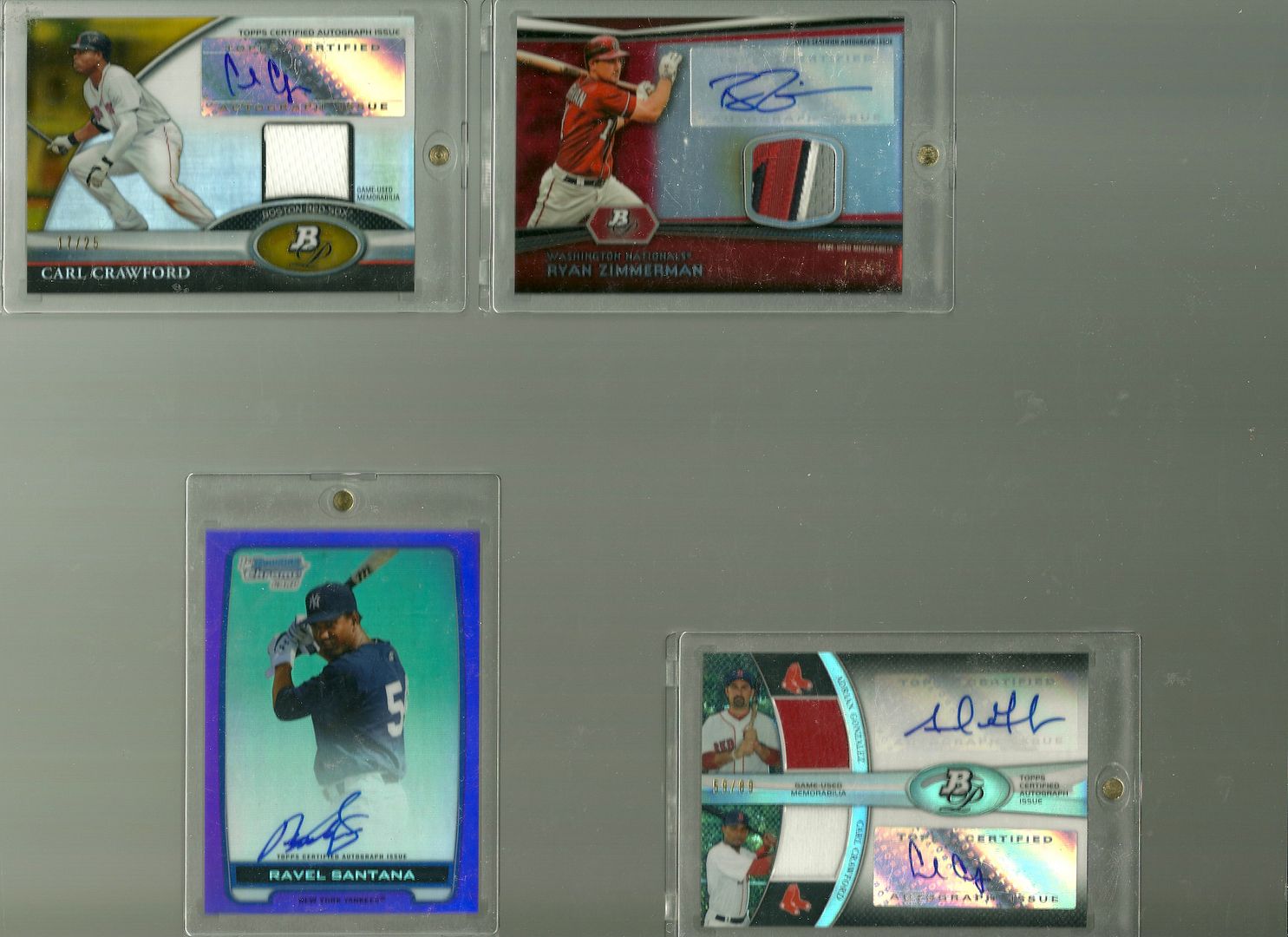 Ravel Santana 200
Adrian Gonzalez/Carl Crawford 25
Carl Crawford 20
Ryan Zimmeran 30