Slater Martin passed away last Thursday... Rest in Peace.
I was unaware of his passing. I haven't been keeping up with basketball that much in recently weeks.. I was surprised that my Chronology "letter auto" sold for 3 times BV a few days ago... I didn't want to really sell it, but since I threw it up with a huge price. somebody bought it.. I still have three more letters...
NBA Press Release:
http://www.nba.com/lakers/releases/121019_slatermartin
Alumni page:
http://www.nba.com/lakers/history/alumni_slater_martin
Show off your Slater Martin cards....
here is the card I sold..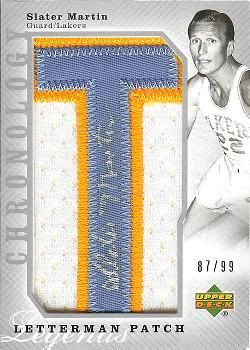 I just received a Letter "A"... & got to look for the other one I have.. forgot which letter it was.. scans of my other S.Martin cards coming soon...