I've really loved Topps 206 since 2010, I completed the set and decided to try to bust every 206 and 205 product and build the sets. I bought a box of 2009 a few months back to try to complete the set, but got way too many dupes. I decided to get one more rack pack box since the price was super, and I also found 2002 Series 2 at a decent price, so I jumped. I opened 2009 first. Lots of big rookies, Freese, Price, McCutchen...It's a rack pack box, so it's retail, and only a hit in every box and a half or so. But I got this a couple packs in: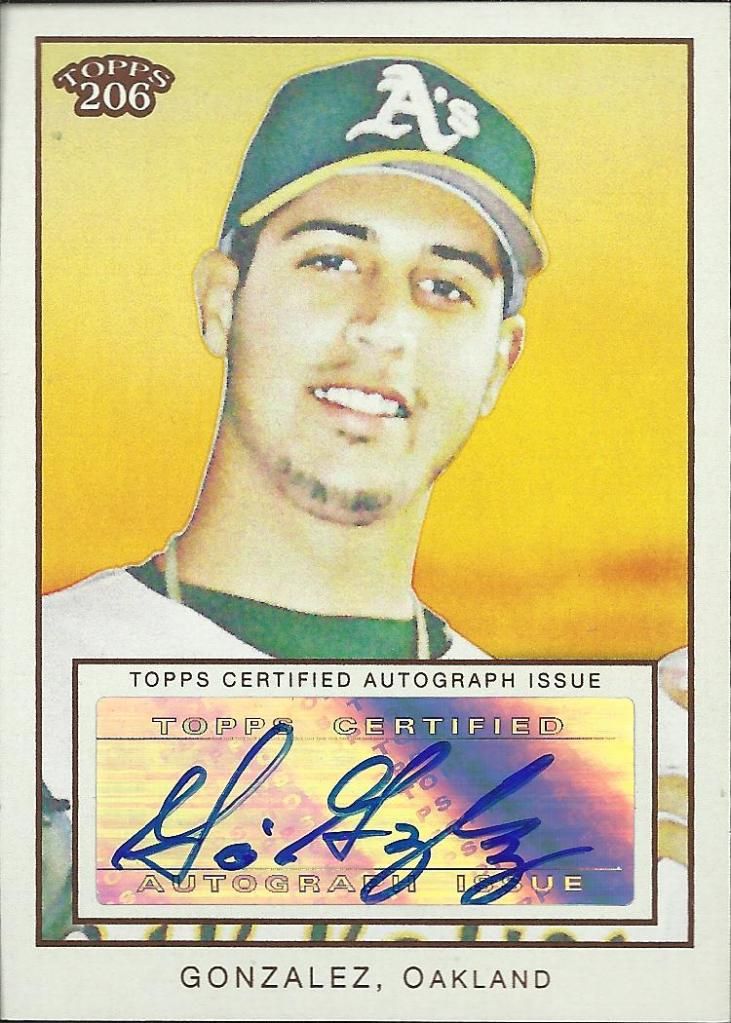 Not bad at all, a hit is good, an auto is beating the odds, and a great player is pretty darn good. Not a big time auto, and the shiny sticker's a bit ugly, but still it makes the box regardless of whether I complete the set.
Did bad on bronze, but I'm not a big fan of them anyway.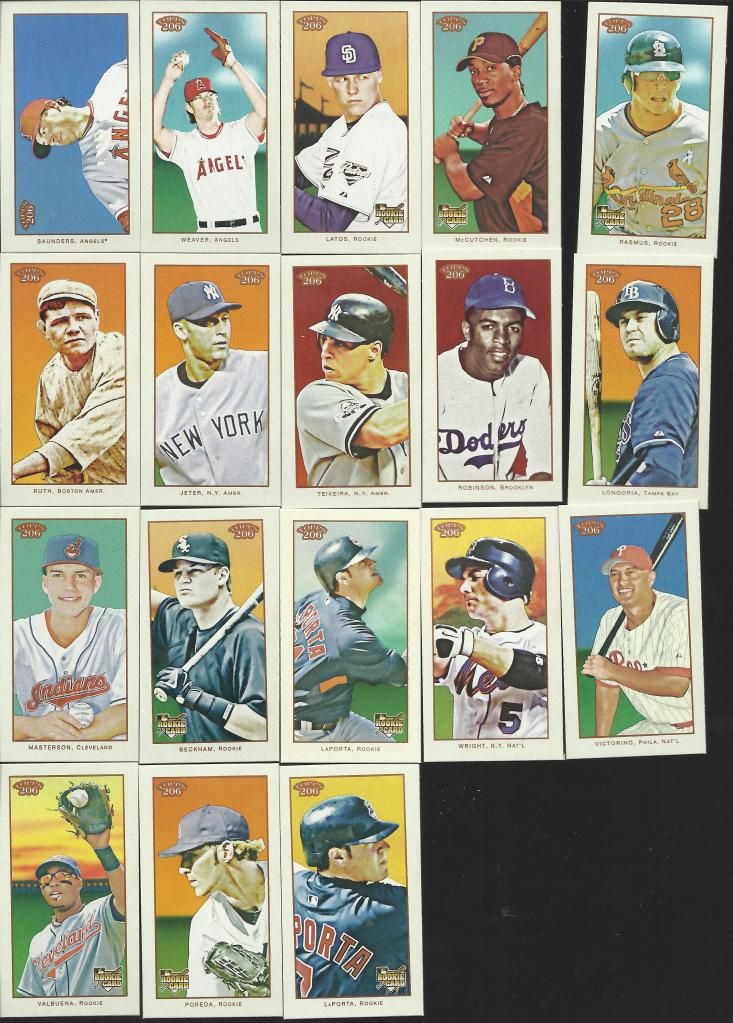 I did great on the minis though. Saunders is Cycle/99, Weaver is Polar Bear (to match the Cycle I pulled in my last box), Latos is Old Mill, all about 1 per box in these rack boxes. The rest are Piedmonts, and I did pretty great with those, lots of big names.
Very solid box, nothing spectacular, but lots of nice cards that would have made the box worth it regardless of whether I was building the set. Very happy with that one, and these are so much fun to bust. I love minis.
2002 206, 2 hits per box. My first crack at 2002. Joe Mauer RC in the series, but it's an SP and I didn't pull it.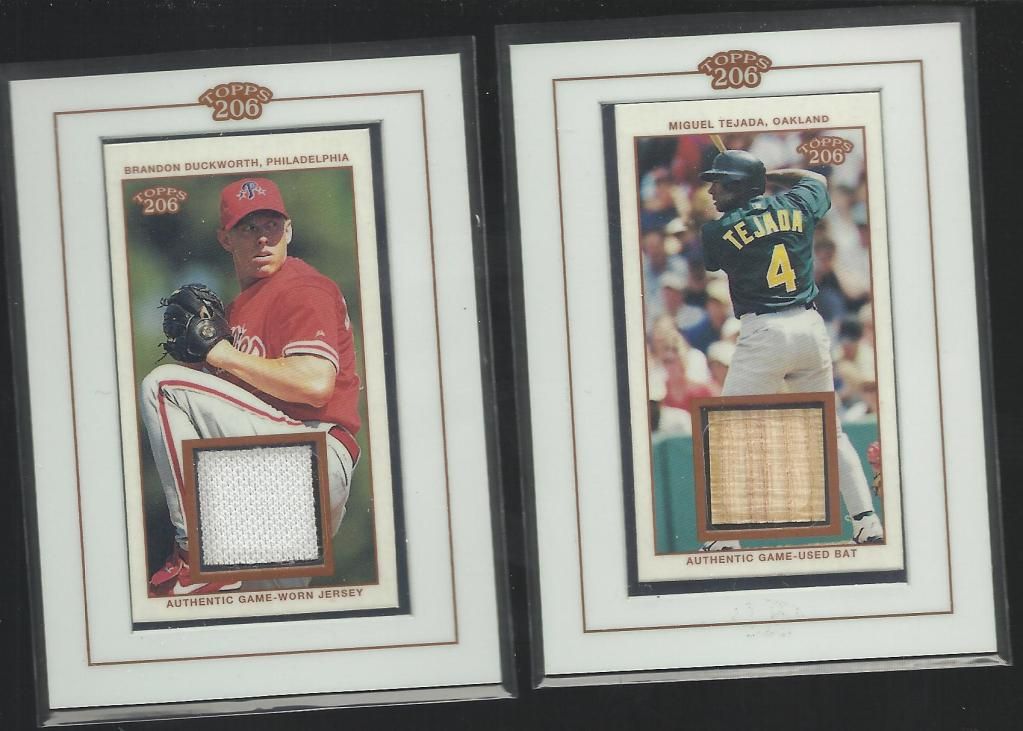 I struck out on the hits. Oh well, it happens.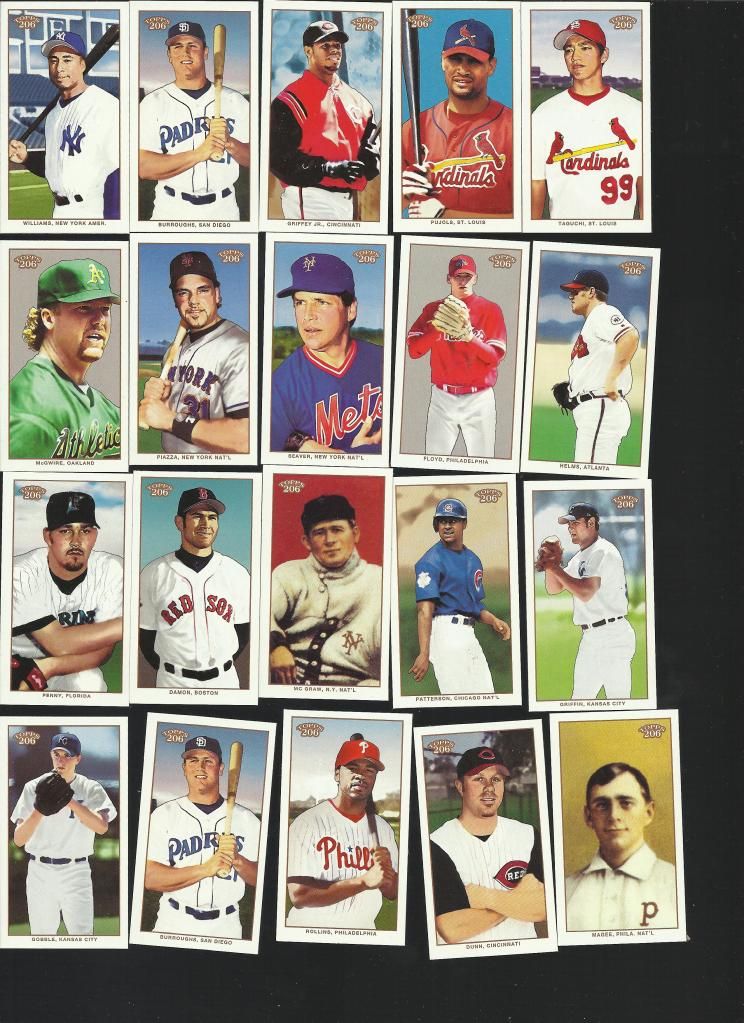 Bernie is a red piedmont back, Burroughs is Carolina Brights, all others are piedmont and polar bear. Nothing big there, but some good PC minis in the McGwire, Pujols, and Taguchi.
All in all, great 2009 box, very weak 2002, but I bought it mainly to build the set so I can't complain too much. Overall, very fun break, it was a blast to bust a 10 year old product, seeing McGwire, Sosa, and Clemens cards. Thanks for looking!
Dan