I was glad to find a couple of these at my local Walmart, I love these HTA Topps boxes, they are my favorite wax to bust and I didn't get back into collecting until 2010 so I hadn't yet busted any 2008, so I was on the lookout after I heard they were appearing in Walmarts. I was going to buy one, but seeing as today is my birthday, I bought both that the store had. 100 bucks for 2 boxes, when a new one will run you nearly 100, that's pretty darn good. There's nothing too earth-shattering to be had in these, though there are RCs of Kershaw and Longoria among others, so there are some nice parallels to be had, and some good autographs. Anyway, here's my break. There's a box topper, a rookie chrome refractor, and a sticker (woo hoo!), and here's a sample of the inserts: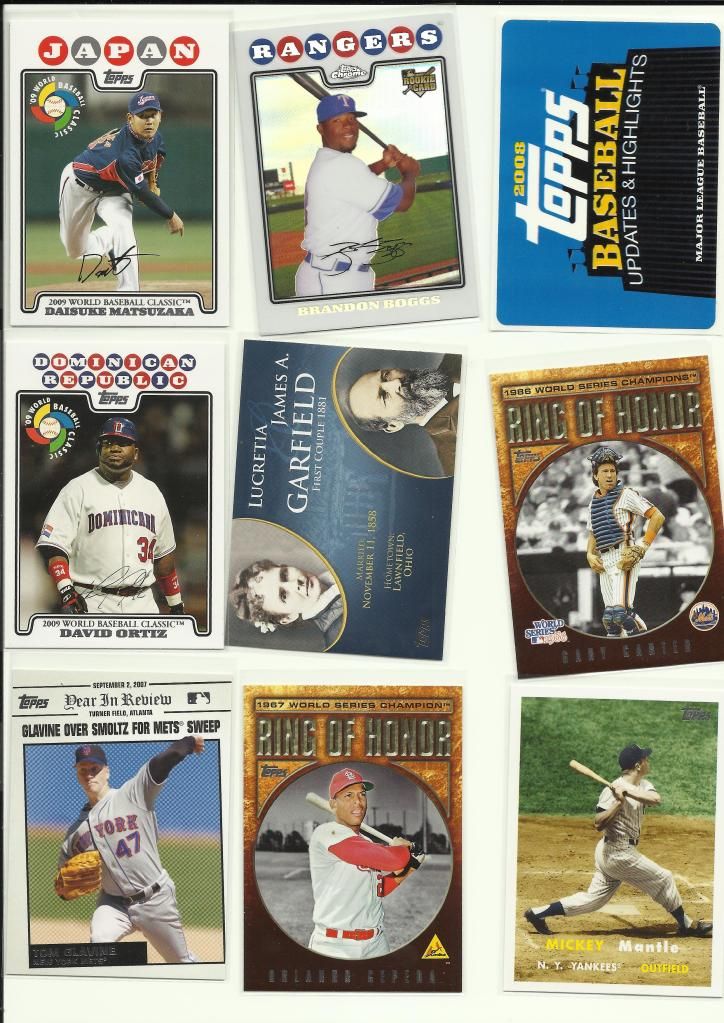 I'll take this opportunity to note how much better Topps is now than 4 years ago. Compare the inserts to 2012. These are mostly pretty plain, the presidential inserts...I now have Polk, Garfield, and Ulysses S. Grant cards...The Mantle Story is pretty cool, and Ring of Honor is ok, but really there's not many inserts and they are rather plain. I like the WBC cards (remember when a Matsuzaka was a big deal?). Anyway, I really like the 2012 inserts, almost every one of them. There are 3 gold foil cards per pack (rather than the silver foil normal version). Here are the highlights: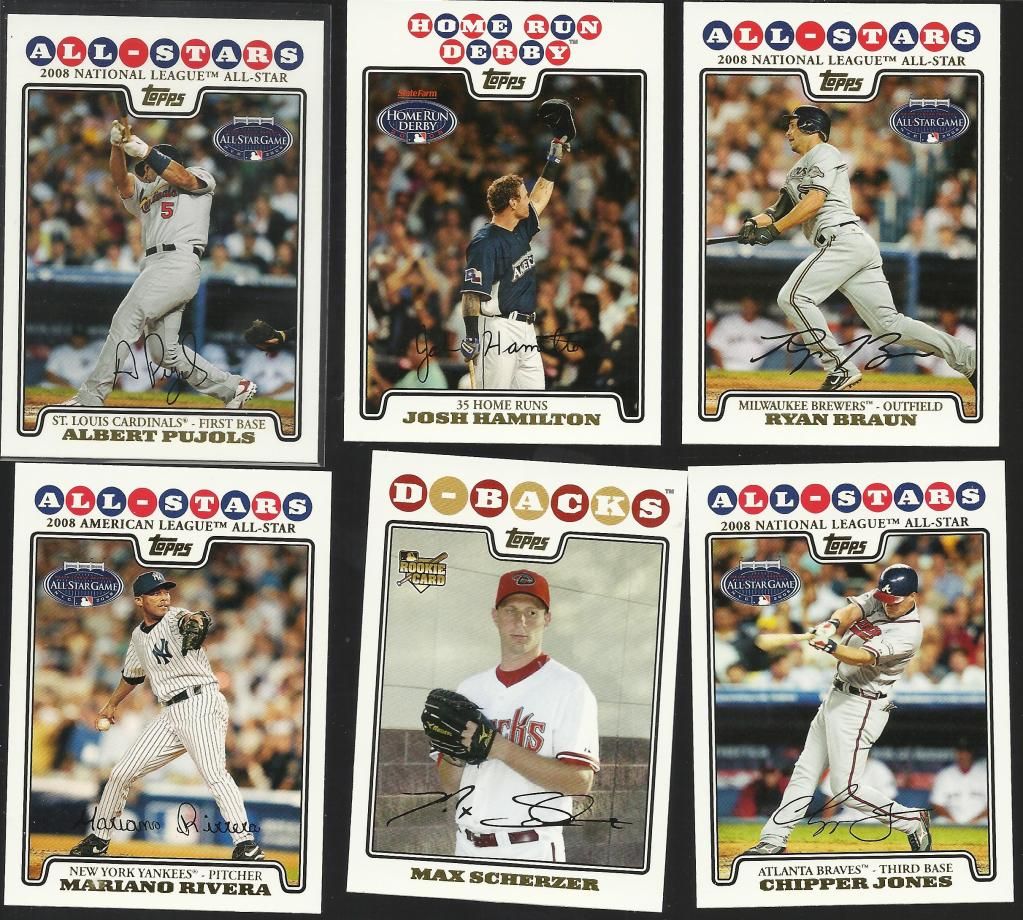 Another opportunity to note how much better Topps is now....look at the photography. Almost all are very plain. The last 3 years or so Topps has really used some great photography in its flagship brand. Here's the gold parallels, numbered to 2008:
Now the hits: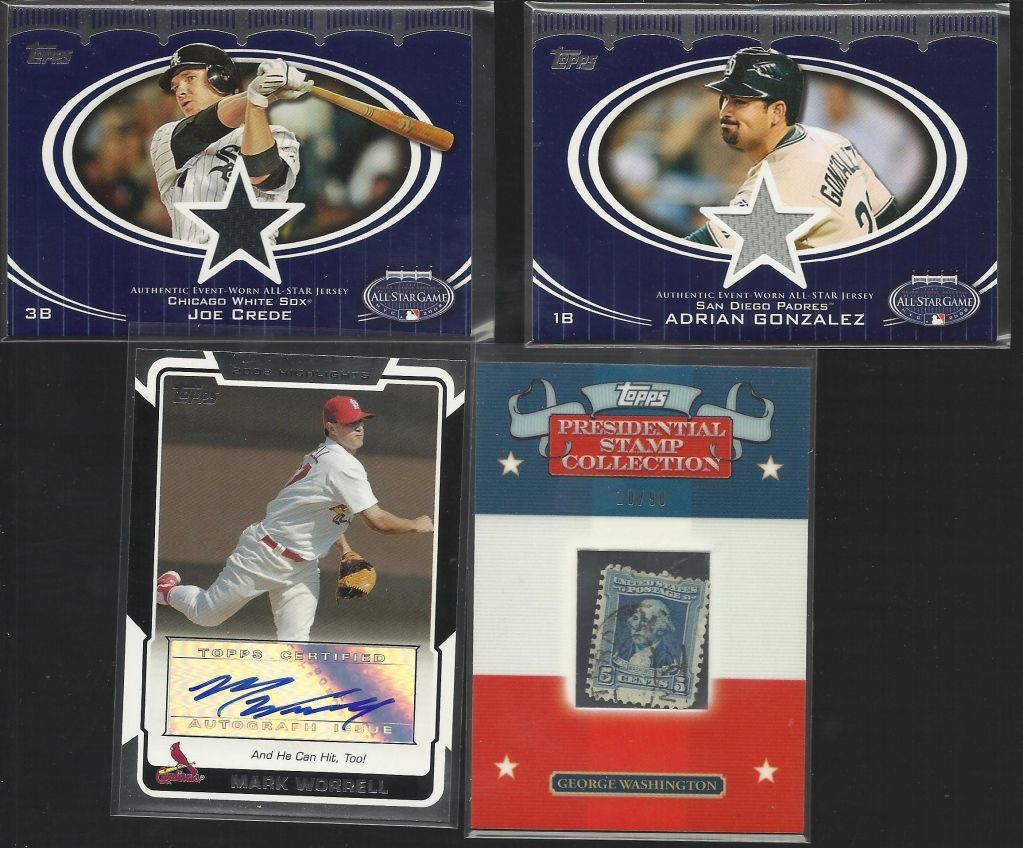 Again, Topps is better now: stickers are clear-ish, those foil stickers were ugly. Also, the manufactured relics are a nice change from a 2-dollar jersey card. Anyway, on to my box...If I'm going to get a crummy auto, I'm glad it's a Cardinal, even one I don't remember. The Stamp is numbered out of 90, and was an extra hit, though I didn't get a black parallel in this box. Pretty cool though, I don't know how much I may get for it but I think it makes the box worth my money (close enough). I don't yet know if I will get a whole set out of a box, I noticed several dupes so I doubt it, but hopefully with two boxes I will. On to box 2: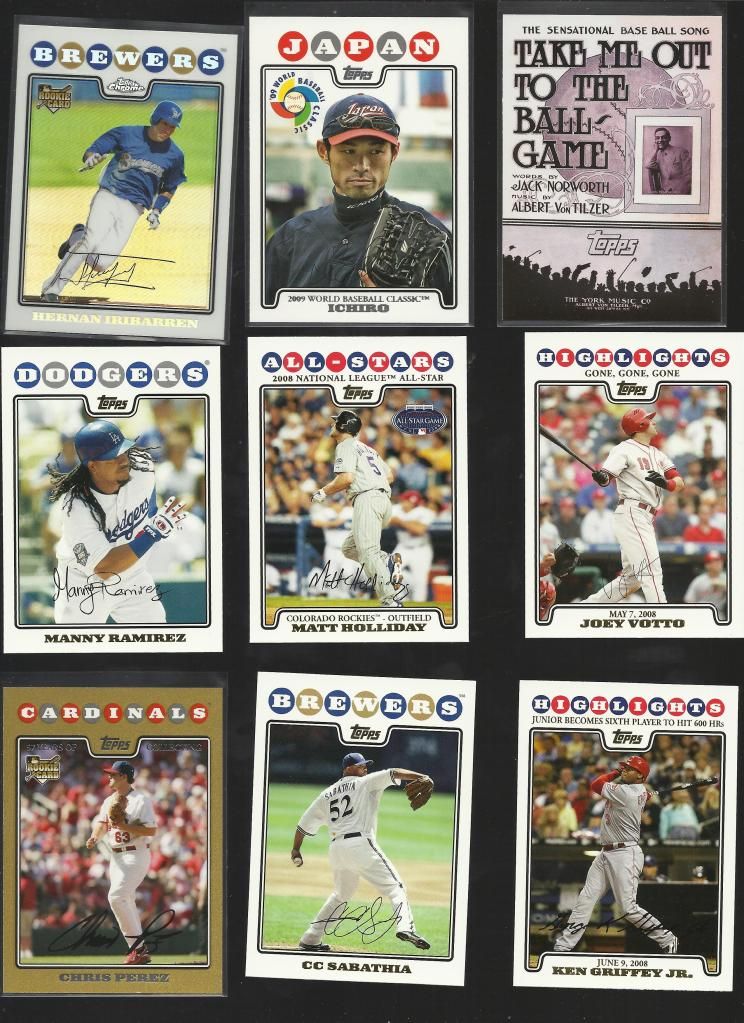 Another crummy refractor, was hoping for at least someone decent. Oh well. I like the Ichiro WBC, and theres a Take Me Out to the Ballgame insert. And remember Mannywood?
Maybe my favorite pull of the break. I was at this game, when Ankiel returned, and I didn't even know he'd been called up. He homered in the game, it remains the coolest baseball moment I've seen live, so I was pretty happy that there was a card and I pulled it.
My other favorite pull is the Kershaw gold RC.
Got an extra jersey card. Pretty cool, and at least the auto was a player who is still in the majors.
Nothing super-exciting in these boxes but a fun break, and for the price I'm satisfied, so long as I complete the base set...I hope to see more interesting boxes at retail. They have 2010 bowman chrome and topps chrome but you can get those everywhere. I'd love to see more Topps HTA.