I cracked five boxes of TM since it came out, plus a few retail boxes. I also have a few pick-ups from eBay that were a part of a lot, so those are here, too...It might not add up to five boxes, because some of the stuff I have already traded away, but here are the goodies:
I think the B/W are one per Hobby box...at least that is how they fell. The Reds are one per Retail box. I actually have others (Smoke and Danica) that I pulled from Retail and Hobby, but those are elsewhere...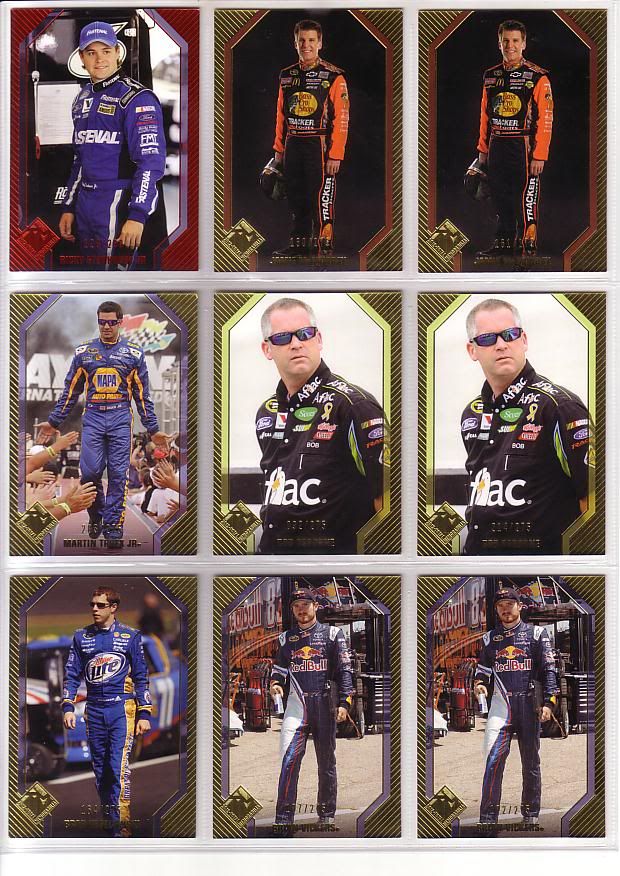 The Gold are four per Hobby box.
I think the Single Swatch Silvers are only in the Retail boxes.
I pulled three Autos in five boxes...pretty good, especially since two of them are the smoking hot Cope girls...too bad they can't drive.
The Max Gresham is 5/5. He won the K&N Pro Series East last year, the same series that Logano, Truex and Austin Dillon came out of, so I hold out hopes that that might become something real sweet.
The Truex is Single Swatch Melting 08/10.
The Menard is Quad Swatch Gold 09/25.
The Kahne is Quad Swatch Silver 06/50.
The Jr. is Quad Swatch Holofoil 03/10.
The Johnson is Single Swatch Gold 29/99.
The Johnson is Jumbo Gold 44/50.
Let me tell you about the Jimmie Johnson Jumbo - it is a big piece of what must be elastic. It is ruffled, and pretty cool...not Logo cool, but definitely something way different.
Anyway, I think I have everything listed in my Organize, and it is all FT/FS. Come preyty hard for the JJ Jumbo and the Jr. Quad...I am pretty good about taking a bunch of lower value things that I need for a higher value card, but I think I am looking for some one to one action on those two. Thanks.