A little backstory first...
So I played a little hooky yesterday from work to play a round of golf in the morning. My son and buddy picked my up a new Callaway driver and a Nike 56 degree Wedge for my birthday last weekend and I was dying to try them out. Ended up shooting my best round ever (not saying much for me) so I thought I would reward my self with a few boxes. I haven't busted much lately - trying to save for a family trip (for 8) to Hawaii in December...
Soooooooooooo.....I picked up boxes of A&G and Topps since I always build the sets. Here's the hits:
A&G (all for trade)
Pujols N43 Topper
Bourn Jersey
Russell Martin Jersey
Ryan Dempster Magenter Printing Plate 1/1!!!
Brandon Beachy Mini #d 24/25!!!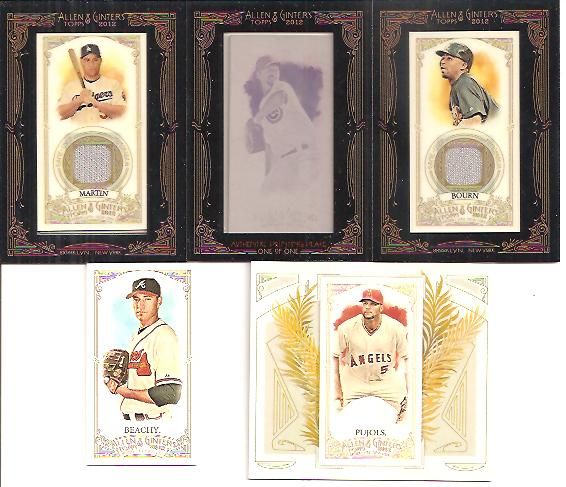 for the Topps, I'm only going to show one of the most "odd/interesting" cards I've ever pulled:
A Ricky Romero GU card...without the GU swatch. I sent Topps an email and they replied instructing me to call customer service during normal business hours to resolve it...
Thanks for the look...