I bought into a couple random team group breaks on another website recently for 2012 Tier 1, and did really well... My first break I got the Royals and got a Salvador Perez auto /10 and a Billy Butler auto /25. My second break I got the Phillies and the Braves and got a Chipper Jones triple bat relic /50 and a SWEET dual auto of Mike Schmidt and Chipper /25! Pics to come when I get them in my mailbox in a few days...!
Biller Butler Crowd Pleaser White Ink Auto 14/25
Mike Morse Crowd Pleaser Auto 396/399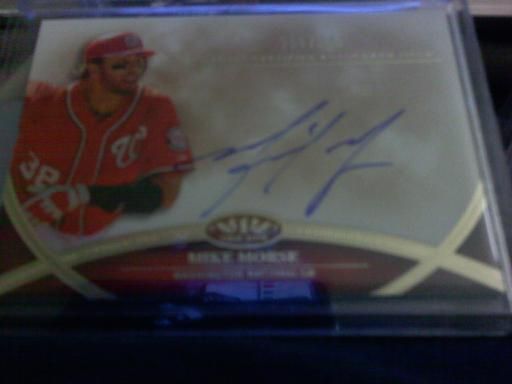 Hector Noesi On the Rise Auto 084/315
Jhonny Peralta Crowd Pleaser Auto 149/245
Salvador Perez On the Rise Silver Ink Auto 1/10
Jose Valverde Crowd Pleaser Auto 316/399
Jordan Zimmerman On the Rise Auto 194/235
Still waiting for my dual Chipper Jones/Mike Schmidt redemption to arrive in my mailbox. Will update with a pic when it does!