I only wanted to open a couple boxes, I didn't want to have a new set chase. Just looking for a 264/ or nice hit. Well I pulled the Sanu from the set, seen in the next post. Already have acquired 8 of the 30. I love our board members, as they were instrumental in 2 acquisitions today already.
mattfastiggi
- pulled a nice Jeffery, thanks for the addition, Matt.
RW34
- Sends me a PM with a message to call NOW. While busting at the LCS, someone else pulled the RGIII Patch. Wendy helped broker the deal and it too is on the way.
Blue: In hand
Red: Incoming
2012 Upper Deck SPx Football Winning BIG Materials Patch WM-1 Alshon Jeffery
2012 Upper Deck SPx Football Winning BIG Materials Patch WM-2 Brock Osweiler
2012 Upper Deck SPx Football Winning BIG Materials Patch WM-3 Brandon Weeden
2012 Upper Deck SPx Football Winning BIG Materials Patch WM-4 Case Keenum
2012 Upper Deck SPx Football Winning BIG Materials Patch WM-5 Isaiah Pead
2012 Upper Deck SPx Football Winning BIG Materials Patch WM-6 Dan Herron
2012 Upper Deck SPx Football Winning BIG Materials Patch WM-7 Dwayne Allen
2012 Upper Deck SPx Football Winning BIG Materials Patch WM-8 DeVier Posey
2012 Upper Deck SPx Football Winning BIG Materials Patch WM-9 Doug Martin
2012 Upper Deck SPx Football Winning BIG Materials Patch WM-10 Dwight Jones
2012 Upper Deck SPx Football Winning BIG Materials Patch WM-11 Jeff Fuller
2012 Upper Deck SPx Football Winning BIG Materials Patch WM-12 B.J. Cunningham
2012 Upper Deck SPx Football Winning BIG Materials Patch WM-13 Justin Blackmon
2012 Upper Deck SPx Football Winning BIG Materials Patch WM-14 Kellen Moore
2012 Upper Deck SPx Football Winning BIG Materials Patch WM-15 Kirk Cousins
2012 Upper Deck SPx Football Winning BIG Materials Patch WM-16 Coby Fleener
2012 Upper Deck SPx Football Winning BIG Materials Patch WM-17 LaMichael James
2012 Upper Deck SPx Football Winning BIG Materials Patch WM-18 Rueben Randle
2012 Upper Deck SPx Football Winning BIG Materials Patch WM-19 Mohamed Sanu
2012 Upper Deck SPx Football Winning BIG Materials Patch WM-20 Michael Floyd
2012 Upper Deck SPx Football Winning BIG Materials Patch WM-21 Juron Criner
2012 Upper Deck SPx Football Winning BIG Materials Patch WM-22 Kendall Wright
2012 Upper Deck SPx Football Winning BIG Materials Patch WM-23 Nick Foles
2012 Upper Deck SPx Football Winning BIG Materials Patch WM-24 Nick Toon
2012 Upper Deck SPx Football Winning BIG Materials Patch WM-25 Jarius Wright
2012 Upper Deck SPx Football Winning BIG Materials Patch WM-26 Robert Griffin III
2012 Upper Deck SPx Football Winning BIG Materials Patch WM-27 Russell Wilson
2012 Upper Deck SPx Football Winning BIG Materials Patch WM-28 Ryan Broyles
2012 Upper Deck SPx Football Winning BIG Materials Patch WM-29 Ryan Tannehill
2012 Upper Deck SPx Football Winning BIG Materials Patch WM-30 Trent Richardson
2012 Upper Deck SPx Football Winning BIG Materials Patch WM-19 Mohamed Sanu 04/10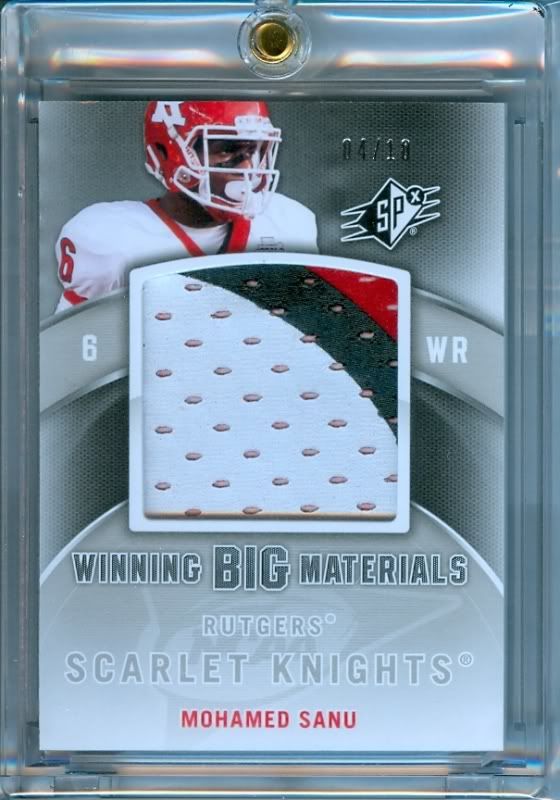 2012 Upper Deck SPx Football Winning BIG Materials Patch WM-13 Justin Blackmon 07/10