Ok so i posted a thread about this box a week or so ago. Sorry it took so long to get it posted on here. I had my bachelor party all weekend and have been pretty busy. Anyhow as some of you might remember i wasnt sure if it was a sealed hobby box or just a simple pack/box. The mail lady came to the door and to my delight she had a big box for me.
This is what i got when i opened the pacakage.
A box the size of two shoe boxes stacked on one another.
24 packs per box
Challenge Collection 1 in 7 packs
Artist Proof 1 in 35 packs
V2 1 in 11 packs
Inscriptions Autograph 1 in 23 packs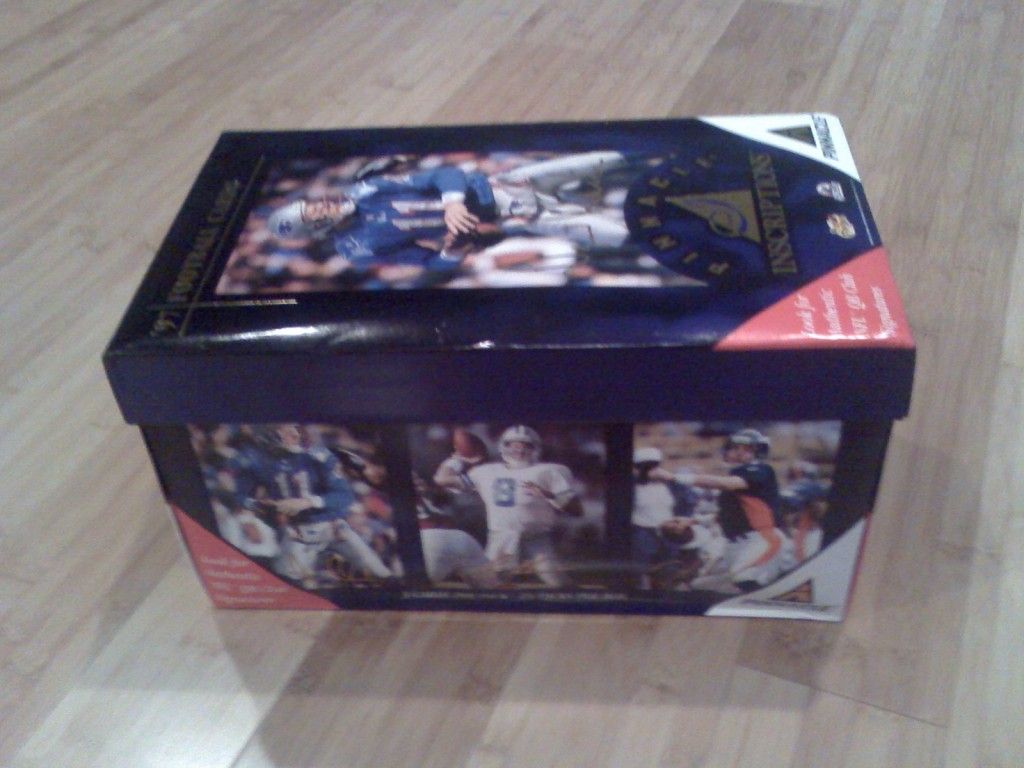 And inside the box i found these! 24 individually sealed boxes! <- Sweet
Inside each individually sealed boxes i found a sealed clear pack of 3 cards.
My first pack yielded me this very cool Barry Sanders Inscriptions V2 insert which has a plastic film which says "peel off" on it. I didnt peel off lol but one edge has peeled a tiny bit as you can see in the scan.
My next few packs got me some base cards. Pack #5 yielded this Barry Sanders Incriptions Challenge Collection insert.
Finally pack #10 got me auto. Needless to say i was dissapointed. Jeff Hostetler wasnt who i had in mind.
So at this point i was pretty bummed and was debating on if i should just sell the other 14 packs on ebay. But im the type of person who cant stand not seeing whats in each pack so i kept on opening. Pack #14 gave me this Troy Aikman Inscriptions Artists Proofs insert
yay i beat the odds 1 in 35 packs
Nice hit....but still a bit sad about my auto
...i continued on opening.....and BAM! pack #19 I pulled this!!!!................
STEVE YOUNG Auto!!!
At this point i was stoked!!! I got something that made the box 100% worth it. Also i got an extra auto... stated odds were 1 in 23 packs. So i start opening some more...... pack #23......what...??? another auto...no way!! Kerry Collins Auto....yup and if you werent counting thats 3 autos.
last pack...#24 Brett Favre V2 insert!
I also got these 3 Challenge Collection inserts. Jeff Blake, Jim Harbaugh, Jeff George
Here are some pictures of the base cards!....all the base cards you see in the pictures below are for trade.
Well guys i had a good mail day too i would like to post about but i am getting married this saturday so im not going to be on the boards much for the next two weeks. Hope you enjoyed this break as much as i did. I can honestly say i had more fun opening this box of cards then i have ever had opening any other boxes.