SEPT 6 2013 - 2010-11 UD base and some inserts "MARKED DOWN" i have lowered to condition to "7" and will also trade in your favor(i need to make room in my "base card box" if you're interested shoot me an offer
the condition of the cards is not 7 it would be marked at 8.5 regular
ADDED: Sept 2 2013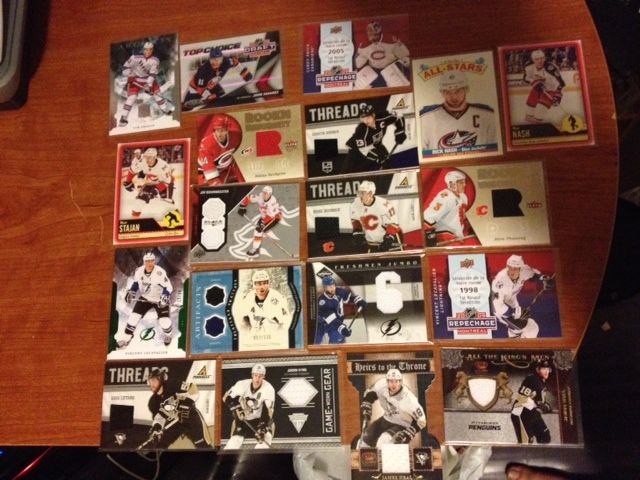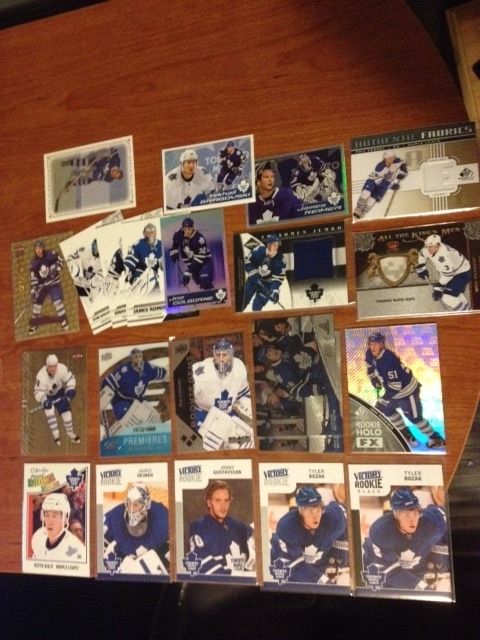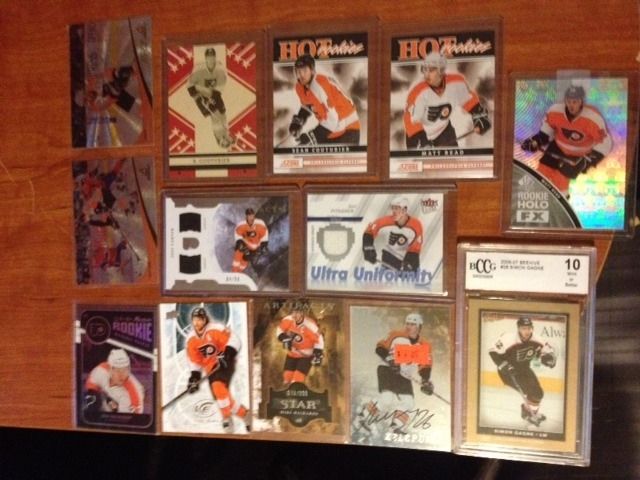 Aug. 25 2013 - added 2013-14 score gold, black, red backs, inserts
AUG 18 2013 - aDDED 2013-14 SCORE base, HR RC, inserts
Aug 13 2013- 2013-14 trilogy base, a few autos, rc's
2012-13 Artifacts base
-2012-13 SPGU
-2011-12 Rookie Anthology base
-2011-12 Titanium base
2011-12 Black Diamond Ruby
- Small box of random Inserts (Raycroft, Orr, Marc Andre-Fleury, RNH, Price and more)
UPDATE: JULY 14, 2013 have been adding some cards to org all weekend. a few nice MEM/auto and a stack of SN/inserts, also added a box of ovechkin,toews,price inserts. and some ICE RC
Dec 29, 2012 adding my traders from my Christmas boxes
-couple boxes of 2011-12 SP Authentic
-Couple boxes of 2011-12 SP Game Used
- Couple boxes of 2012-13 certified
- Couple more 2012-13 Opeechee
- and a couple boxes of 2011-12 Contenders added to ORG
UPDATE: DEC 22, 2012 Added 2012-13 Artifacts- Base, Emeralds, Saphires, Autofacts, RC's, GU's
- Also added 12-13 Black Diamond, base, double, triple, quad, rc, hardware heroes, Dual Jersey's, gemography, ruby,
UPDATE: Dec 16, 2012 Adding another few boxes of 12-13 OPC base, rainbows, and inserts.
- added a few GU, some RC's, and some Autos
- 12-13 UD base added
-11-12 UD rookie Materials added
-12-13 Black diamond base, doubles, triples, quads to be added soon
UPDATE:Nov. 17, 2012 Adding as we speak a box of RC's (YG's, OPC, MVP. score, Victory, Artifacts, BD, Beehive) Also adding 2 more boxes of 2012-13 OPC Duplicates
Oct 15, 2012 Added a handful of Future Watch Autos, SPA and SPX RC's, Loads of GU from Limited, pinnacle, spx, spa, Contenders Autos/RC/GU, some titanium GU
Sept 20/2012
Just added a nice stack of 2010-11 UD Inserts, Parallel, YG's
STILL NEED TO GET RID OF 11-12 UD and Score base cards, and 10-11 UD base if anyone needs any i will give you an excellent deal in BV
(update)August Added:
-2011-12 Titanium base
-2011-12 contenders SN & AU
-2011-12 BTP
-2011-12 Crown Royale Parallels
-2011-12 Certified Parallels lots of mirror red and blue
-2009-10 Ultra base and a few gold medallion
- a few more random cards ( and a small box of baseball, football, basket ball cards from when i was a kid. nothing valuable but if you want them, ill make you a good deal )
added a lot of cards to ORG, tons of base card 2011-12 Pinnacle, Score, UD series one&two. as well as some 2010-11 UD inserts and ygs. some 2005-06 YGs. score rookies.