Sooo, I decided to buy a case of NT instead of Five Star. Here are the details of the first two boxes I was able to open so far (sorry for the extreme scans). I also noticed box #1 was bulging and had 13 cards in it...
Box #1

Base
Beanie Wells 23/99
Adrian Peterson 66/99
Dick Butkus NFL Greatest 82/99
Raymond Berry Ring of Honor 1958 Championship 66/99
Hits
Chimdi Chekwa Rookie Auto 88/99
Shane Vereen NFL Gear Dual Jersey 33/99
Vincent Brown NFL Gear Dual Jersey Auto 46/49
Vonta Leach Pro Bowl Materials Jersey 10/99
Not Available
Terrell Suggs Pro Bowl Materials Jersey 68/99
Not Available
Bigger Hits
A.J. Green NFL Gear Dual Prime Patches & Ball 43/49
Pending
Ndamukong Suh Century Prime Patch ("N" from "Lions") 13/24
Not Available
Kyle Rudolph RPA 3-color patch 34/99
Not Available
So, that's 12 cards from a so-so box so far. A 13th hit makes the box only
slightly
more tolerable...
Bonus Hit
Cam Newton Dual Prime Laundry Tag Auto 10/10
Pending (on eBay)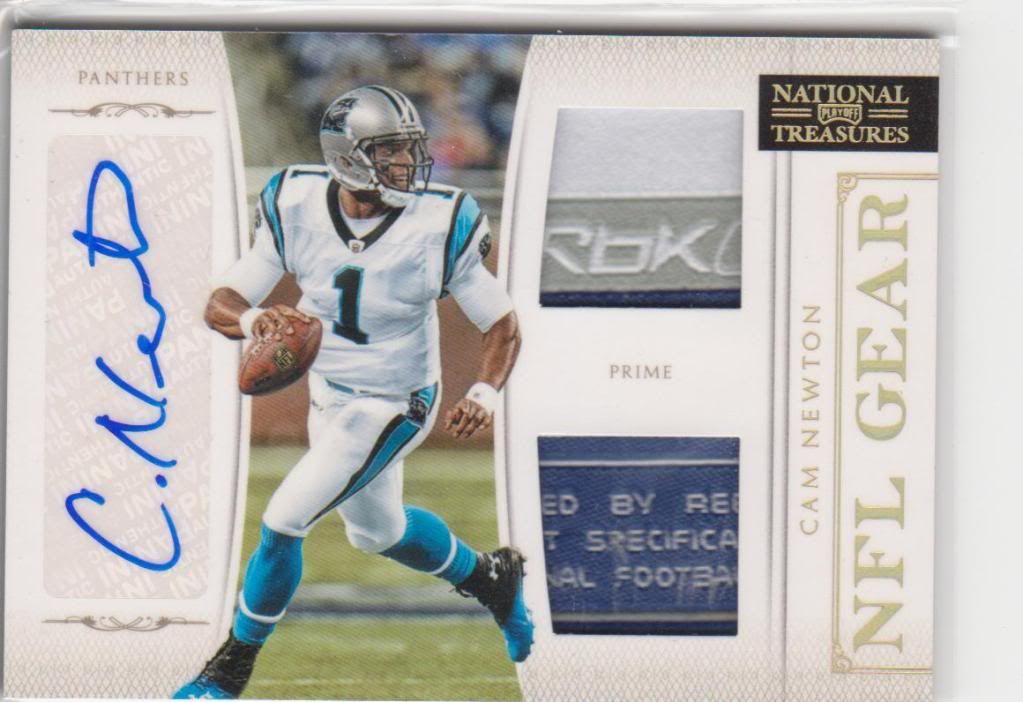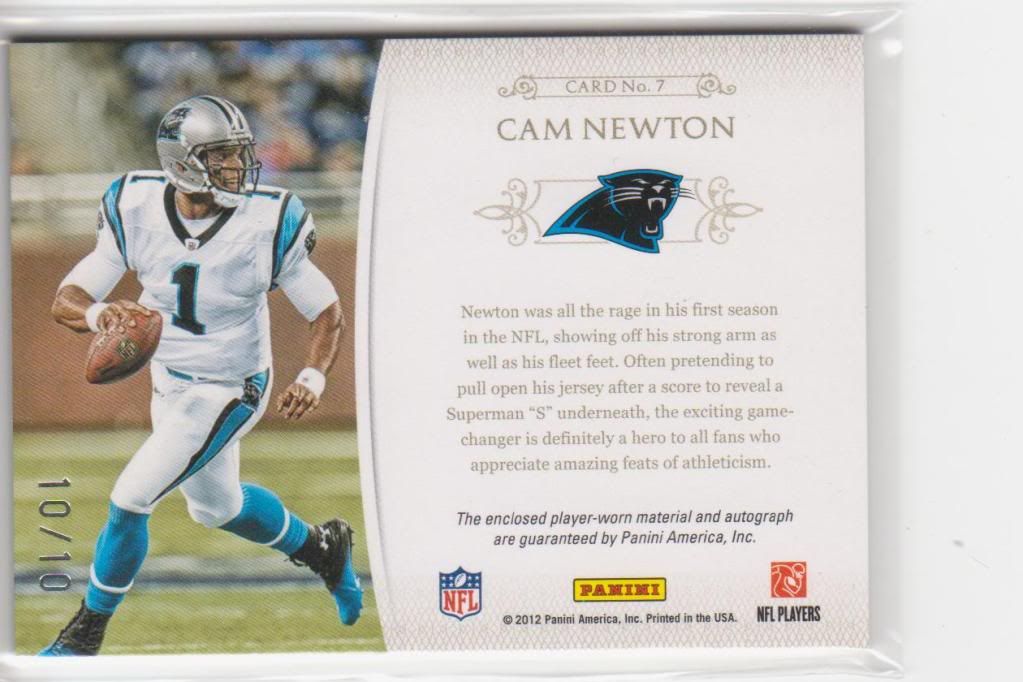 Whoa!!! Well, I don't think that's a bad first box to start, but will probably hard to live up to...
Now for Box #2

Base
Dwayne Bowe 74/99
Carnell "Cadillac" Williams 23/99
Paul Warfield 78/99
Not Available
Jordy Nelson Century 17/25
Pending
Hits
Colin Cochart Rookie Auto 45/99
Pending
Greg McElroy Century Gold Signatures Redemption */49 (?)
Not Available - Redeemed
Julio Jones NFL Gear Dual Jersey & Ball 54/99
Pending (on eBay)
Danny Amendola Colossal 3-color Patch 21/40
Jim Parker Emblems of the Hall C/O 1973 Jersey 21/99
Not Available
Bigger Hits
Alex Green RPA 2-color Patch 39/49
Pending
Bart Starr Hall of Fame C/O 1977 Auto (on white pleather) 11/50
Not Available
Rod Woodson Century Legend Auto 1/5
Not Available
And no bonus Cam Auto?! Man, when you get one you hope for another!
Anyway, I happy with the first two boxes of the case. You think my luck will continue with the last two? Or should I call it quits and sell them?
Also, as you can see from my minuscule number of posts, I'm not a seasoned member here. If you're interested in any cards, please understand I might not be aware of all the rules/conditions of trading/selling here, so your patience is appreciated. Most cards will probably end up on eBay either later tonight or tomorrow.
--------------------------------break------------------------------------
As promised, here are the results of box #3:
Base
Marcedes Lewis 77/99
Vernon Davis 27/99
Sterling Sharpe 62/99
Not Available
Johnny Unitas NFL Greatest 48/99
Not Available
Hits
Billy Cundiff Colossal Jersey 61/99
Not Available
Shonn Greene Century two-color prime patch 27/49
Miles Austin Colossal Jersey 27/99
Jake Locker NFL Gear dual jersey 30/99
Zack Pianalto Century Rookie Auto 42/49
Pending (on eBay)
Prince Amukamara Rookie Auto 37/99
Pending (on eBay)
Roy Helu Century Rookie Auto 17/49
Pending (on eBay)
Lone Bigger Hit - AKA "Box Saver"
Emmitt Smith Hall of Fame C/O 2010 Auto 32/27
Not Available
--------------------------------break------------------------------------
And FINALLY, here are the results from the last box:
Box #4

Base
Ndamukong Suh 93/99
Bob Griese Emblems of the Hall 47/99
Terrell Davis Ring of Honor 15/99
Miles Austin Century 06/10
Not Available
Hits
Bruce Miller Century Rookie Auto 45/49
Pending (on eBay)
Dan Bailey Century Black Rookie Auto 12/25
Ray Lewis Pro Bowl Materials 21/99
Not Available
Jerod Mayo Pro Bowl Colossal 20/49
Not Available
Vincent Brown NFL Gear Dual Jersey Patches and Ball 24/29
Pending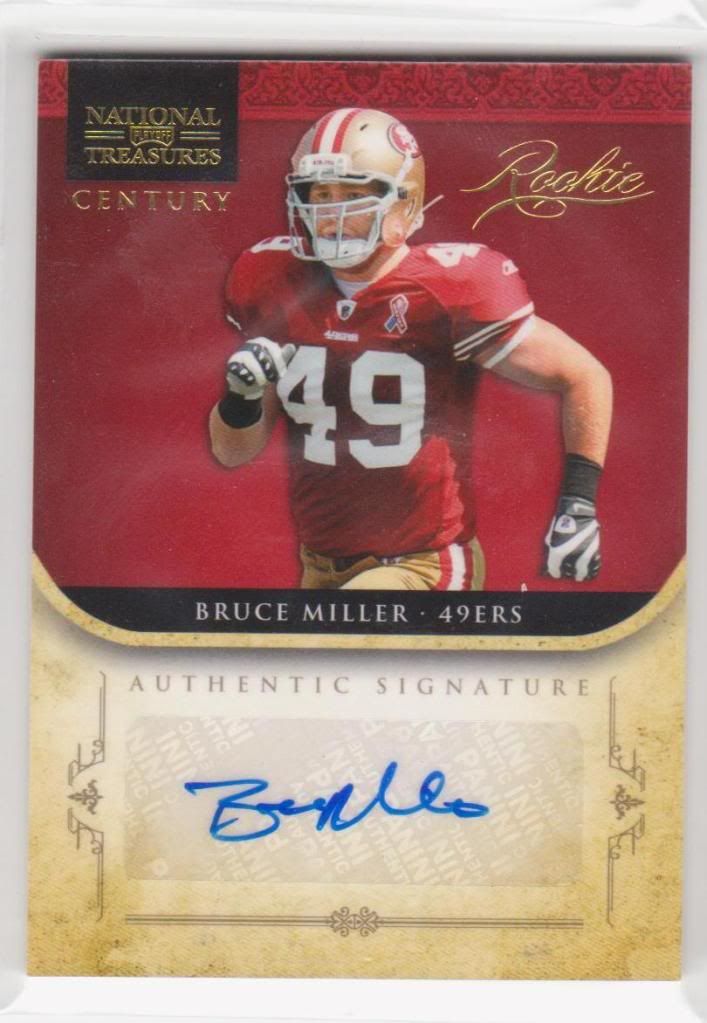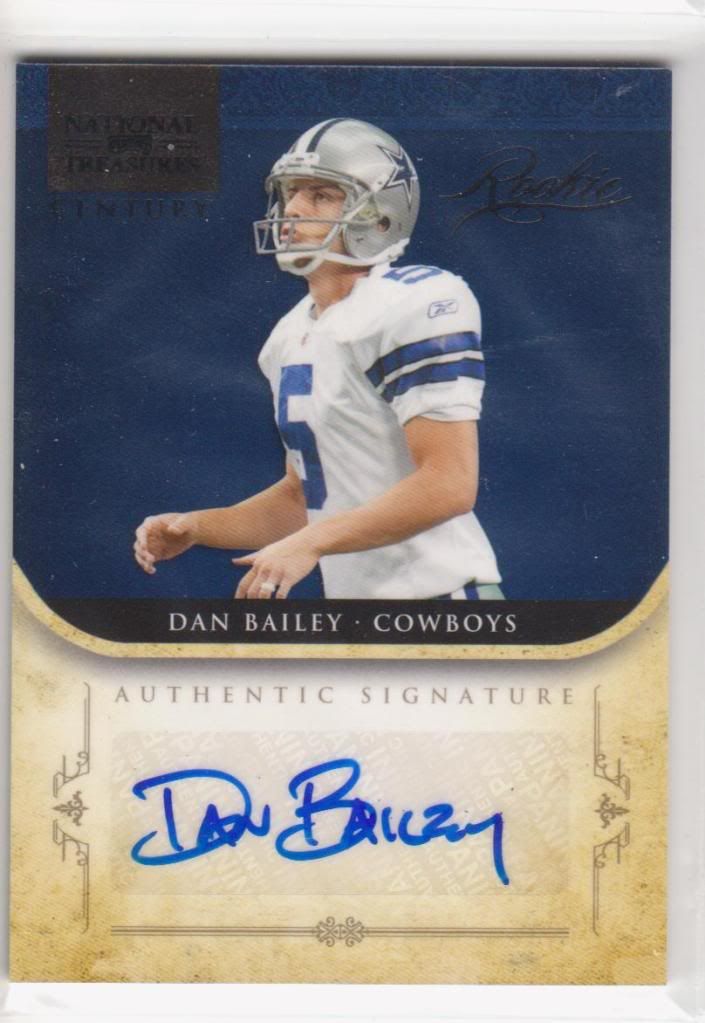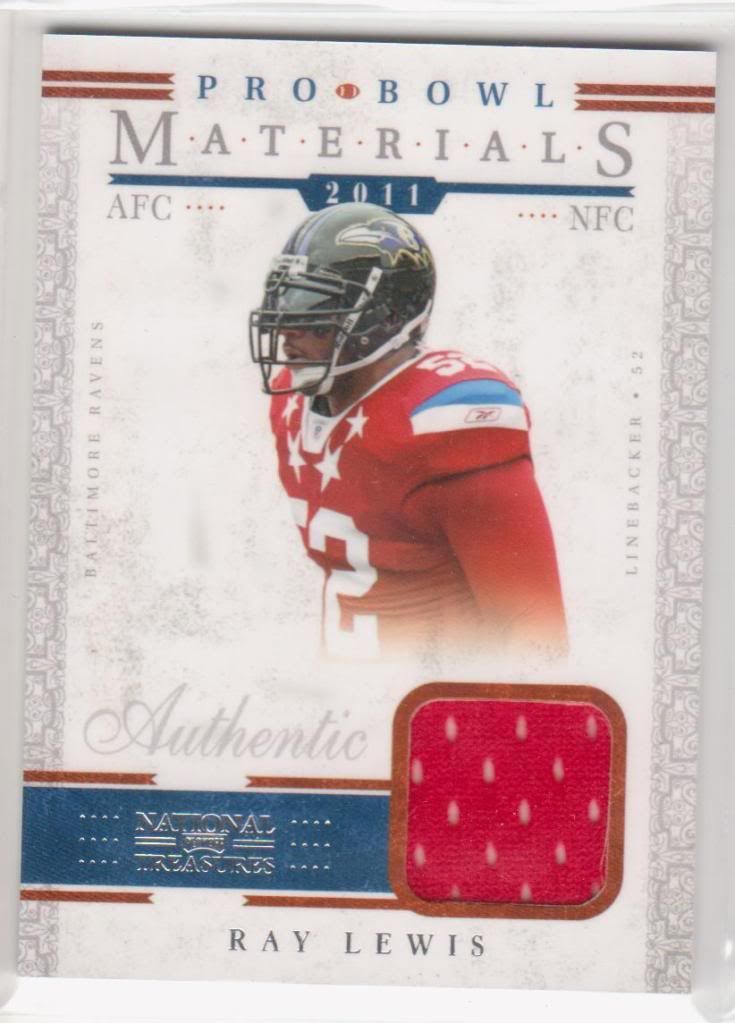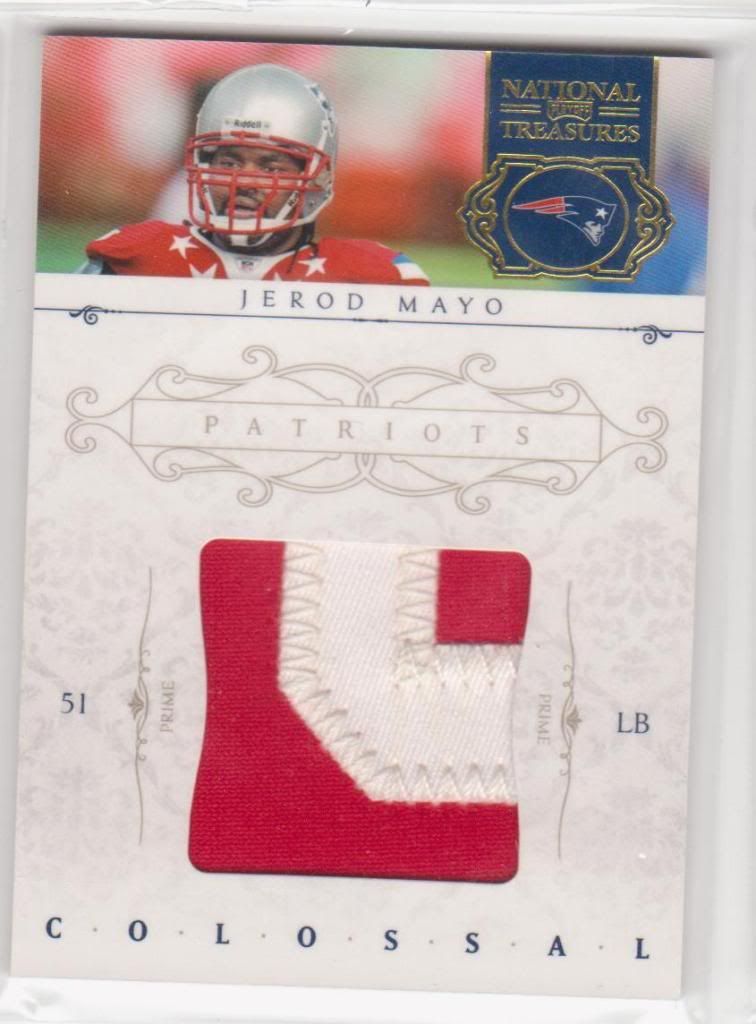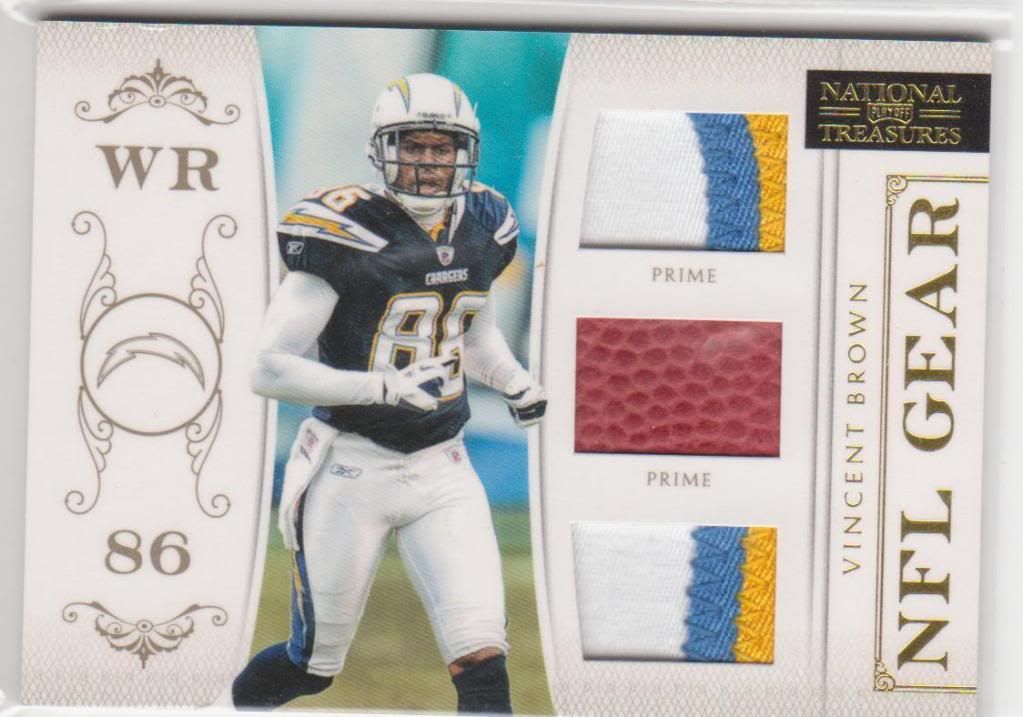 Bigger Hits
Shane Vareen RPA Redemption /99
Not Available - Redeemed
Anquan Boldin Century Patch Auto /15
Not Available
John Elway Super Bowl XXXIII MVP Auto /33
Not Available