I told you I had a big announcement for my Ricky PC, and the time has finally come!!
As many of you know, I sold my Ricky PC to a guy in California. He bought it all as a giant lot and part of the deal was that I helped him continue to build it. A year or so ago, he told me he wanted to sell it all off and I was crushed! Well, Ricky's prices were pretty bad and he decided he'd rather keep it than sell it off in little pieces.
Unfortunately for him, he just remodeled the house and didn't have room to keep the cards any longer... so... guess what just came back home???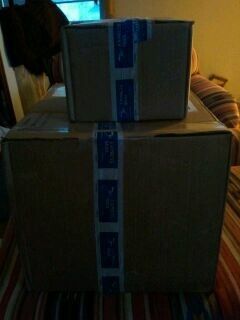 My entire, original Ricky PC!!! IT'S BACK!!!!!
I'll be merging it with my personal cards that weren't a part of the joint collection and scanning will commence.
Right after I finish moving.
You ready Chad???