Decided to start a new thread to post my Jim Leonhard PC. To date, I have 14/18 of his cards that are listed in the OPG, which includes 9/11 of his 2005 Leaf Rookies and Stars cards. The collection also includes a custom card I made that he signed of him in his Ravens uni.
Still looking for his R&S True Green Parallel /100 and R&S Holofoil Parallel /25. Also still need one of his Wisconsin cards and the 2009 SP Signatures Signature Eights /8, but those will probably be the toughest finds.
I also now have my complete custom McFarlane figure set of Jim. Received his Bills, Ravens, and Jets figures to go along with the custom Badgers pose that I already had. I have posted pictures and scans of everything below. Working on making a special shelf for his stuff in my mancave that will keep it seperate from my Packers PC. Comments welcome and thanks for looking! If anybody can find any of my Jim Leonhard needs, I will gladly pay a finders fee!
2005 Leaf R&S Black /50, True Blue /50, Longevity Parallel /99, Emerald /99, Gold /150, Sapphire /199, Ruby /250, Longevity /999
2005 Leaf R&S, 2005 Sweet Spot /899, 2010 Adrenalyn XL, 2011 Adrenalyn XL, Wisconsin, Ravens Custom, 2009 SP Signature /50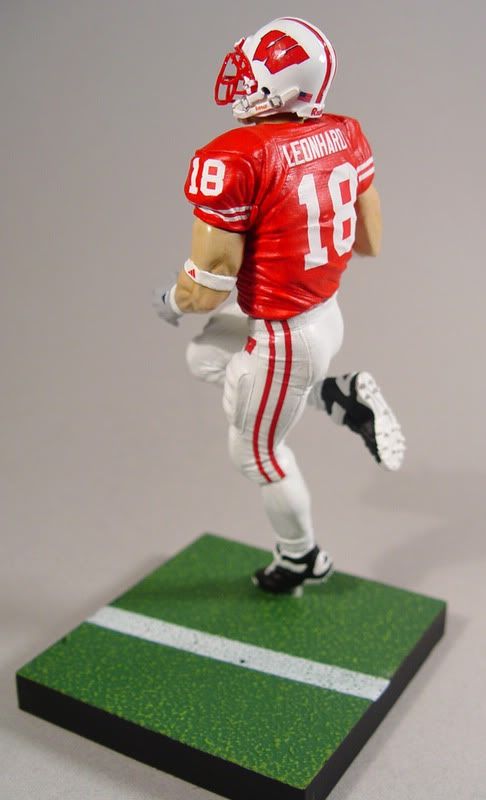 Badgers Figure
Bills Figure
Ravens Figure
Jets Figure
Complete Set
Game Used Items
Game Used Gloves & Cleats From 10/25/09 vs. the Raiders.
Game Used Jersey From 10/09/11 vs. the Patriots