Hello my fellow Beckett family. Back in the middle of the summer my son enlisted in the US Army. At the time I thought how nice it was to have 7 months with him before he left. Well that day came today and the time sure seems like it flew by fast as lightning.
I cannot put into words how proud I am of my son Steven. I just wanted to share a pic of him swearing in today.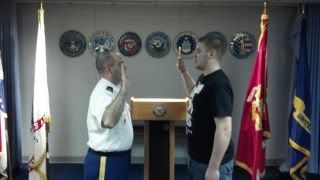 As I look at this pic it looks like his head is misshaped. LOL It is one of the military emblems on the wall behind his head.