I hit these two great cards in 1 box of 2008 SPx.
First off I'm wanting to know if anyone has an idea of how much these cost, like how much premium is added to the price since they're logos, as I've seen many versions of these cards (especially the Jeter) w/ crappy 1 or 2 color patches only.
Second, I'm tryna find out what exact logos the 2 logo patches are from as I can't figure them out.
Third, I'm about to sale these to eventually use the money to buy cards of guys for my PC, so I figured I'd see if anyone wanted to trade me either of these cards for a nice PC card for me before I do. Thanks, here they are:
2008 SPx Winning Materials Limited Derek Jeter DUAL PRIME GU PATCH /50 but obviously all 50 don't have logo's on them, and in fact, like I said, most are crappy 1-color or BARELY have a piece of a 2nd color
(from what I can tell the first patch is from the "NY" logo as it looks like an "A" but there isn't any in JETER. The second is some sick logo patch but I don't know what logo it's from)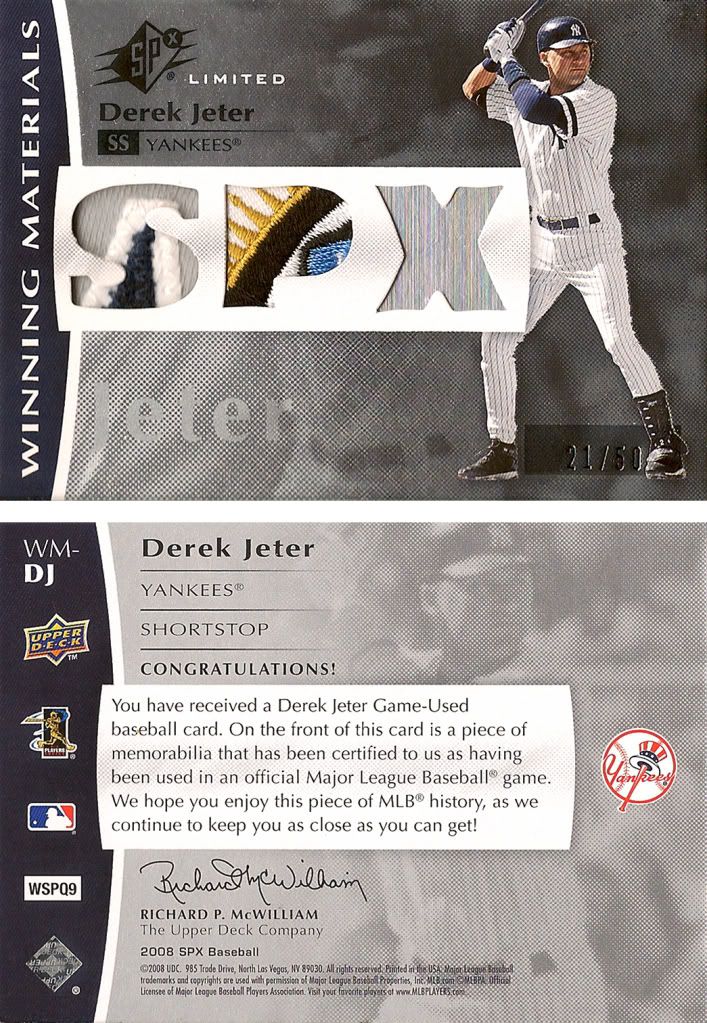 2008 SPx Winning Materials Limited Johan Santana TRI PRIME GU PATCH 15/15 (2nd & 3rd patch look like jersey name or number patches, but I have NO IDEA what kinda logo the first is from)
Can anybody help me out w/ some info on these?
Also, does anybody want to trade me for some of my PC players before I sale them?