Ok i couldnt procrastinate any longer or i would of gotten a splitting migraine. I just asked my daughter which one looks perdy and she picked this one:
2011 Topps Prime it is!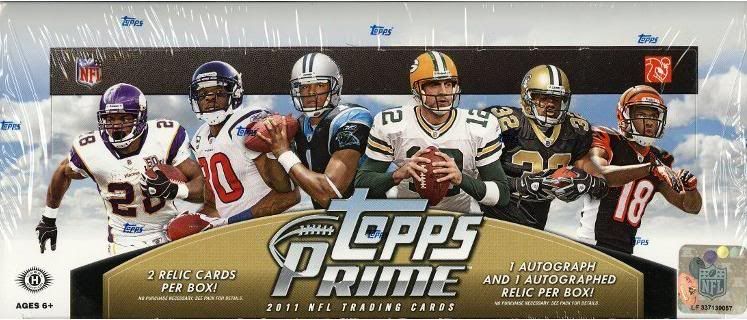 So if you have anyone you would be interested in trading for when it gets here, put in your reserve. I got this box just so i can start getting stuff i can trade with you guys and gals for some stuff i like. Not everyone i find out is a dallas cowboys nut(I know crazy right?
) Only thing i may likely put on fleabay is any cam newtons.
Check the list so you know who's toes your gonna have to step on lol
Taiwan Jones: rgf17
Edmond gates: Nickfromcwe
Hines Ward: ftballcardz
Raiders fan and Jones doubles: cybertrenz02
Kendall Hunter: baycitysfinest
Andy Dalton and Jeremy Kerley: swindlehurst
Mark Sanchez and Darrel Revis: oriolesrule2005
Jacquizz Rodgers: te2333, 2nd dibs: mattfastiggi
Titus Young: nuccionino
Texans: jacobclark04240
Eagles: philly eagle in az
Dez Bryant: jncdrew
Jeremy Maclin: bigt314
Some base stuff: crazyforkinsler5
Packers: bigtrip18
Bears: lsolarte1
Daniel Thomas: Marinoisking
Patriots: cardsma
Jake Locker: uwash97