OK - I recently put up my Moss NFL Logo on eBay just to test the waters, had a HUGE starting price on it but that was again just to test the water. Have a BUNCH of people interested in it but told myself just keep it as Moss is my favorite offensive player, however Mario Williams is my favorite Defensive player and my player collection of him is absolutely insane as I have so much of his stuff including most of his 1/1's - except for his Exq NFL Logo 1/1 Autograph RC, which just popped on eBay with a $600.00 BIN or b/o - have talked to the seller and the lowest he'd go on it is $500.00. What I can do, but its painful to do so is work out a deal with another and basically have another buy the Mario and then me trade him the Moss - now I know Moss is worth more, but then again my Mario collection is so much better from a % owned of his cards. So I just don't know if I should do this or not, now I know most don't collect Defensive players but what would you do in my shoes if it were your two favorite guys, and you were in the same situation. Here's the Moss I would be sacrificing to the Mario gods.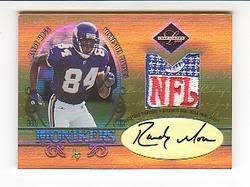 I'm leaning towards getting the Mario but I so do love this Moss card, but then again this Mario would then be my favorite card and would look so sweet sitting with these :
ADVICE - help me decide what to do!!!!!! UUUGGGHHH!!! I would just buy the Mario but my cash has all been spent and it will take me a week or two to come up with the money and I don't want Mario to go elsewhere, if it does then my mind has been made for me and I won't be to heart broken to keep Randy!!