After seeing more and more auctions this morning with patches that are most likely fake i decided to see what kinda trouble these losers go through to switch these patches and guess what.... it took about 3 minutes and no effort at all. So be careful when you searching the bay, its easier than you think.
This is the original... i took tweezers and got the swatch out in about 30 seconds
then i inserted this nice little tag to make it a true 1 of 1! It took a minute or two trim it to fit right and this is the final result! (i didnt glue it down because i NEVER INTEND ON SELLING OR TRADING THIS. it was just an experiment) As you can see there is NO damage to the swatch window and no signs of tampering.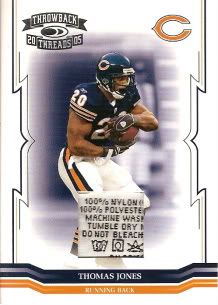 Heres the back
---
Sorry about the scans, i cropped them and apparently it didnt work. you can see the cropped versions in my bucket