The World's Most Complete Online Collecting Tool for only $19

95/yr.
Easily Manage Multiple Collections
Compatible with Online Price Guides
Calculate your Collection's Value*
Includes Buy/Sell/Trade Tools

Wanna Organize for
FREE!
Get Organize for free when you buy a Player, Sport or Total Access Online Price Guide. When you purchase an Online Price Guide, you'll get a powerful combination of features including Organize so you can accurately document your collection, trade your items with other members, download checklists and more!
*with 1-year Sport subscription
Baseball Price Guide
Over 2 Million Items
Over 30 Thousand Sets
Full Access to Organize
Checklists & Pricing Updated Daily
Full Access to Baseball Database
Total Access
Over 5 Million Items
Over 94 Thousand Sets
Full Access to Organize
Checklists & Pricing Updated Daily
Full Access to All Beckett Databases
Football Price Guide
Over 1.2 Million Items
Over 20 Thousand Sets
Full Access to Organize
Checklists & Pricing Updated Daily
Full Access to Football Database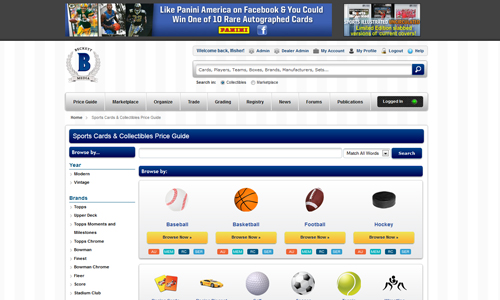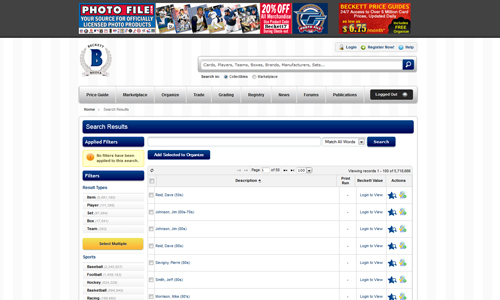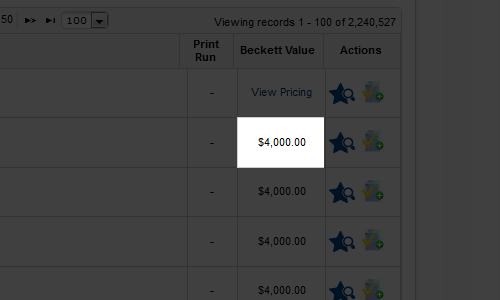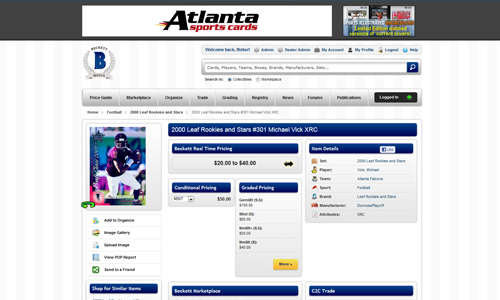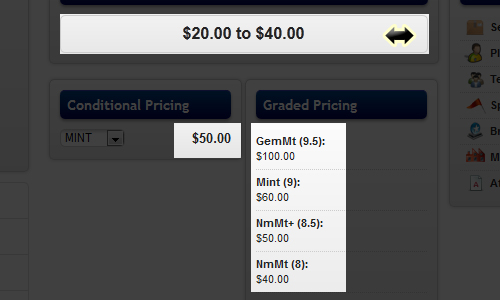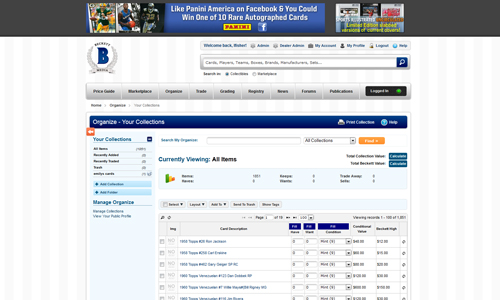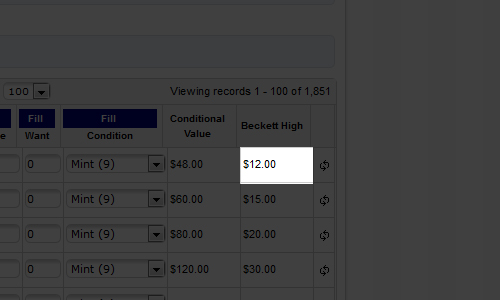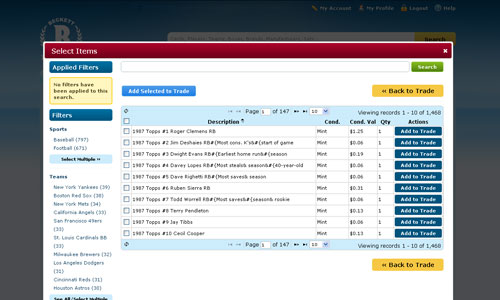 My Beckett OPG subscription is invaluable because it saves me time, saves me money and saves me sanity by conveniently tracking my entire collection in one place.

- Shane Stevens

I'm a big fan of Beckett magazines and always will be, but the Online Price Guide has really helped me stay more in tune with my collection with early pricing first and daily price updates. It's a must-have weapon in any collector's arsenal.

- Robert White

I'll never have a need to click on all of the more than 5 million cards included in my Beckett Total Access OPG. But it's nice to know that I could if I wanted to.

- Riley Morris

Beckett.com is the only place with complete checklists for all my favorite players. Thanks, Beckett!

- Angela Aruffo
Get to Know
About Us
The first and last word when it comes to news and information on sports cards and memorabilia, Beckett Media has been the voice of record in the collectibles industry since its pioneering beginning in 1984.
Some of
Our

Advantages
State-of-the-Art Organize Tool
Fast, Easy and Secure Trading Web App
Most Popular Collectibles Marketplace
Which items have pricing?
While we make every effort to price every card in our database, there will be some where you will see that we don't have pricing available. For recently released products, it may take us up to two weeks to price a new product and for cards serial numbered to 15 or less, we may not price the card due to scarcity or lack of market information.
Where can I find Graded Card Pricing?
Graded card pricing is now available with each Online Price Guide subscription. You will see it on the Item Detail Pages in the Graded Pricing block, as well as raw card pricing. Remember that not all cards will have graded card pricing.
How can I print a checklist?
If you have an Online Price Guide subscription for the set or player, you can print a checklist from the detail page. For example, search for Nolan Ryan. Click on one of his cards to get to the detail page. Click 'Ryan, Nolan' from the Item Details block. Click Checklist on the left-hand side of the page and then print the page.
How much does an Online Price Guide Subscription cost?
You can find all Online Price Guide subscription information by clicking 'Subscribe' on the Beckett.com home page. Click on a specific sport to find information about that sport, or Total Access to find information about a Total Access subscription.
From an Item Detail Page or Player Detail Page you can click 'Buy Pricing' for the most up-to-date subscription costs.
How can I report a card or pricing error?
Contact customerservice@beckett.com with information about the error. Be sure to include the item description, what the problem is, and a scan of the front and back of the card if possible. The information will get to our analysts who will check it out and update if necessary.
Where are my Online Price Guides?
If you have an Onling Price Guide subscription, pricing can be found in search results; on Item, Set, and Player detail pages; in Organize, and in Trade. You can also click the Price Guide tab for quick access to search filters.
Order Total Access Now & Save $93