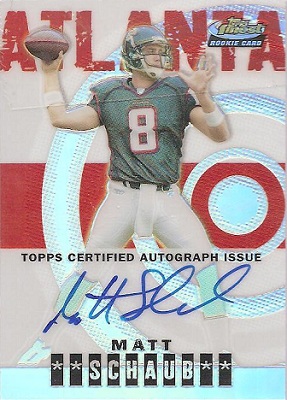 By Susan Lulgjuraj | Beckett Football Editor
There was a lot of extra football this week with three games going into overtime on Sunday, which led to some inflated statistics.
However, many of the best teams pulled ahead solidifying their spots in the league.
Let's look at the awards for Week 11.
Veteran of the Week
Matt Schaub, QB, Houston Texas: Schaub was one of the players who wound up in overtime, but he out-threw the rest of the quarterbacks in the league this week by about 170 yards. The veteran completed 43-of-55 passes for 527 yards, five touchdowns and two interceptions in a 43-37 win over Jacksonville in over time.
Chase cards
2004 Absolute Memorabilia Signature Material #SM20 /280

2004 Bowman Chrome refractors #114

2004 Finest #132 AU RC /999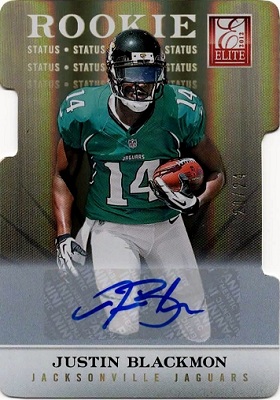 Rookie of the Week
Justin Blackmon, WR, Jacksonville Jaguars: Blackmon had a career-game in just his first year in the league. He took advantage of a high-scoring affair and caught seven passes for 236 yards and a touchdown in a 43—37 loss to Houston in overtime.
Blackmon has been considered a rookie with a lot of upside. Fans got to see just how good he could be on Sunday.
Chase cards
2012 Rookies and Stars #219 JSY AU RC /499

2012 Bowman Accolades Autographs #BACAJB

2012 Elite Series Rookies Gold #4 /149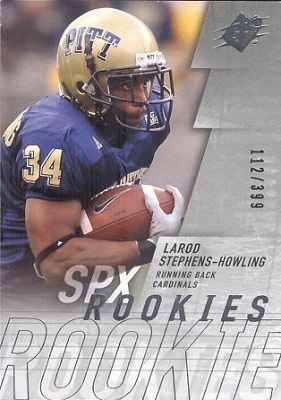 Breakout Performance of the Week
LaRod Stephens-Howling, RB, Arizona Cardinals: Stephens-Howling has just two games of more than 100 rushing yards in his four years in the league. Both of those games came this season, including on Sunday.
The 2009 seventh-round draft pick ran for 127 yards and a touchdown on 22 carries in a 23-19 loss to Atlanta.
Chase cards
2009 Playoff National Treasures #166 AU RC /99

2009 SP Authentic #203 /999

2009 SPx #201 /799
Susan Lulgjuraj is an editor of Beckett Football. You can email her here with questions, comments or ideas. Follow her on Twitter here.