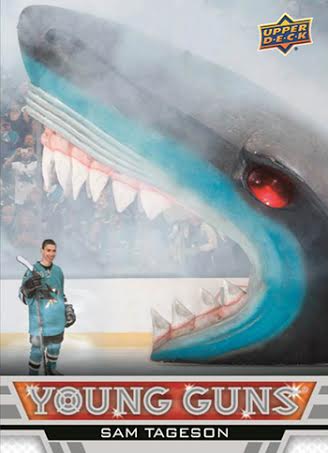 By Susan Lulgjuraj | Beckett Hockey Editor
When the San Jose Sharks signed Sam Tageson to a one-day contract in March, people took notice. He was just 17 years old, but he wasn't a superstar.
Tageson has hypoplastic left heart syndrome, congenital heart defect in which the left ventricle of the heart is severely underdeveloped, and he may need a heart transplant one day. The Sharks signed Tageson with help from the Make-A-Wish Foundation.
As though skating out of the huge Shark Head and standing with San Jose during the national anthem in a March game wasn't enough, Tageson got his own Young Guns card from Upper Deck. The company recently revealed the card to Tageson during a charity event, and a limited number of cards will be placed in 2014-15 MVP Hockey, which is scheduled to come out in August.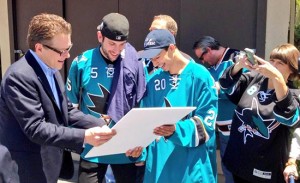 "This whole experience feels like a dream I don't want to wake up from," Sam Tageson said in a release. "To arrive and see over a hundred people waiting in line for my autograph was an unbelievable feeling. And now knowing people will be able to actually find my rookie card in regular packs of Upper Deck hockey cards is an incredible thrill."
Upper Deck unveiled the card at Stevens Creek Sports with San Jose Sharks defenseman Jason Demers and San Jose Sharks Radio play-by-play announcer Dan Rusanowsky in attendance.
"I came to get your autograph," Demers said to Tageson. "Oh wow, that's awesome. That's better than my card!"
Upper Deck said several thousand dollars were raised at the event and with more coming with fans donating to these organizations to get a Tageson Upper Deck Rookie Card.
Check out the video below of Tageson at the special event.
Susan Lulgjuraj is an editor at Beckett Media. You can email her here with questions, comments or ideas. Follow her on Twitter here. Follow Beckett Media on Facebook and Twitter.