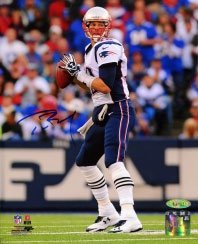 By Susan Lulgjuraj | Beckett Football Editor
The latest Tristar Hidden Treasures product will look at football favorites.
The next installment will be The History of Football coming out Nov. 20, with 8×10 autographed photos.
There are four different subsets of autographs with Hall of Famers, Football History, Today's Stars and Football Favorites.
The checklist includes 270 players with Tom Brady, Drew Brees, Brett Favre, Andrew Luck, Dan Marino, Joe Montana, Emmitt Smith and Aaron Rodgers included.
Beyond signed photos, a few lucky collectors will find autographed jerseys with the grand prize of Tom Brady. The other autographed jerseys that could be found are Sammy Baugh, J.J. Watt and Joe Namath.
Susan Lulgjuraj is an editor at Beckett Media. You can email her here with questions, comments or ideas. Follow her on Twitter here. Follow Beckett Media on Facebook and Twitter.