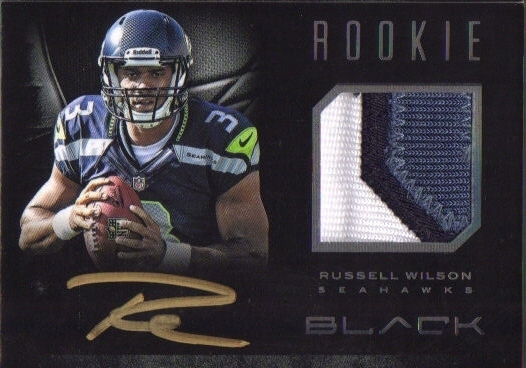 By Susan Lulgjuraj | Beckett Football Editor
Two rookie quarterbacks received most of the attention at the start of the NFL season – Andrew Luck and Robert Griffin III.
They did what people expected of them, living up to the hype and helped their teams to the playoffs.
However, after the first week of the postseason neither is left.
Instead, Seattle Seahawks rookie QB Russell Wilson stands out among them. Wilson played in the northwest where the only ones who really appreciated him were the "12th Man." However, as the season progressed and Seattle put together an 11-5 record, more and more began to notice him causing his card prices to jump in value.
For example, in early November his 2012 Topps Chrome Rookie Autograph redemptions sold for less than $40. But card prices gradually picked up and the same redemption sold for $102.50 on January 4.
At this point, 2012 Topps Chrome Red and Gold Refractors sell for hundreds ($500 or greater).
Wilson finished with the fourth highest QB rating in football behind RG3, Aaron Rodgers and Peyton Manning. He averaged just 194.9 passing yards a game, but he was efficient and smart. He had 26 touchdowns compared to 10 interceptions.
However, Wilson also made a difference with his ability to run the ball. He didn't have as many carries or yards as RG3 but Wilson did have 489 rushing yards with four touchdowns this season.
For the rest of the way, Wilson will likely be the rookie most talked about. Without battling others for the spotlight, there could be another jump in the value of his cards.
However, collectors should note Wilson has some baseball cards on the market. He appeared in 2010 Bowman Draft, 2010 Bowman Chrome Draft and 2010 Topps Pro Debut. Wilson was drafted twice, first by the Baltimore Orioles in 41st round in 2007 and then by the Colorado Rockies in the fourth round in 2010.
Wilson played two seasons in single-A in the Rockies minor league system before dedicated himself to football full time. He hit .229 with five home runs in in 315 at-bats.
Russell Wilson NFL Rookie Card checklist
2012 Absolute #230 JSY AU /299

2012 Bowman #116a (set to pass)

2012 Certified #346 JSY AU /499

2012 Elite #190 /799

2012 Finest #140

2012 Gridiron #320 JSY AU /299

2012 Momentum #131 JSY AU /599

2012 Panini Black #R25 JSY AU /349

2012 Panini Prominence #325 JSY AU /150

2012 Prestige #238

2012 Prime Signatures #269 AU /199

2012 Rookies and Stars #246 JSY AU /25

2012 Score #372a

2012 Topps #165a

2012 Topps Chrome #140a

2012 Topps Platinum #40a

2012 Topps Prime #78

2012 Topps Prime Retail #78

2012 Topps Strata #29

2012 Topps Strata Retail #29

2012 Topps Triple Threads #131a /99

2012 Topps Triple Threads #131a /99
Susan Lulgjuraj is an editor of Beckett Football. You can email her here with questions, comments or ideas. Follow her on Twitter here. Follow Beckett Media on Facebook.