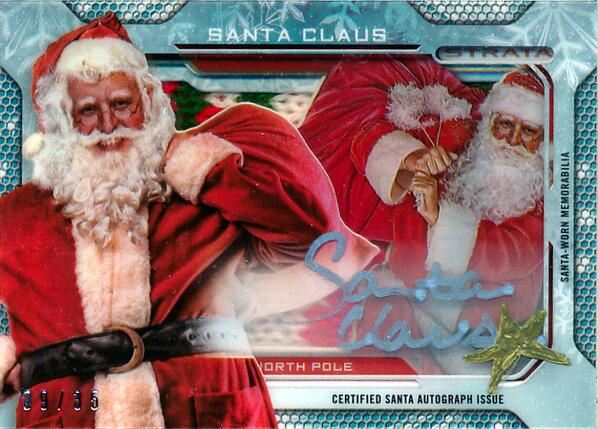 By Susan Lulgjuraj | Beckett Football Editor
Ho ho ho!
Topps is bringing Santa Claus to collectors this year.
Santa Claus autograph relic cards have popped up in 2013 Topps Strata Football. No, Santa isn't one of the many backup quarterbacks this year. The Santa Claus cards are an extra addition to Strata.
One of the first cards popped up during a group break with Cardsmiths Breaks. Sam Smith, the owner, said the card given away in a random drawing to all the members in the group break.
The card is numbered to 35, and signed in silver ink with a gold star next to the game. There is also a red, green and white sweater as the last layer of the shadowbox card.
So what do you think of the card?
Loading ...
Susan Lulgjuraj is an editor at Beckett Media. You can email her here with questions, comments or ideas. Follow her on Twitter here. Follow Beckett Media on Facebook and Twitter.