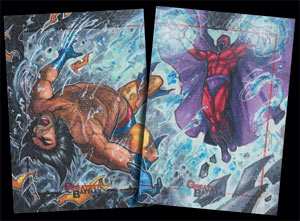 By Susan Lulgjuraj | Beckett Sports Card Monthly Editor
Some of Marvel Comics' most intense battles are coming to cards.
Rittenhouse Archives is putting together set featuring infamous fights between characters such as Thor and Loki or Iron Man against Mandarin in its upcoming Marvel Greatest Battles Trading Cards.
The set will feature 90 base cards, but collectors will definitely be on the lookout for the sketch cards. Each box will contain a two-card sketch puzzle with a different character on each side. When put together, you get one amazing scene drawn by one of the artists for the set.
Battle scenes include Spider-Man vs. Green Goblin, Hulk vs. Wolverine, Spider-Man vs. Venom, Rogue vs. Ms. Marvel, Fantastic Four vs. Dr. Doom, Captain America vs. Red Skull and more.
Artists include Mick Glebe, Matt Glebe, Rhiannon Owens, Matias Streb, Pablo Marcos, Anthony Tan, Andy Price, Cezar Razek, Charles Hall, John Haun, Joshua Flower, Studio Mia, Jon Hughes, Adam Cline, Joe Pekar and others.
There is an assortment of chase cards in each box
– Avengers vs. X-Men (1:12 packs)
– Battle Scars (1:12)
– Gold Plastic (1:24)
– Red parallel (1:3)
– Gold parallel (1:24, numbered to 75)
Those who get cards in volume are in for a treat from Rittenhouse. The company is offering three levels of incentives.
A six-case order will yield a two-card puzzle sketch featuring the work of Meghan Hetrik.
Nine-case order: a four-card puzzle sketch featuring the work of Warren Martinek
18-case order: 10 two-card sketch puzzles, red parallel set, and Avengers vs. X-Men, Battle Scars and Gold Plastic chase sets.
Each box costs $120 from Rittenhouse's website and is scheduled to be released April 17.
The base set consists of 90 foil-embossed cards. Each hobby box will contain 24 five-card packs.
Susan Lulgjuraj is an editor of Beckett Sports Card Monthly. You can email her here with questions, comments or ideas. Follow her on Twitter here. Follow Beckett Media on Facebook.