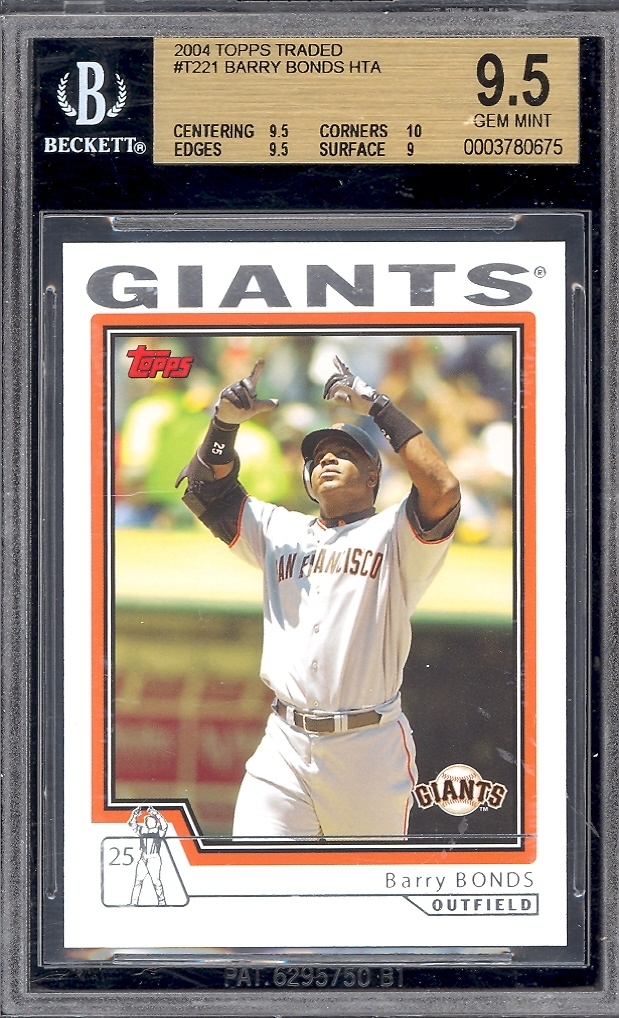 By Chris Olds | Beckett Baseball Editor | Commentary
Will a time of reflection reflect our complicated times?
That's the question we'll get the answer to on Jan. 9, when the latest class of inductees into the National Baseball Hall of Fame and Museum will be unveiled.
This year's Hall of Fame ballot arrived from the Baseball Writers' Association of America on Wednesday with some of the game's biggest names ever on the ballot — some being players whose statistics eclipsed many others in the record books as they defied age and just kept getting better as their careers progressed.
Now comes the biggest question … yes or no?
Well, if you examine the values of their key baseball cards today vs. a decade ago, you might already have an answer — at least one that reflects how the fans feel. Many values for stars with clouds of suspicion around them are shells of what they were in their prime. Here's a look at the most-notable players on the ballot when it comes to cardboard. Also, be sure to submit your votes on the ballot below.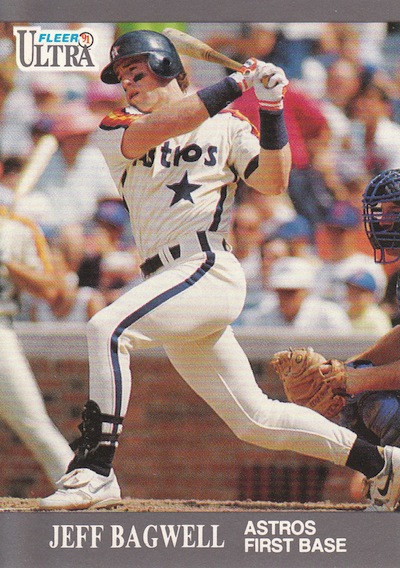 Jeff Bagwell
Astros, 1991-2005 (click here for a checklist or Online Price Guide)
.297 average, 449 HRs, 1,529 RBI, 202 SB, 1994 NL MVP, one Gold Glove, four-time All-Star
First introduced to collectors as the gem in one the worst trades ever and then as the 1991 NL Rookie of the Year, Bagwell was a power-hitting, all-around star for Houston. He's never been directly caught up in any steroid scandals, but some of his recent comments about their use seem unusual to this writer if Bagwell was against using. Would he get my vote after that? Maybe.
Best Rookie Card: 1991 Ultra Update #79
Value Then (Dec. 2002): $10 Value Now: $6
—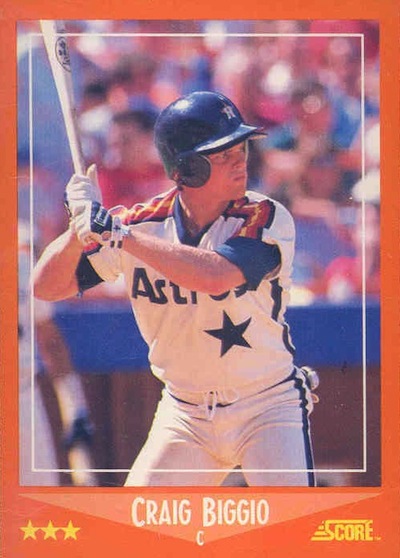 Craig Biggio
Astros, 1988-2007 (click here for a checklist or OPG)
.281 average, 291 HRs, 1,175 RBI, 414 SB, four Gold Gloves, seven-time All-Star
Another mainstay for Houston, this member of the 3,00o-hit club played consistently and had some strong seasons but none that are overwhelming on their own when looking at the stat sheet (never hit 30 home runs or drove in 100, for example). That said, though, the end result is still Hall of Fame worthy. He's not the flashiest selection, but he's a good one. He'd get my vote and he should get in.
Best Rookie Card: 1988 Score Rookie/Traded #103T
Value Then: $8 Value Now: $12
—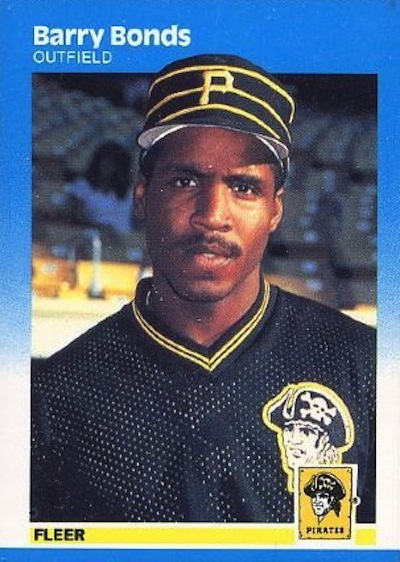 Barry Bonds
Pirates/Giants, 1986-2007 (click here for a checklist or OPG)
.298 average, 762 HRs, 1,996 RBI, 514 SB, seven-time NL MVP, eight Gold Gloves, 14-time All-Star
He's Major League Baseball's single-season and career home run leader. He's got more MVP awards than anyone else — and should have had more — and he was walked more than any player in history. He's also one with plenty of BALCO baggage — he was found guilty of obstruction of justice and is a felon based on his elusive testimony in the case. His numbers all indicate he should be in the Hall, but there's little doubt in many people's minds that those numbers were probably aided. One could also argue that he was the best all-around player in the game before the time of his alleged use began — and some voters probably will cite that as a reason for selecting him. It' s valid, but it's not for me. While MLB did not have policies about performance-enhancers during much of his career, Bonds is the debate of all debates here. If I had a vote, I wouldn't use it — but he'll probably get into the Hall at some point. He probably should — he's the ultimate icon, the personification, of the generation of questioned players. Oh, and he sold a boat-load of cardboard through the years, too.
Best Rookie Card: 1987 Fleer #604
Value Then: $50 Value Now: $12
—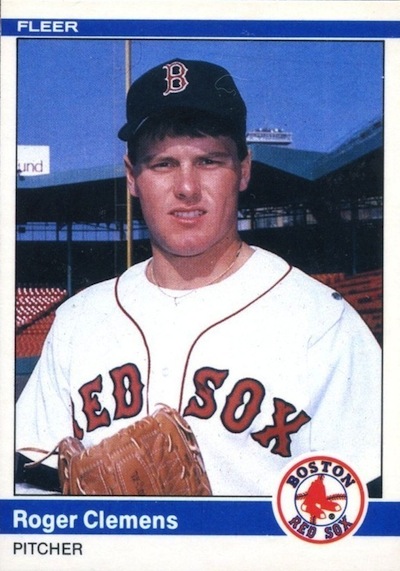 Roger Clemens
Red Sox/Blue Jays/Yankees/Astros, 1984-2007 (click here for a checklist or OPG)
354-184 record, 3.12 ERA, 4,672 strikeouts in 4,916.2 innings, 1986 AL MVP, seven-time Cy Young winner, 11-time All-Star
See Bonds — but switch everything when it comes to superlatives to pitching. On paper, he's one of the most-dominating pitchers of the modern era, a four-time 20-game winner, a two-time single-game strikeout record-holder and a guy who won more Cy Young awards than anyone else. He's also had his share of courtroom time where he was found not-guilty on all six perjury counts against him. But, like Bonds, the damage has been done and his key cardboard is nowhere near its prime or where it should be for a player of his caliber. I wouldn't vote for him — there's just too much, if one examines all the details and allegations along with those around him, indicating that he might have used PEDs during his remarkable career.
Best Rookie Card: 1984 FleerUpdate #27
Value Then: $180 Value Now: $120
—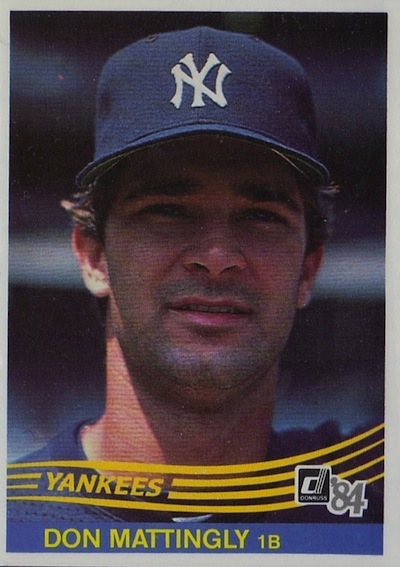 Don Mattingly
Yankees, 1982-1995 (click here for a checklist or OPG)
.307 average, 222 HRs, 1,099 RBI, 14 SB, 1985 AL MVP, nine Gold Gloves, six-time All-Star
Sorry Yankees fans, he's a Bronx legend, but "Donnie Baseball" really shouldn't be part of a legitimate discussion about the Hall. Monument Park? Sure. On cardboard, there's no doubting how important his Rookie Cards were in the 1980s, but that time has long passed. Put him in Padres pinstripes for his career and nobody would disagree with this argument, either.
Best Rookie Card: 1984 Donruss #248
Value Then: $30 Value Now: $30

—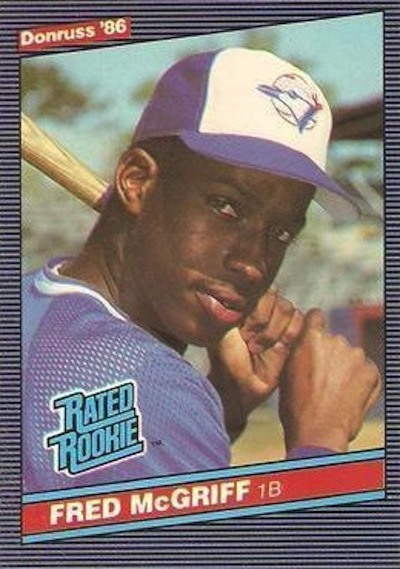 Fred McGriff
Blue Jays/Padres/Braves/Rays/Cubs/Dodgers, 1986-2004 (click here for a checklist or OPG)
.284 average, 493 HRs, 1,550 RBI, 72 SB, five-time All-Star
He's never been caught up in any allegations about steroid use, which should make his power numbers more impressive. But like many sluggers who are from earlier years, though, they just can't compare. Had he spent his career for one or two teams and played just as well or a tad better, his case might be stronger. Same could be said for his baseball cards as bouncing from team to team can't help popularity. I'd vote for him, knowing that he's likely not going in.
Best Rookie Card: 1986 Donruss #28
Value Then: $10 Value Now: $8
—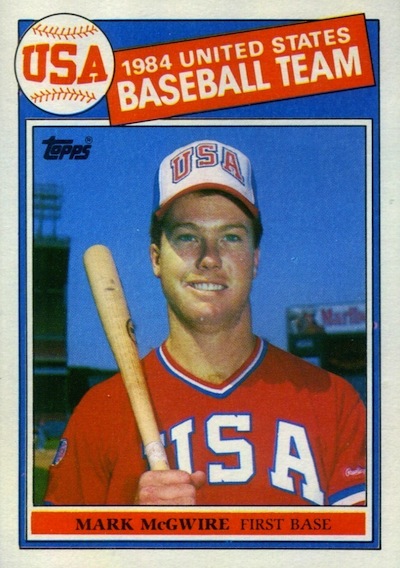 Mark McGwire
Athletics/Cardinals, 1986-2001 (click here for a checklist or OPG)
.263 average, 583 HRs, 1,414 RBI, 12 SB, one Gold Glove, 12-time All-Star
He's an admitted steroid user and did so during his then-magical 1998 season when he became the single-season home run champion. His reluctance to not talk about the past when it mattered is perhaps what people remember most, not the tearful confession before he was set to take an MLB coaching job — or anything from that season that just looks a lot less special now. He did the right thing by not denying what happened and moving along with his life and career. That's commendable — and something that, to me, would make voting for player who have the bonafide numbers potentially more viable. I'm still a bit of a Bash Brothers fan, too, but when it comes to a Hall of Fame vote, I just don't think so.
Best Rookie Card: 1985 Topps #401
Value Then: $50 Value Now: $20
—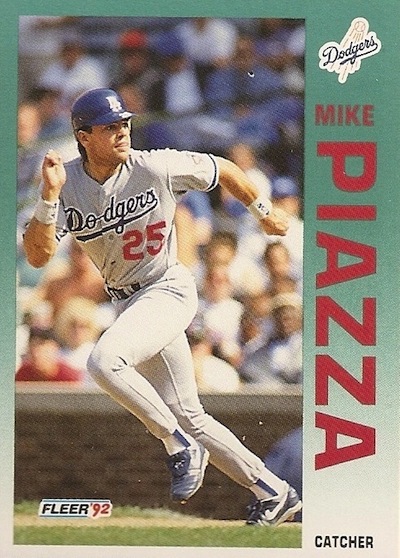 Mike Piazza
Dodgers/Marlins/Mets/Padres/Athletics, 1992-2007 (click here for a checklist or OPG)
.308 average, 427 HRs, 1,335 RBI, 17 SB, 12-time All-Star
There's no doubt that he was one of the best hitters at catcher. But he has been among those who have been questioned in the past, which makes his story from an out-of-nowhere draft pick to legend less interesting to me. In this case I play my cynic card. No vote, but given the position he played I'm sure he'll get in at some point. He was very popular for two notable franchises for a long time — and that obviously can't hurt his cards or his chances at the Hall.
Best Rookie Card: 1992 Fleer Update #92
Value Then: $80 Value Now: $30
—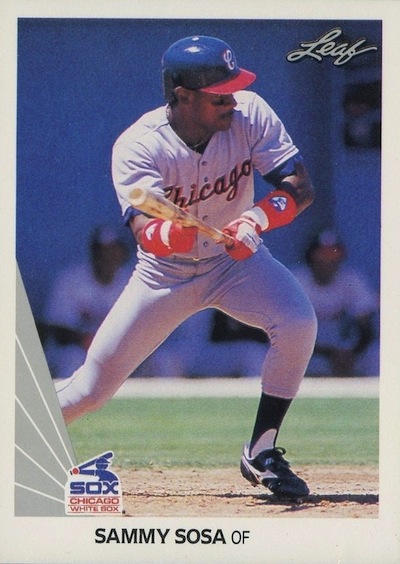 Sammy Sosa
Rangers/White Sox/Cubs/Orioles, 1989-2007 (click here for a checklist or OPG)
.252 average, 609 HRs, 1,667 RBI, 234 SB, 1998 NL MVP, seven-time All-Star
Three of the best single-season home run marks belong to him, and he's one of only two to hit 60-plus more than once. The storied power is there. According to The New York Times, though, he was one of the 104 players who tested positive for PEDs during the 2003 survey tests that prompted MLB to adopt a drug policy.  Like other sluggers here, Sosa sold a ton of cardboard in those prime power years but those cards are a shell of what they had been just like his image is. The numbers are gaudy, but I wouldn't vote for him.
Best Rookie Card: 1990 Leaf #220
Value Then: $80 Value Now: $12
—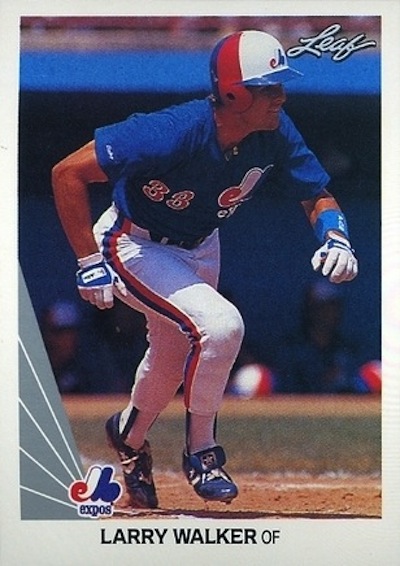 Larry Walker
Expos/Rockies/Cardinals, 1989-2005 (click here for a checklist or OPG)
.313 average, 383 HRs, 1,311 RBI, 230 SB, 1997 NL MVP, seven Gold Gloves, five-time All-Star
Like McGriff, Walker was a guy who quietly put up numbers — his 1997 season is ridiculous — but three batting titles and 383 home runs later, it's just not enough. Plus there's the whole Coors Field debate that was much more fun to pontificate about pre-PEDs. Put him in a Colorado Rockies Hall of Fame for sure, but Cooperstown probably won't happen until the Veterans Committee.
Best Rookie Card: 1990 Leaf #325
Value Then: $15 Value Now: $8

Chris Olds is the editor of Beckett Baseball magazine. Have a comment, question or idea? Send an email to him at colds@beckett.com. Follow him on Twitter by clicking here.
—
How would you vote?
See every name on this year's ballot below. As with the Baseball Writers' Association of America, you can only select 10 names from the list. Those who get 75 percent of the vote are in. Those who get less than five percent are removed from next year's ballot.
Loading ...