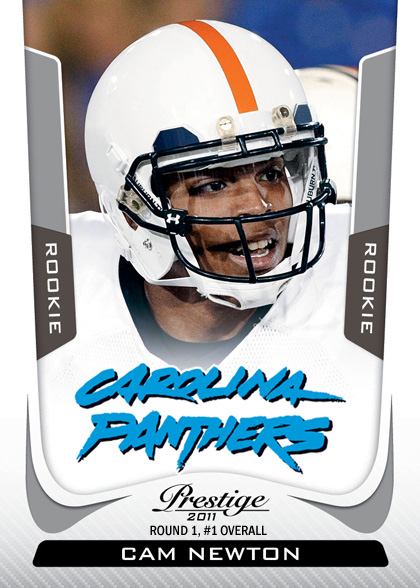 Note: This was written pick-by-pick during the first round of the NFL Draft on Thursday night.
By Chris Olds | BSCM Editor | Commentary
Want a first look at NFL Draft picks' first pro cards in real time within minutes of their names being called at the podium? Panini America is coughing them up right now … and all of these cards will be printed and in collectors hands by May 18.
Here's the first, above, in No. 1 pick Cam Newton the 2010 Heisman winner and controversial Auburn quarterback.
Now my hard-hitting analysis: Pay cut at the No. 1 spot, right?
See more after the jump — and get hard-hitting analysis from an armchair quarterback who watches more baseball than football, too.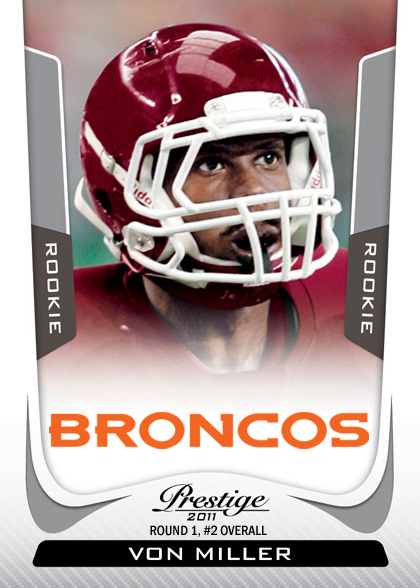 No. 2 pick Von Miller … we want a card of him wearing his cool glasses.
—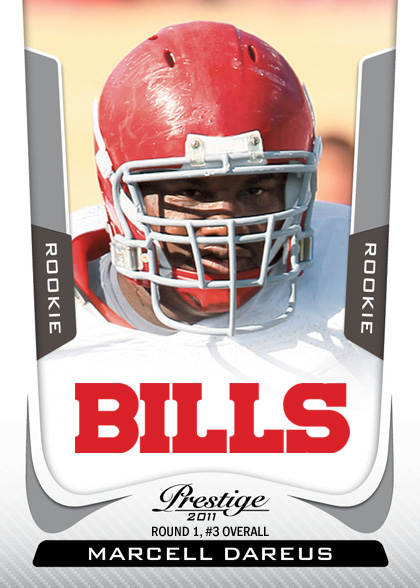 No. 3 pick Marcell Dareus … the first of several Alabama Crimson Tide players to go. (Roll Tide.)
—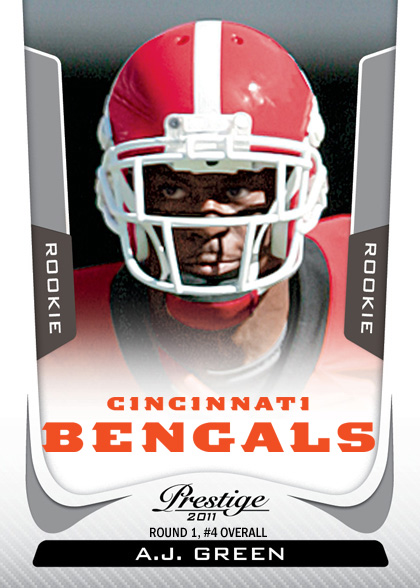 No. 4 pick A.J. Green … Will collectors take note of this Bulldog who traded his dog bones for cat stripes? Yes, because he's good.
—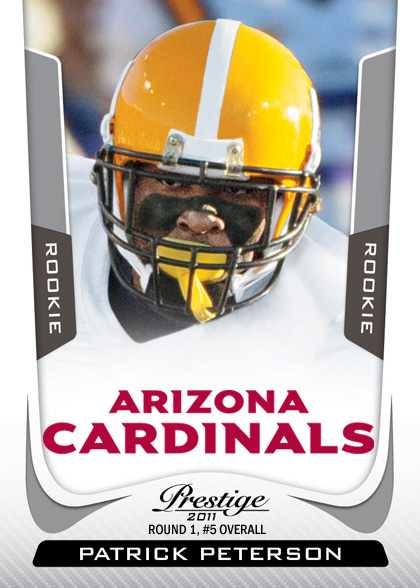 No. 5 pick Patrick Peterson … we like to think he's going for the John Randle look here vs. the Bryce Harper.
—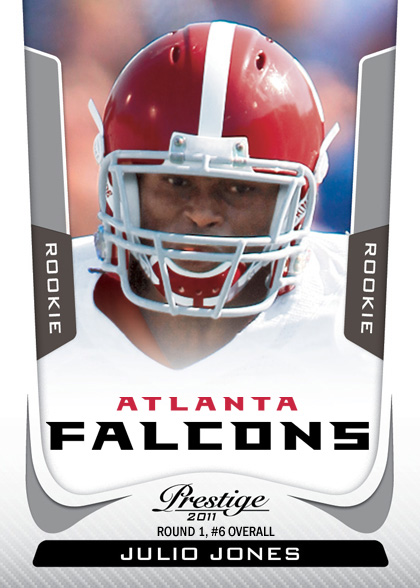 No. 6 pick, Julio Jones … another Alabama national championship team member, and the Falcons traded big for another receiving threat. Collectors will notice.
—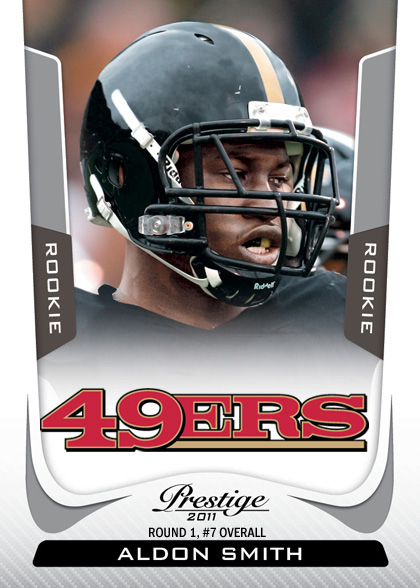 No. 7 pick, Aldon Smith … Missouri's first draft pick is a strong-armed pas …err, nevermind.
—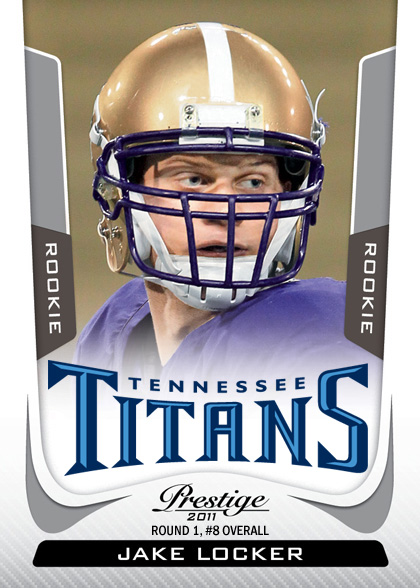 No. 8 pick, Jake Locker … his pick was a surprise, but I can't dig in because of the potential nickname: "Hurt."
—
— no card photo —
No. 9 pick, Tyron Smith … shoulda been a Cowboy. Oh, wait …
—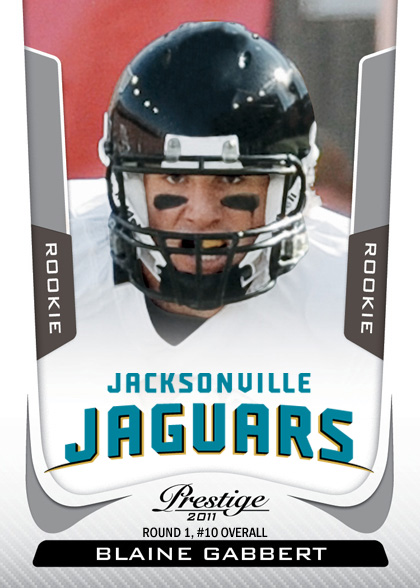 No. 10 pick, Blaine Gabbert … He's this year's Aaron Rodgers. And I don't think I mean that as a compliment … but his post-pick interview with Neon Deion showed a good attitude. I like that.
—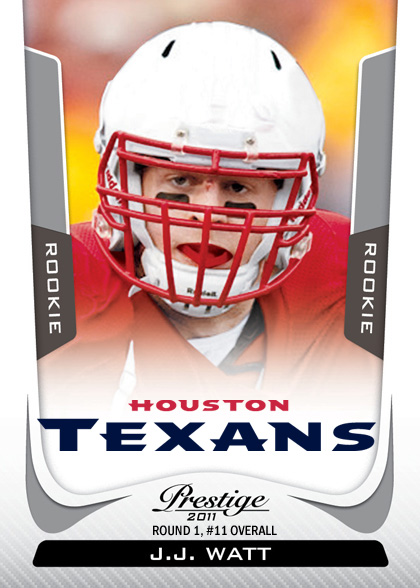 No. 11 pick, J.J. Watt … must resist the temptation to make a "Stone Cold" Steve Austin joke here. What?
—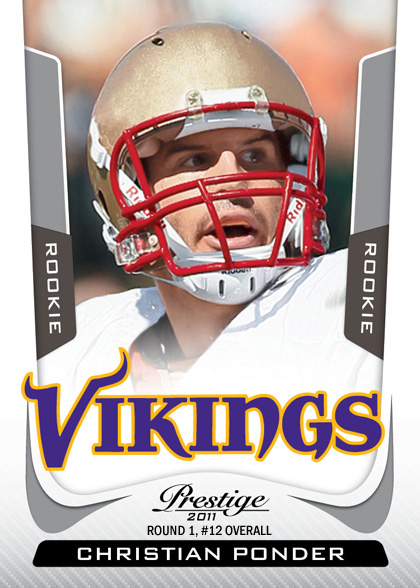 No. 12 pick, Christian Ponder … we can think of a few Vikings fans who'll be pondering what went on with this pick. I'm just pondering whether I really think he looks like Kurt Warner on this card.
—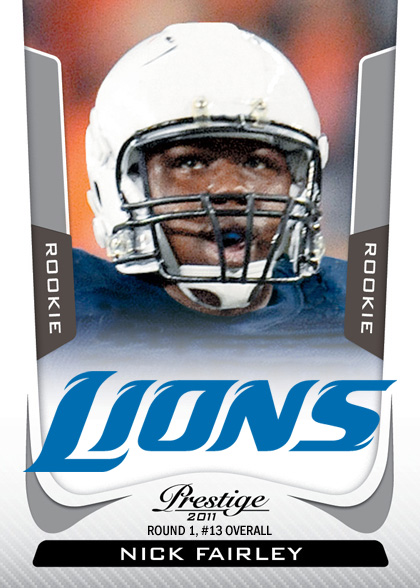 No. 13 pick, Nick Fairley … a Tiger becomes a Lion — and he's a beast. (Did Tracy Hackler write that?)
—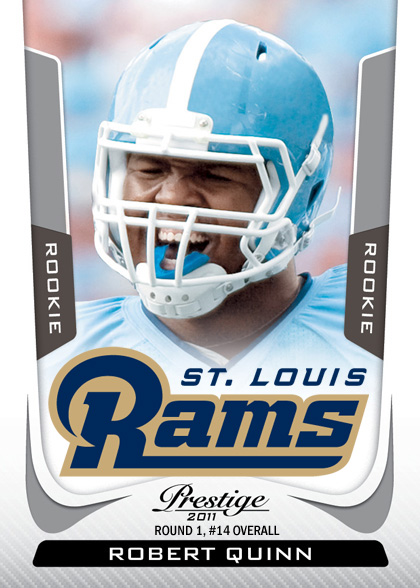 No. 14 pick, Robert Quinn … he's a youngin' at just 20 years old. That could aid in his longevity on cardboard. This is also the best-looking card of the bunch thus far.
—
— no card image —
No. 15 pick, Mike Pouncey … his twin is already in the NFL and was on a Super Bowl team. The Dolphins aren't a Super Bowl team.
—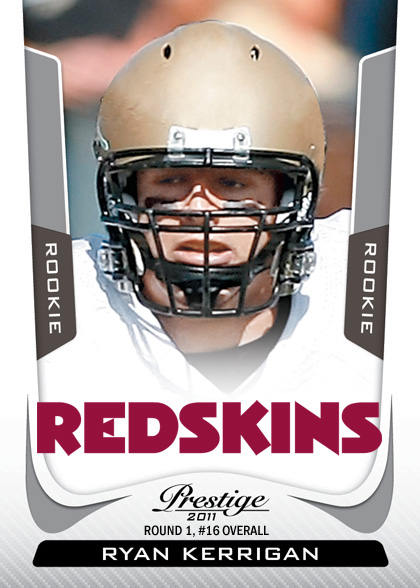 No. 16 pick, Ryan Kerrigan … while the NFL Network analyst seriously explains what an "elephant" is as I watch, I'm still pondering "Boilermaker."
—
— no image —
No. 17 pick, Nate Solder … that's a Belichick pick and not a hobby pick.
—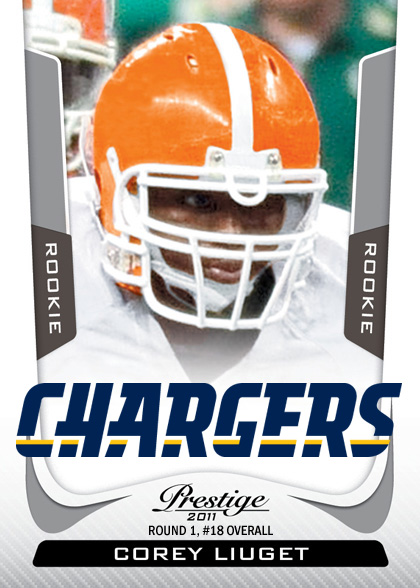 No. 18 pick, Corey Liuget … resisting latter-career MC Hammer reference. But if I did go there at least NFL Network's Deion Sanders would know what I meant. #TooLegit2Quit (Oops, I went into Twitter mode.)
—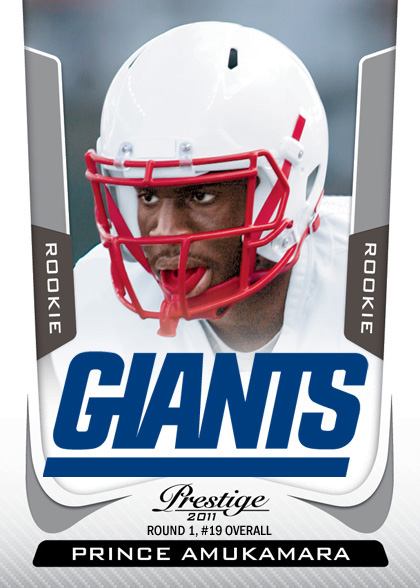 No. 19 pick, Prince Amukamara … we'll just call him Prince. That'll cover it once we get past the big wedding news on Friday.
—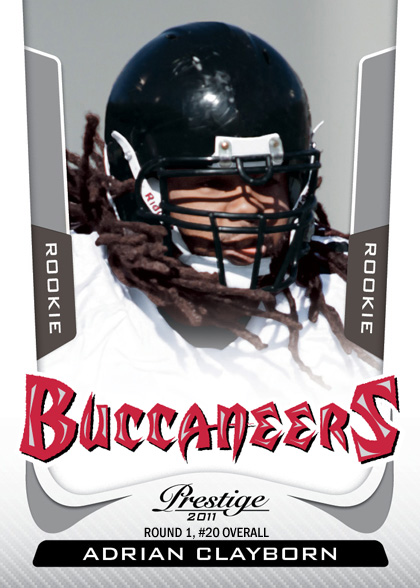 No. 20 pick, Adrian Clayborn … all I got here is a Rocky joke. (Can somebody draft Mark Ingram already so I can have a new team to follow?) Ok, I got something… his arm issue is a condition also shared by former TNA Knockout Traci Brooks.
—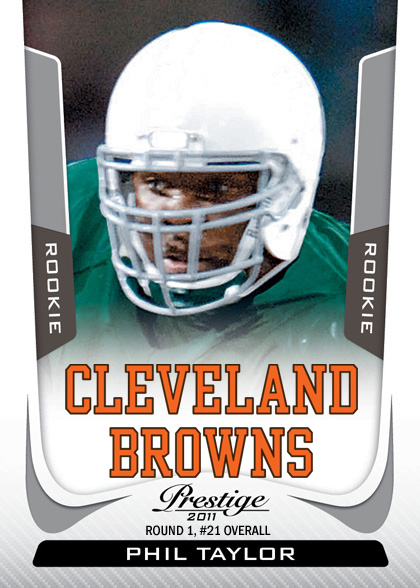 No. 21 pick, Phil Taylor … let's hope he's got better knees than the last guy who was big in Cleveland with that name.
—
— No card image —
No. 22 pick, Anthony Castonzo … Better than Costanza, for sure.
—
— No card image —
No. 23 pick, Danny Watkins … a scrappy Baylor Bear but not sure if that means much on cardboard. Wait, what? He didn't even play high school football .. and he's a firefighter? I want his card already
—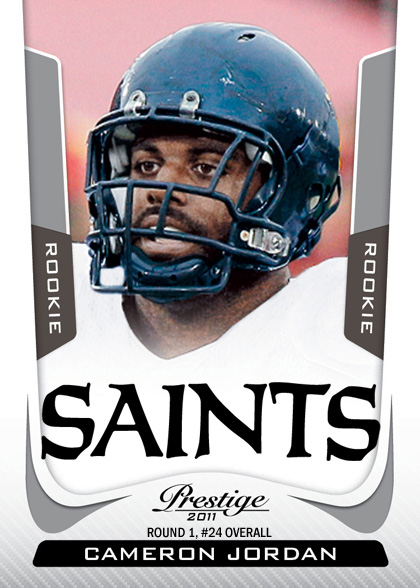 No. 24 pick, Cameron Jordan … you probably have his dad's cards — former Minnesota Viking Steve Jordan.
—
— No card image —
No. 25 pick, James Carpenter … another Alabama guy goes not named Mark Ingram. (My back still hurts from sitting at my computer all night … do I slide down the board because of injury, too? Get him, and me, a team already!)
—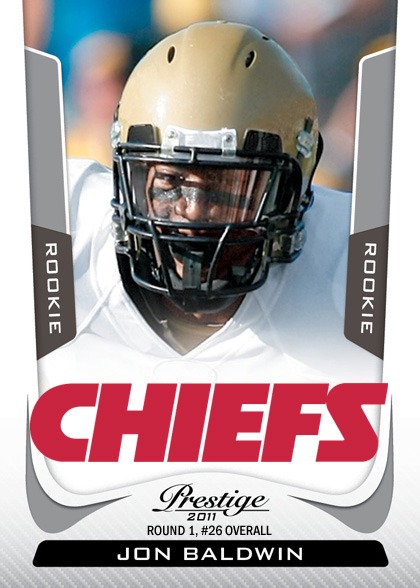 No. 26 pick … 10 p.m: Seriously, who's picking already? 10:04: He's still on the phone. 10:05: The Chiefs take Jonathan Baldwin instead of the Ravens. We need instant replay.
—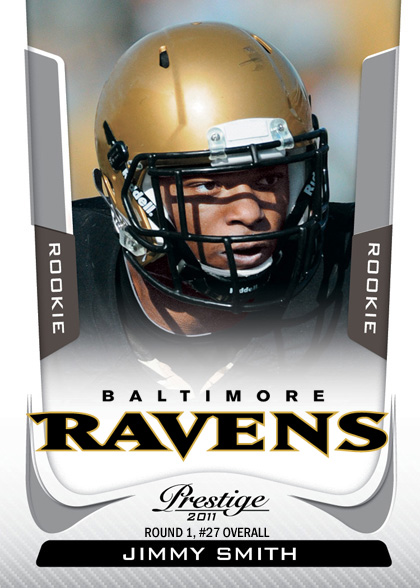 No. 27 pick, Jimmy Smith … he's a receiver. Now I'm confused. Doesn't he play for the Jaguars?
—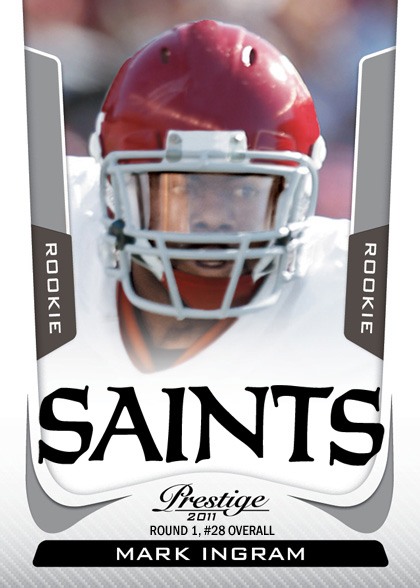 No. 28 pick, Mark Ingram … looks like I won't have a new favorite team, but finally the first Heisman Trophy winner in my alma mater's history — and the star of its only national championship team won since I left campus — is selected. By back feels pretty good right now — or I know I only have to write four more blurbs.
—
— no card image —
No. 29 pick, Muhammad Wilkerson … Rex Ryan drafts a star from Temple. Does that mean he gets a Cosby Sweater and a more TV-friendly vocabulary?
—
— no card image —
No. 30 pick, Gabe Carimi … The Bears take a Wisconsin Badger. Must. Resist. Cheesehead. Joke.
—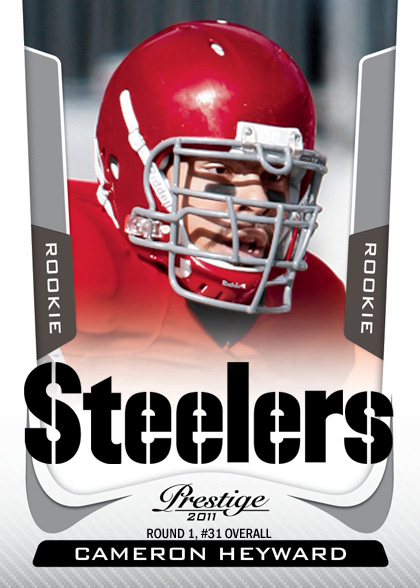 No. 31 pick, Cam Heyward … the son of the late Craig "Ironhead" Heyward. Nuff said. (Second-generation NFL stars always get a little extra attention from me. See: No. 28.)
—
— no card image —
No. 32 pick, Derek Sherrod … this guy is now a Cheesehead. Round 1 is over. Signing off …
—
Chris Olds is the editor of Beckett Baseball. Have a comment, question or idea? Send an e-mail to him at colds@beckett.com. Follow him on Twitter by clicking here.