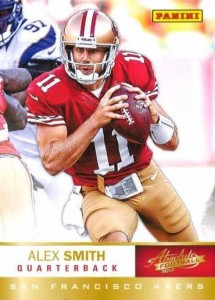 By Susan Lulgjuraj | Beckett Football Editor
The San Francisco 49ers are flying high after two weeks of the NFL season. Alex Smith, Frank Gore and Vernon Davis have led San Francisco to a 2-0 record this year.
To celebrate what could be an exciting season, Panini America and U.S. Bank have teamed to develop an exclusive eight-card team set.
Most of the top San Francisco players are in the set including Randy Moss and Michael Crabtree.
Fans can get a new card at each 49ers home game by visiting the U.S Bank booth or grab one at participating U.S. Bank branches during the week following the specified game.
"We're proud to partner with a legendary franchise like the San Francisco 49ers and on this special promotion that helps honor the team's current superstars while also creating increased visibility for U.S. Bank, a key 49ers partner," Panini America's Vice President of Marketing Jason Howarth said.
The cards will also preview the 2012 Absolute design.
Here's the schedule of the cards:
・ Sept. 15: Alex Smith
・ Oct. 7: Randy Moss
・ Oct. 14: Michael Crabtree
・ Oct. 18: A.J. Jenkins
・ Nov. 11: LaMichael James
・ Nov. 19: Frank Gore
・ Dec. 9: Vernon Davis
・ Dec. 30: Patrick Willis
collectors can get more information by visiting  49ersbanking.com.
Susan Lulgjuraj is the editor of Beckett Football magazine. You can email Susan here with ideas, comments and questions. Follow her on Twitter here.