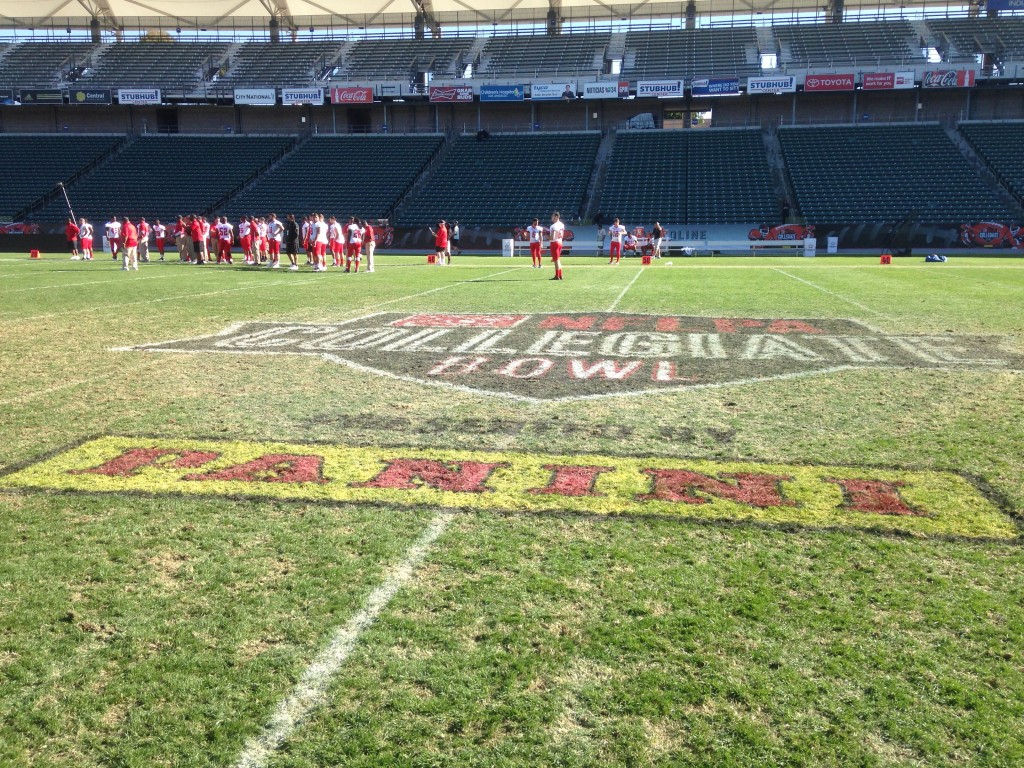 By Susan Lulgjuraj | Beckett Football Editor
E.J. Manuel has only played in 10 NFL games, but he's already become a mentor for future NFL players.
He and seven other 2013 rookies are attending the Panini America NFLPA Collegiate Bowl, which kicks off today at 6 p.m. ET on ESPN2.
"My role is to be available and answer questions for these guys," said Manuel, the Buffalo Bills quarterback. "What it takes to get drafted, what it takes to sort through draft boards, as well working with Panini."
Manuel remembers his pre-draft experience well – it was only last year. He was a standout at the Senior Bowl and felt his performance helped his draft stock. Manuel was the only quarterback picked in the first round of the 2013 NFL Draft.
Before the draft, he met with scouts, coaches and general managers who all asked questions. Many of those questions had nothing to do with football.
"They ask personal questions: where did you come from, what type of family you have, your work ethic," Manuel said. "They try to trick you up. It seemed like there were puzzle-type questions. They would tell you some words at the beginning of the interview and then ask you a bunch of questions. Later they would say 'What were the colors I told you at the beginning of the meeting?'"
Jason Howarth, Panini's Vice President of Marketing, said the experience has been productive for the incoming class.
"You got these guys looking to get in the league and learning the steps they have to take. It's something they're not really familiar on how to navigate," Howarth said.
Of course, not everything leading up to the Collegiate Bowl involved mentoring. Manuel – along with the other rookies such as Houston's DeAndre Hopkins, Tennessee's Justin Hunter and St. Louis's Tavon Austin – signed cards for Panini for outstanding redemptions and upcoming football products such as Panini Black and National Treasures.
Part of Panini's larger presence at the NFLPA Collegiate Bowl – it is now the main sponsor – is building relationships with players as early as possible, allowing the players to learn about Panini and the trading card industry before they even reach the NFL.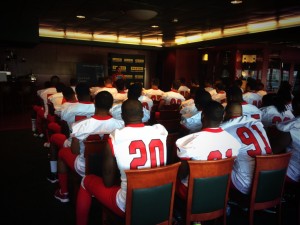 NFL Players Association Inc., President Keith Gordon also stressed the importance of NFL trading card partners to the Collegiate Bowl participants. The goal of the NFLPA is to look after its players, including the business side of football – such as marketing, broadcasting and ticket sales.
"I told them earlier, other than their playing contract, their first contract is a trading card deal with a licensed trading card company," Gordon said. "For some, it might be their last contract."
Most of the players in the NFLPA Collegiate Bowl aren't top-tier prospects. The game features draft-eligible college seniors who likely go in the later rounds or sign as free agents.
All 32 teams are sending representatives to the game, more than 130 scouts in total – double the amount that attended the all-star game's first year in 2012. The players even get to be coached by Dick Vermeil and Denny Green.
"(Panini is) establishing relationships before they are close to hitting the target," Gordon said. "Before the next surprise breakout performance, they develop the relationship here. If a guy takes a year or two or three to blossom that Rookie Card is still in business. That first deal is so important."
While Manuel talked to different players about his draft and NFL experiences, he still took a few moments to enjoy some of those many, many cards he signed for Panini. Even though it was mostly business at the Panini NFLPA Collegiate Bowl, Manuel allowed himself to feel like a child for a moment.
"I think the coolest cards are the ones that have a patch from the jersey and then my picture next to it," he said. "You give a fan a piece of memorabilia and then with your signature. I grew up collecting cards of Kobe (Bryant) and LeBron (James), and now they have one for me."
Susan Lulgjuraj is an editor at Beckett Media. You can email her here with questions, comments or ideas. Follow her on Twitter here. Follow Beckett Media on Facebook and Twitter.