By CHRIS OLDS | Beckett Baseball Editor
My Saturday morning started off like few others — my alarm clock went off at 7:30.
Why? Heavy metal icon Ozzy Osbourne was in town to sign copies of his new book I am Ozzy — currently charting on The New York Times Best-Seller List — at a Dallas Barnes & Noble, and I had to be at the store by 9 a.m. to get a wristband and assure myself of a chance at an autograph.
Here's where I'd quote lyrics from one of Osbourne's favorite bands, The Beatles — "Woke up, fell out of bed/Dragged a comb across my head/Found my way downstairs and drank a cup/And looking up I noticed I was late" — but that didn't even happen. I was in too much of a hurry.
It takes a pretty big-name celeb for me to go hounding these days — or in this case standing in line for the book-signing cattle-call — but in my mind Osbourne is hands down one of the most iconic figures in the history of heavy metal, so this event was a must.
I braved the cold Dallas morning (only slowed by having to scrape a light layer of ice off my car's windows) and ventured forth in search of the signature of The Prince of *@¢*!$% Darkness.
I arrived at the store at roughly 8:15 a.m. with two lines already attempting to wrap themselves around the storefronts — one to buy a book and the other to get a wristband. Those wise fans who knew about the signing further in advance needed to present their books with a receipt to receive a wristband. Others like myself (I found out via Ozzy's Twitter feed) had to spend time in a line snaking through the two-story store while "Mr. Crowley" took the place of Muzak overhead and a team of employees (all decked out in black and purple "OZZY 2-27-10" T-Shirts) helped fans buy as many as four books apiece.
At 30 percent off their $26.99 cover price, I opted for three… I'm not greedy, I swear. (Part of me also fully expected to be returning at least two of them unsigned by the end of the day, anyway.)
After that, it was back into the cool Dallas morning to join the much-longer longer line and the black-leather and concert-shirt clad masses awaiting a wristband for the 3 p.m. signing later in the day. (I had my black leather on, too — it was cold.)
By 9:15, I was assigned a spot in Group M. Fans were lumped into batches of 50 so they could enter the store in a a manageable fashion while hundreds —  if not thousands — of fans were awaiting outside beginning at 3 p.m. (The final lines didn't begin until just before start time — so I was able to go catch Kevin Smith's CopOut at the nearby theater and be back in time. I give it a B.)
Once the former Black Sabbath front man arrived — a bit late at roughly 3:30 — I noted that the wristband groups were up to "RR" with plenty more fans still pouring in for books and autographs. Realistically, 1,300 wristbands would be a challenge in a sitting — especially considering each one could amount to as many as four autographs (one for each book sold; limit four). But 900-plus more on top of that? It didn't seem likely considering the signing was announced as lasting just two hours.
But Ozzy apparently doesn't mess around when it comes to his autographs or his fans — the radio station vans parked outside the store announced several times that the 61-year-old was going to sign each and every book no matter how long it was going to take, a promise that Osbourne looked like he was slowly, methodically going to keep — even if it meant four autographs per wristband. Do that math … your brain might cramp faster than his hand.
(It's worth noting that Ozzy's had plenty of practice signing books on this recent tour with more than 3,000 fans reportedly showing up at recent signings in Los Angeles and Chicago.)
By roughly 5 p.m., I was actually inside the store, leaving the concert-quality tailgating party outside (where of course plenty of Ozzy tunes were playing, including classic Sabbath tracks like "Paranoid"). But even then a glimpse at rock royalty remained elusive. After one made it up the escalator to the second floor of the packed store, the line snaked its way through the stacks of books on the outer banks and the varied titles found along the journey amused many of those on hand. (Well, at least the group ahead of me … something about the self-help section followed by visual guides and the Kama Sutra. I wasn't listening to much by 5:30 — except my aching heels and a slightly bulging disc in my back that loves to let me know when I stand around too long … )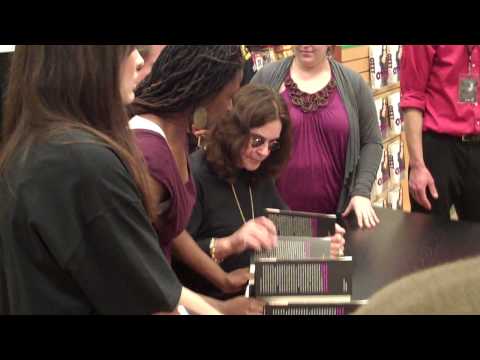 But by 5:45, I got my first glimpse of Ozzy sitting at the table — his visage aptly complete with his famed purple sunglasses and a black shirt. (I don't know what else I should have expected … a headless dove?) It certainly wasn't a first impression worthy of "What is this that stands before me? Figure in black which points at me."
I worked to get a longer peek beyond the others in front of me as Ozzy was dwarfed by the book handlers and security staff around him. I watched as the line creeped and plodded forward, prepping my books and recording the video that you can see above.
Once my view was clear, I marveled at how slowly and deliberately Ozzy signed his name. I knew going in that his signature isn't one of the more exotic-looking ones out there, but even after three hours of signing he was focused on his task at hand. Despite his handwriting's general appearance, he signs each and every autograph with precision. (Fascinating to this collector.)
The man many of us have seen comically screaming "Sharrrron!" and "Rock & Rolllll!" so many times on television with The Osbournes was a quiet, but unimposing ironman of a signer. He briefly glimpsed up at one of the fans in front of me, cracking just the hint of a smile at one point — I do think I might have gotten an evil eye from beyond a purple lens — and he also let loose a sigh as well as the work of a long day was just getting started at more than 600 autographs in.
I continued to record what I saw, focusing on precisely how he signed his name on one of the books ahead of me in the handling line — a signature as clean as the one already in my collection if not cleaner than others I have seen. (The Osbournes trading card set from Inkworks included autographs of Ozzy, Sharon, Jack and Kelly — I own them all.) And that's what amazed me — the guy who is obviously seen the decades of drug abuse in his wild days negatively affect his health still has one hell of a steady signing hand. (Pro athletes who sign autographs with check-marks or flat-lines, please take notice. Further proof you're lazy!)
Once my turn in line came up, I turned off my camera, and I quietly watched as he quietly signed my books. I was frozen in the moment, too starstruck to even notice his famous tattooed fingers that read "OZZY" — something we fans have seen countless times in heavy metal magazine photo shoots. I didn't say anything — nor did I try to shake his hand, fearing I'd slow the line (or inspire a response from security) — but my moment with a rock icon was complete.
Even if it was awkward. (Like others on this day, I'm sure.)
The mission to add the autograph to my collection wasn't about adding one more autograph, one more collection statistic — it was the ability to say "I met him," or, at least in this case, "He was right there in front of me."
After all, he's the guy whose work fills a generous portion of my iPod (The Ozzy-era Black Sabbath box set? Must-own.) and whose work is brashly blaring from the speakers of my computer as I type this a few hours later.
Hundreds more fans awaited Ozzy as I made my exit from the store and into the packed parking lot. By 6 p.m., though, I was in my car letting out a big sigh of relief of my own with three clean signatures on the "I am Ozzy" title pages. They'll join my modest autographed book collection that includes fellow Alabama alums Harper Lee (To Kill A Mockingbird) and Winston Groom (Forrest Gump) as well as a few notable favorites of mine that include Kevin Smith, Joe Namath, Jose Canseco and Hulk Hogan.
Roughly 10 hours after I had arrived, I started my car and opted for the radio station instead of my CD player for the drive home.
You'll never guess whose voice I heard when it came on.
Chris Olds is the editor of Beckett Baseball and Beckett Graded Card Investor. Have a comment, question or idea? Send an e-mail to him at colds@beckett.com.