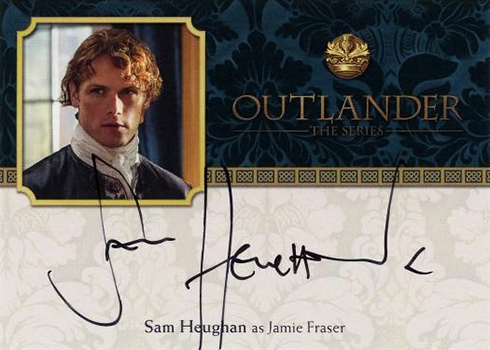 By Ryan Cracknell | Hobby Editor
2017 Cryptozoic Outlander Season 2 trading cards see more time travel, romance, autographs and memorabilia cards. The follow-up to the wildly popular Season 1 set may not have the widespread appeal of, say, a Star Wars or Star Trek release, but there's a core fandom with Outlander that is extremely passionate.
Not a lot of specifics for the 2017 Cryptozoic Outlander Season 2 trading cards have been announced yet. However, the base set has 72 cards and covers all 13 episodes. Elements of romance, historical drama and Science Fiction all come together as Claire Randall exists in a couple of different timelines. One has her as a married nurse at the end of World War II. The other sees her go back to 18th century France, a key time in Scottish history. War is a common theme in both places, as is love.
Autographs return. Confirmed signers are led by Sam Heughan (Jamie Fraser). Others on the checklist so far include Duncan Lacroix (Murtagh Fraser), and Graham McTavish (Dougal MacKenzie).
Also back are Wardrobe cards. These have pieces of costumes worn on the show embedded in them.
2017 Cryptozoic Outlander Season 2 has four additional insert sets in the works as well.
A release date has not yet been announced.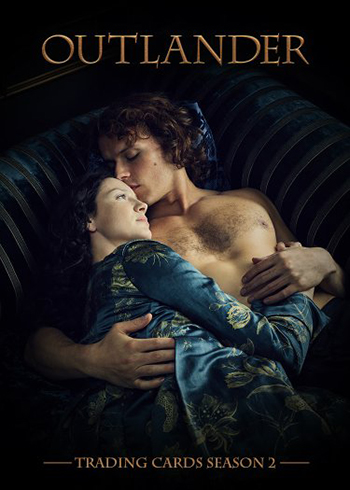 Since releasing in November, 2016, the Outlander Season 1 set has performed strongly on the secondary market. Boxes are now topping $200. Part of that is likely that there wasn't a massive production run to start with. However, it also covers a show that has lots of big-time fans and not a lot of collectibles. The response was reminiscent to how Inkworks' original Twilight set was received almost a decade earlier, appealing to a core audience that wasn't traditional card collectors.
text
2017 Cryptozoic Outlander Season 2 at a glance:
Packs per box: 24
Cards per pack: 5
Boxes per case: 12
Set size: 72 cards
Release date: TBA
What to expect in a hobby box:
• Autographs – 1
• Memorabilia Cards – 1
2017 Cryptozoic Outlander Season 2 Checklist
Autographs
Here's a list of signers confirmed for the set so far.
Steven Cree as Ian Murray
Sam Heughan as Jamie Fraser
Nell Hudson as Laoghaire MacKenzie
Scott Kyle as Ross
Duncan Lacroix as Murtagh Fitzgibbons Fraser
Graham McTavish as Dougal MacKenzie
Tobias Menzies as Frank Randall
Claire Sermonne as Louise de Rohan
Stanley Weber as Comte St. Germain
Comments? Questions? Contact Ryan Cracknell on Twitter @tradercracks.