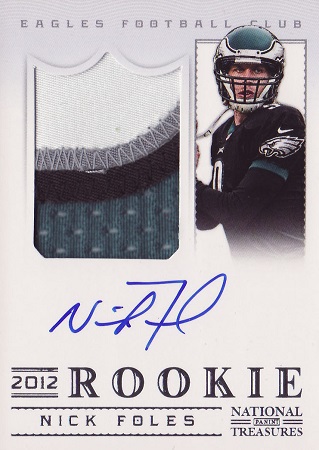 By Susan Lulgjuraj | Beckett Football Editor
You expect a game like that from Peyton Manning – and he did it earlier this year.
Usually, not from a guy who's been inconsistent and without knowing if he's going to start from week to week. However, that's the beauty of football.
Philadelphia Eagles quarterback Nick Foles tied the NFL record with seven touchdown passes in a 49-20 win over the Oakland Raiders on Sunday. Foles had a perfect passer rating of 158.3 by completing 22-of-28 passes for 406 yards.
If you did the math, he actually had more touchdowns that incompletions.
Foles' season has been up and down, but mostly up. He had a tough game against the Dallas Cowboys where he completed just 11 passes and threw for 80 yards in a 17-3 loss on October 20.
But all quarterbacks go through maturing periods. They are all going to have bad games from time to time, even the best ones.
Yet, we have to wait a week to see how Foles follows up this great game – and a week is a long time in the football world. He's already been declared the Eagles quarterback of the future where as two week ago many fans couldn't wait to see him sitting on the bench.
And card collectors are some of the most fickle bunch.
There are more than 3,300 eBay auctions with "Nick Foles" in the title and about half of them were posted since the Eagles game ended yesterday. Some collectors are looking to cash in on the hype surrounding Foles, and it may not be a bad idea since some of his top cards will sell well.
However, all those cards going up at the same time may have a negative impact for sellers. Collectors will quickly notice the marketplace has been flooded with Foles autograph cards and may come out with some good deals.
Who knows? You might even be able to wait a week and get his cards for cheaper – or they can go even higher.
What do you plan to do with your Nick Foles cards?
Stay tuned for a full Monday Morning Collector coming up later today.