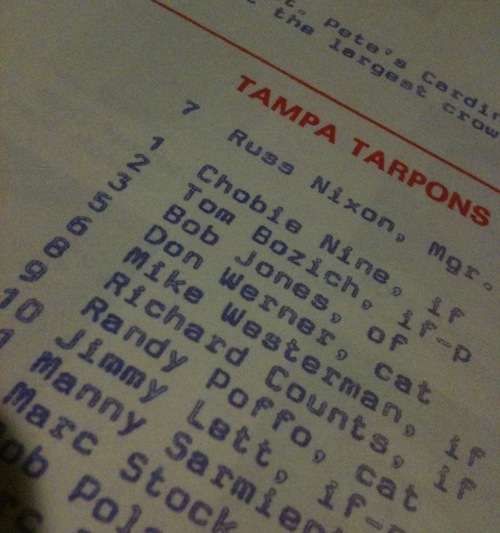 By Chris Olds | Baseball Editor | Commentary
After I watched the news of "Macho Man" Randy Savage's unfold via Twitter on Friday morning  — first with an unusual one-word expletive tweet from one current WWE wrestler and then a I-hope-the-rumor-is-untrue tweet from another — I immediately started writing.
Summing up an iconic person's life isn't always an easy task, particularly within minutes — and I briefly pondered whether I really should include a Slim Jim reference in the story — but I brainstormed about what I knew of the former WWE champ and childhood icon of many. Former minor league baseball player. Memphis wrestling. Miss Elizabeth. WrestleMania III. "Ohhhhh yeah" …
I searched the Beckett.com database for Randy Poffo, his real name, knowing full well that he didn't appear on a single baseball card — it was searched long, long ago under more casual and trivial times. One should really know better than to expect an early 1970s Rookie League team to have a card set, but I looked once again, anyway. I called up his baseball stats — half-surprised they were actually documented — linked and kept writing. Then I searched Beckett.com for "Randy Savage" where I found his stats as a wrestler, the most pertinent piece of information for collectors and finished up my piece.
Then, on a whim, I hit eBay, wanting there to be a long-omitted baseball card to be there waiting for me. After all, I had never even seen a photo of Savage as a ballplayer — it's the stuff of Internet wrestling lore, kind of like that epic image of Triple H with 1980s Flair Hair. It's out there — I've seen it — but I can't seem to find it when I need it. (You know, I've got important emails that need to be sent.)
It wasn't to be … but I did find something else for Randy Poffo.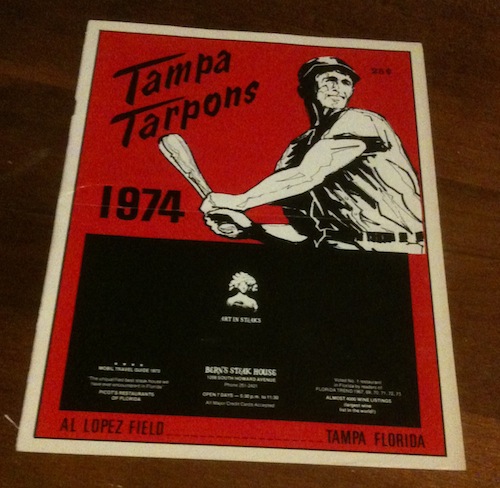 I hit the Buy It Now button, knowing full well that I could be quite disappointed in an inexpensive but trivial purchase — but I wanted a piece of Poffo, the baseball player, to go with my 1994 Action Packed Macho Man autograph I picked up years ago. After all, it turns out, there has been plenty of interest in Macho as a baseball player in the days before his death. Read this quality story from Sports Illustrated.
For a mere $14 — including shipping — I bought a 1971 Tampa Tarpons scorecard (definitely not going to include Poffo but a 21-year-old Ken Griffey is on the roster for the Aug. 18, 1971, game), a 1974 Tarpons game program and a 1975 Tarpons program. Of the three, only the '74 program might have been assured to have something inside … the only season among the three he was on the squad.
I opened my carefully packaged envelope that arrived today — quite quick shipping from across the country — and examined the 1971 piece first, not expecting much. I spotted Griffey but not much else on the card and its included roster.
Then, I turned my attention to the 1974 program, once folded in half during the action at Al Lopez Field in Tampa years before I was born. Inside the 25-cent treasure — at least its cost back then — was a mimeographed game notes roster printed with the kind of purple ink I vaguely remember seeing on papers in my early years of elementary school … before Savage was a more familiar name to me.
On June 7, 1974, the Tarpons — managed by eventual big-league skipper Russ Nixon — took on the St. Petersburg Cardinals in a game that followed a season-high 4,811 in attendance the night before. No. 9 on the Tarpons roster, tucked in between No. 8 Richard Counts and No. 10 Jimmy Lett was all I was looking for.
"9 Randy Poffo, cat," the sheet reads.
The actual program itself, a 23-page tribute to the level of baseball known for a family-friendly atmosphere more than the constant flow of dreams that often die, merely shows photos of team officials, Nixon and even the ticket manager inside. (The most-expensive item at the novelty stand was a cap for $2.50 right ahead of the mascot doll for $2.25, by the way.) Inside, among the numerous advertisements was a tribute to Miss Tampa Tarpon Baseball Queen Bridget Hanahan, images of former Tarpon in the bigs — Pete Rose, Johnny Bench, Dave Concepcion and more.
Also inside was a schedule, un-scored scorecards and, perhaps most appropriately, on Page 14 an advertisement for NWA Wrestling every Tuesday evening at 8:30 in the Fort Homer Hesterly Armory. That's a spot where, apparently, if you know your wrestling history more than a few future wrestlers watched from the crowd at one time or another, including one Hulk Hogan.
Poffo was nowhere to be found among the Reds' 1973 minor league review — he was still in the Cardinals organization — but that nearly 37-year-old piece of paper was good enough for me. I really didn't have a place for it in my collection — though I guess it could go with my Bill Goldberg University of Georgia football media guide and my Dwayne Johnson Miami Hurricanes program. None of them are vital pieces by any means, but they have stayed with me here and there for trivia's sake … no need for them to be jettisoned.
Then, I opened the 1975 program.
This game, which was played on Sept. 5, 1975, has Randy Poffo nowhere to be found — his career already ended by injury. However, I continued to carefully thumb through the program that's older than I am just for the casual stroll through history. Inside, once again, were photos of the team's officials and advertisements for stores such as Kash n' Karry and Hudson Nursery and Spray Service before I arrived at Page 11 and did a double-take.
Taking up nearly the full width of the page was a team photo of the Northern Division Champions … the 1974 Tampa Tarpons. It's the image you can see below.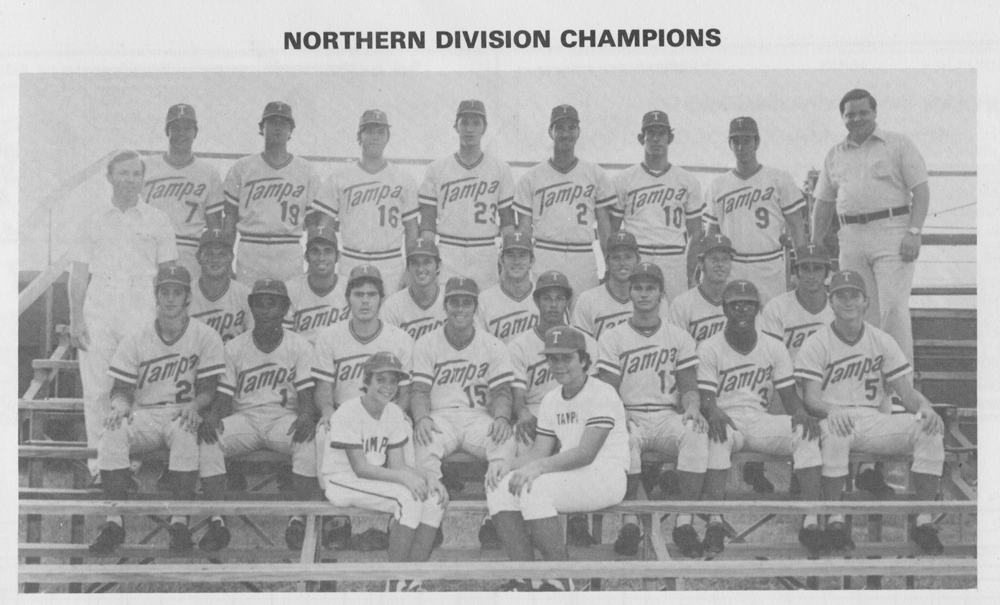 Unfortunately, there were no names attached to the half-toned image, so I studied it as best I could, initially thinking that Poffo sat on the far left of the front row wearing a twenty-something uniform number looking a bit like his Reds uniform photo that ran with his SI story. I scanned it and enlarged it — still not sure. (Click for a closer look.)
I'm still not totally convinced it isn't him — after all, uniform numbers can change like the Florida weather in rookie ball. But then I turned back to that first roster I spotted him on with the uniform No. 9 included. I checked the photo and there stands No. 9 in the upper right. Could be him as well, though I'll fully admit that recognizing him without a beard and sunglasses is a bit tough. All I can compare it to is his SI photo.
Just like Randy Savage, the wrestler, there's a bit of mystery to this piece of Randy Poffo, the baseball player. You never quite knew what he meant during some of his promos but you couldn't help but watch … same for when he was in the ring.
Whether it's him on the right or the left, I'm still not sure. Either way, just like when he was in the ring or in front of a mic, I'm looking closely.
Chris Olds is the editor of Beckett Baseball. Have a comment, question or idea? Send an e-mail to him at colds@beckett.com. Follow him on Twitter by clicking here.