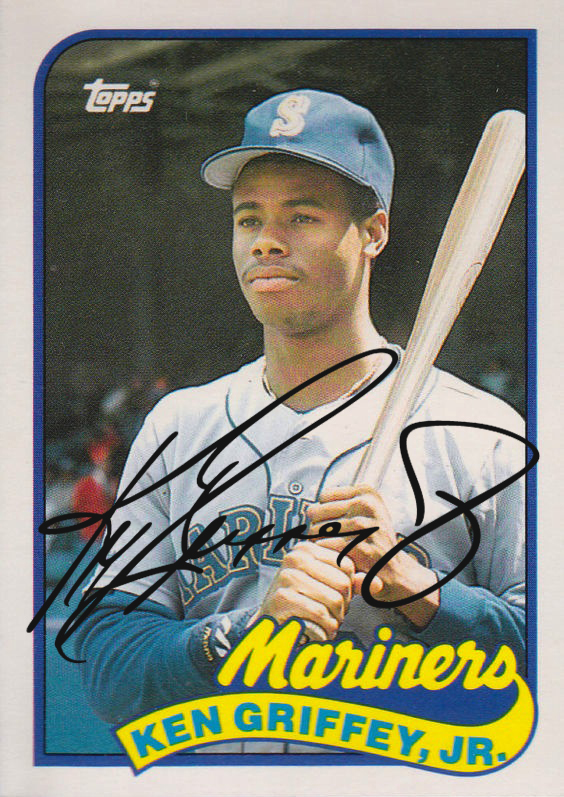 By Chris Olds | Beckett Baseball Editor | Commentary
The biggest hobby news of this week was Topps signing Ken Griffey Jr. to an autograph deal beginning next year, and instantly after hearing that the idea of the card above — an autographed 1989 Topps Traded buyback card — came to my mind.
Griffey's deal is a notable one for Topps as he's perhaps the Mickey Mantle of the 30-something generation, the face of an era that forever changed cardboard. He was also, unmistakably, the face of Upper Deck, which had him as an exclusive spokesman for years before this deal.
Beginning in 2012, though, he's one of Topps' biggest draws with his first autographed cards from the company set to arrive in Tribute and Gypsy Queen — two of the more-popular brands of this year which will look even stronger with Junior's ink in tow.
And that got me thinking …
What would you have Griffey sign? His first card? How about a father-son combo featuring both Griffeys?
How about "The Kid" and "The Say Hey Kid," Willie Mays together?
How about Junior and Hank Aaron, two of the most-beloved home run hitters in the game's history?
How about a series of Griffey career retrospective buybacks?
Or …
There are a lot of possibilities … let us know what direction you might go. We'll showcase some of the most creative answers and ideas in the next issue of Beckett Baseball, too.
Chris Olds is the editor of Beckett Baseball magazine. Have a comment, question or idea? Send an email to him at colds@beckett.com. Follow him on Twitter by clicking here.