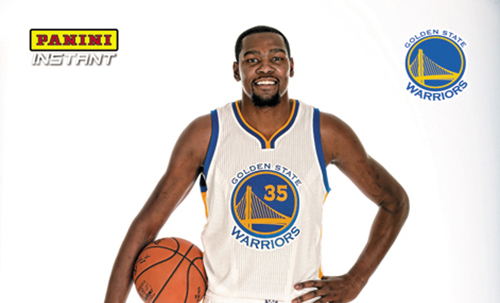 By Stephen Laroche | Beckett Basketball Editor
It was only a matter of time before Panini America was able to produce its first cards of Kevin Durant in a Golden State Warriors uniform and the company chose to utilize its exclusive athlete to kick off its 2016-17 Panini Instant NBA Basketball collection.
Available for just a short 24-hour window, the new set of on-demand cards have several numbered variations, including a facsimile signature option, which is a new concept for the brand.
While the Durant signing is undeniably the biggest free agent move of the off-season, 2016-17 Panini Instant NBA Basketball turns the spotlight on some of the other big transactions in the coming days with cards depicting players such as Dwyane Wade, Derrick Rose, and Pau Gasol.
The second card in the 2016-17 Panini Instant NBA Basketball series pays tribute to the recently-retired Tim Duncan.
Additional changes coming for Panini Instant's basketball offering will include new numbered variations limited to 10 and 50 copies which join the established options numbered to one, five, or 25. Collectors wishing to purchase multiples can now get 10 copies if they wish. Previously, the choices were one or five cards. It should also be noted that those wishing to add the facsimile option for their 2016-17 Panini Instant NBA cards will have to purchase a numbered card and there is an additional charge to do so.
The company also revealed via its blog that more NBA-related Instant cards are on the way and will cover this summer's NBA Rookie Photo Shoot and the Naismith Memorial Basketball Hall of Fame induction ceremony.
2016-17 Panini Instant NBA Basketball Checklist
Missed a card? Click on the links to see what's listed on eBay.
Parallels (all have upgrade option of a Facsimile Signature as well):
• Orange – /50
• Blue – /25
• Purple – /10
• Green – /5
• Black – 1/1
1 Kevin Durant, Golden State Warriors – Golden State Makes A Big Splash By Adding Durant (July 19)
2 Tim Duncan, San Antonio Spurs – Fundamental Farewell: Duncan Leaves as One of Game's Best (July 20)
3 Derrick Rose, New York Knicks – Rose Looks to Bloom at Madison Square Garden (July 21)
4 Dwight Howard, Atlanta Hawks – Hawks Flying High After Landing Hometown Hero (July 22)
5 Joakim Noah, New York Knocks – Noah's Arrival a Net Gain For Knicks (July 25)
6 Al Horford, Boston Celtics – Al's Good in Beantown as Celtics Add All-Star (July 26)
7 Jeremy Lin, Brooklyn Nets – Hello, Brooklyn: Lin Returns to the Empire State (July 27)
8 Kobe Bryant, Los Angeles Lakers – Hollywood's Leading Man Exits Stage Left (July 28)
9 Dwyane Wade, Chicago Bulls – Chicago's Son Arrives From South Beach (August 2)
10 Brandon Ingram, Los Angeles Lakers – LA's Newest Motto: Ingram We Trust (August 10)
11 Kris Dunn, Minnesota Timberwolves – Youth Movement Continues In Minnesota (August 11)
12 Buddy Hield, New Orleans – NOLA's Newest Attraction Ready To Shine
Stephen Laroche is the editor of Beckett Hockey, Beckett Basketball, and Beckett Sports Card Monthly magazines. Have a comment, question or idea? Send an e-mail to him at slaroche@beckett.com or follow him on Twitter @Stephen_Laroche.