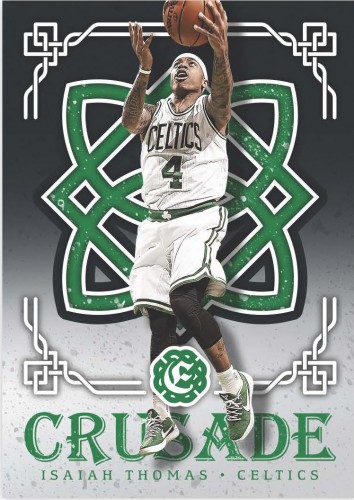 By Stephen Laroche | Beckett Basketball Editor
The annual quest for NBA cards is a long and memorable one for many collectors, filled with a multitude of treasures and long journeys toward finding the perfect card of a favorite player. With the upcoming 2016-17 Panini Excalibur Basketball product, the hunt will take a few twists and turns that could end in a Kaboom!
Released in late June as the 2017 NBA Finals are approaching their conclusion, Excalibur will come with both a hobby and retail configuration that includes fat packs and blaster boxes. Hobby boxes will have two autographs and a memorabilia card inside.
Base Set and Parallels
There are no early details regarding the base set or any parallels for 2016-17 Panini Excalibur Basketball.

Inserts
In lieu of base set details, however, there was some information about the always-popular Crusade inserts printed on Optichrome stock that come 10 times per hobby box. There appears to be seven levels of scarcity for them which begins with a Silver version. From that point, all of the other parallels are numbered as well and the roster includes Blue (/149), Red (/99), Purple (/49), Orange (/25), Gold (/10) and the one-of-one Black. Look for three Camo parallels inside fat packs.
New to the insert lineup in 2016-17 Panini Excalibur Basketball is Jousting!, a set which allows collectors to make up fantasy combinations of players as there are designs where a player faces left or right. Blaster boxes will have an insert collection dubbed Storm The Castle and those cards are expected to have Purple and Blue parallel versions while the fat packs are slated to have a set called Coat of Arms.
The real draw for those busting open Excalibur may be the returning Kaboom! inserts. A case hit which typically performs well on the secondary market due to scarcity and visual appeal, they are sure to be hot once again thanks to a traditionally strong checklist.

Autographs and Memorabilia
A pair of autograph collections were teased for 2016-17 Panini Excalibur Basketball. Calligraphy has a mix of players from all eras and a sharp design. Apprentice Signature Shields take it to another level with a piece of memorabilia on top of some ink from members of the current rookie class.
2016-17 Panini Excalibur Basketball at a glance:
Packs per box: 20
Cards per pack: 8
Boxes per case: 16
Set size: TBD
Release date: June 21, 2017
What to expect in a hobby box:
– 10 Crusade inserts
– Two autograph cards
– One memorabilia card
Stephen Laroche is the editor of Beckett Hockey, Beckett Basketball, and Beckett Sports Card Monthly magazines. Have a comment, question or idea? Send an e-mail to him at slaroche@beckett.com or follow him on Twitter @Stephen_Laroche.