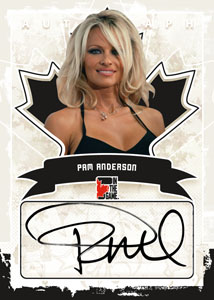 By Chris Olds | BSCM Editor
Friday is Canada Day up north, and In The Game's latest release will celebrate the country that will be doing some celebrating.
In The Game Canadiana will include a 100-card base set comprised of notable Canadians while the insert lineups will include autographs and memorabilia cards from notable athletes from all sports as well as celebrities from the country.
Among the signers? Pamela Anderson, Emmanuelle Chriqui, Michael J. Fox, Bret "Hitman" Hart, Manon Rheaume, William Shatner, Trish Stratus, Donald Sutherland, Larry Walker, Maurice "Mad Dog" Vachon and many more.
It's an eclectic mix and some will be first-time signers — Fox, for example, has never had a certified autograph card. (Or at least if one exists it's not in the Beckett.com database.)
Originally scheduled for release on Friday, the set has been delayed until later in the month as one key signer did not return autographs in time, according to ITG. Each pack will include an autograph, a memorabilia card and an additional insert to make up for the delay.
See more images from the product after the jump. (Click on the images for a closer look.)
Chris Olds is the editor of Beckett Baseball. Have a comment, question or idea? Send an e-mail to him at colds@beckett.com. Follow him on Twitter by clicking here.