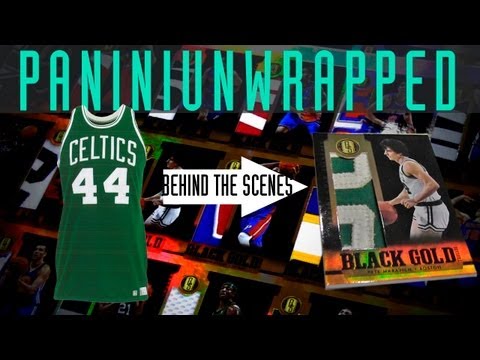 By Chris Olds | Beckett Sports Card Monthly Editor
Ever seen an $18,000 piece of sports memorabilia cut up with a pair of scissors?
You will if you watch the video above.
That's an exciting/sobering reality many days behind the scenes at Panini America where the memorabilia pieces that most of us could never own become smaller pieces we might be able to afford in packs of trading cards. One may hate to see it go, but one also might love to see it arrive in one's collection.
One such recent example was a 1980 Boston Celtics jersey once worn by "Pistol" Pete Maravich, and it went for $18,000 in the seventh-annual Basketball Hall of Fame auction handled by Grey Flannel Auctions.
Months after the company announced Pistol Pete's first memorabilia cards were coming, they're arriving in Gold Standard today. The pieces — there will be many, many more to come — of the jersey found in packs are documented in the behind-the-scenes video that takes you through the entire process of creating a card.
It's one that many probably understand, but it's still one that's to be seen to be believed.
Chris Olds is the editor of Beckett Baseball magazine. Have a comment, question or idea? Send an email to him at colds@beckett.com. Follow him on Twitter by clicking here.