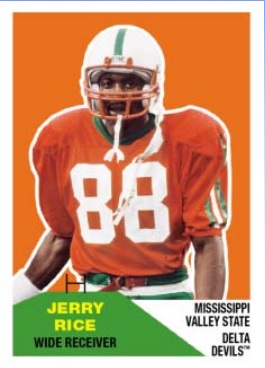 By Susan Lulgjuraj | Beckett Football Editor
Card companies are taking lessons in history these days.
Upper Deck is readying 2012 Fleer Retro Football and the first pictures from this set have come out.
Iconic players and top 2012 rookies will be featured on retro base designs and inserts.
Here's what Beckett had on Fleer Retro Football earlier this month. Look at the pictures and tell us what you think.
—
On the heels of Fleer Retro basketball, Upper Deck is taking that success and hoping to transfer it to football.
Upper Deck Fleer Retro football is set to come out mid-February receiving a similar treatment.
Fleer Retro will contain six autographs per box and every box will have two inner boxes, each with 10 packs and five cards in every pack, according to sales information.
Autographics designs will come from 1997, 1998, 1999 and 2000. But Upper Deck is going a little further back in time by also using autograph designs from the early 1960s.
Fleer inserts have been popular with collectors over the years. Upper Deck will utilize them even if it means doing something new such as adding Jambalaya inserts in football for the first time.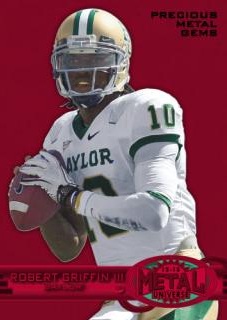 Other inserts in Fleer Retro will include Precious Metal Gems (Red, Green and Blue), Golden Touch, A Cut Above, Noyz Boyz, Flair Hot Hands, Metal Championship Hardware, Intimidation Nation, Ultra Stars, Playmakers Theatre and Flair Legacy Row 0.
All the inserts have different odds with Fleer 1963 inserts being the easiest to find (1 in 12 packs) and Jambalaya being one of the most difficult (1 in 360 packs).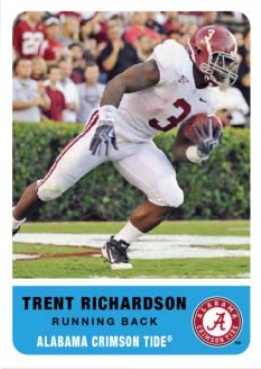 The base set will consist of 50 regular cards and 100 Rookies Sensations. There are 60 1997-98 Fleer Metal Rookies and 40 1997-98 Fleer Metal Retired.
Susan Lulgjuraj is an editor of Beckett Football. You can email her here with questions, comments or ideas. Follow her on Twitter here.