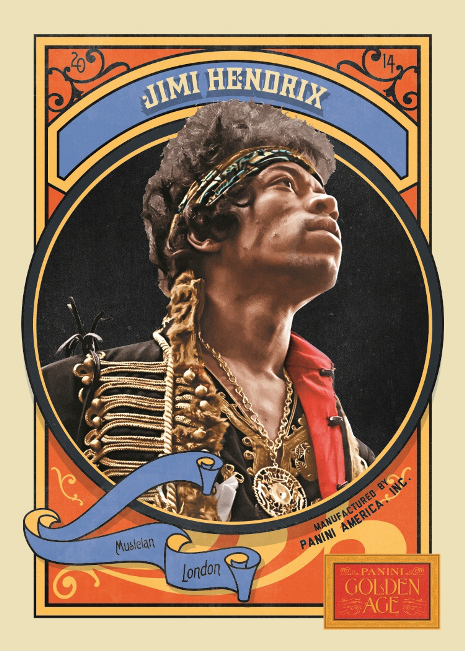 By Chris Olds | Beckett Baseball Editor
Panini America's Golden Age brand of retro-styled baseball cards with a smattering of pop culture is returning for a third year, the company announced on Monday, as it revealed the basic information and preview images for the product.
Set to arrive in June with one autograph and one memorabilia card per hobby box, Golden Age will include the tobacco-size minis and parallels that fans have come to expect but with some new twists. There will be White-bordered parallels — with the first 50 serial-numbered — along with Black-bordered 1/1 cards. The minis will have seven new back variations to chase — Hindu Brown and Red, Croft's Swiss Milk, Smith's Mello Mint, MONO Blue and Green as well as Panini 1/1s.
Packed with a box-topper in every box — some being memorabilia cards among a few new options — there will be a selection of cards from the 150-card base set inside with some A-listers from the entertainment world among those teased by the company. Musicians Johnny Cash and Jimi Hendrix are among them.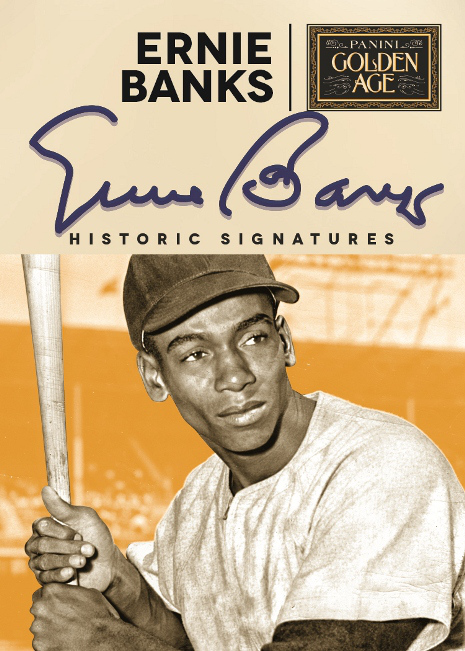 The Historic Signatures set will include 50 signers while there will be Historic Cuts for four people as well as nine buyback signers.
Among the non-baseball players slated to sign for this one include Ken Osmond and Tony Dow from Leave it to Beaver, Bo Derek, The Dukes of Hazzard's Catherine Bach, John Schneider and Tom Wopat, The Six Million Dollar Man's Lee Majors and Lindsay Wagner as well as Angie Dickinson, Loretta Swit, Tatum O'Neal, Sophia Loren and Dick Van Dyke.
Baseball and sports legends slated to sign for this one include Pete Rose, Ernie Banks, Steve Carlton, Frank Robinson, Junior Johnson, D. Wayne Lukas, Michael Spinks and Geese Ausbie to name a few.
Among the inserts will be the familiar Headlines, while new inserts will be Fan Craze, Star Stamps, 1913 National — each found two per box. A one-per-box insert will be Newsmakers.
While there was just one type of box-topper last year — a Beckett Baseball award-winner — this year's release will include two three-card panel options as well as a standard and memorabilia option. The panels will be "Darby Chocolate" and "Hobby Box-bottom" cards.
Hindu Brown, Hindu Red, Croft's Swiss Milk Cocoa, Smith's Mello Mint, MONO Brand Blue, MONO Brand Green and Panini logo 1/1s.
A look at the preliminary checklist released by Panini shows a mix of baseball greats led off by Cy Young and King Kelly — a group that also includes Christy Mathewson, John McGraw, "Shoeless" Joe Jackson, Connie Mack, Eddie Gaedel, Eddie Waitkus, Pete Rose, Frank Robinson and Nolan Ryan among others.
Some of the newsmakers and celebs in this one? Martin Luther King, Buddy Holly, Liberace, Joey Ramone, Loretta Swit, Hank Williams, Patsy Cline, Rita Hayworth, Richard Dreyfuss, Jack Ruby, Charlton Heston, Farrah Fawcett and even 600-pound professional wrestler Haystacks Calhoun.
Chris Olds is the editor of Beckett Baseball and Beckett Sports Card Monthly magazines. Have a comment, question or idea? Send an email to him at colds@beckett.com. Follow him on Twitter by clicking here.
PRELIMINARY CHECKLIST — SUBJECT TO CHANGE
| | | |
| --- | --- | --- |
| Base | Parallels: White Parallel, Black Parallel, First Fifty |   |
| *10 Base Card Variations |   |   |
| 1 | Cy Young | P |
| 2 | King Kelly | C |
| 3 | Dan Brouthers | 1B |
| 4 | Harry Wright | Executive |
| 5 | Butch Cassidy | Historical |
| 6 | Sundance Kid | Historical |
| 7 | Doc Holliday | Historical |
| 8 | Rube Waddell | P |
| 9 | Jim Thorpe | OF |
| 10 | Ulysses S. Grant | President |
| 11 | Ed Delahanty | OF |
| 12 | Christy Mathewson | P |
| 13 | John Pemberton | Historical |
| 14 | Eddie Plank | P |
| 15 | John McGraw | MGR |
| 16 | P.T. Barnum | Historical |
| 17 | Willis Carrier | Historical |
| 18 | William McKinley | President |
| 19 | Addie Joss | P |
| 20 | Captain Edward Smith | Historical |
| 21 | Model T Ford | Historical |
| 22 | Ty Cobb | OF |
| 23 | Lusitania | Historical |
| 24 | C.W. Post | Historical |
| 25 | Joe Jackson | OF |
| 26 | Sleepy Bill Burns | P |
| 27 | Kid Gleason | MGR |
| 28 | Frank Baker | 3B |
| 29 | King Tut's Tomb | Historical |
| 30 | Harold Lloyd | Actor |
| 31 | Connie Mack | MGR |
| 32 | Zack Wheat | OF |
| 33 | Fatty Arbuckle | Actor |
| 34 | Nap Lajoie | 2B |
| 35 | Casey Stengel | MGR |
| 36 | Lefty Grove | P |
| 37 | Dizzy Dean | P |
| 38 | Mark Koenig | SS |
| 39 | Rube Marquard | P |
| 40 | Carl "Alfalfa" Switzer | Actor |
| 41 | Claudette Colbert | Actor |
| 42 | Assault | Horse Racing |
| 43 | Moe Berg | Historical |
| 44 | Lon Chaney Jr. | Actor |
| 45 | Fay Wray | Actor |
| 46 | Amelia Earhart's Lockheed Electra | Historical |
| 47 | William Randolph Hearst | Historical |
| 48 | Baseball Hall of Fame | Museum |
| 49 | Orson Welles | Actor |
| 50 | Kenesaw Mountain Landis | Commissioner |
| 51 | Tom Harmon | HB |
| 52 | Eddie Gaedel | Pinch Hitter |
| 53 | Patsy Cline | Country Music |
| 54 | Red Pollard | Horse Racing |
| 55 | Enos Slaughter | OF |
| 56 | Joe Louis | Boxing |
| 57 | Rita Hayworth | Actor |
| 58 | Ernie Nevers | FB |
| 59 | Dom DiMaggio | OF |
| 60 | Bob Lemon | P |
| 61 | Elroy "Crazy Legs" Hirsch | E |
| 62 | Josh Gibson | C |
| 63 | Dead Sea Scrolls | Historical |
| 64 | Rabbit Maranville | SS |
| 65 | Chuck Connors | Actor |
| 66 | Tommy Lasorda | P |
| 67 | Eddie Waitkus | 1B |
| 68 | Jack Johnson | Boxing |
| 69 | Buddy Holly | Musician |
| 70 | Clyde "Bulldog" Turner | LB |
| 71 | Tony Dow | Actor |
| 72 | Ken Osmond | Actor |
| 73 | Ernie Banks | SS |
| 74 | Harvey Haddix | P |
| 75 | Liberace | Musician |
| 76 | Vada Pinson | OF |
| 77 | Northern Dancer | Horse Racing |
| 78 | Don Knotts | Actor |
| 79 | Geese Ausbie | F |
| 80 | Robin Roberts | P |
| 81 | Rocky Colavito | OF |
| 82 | Martin Luther King Jr. | Historical |
| 83 | Jerry West | G |
| 84 | Jacqueline Kennedy | First Lady |
| 85 | Jack Ruby | Historical |
| 86 | Pete Rose | OF |
| 87 | Junior Johnson | Auto Racer |
| 88 | Mackinac Bridge | Historical |
| 89 | Phil Cavarretta | OF |
| 90 | Marques Haynes | G |
| 91 | Vivien Leigh | Actor |
| 92 | Bob Hayes | WR |
| 93 | Jim Bouton | P |
| 94 | Charlton Heston | Actor |
| 95 | Pat Priest | Actor |
| 96 | Curt Flood | OF |
| 97 | Willie Horton | OF |
| 98 | Angela Cartwright | Actor |
| 99 | Bill Mumy | Actor |
| 100 | Marta Kristen | Actor |
| 101 | Bill Russell | C |
| 102 | Frank Robinson | OF |
| 103 | Gene Tierney | Actor |
| 104 | Butch Patrick | Actor |
| 105 | Jimi Hendrix | Musician |
| 106 | Jackie Gleason | Actor |
| 107 | Haystacks Calhoun | Wrestling |
| 108 | Gaylord Perry | P |
| 109 | Bill Shoemaker | Horse Racing |
| 110 | Cadillac Ranch | Historical |
| 111 | Mike Lookinland | Actor |
| 112 | Susan Olsen | Actor |
| 113 | Christopher Knight | Actor |
| 114 | Steve Carlton | P |
| 115 | Angie Dickinson | Actor |
| 117 | Phil Niekro | P |
| 118 | Charlene Tilton | Actor |
| 119 | Ronald Reagan | President |
| 120 | Dusty Baker | OF |
| 121 | Catherine Bach | Actor |
| 122 | Alydar | Horse Racing |
| 123 | Jorge Velasquez | Horse Racing |
| 124 | Jake LaMotta | Boxing |
| 125 | Richard Dreyfuss | Actor |
| 126 | Oscar Gamble | OF |
| 127 | Lee Majors | Actor |
| 128 | Lindsay Wagner | Actor |
| 129 | Bucky Dent | SS |
| 130 | Willie Nelson | Country Music |
| 131 | Farrah Fawcett | Actor |
| 132 | D. Wayne Lukas | Horse Racing |
| 133 | Dave Kingman | 3B |
| 134 | Mickey Rivers | OF |
| 135 | Artis Gilmore | C |
| 136 | Frederick Valentich | Historical |
| 137 | Tatum O'Neal | Actor |
| 138 | Steve Yeager | C |
| 139 | Davey Lopes | 2B |
| 140 | Spectacular Bid | Horse Racing |
| 141 | Chris McCarron | Horse Racing |
| 142 | Gary Carter | C |
| 143 | George Gervin | G |
| 144 | Michael Spinks | Boxing |
| 145 | Joey Ramone | Musician |
| 146 | Loretta Swit | Actor |
| 147 | Nolan Ryan | P |
| 148 | Steve Yzerman | C |
| 149 | Hank Williams | Country Music |
| 150 | Terry Bradshaw | QB |
| | | |
| --- | --- | --- |
| Headlines |   |   |
| 1 | John Pemberton | Historical |
| 2 | Kenesaw Mountain Landis | Commissioner |
| 3 | Franklin D. Roosevelt | President |
| 4 | 1958 NFL Championship Game | Historical |
| 5 | Hawaii Becomes 50th State | Historical |
| 6 | John F. Kennedy | Historical |
| 7 | The Beatles | Historical |
| 8 | Monday Night Football | Historical |
| 9 | Nolan Ryan | Historical |
| 1913 National Game |   |   |
| 1 | Ted Williams | OF |
| 2 | George Brett | 3B |
| 3 | Goose Goslin | OF |
| 4 | Joe Medwick | OF |
| 5 | Josh Gibson | C |
| 6 | Eddie Plank | P |
| 7 | Willie Stargell | 1B |
| 8 | Zack Wheat | OF |
| 9 | Gabby Hartnett | C |
| 10 | Pete Rose | OF |
| 11 | Frank Baker | 3B |
| 12 | Nolan Ryan | P |
| Fan Craze |   |   |
| 1 | Joe Louis | Boxing |
| 2 | Ty Cobb | OF |
| 3 | Tom Harmon | HB |
| 4 | Christy Mathewson | P |
| 5 | Whitey Ford | P |
| 6 | Tatum O'Neal | Actor |
| 7 | Alydar | Horse Racing |
| 8 | Gene Tierney | Actor |
| Newsmakers |   |   |
| 1 | The Wright Brothers | Historical |
| 2 | Henry Ford | Historical |
| 3 | Man o' War | Horce Racing |
| 4 | Franklin D. Roosevelt | President |
| 5 | Joe Louis | Boxing |
| 6 | Yogi Berra | C |
| 7 | Martin Luther King Jr. | Historical |
| 8 | Farrah Fawcett | Actor |
| Historic Signatures |   |   |
| #CHA | Charlene Tilton | Actor |
| #TDW | Tony Dow | Actor |
| #KOS | Ken Osmond | Actor |
| #EBK | Ernie Banks | SS |
| #WHT | Willie Horton | OF |
| #SCT | Steve Carlton | P |
| #RHB | Richie Hebner | 3B |
| #MUM | Bill Mumy | Actor |
| #ANC | Angela Cartwright | Actor |
| #MAK | Marta Kristen | Actor |
| #TWO | Tom Wopat | Actor |
| #BDE | Bo Derek | Actor |
| #KNG | Dave Kingman | OF |
| #DNT | Bucky Dent | SS |
| #MAJ | Lee Majors | Actor |
| #WAG | Lindsay Wagner | Actor |
| #PTE | Pete Rose | OF |
| #ANG | Angie Dickinson | Actor |
| #BPT | Butch Patrick | Actor |
| #HYN | Marques Haynes | G |
| #PPT | Pat Priest | Actor |
| #SNO | Susan Olsen | Actor |
| #KNT | Christopher Knight | Actor |
| #MKL | Mike Lookinland | Actor |
| #ART | Artis Gilmore | C |
| #BAK | Dusty Baker | OF |
| #BOU | Jim Bouton | P |
| #STV | Steve Yeager | C |
| #VEL | Jorge Velasquez | Horse Racing |
| #JSC | John Schneider | Actor |
| #SWT | Loretta Swit | Actor |
| #TAO | Tatum O'Neal | Actor |
| #LAF | Laffit Pincay | Horse Racing |
| #SPH | Sophia Loren | Actor |
| #COL | Rocky Colavito | OF |
| #PRK | Dave Parker | OF |
| #GAM | Oscar Gamble | OF |
| # CMC | Chris McCarron | Horse Racing |
| #GRV | George Gervin | G |
| #JLA | Jake LaMotta | Boxing |
| #MIC | Mickey Rivers | OF |
| #BCH | Catherine Bach | Actor |
| #RMO | Rick Monday | OF |
| #FNK | Frank Robinson | OF |
| #DVD | Dick Van Dyke | Actor |
| #JUN | Junior Johnson | Auto Racer |
| #DWL | D. Wayne Lukas | Horse Racing |
| #SPK | Michael Spinks | Boxing |
| #LOP | Davey Lopes | 2B |
| #AUS | Geese Ausbie | F |
| | | |
| --- | --- | --- |
| Museum Age (Memorabilia) |   |   |
| 1 | Vivien Leigh | Actor |
| 2 | Angie Dickinson | Actor |
| 3 | Buddy Holly | Musician |
| 4 | Vada Pinson | OF |
| 5 | Dave Kingman | OF |
| 6 | Jack Ruby | Historical |
| 7 | Michael Spinks | Boxing |
| 8 | Farrah Fawcett | Actor |
| 9 | Ron Santo | 3B |
| 10 | Juan Marichal | P |
| 11 | Charlton Heston | Actor |
| 12 | Fay Wray | Actor |
| 13 | Gary Carter | C |
| 14 | Moe Berg | Historical |
| 15 | Catherine Bach | Actor |
| 16 | Claudette Colbert | Actor |
| 17 | Lon Chaney Jr. | Actor |
| 18 | Orson Welles | Entertainer |
| 19 | Ed Kranepool | 1B |
| 20 | Geese Ausbie | F |
| 21 | Marta Kristen | Actor |
| 22 | Bill Mumy | Actor |
| 23 | Junior Johnson | Auto Racer |
| 24 | Pat Priest | Actor |
| 25 | Lee Majors | Actor |
| 26 | Lindsay Wagner | Actor |
| 27 | Enos Slaughter | OF |
| 28 | Patsy Cline | Country Music |
| 29 | Frankie Frisch | 2B |
| 30 | Susan Olsen | Actor |
| 31 | Christopher Knight | Actor |
| 32 | Mike Lookinland | Actor |
| 33 | Charlene Tilton | Actor |
| 34 | Sparky Anderson | MGR |
| 35 | Tommy Lasorda | P |
| 36 | Jacqueline Kennedy | First Lady |
| 37 | Dizzy Dean | P |
| 38 | Gene Tierney | Actor |
| 39 | Sophia Loren | Actor |
| 40 | Harvey Haddix | P |
| Historic Cuts |   |   |
| 1 | Phil Cavarretta | OF |
| 2 | Charles O. Finley | Owner |
| 3 | Curt Gowdy | Broadcaster |
| 4 | Gil McDougald | 2B |
| 5×7 Box Topper |   |   |
| 1 | Jimi Hendrix | Musician |
| 2 | Ted Williams | OF |
| 3 | Warren Spahn | P |
| 4 | Willie McCovey | 1B |
| 5 | George H. W. Bush | President |
| 6 | Johnny Carson | Entertainer |
| 7 | Gene Tunney | Boxing |
| 8 | Joe Medwick | OF |
| 9 | Duke Snider | OF |
| 10 | Rodney Dangerfield | Entertainer |
| 11 | Jacqueline Kennedy | First Lady |
| 12 | Joe Frazier | Boxing |
| 5×7 Box Topper Memorabilia |   |   |
| 2 | Ted Williams | OF |
| 3 | Warren Spahn | P |
| 4 | Willie McCovey | 1B |
| 5 | George H. W. Bush | President |
| 6 | Johnny Carson | Entertainer |
| 7 | Gene Tunney | Boxing |
| 8 | Joe Medwick | OF |
| 9 | Duke Snider | OF |
| 10 | Rodney Dangerfield | Entertainer |
| 11 | Jacqueline Kennedy | First Lady |
| 12 | Joe Frazier | Boxing |
| Darby Chocolate 3-card Panel Box Toppers |   |   |
| 1 | Bobby Jones |   |
| 2 | Walter Hagen |   |
| 3 | Byron Nelson |   |
| 4 | Ty Cobb |   |
| 5 | Jim Thorpe |   |
| 6 | Nap Lajoie |   |
| 7 | Whirlaway |   |
| 8 | Eddie Arcaro |   |
| 9 | Citation |   |
| 10 | Eddie Cicotte |   |
| 11 | Joe Jackson |   |
| 12 | Swede Risberg |   |
| 13 | Ulysses S. Grant |   |
| 14 | Douglas MacArthur |   |
| 15 | Dwight D. Eisenhower |   |
| 16 | Christy Mathewson |   |
| 17 | Cy Young |   |
| 18 | Lefty Grove |   |
| 19 | Jack Johnson |   |
| 20 | Joe Louis |   |
| 21 | Jake LaMotta |   |
| 22 | Dizzy Dean |   |
| 23 | Zack Wheat |   |
| 24 | Rube Marquard |   |
| 25 | Rabbit Maranville |   |
| 26 | Cal Ripken Jr. |   |
| 27 | Ozzie Smith |   |
| 28 | Johnny Bench |   |
| 29 | Ted Simmons |   |
| 30 | Gary Carter |   |
| Classic Buyback Autographs |   |   |
|   | Charlene Tilton |   |
|   | Tony Dow |   |
|   | Ken Osmond |   |
|   | Loretta Swit |   |
|   | Lee Majors |   |
|   | Lindsay Wagner |   |
|   | Catherine Bach |   |
|   | John Schneider |   |
|   | Tom Wopat |   |
| Box Bottom Cards |   |   |
| 1 | Hack Wilson | OF |
| 2 | Gallant Fox | Horse Racing |
| 3 | Red Grange | HB |
| 4 | Nap Lajoie | 2B |
| 5 | Jack Johnson | Boxing |
| 6 | Clyde "Bulldog" Turner | LB |
| 7 | Dan Brouthers | 1B |
| 8 | Jacqueline Kennedy | First Lady |
| 9 | Ernie Nevers | FB |
| | | |
| --- | --- | --- |
| Star Stamps |   |   |
| 1 | Titanic | Historical |
|   | Captain Edward Smith | Historical |
|   | The Unsinkable Molly Brown | Historical |
|   | Lusitania | Historical |
| 2 | Addie Joss | P |
|   | Lefty Williams | P |
|   | Rube Waddell | P |
|   | Eddie Plank | P |
| 3 | Al Kaline | OF |
|   | Catfish Hunter | P |
|   | Carl Yastrzemski | OF |
|   | Willie Horton | OF |
| 4 | Pete Rose | OF |
|   | Joe Morgan | 2B |
|   | Johnny Bench | C |
|   | Tony Perez | 1B |
| 5 | Fay Wray | Actor |
|   | Vivien Leigh | Actor |
|   | Fatty Arbuckle | Actor |
|   | Carl "Alfalfa" Switzer | Actor |
| 6 | Steve Carlton | P |
|   | Phil Niekro | P |
|   | Juan Marichal | P |
|   | Tom Seaver | P |
| 7 | Jacqueline Kennedy | First Lady |
|   | Elizabeth Montgomery | Actor |
|   | Vivien Leigh | Actor |
|   | Loretta Swit | Actor |
| 8 | Man o' War | Horse Racing |
|   | Bobby Jones | Golf |
|   | Red Grange | HB |
|   | Hack Wilson | OF |
| 9 | Joe Louis | Boxing |
|   | Dom DiMaggio | OF |
|   | Tom Harmon | HB |
|   | Stan Musial | OF |
| 10 | Henry Ford | Historical |
|   | William Randolph Hearst | Historical |
|   | C.W. Post | Historical |
|   | Joseph Pulitzer | Historical |
| 11 | Nolan Ryan | P |
|   | Reggie Jackson | OF |
|   | Bill Mazeroski | 2B |
|   | Richie Ashburn | OF |
| 12 | John McGraw | MGR |
|   | Kid Gleason | MGR |
|   | Connie Mack | MGR |
|   | Casey Stengel | MGR |
| 13 | Happy Felsch | OF |
|   | Kenesaw Mountain Landis | Commissioner |
|   | Eddie Cicotte | P |
|   | Swede Risberg | SS |
| 14 | John Havlicek | F |
|   | Jerry West | G |
|   | George Gervin | G |
|   | Bill Russell | C |
| 15 | Early Wynn | P |
|   | Bob Lemon | P |
|   | Bob Feller | P |
|   | Robin Roberts | P |
| 16 | Gabby Hartnett | C |
|   | Yogi Berra | C |
|   | Johnny Bench | C |
|   | Gary Carter | C |
| 17 | Citation | Horse Racing |
|   | Eddie Arcaro | Horse Racing |
|   | Northern Dancer | Horse Racing |
|   | Bill Shoemaker | Horse Racing |
| 18 | Jacqueline Kennedy | First Lady |
|   | Grace Kelly | Actor |
|   | Rita Hayworth | Actor |
|   | Claudette Colbert | Actor |
| 19 | John L. Sullivan | Boxing |
|   | Jack Johnson | Boxing |
|   | Joe Louis | Boxing |
|   | Joe Frazier | Boxing |
| 20 | Fay Wray | Actor |
|   | Lon Chaney Jr. | Actor |
|   | Vivien Leigh | Actor |
|   | Pat Priest | Actor |
| 22 | George Kell | 3B |
|   | Tom Tresh | OF |
|   | Yogi Berra | C |
|   | Willie Horton | OF |
| 23 | Bobby Jones | Golf |
|   | Walter Hagen | Golf |
|   | Gene Tunney | Boxing |
|   | Jim Thorpe | OF |
| 24 | Brooks Robinson | 3B |
|   | Eddie Mathews | 3B |
|   | George Brett | 3B |
|   | Mike Schmidt | 3B |
| 25 | Ulysses S. Grant | President |
|   | Theodore Roosevelt | President |
|   | Harry S. Truman | President |
|   | Dwight D. Eisenhower | President |
| 26 | Orlando Cepeda | 1B |
|   | Robin Yount | SS |
|   | Nolan Ryan | P |
|   | George Brett | 3B |
| 27 | Monte Irvin | OF |
|   | Enos Slaughter | OF |
|   | Lou Boudreau | SS |
|   | Willie Stargell | 1B |
| 28 | Christy Mathewson | P |
|   | Cy Young | P |
|   | Joe Jackson | OF |
|   | Zack Wheat | OF |
| 29 | Butch Patrick | Actor |
|   | Pat Priest | Actor |
|   | Bill Mumy | Actor |
|   | Marta Kristen | Actor |
| 30 | Dick Van Dyke | Actor |
|   | Don Knotts | Actor |
|   | Jackie Gleason | Actor |
|   | Henry Winkler | Actor |