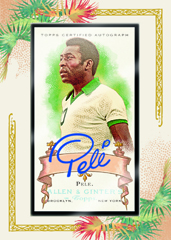 By Chris Olds | Beckett Baseball Editor
Eight won't be enough for some collectors.
Topps released the basic information and additional images for its eighth edition of its Allen & Ginter baseball set on Friday, the latest installment of the "World's Champions" approach to cards that include athletes from other sports as well as celebrities.
Set to arrive on July 17 Aug. 7, it's all in the style of the 1880s brands of the same name and the inclusions will be just as odd for this year's edition as it was for the varying tobacco cards of that time.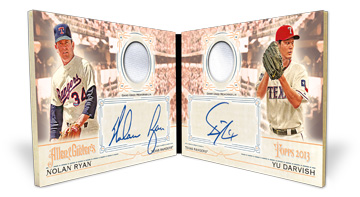 As with past years, there will be three hits per box — a mix of autographs, Relics, buybacks, cuts, Rip Cards and more. New for 2013 will be Double Rip Cards as well as cabinet-sized book cards. Also among the new inclusions will be shadowboxed spider cards with actual mounted specimens (dead, of course) inside.
But what ultimately matters most to many? The autographs, and the 2013 crop is led by soccer legend Pele but also will include Notre Dame coach Brian Kelly and Olympian Lindsey Vonn alongside baseball greats such as Hank Aaron and Sandy Koufax.
Some of the other inclusions for autos? Motley Crue drummer Tommy Lee, sumo wrestler Byamba, basketball coach John Calipari, Mr. Olympia Phil Heath, paddle boarder Ekolu Kalama, NBA legend Bill Walton, Olympic gymnast McKayla Maroney, former Florida State football coach Bobby Bowden, musician Henry Rollins, figure skater Scott Hamilton, paintball champ Mattias Blonski, musician Ziggy Marley as well as models Chrissy Teigen and Chanel Iman.
Baseball signers of note include Yu Darvish, Prince Fielder, Josh Hamilton, Manny Machado, Juan Marichal, Don Mattingly, Jim Palmer, Jim Rice, Cal Ripken Jr. and Mike Trout to name a few.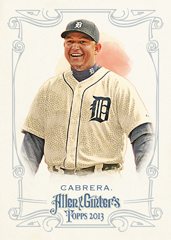 The base set will consist of 250 cards with MLB players from the past and present with the final 50 cards, as usual, being short-prints. The mini parallel lineup looks unchanged with standard mini, Allen & Ginter backs, black-border and no-numbers to go along with a new Allen & Ginter Baseball back. Those will be limited to 25 a la the Bazooka cards of earlier years. Also to be found for minis are 1/1 Wood, printing plates and a partial parallel set of 150 cloth cards, which will once again be limited to 10 copies.
The hobby-only box-toppers have some new inclusions this year with 1/1 cut signatures to be found along with Cabinet Book Relics — both being 1/1 cards that will challenge the traditional finds. There also will be standard auto and Relics among the offerings along with Wonders of the World as well.
For cut autograph fans, Topps promises a selection of 20 1/1 autos, while there will be ink found inside Rip Cards as well. The Rips, which are hobby-only, will include original art cards, Red autos limited to 10, mini exclusives (50 cards capping the set as in the past), mini exclusive Wood 1/1s and Rip Card Reserves, which are redemptions for full items.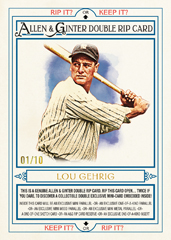 The Double Rips are what you think — they are ripped from two sides and include two cards. These will be limited to just 10 copies per card and include cards that can only be found inside Double cards. There will be One of a Kind 1/1 cards that showcase firsts and unusual items in history — such as the Hope Diamond.
New for Ginter will be full-size Relic cards alongside the popular framed minis, which will have two different frame designs this year. Each box will not contain two cards of the same design. Also back to go with the Arachnology spider cards are DNA Relics  (1/1s) along with 1/1 Select Picks, which will be guitar picks used by notable musicians, inside the cards. Also to be found are "oddity Relics" which were not detailed in preview information.
Among the full-sized insert cards will be sets focusing on shared birthdays of MLB players (Across the Years, 100 cards), One Little Corner (celestial bodies), Palaces and Strongholds (20 cards), Martial Mastery (10 notable warriors) and a 20-card Civilizations of Ages Past set.
Mini inserts will include The First Americans — cards for Native American tribes — Inquiring Minds (philosophers), Heavy Hangs the Head (monarchs), Codes, Siphers and Cryptographs (10 famous codes), Peacemakers and Famous Finds.
—
Loading ...
—
Chris Olds is the editor of Beckett Baseball magazine. Have a comment, question or idea? Send an email to him at colds@beckett.com. Follow him on Twitter by clicking here.
A final checklist from Topps is below. 
BASE SET
1 Miguel Cabrera
2 Derek Jeter 3 Babe Ruth 4 Ty Cobb 5 Albert Pujols 6 Chanel Chanel 7 Mike Trout 8 Gary Carter 9 Giancarlo Stanton 10 Sandy Koufax 11 Robin van Persie 12 Dan Haren 13 Adrian Gonzalez 14 Ben Revere 15 Julia Mancuso 16 Amelia Boone 17 Roy Jones Jr. 18 Matt Harrison 19 Bobby Doerr 20 John Smoltz 21 Byamba 22 Bob Feller 23 Adrian Beltre 24 Anthony Gose 25 Ernie Banks 26 Elvis Andrus 27 Shelby Miller 28 Paul O'Neill 29 Jordan Zimmermann
30 Bert Blyleven 31 Ian Kennedy 32 Aaron Hill 33 Nana Meriwether 34 Robin Roberts 35 Kevin Harvick 36 Early Wynn 37 Nelson Cruz 38 Johnny Bench 39 Desmond Jennings
40 Will Middlebrooks 41 Hisashi Iwakuma 42 Jackie Robinson 43 Hunter Pence 44 Yasiel Puig 45 Shawn Nadelen 46 Colby Rasmus 47 Robin Ventura 48 Starling Marte
49 Kris Medlen
50 Willie Mays
51 Jason Kipnis
52 Scott Diamond
53 Mark Teixeira
54 B.J. Upton
55 Fergie Jenkins
56 Whitey Ford
57 Mike Olt
58 Shin-Soo Choo
59 Joey Votto
60 Yoenis Cespedes
61 Alex Gordon
62 McKayla Maroney
63 Jose Bautista
64 Neil Walker
65 Jose Reyes
66 Howie Kendrick
67 Hank Aaron
68 Chrissy Teigen
69 Jake Peavy
70 CC Sabathia
71 Ben Zobrist
72 Matt Moore
73 Tim Hudson
74 Yu Darvish
75 Lou Gehrig
76 Jim Abbott
77 Frank Robinson
78 Carlos Santana
79 Dylan Bundy
80 Willie McCovey
81 Al Kaline
82 Roberto Clemente
83 Ted Williams
84 Jason Vargas
85 Phil Heath
86 Warren Spahn
87 Ken Griffey Jr.
88 Clayton Kershaw
89 Michael Brantley
90 Jon Lester
91 Carlos Ruiz
92 Paco Rodriguez
93 A.J. Pierzynski
94 Billy Butler
95 Curtis Granderson
96 Jason Heyward
97 Tony Gwynn
98 Darryl Strawberry
99 Barry Zito
100 Bill Walton
101 Yonder Alonso
102 Ian Kinsler 103 Bronson Arroyo
104 Mike Richter
105 Tyler Skaggs
106 Mike Minor 107 Trevor Bauer
108 Bob Gibson 109 Asdrubal Cabrera
110 Daniel Murphy
111 Corey Hart 112 Ziggy Marley 113 Brandon Beachy
114 Yasmani Grandal
115 Stan Musial 116 Lindsey Vonn 117 Penny Marshall
118 Cal Ripken Jr 119 Adam Richman
120 Manny Machado
121 Hiroki Kuroda
122 Jay Bruce 123 Matt Garza 124 Olivia Culpo 125 Matt Holliday 126 Jon Niese 127 Doug Fister 128 Joe Mauer 129 Miguel Montero
130 Pelé 131 Brian Kelly 132 Ryne Sandberg
133 David Ortiz 134 Roy Halladay 135 Vance Worley
136 Panama Canal
137 Pedro Alvarez
138 Anibal Sanchez
139 Red Schoendienst
140 Tommy Lee 141 Trevor Cahill 142 Garrett Jones
143 Mike Schmidt
144 Torii Hunter 145 Harmon Killebrew
146 Vida Blue 147 Ian Desmond
148 Justin Upton 149 Ed O'Neill 150 Reggie Jackson
151 R.A. Dickey 152 Anthony Rendon
153 Alex Cobb 154 Mike Morse 155 Austin Jackson 156 Jurickson Profar 157 Adam Jones 158 Brooks Robinson 159 Jose Altuve 160 Brian McCann 161 Enos Slaughter 162 Ivan Nova 163 Don Mattingly 164 Chris Mortensen 165 Felix Hernandez 166 Jim Johnson 167 Rod Carew 168 Jesus Montero 169 Todd Frazier 170 Hanley Ramirez 171 Chad Billingsley 172 Jon Jay 173 Coco Crisp 174 Nathan Eovaldi 175 Monty Hall 176 Abe Vigoda 177 Joe Morgan 178 Carlos Gonzalez 179 Bonnie Bernstein 180 Nik Wallenda 181 Wade Boggs 182 Cody Ross 183 Ryan Ludwick 184 Mike Joy 185 Guillaume Robert-Demolaize
186 Andy Pettitte 187 Scott Hamilton 188 Bill Buckner 189 David Freese 190 David Murphy 191 Bryce Harper 192 Anthony Rizzo 193 Josh Hamilton 194 Juan Marichal 195 Derek Norris 196 Josh Willingham 197 Dexter Fowler 198 Jayson Werth 199 A.J. Burnett 200 Dustin Pedroia 201 Mike Moustakas 202 Angel Pagan 203 Adam Eaton 204 Phil Niekro 205 Justin Verlander
206 Tony Pérez
207 Troy Tulowitzki
208 Allen Craig
209 Ike Davis
210 Madison Bumgarner
211 Jacoby Ellsbury
212 Barry Melrose
213 Jim Bunning
214 Alexei Ramirez
215 Aroldis Chapman
216 Jered Weaver
217 Pope Francis I
218 Zack Cozart
219 Freddie Roach
220 Jim Rice
221 Salvador Perez
222 Andre Ethier
223 Matthew Berry
224 Brett Lawrie
225 David Wright
226 Willie Stargell
227 Fernando Rodney
228 Cecil Fielder
229 C.J. Wilson
230 Derek Holland
231 Artie Lange
232 Andre Dawson
233 Starlin Castro
234 Death Valley
235 Carlos Beltran
236 Brandon Morrow
237 Chris Sale
238 Ryan Braun
239 Craig Kimbrel
240 Mike Leake
241 Matt Cain
242 Robinson Cano
243 Jason Dufner
244 Nick Saban
245 Mark Buehrle
246 Hyun-Jin Ryu
247 Ryan Howard
248 Mariano Rivera
249 Nick Swisher
250 John Calipari
251 Frank Thomas
252 Catfish Hunter
253 Mark Trumbo
254 Lou Brock
255 Bobby Bowden
256 Rickie Weeks
257 Michael Young
258 Billy Williams
259 Matthias Blonski
260 Duke Snider
261 Dwight Gooden
262 Jean Segura
263 Ralph Kiner 264 Adam Dunn 265 A.J. Ellis 266 Henry Rollins 267 Grand Central Terminal
268 Denard Span 269 Tom Seaver 270 James Shields 271 Prince Fielder 272 Josh Reddick 273 Alcides Escobar
274 Raul Ibanez 275 Josh Beckett 276 Lance Lynn 277 Paul Goldschmidt
278 Mike McCarthy
279 Gio Gonzalez 280 Kendrys Morales
281 Cliff Lee 282 Tim Lincecum 283 Jason Motte 284 Will Clark 285 Jose Fernandez
286 Alfonso Soriano
287 Bill Mazeroski 288 Chris Davis 289 Edinson Volquez
290 Eddie Murray 291 Edwin Encarnacion
292 Yovani Gallardo
293 Jim Palmer 294 Johnny Cueto 295 Dan Uggla 296 Ekolu Kalama 297 Jeff Samardzija
298 Evan Longoria 299 Ryan Zimmerman
300 Bud Selig
SHORT PRINTED BASE CARDS
301 Tommy Hanson
302 Brandon McCarthy
303 Wade Miley 304 Freddie Freeman
305 Wei-Yin Chen 306 Carlton Fisk
307 Darwin Barney 308 Alex Rios 309 Mat Latos 310 Brandon Phillips 311 Bob Lemon 312 Wilin Rosario 313 Josh Rutledge 314 Avisail Garcia 315 Omar Infante 316 Hal Newhouser 317 George Brett 318 Eric Hosmer 319 Matt Kemp 320 Shaun Marcum 321 Wily Peralta 322 Robin Yount 323 Paul Molitor 324 Justin Morneau 325 Johan Santana 326 Ruben Tejada 327 Yogi Berra 328 Alex Rodriguez 329 Kevin Youkilis 330 Rickey Henderson 331 Tommy Milone 332 Cole Hamels 333 John Kruk 334 Russell Martin 335 Andrew McCutchen 336 Chase Headley 337 Buster Posey 338 Marco Scutaro 339 Kyle Seager 340 Yadier Molina 341 Ozzie Smith 342 Adam Wainwright 343 David Price 344 Nolan Ryan 345 Melky Cabrera 346 Josh Johnson 347 Stephen Strasburg 348 Henry Rollins 349 Jason Dufner 350 Bill Walton
SILK PARTIAL PARALLEL SET
Mike Olt
Jurickson Profar
Jose Bautista
Ian Kinsler
Yu Darvish
Matt Moore
Elvis Andrus
Adrian Beltre
Mark Buehrle
R.A. Dickey
Bryce Harper
Ryan Zimmerman
Jordan Zimmermann
Gio Gonzalez
Jose Reyes
Anthony Gose
Brett Lawrie
Evan Longoria
Stan Musial
Tony Gwynn
Madison Bumgarner
Matt Cain
Willie Stargell
Starling Marte
Mike Schmidt
Michael Young
Roberto Clemente
Tim Lincecum
Willie Mays
Bob Gibson
Matt Holliday
Shelby Miller
Allen Craig
Carlos Beltran
Ken Griffey Jr.
Felix Hernandez
Josh Hamilton
Howie Kendrick
Jesus Montero
Jason Motte
Jon Jay
Hunter Pence
Angel Pagan
Carlos Ruiz
Pedro Alvarez
A.J. Burnett
Desmond Jennings
Ben Zobrist
Jayson Werth
Roger Bernadina
Dan Haren
Ian Desmond
Edwin Encarnacion
Brandon Morrow
Colby Rasmus
Josh Reddick
Ivan Nova
Jim Rice Jeff Samardzija
Ryne Sandberg
Jon Lester Jim Palmer Ian Kennedy Tim Hudson Brian McCann
Jake Peavy Alexei Ramirez
Rickie Weeks Ike Davis Curtis Granderson
Andre Ethier Mike Moustakas
Jay Bruce Dexter Fowler
Cliff Lee Ryan Howard
Chris Sale Frank Thomas
Johnny Bench
Anthony Rizzo
Starlin Castro Ted Williams
Jackie Robinson
Ernie Banks
Aroldis Chapman
Shin-Soo Choo
Trevor Bauer
Asdrubal Cabrera
Jason Kipnis Joey Votto Frank Robinson
Johnny Cueto Joe Morgan
Dustin Pedroia
David Ortiz Jason Heyward
Craig Kimbrel Kris Medlen Tyler Skaggs Paul Goldschmidt
Mark Trumbo
Jered Weaver C.J. Wilson B.J. Upton Dylan Bundy
Wade Boggs
Jacoby Ellsbury
Will Middlebrooks
Brooks Robinson
Cal Ripken Jr.
Adam Jones
Manny Machado
Nick Swisher
Carlos Gonzalez
Robinson Cano
Lou Gehrig Derek Jeter
David Wright
Tom Seaver
Harmon Killebrew
Joe Mauer
Dwight Gooden
Don Mattingly
Andy Pettitte
Yoenis Cespedes
Reggie Jackson
Roy Halladay
Mark Teixeira CC Sabathia
Mariano Rivera
Babe Ruth
Jean Segura
Ryan Braun Al Kaline Justin Verlander
Jose Altuve
Prince Fielder Ty Cobb Troy Tulowitzki
Miguel Cabrera
Billy Butler
Salvador Perez
Sandy Koufax
Hanley Ramirez
Giancarlo Stanton
Clayton Kershaw
Adrian Gonzalez
James Shields
Josh Beckett Mike Trout
RELICS
AGR-AA Alex Avila AGR-AB Albert Belle AGR-ABT Adrian Beltre
AGR-AC Asdrubal Cabrera
AGR-AG Alex Gordon
AGR-AGZ Adrian Gonzalez
AGR-AR Aramis Ramirez
AGR-AW Adam Wainwright
AGR-BB Brandon Belt
AGR-BG Brett Gardner
AGR-BMC Brian McCann
AGR-BP Buster Posey
AGR-BR Babe Ruth
AGR-CB Clay Buchholz
AGR-CBL Chad Billingsley
AGR-CF Cecil Fielder
AGR-CKM Craig Kimbrel AGR-CL Cory Luebke AGR-CM Cameron Maybin AGR-CMR Carlos Marmol AGR-CP Carlos Pena AGR-CR Cody Ross AGR-DA Dustin Ackley AGR-DF Dexter Fowler AGR-DJ Desmond Jennings AGR-DP David Price AGR-DS Drew Stubbs AGR-DW David Wright AGR-EA Elvis Andrus AGR-EH Eric Hosmer AGR-FH Felix Hernandez AGR-FL Fred Lynn AGR-FR Frank Robinson AGR-GB Gordon Beckham AGR-GBR George Brett AGR-GC Gary Carter AGR-GS Gary Sheffield AGR-HA Henderson Alvarez AGR-HI Hisashi Iwakuma AGR-HK Harmon Killebrew AGR-HP Hunter Pence AGR-HR Hanley Ramirez AGR-ID Ike Davis AGR-IDS Ian Desmond AGR-IK Ian Kennedy AGR-JA Jose Altuve AGR-JAX John Axford AGR-JBR Jay Bruce AGR-JC Johnny Cueto AGR-JCH Jhoulys Chacin AGR-JDM J.D. Martinez AGR-JH Josh Hamilton AGR-JHK Jeremy Hellickson AGR-JHY Jason Heyward AGR-JJ Jon Jay AGR-JJY Jon Jay AGR-JL Jon Lester AGR-JM Justin Morneau
AGR-JMD James McDonald AGR-JR Jimmy Rollins AGR-JT Jose Tabata AGR-JV Joey Votto AGR-JVR Justin Verlander AGR-JW Jered Weaver AGR-JZ Jordan Zimmermann AGR-KM Kendrys Morales AGR-LB Lou Brock AGR-LG Lou Gehrig AGR-LLN Lance Lynn AGR-LM Logan Morrison AGR-MB Michael Bourn AGR-MBU Madison Bumgarner AGR-MC Matt Cain AGR-MH Matt Holliday AGR-MKP Matt Kemp AGR-ML Mat Latos AGR-MM Matt Moore AGR-MSZ Max Scherzer AGR-NC Nelson Cruz AGR-NW Neil Walker AGR-PF Prince Fielder AGR-PM Paul Molitor AGR-PON Paul O'Neill AGR-PS Pablo Sandoval AGR-RF Rafael Furcal AGR-RH Roy Halladay AGR-RHD Ryan Howard AGR-RN Ricky Nolasco AGR-RR Ricky Romero AGR-SC Starlin Castro AGR-SG Steve Garvey AGR-SM Stan Musial AGR-TH Tim Hudson AGR-TL Tim Lincecum AGR-TW Ted Williams AGR-WM Willie Mays AGR-WR Wilin Rosario AGR-YD Yu Darvish AGR-YG Yovani Gallardo AGR-ZG Zack Greinke
NBR-AB Amelia Boone NBR-AL Artie Lange NBR-AR Adam Richman NBR-AV Abe Vigoda NBR-B Byamba NBR-BB Bonnie Bernstein NBR-BBW Bobby Bowden NBR-BK Brian Kelly
NBR-BM Barry Melrose NBR-BW Bill Walton NBR-CI Chanel Iman NBR-CM Chris Mortensen NBR-CT Chrissy Teigen NBR-EON Ed O'Neill NBR-FR Freddie Roach NBR-JC John Calipari NBR-JD Jason Dufner NBR-JM Julia Mancuso NBR-KH Kevin Harvick NBR-LV Lindsey Vonn NBR-MB Matthias Blonski NBR-MBY Matthew Berry NBR-MC Mark Cuban NBR-MH Monty Hall NBR-MJ Mike Joy NBR-MM McKayla Maroney NBR-MMC Mike McCarthy NBR-NM Nana Meriwether NBR-NS Nick Saban NBR-NW Nik Wallenda NBR-OC Olivia Culpo NBR-P Pelé NBR-PH Phil Heath NBR-PM Penny Marshall NBR-RJJ Roy Jones Jr. NBR-SH Scott Hamilton NBR-SN Shawn Nadelen NBR-ZM Ziggy Marley
FULL-SIZE RELICS
AGFR-AC Aroldis Chapman AGFR-AD Adam Dunn AGFR-AE Andre Ethier AGFR-AG Adrian Gonzalez AGFR-AJ Austin Jackson AGFR-AL Adam Lind AGFR-BB Brandon Beachy AGFR-BBT Billy Butler AGFR-BD Bobby Doerr AGFR-BP Brandon Phillips AGFR-BS Bruce Sutter AGFR-CCS CC Sabathia AGFR-CG Carlos Gonzalez AGFR-CH Chris Heisey AGFR-CK Craig Kimbrel AGFR-CL Cliff Lee AGFR-DB Darwin Barney AGFR-DDJ David DeJesus AGFR-DM Don Mattingly AGFR-DW David Wright
AGFR-GG Goose Gossage AGFR-HA Hank Aaron AGFR-HN Hal Newhouser AGFR-IK Ian Kinsler AGFR-JG Johnny Giavotella AGFR-JH Jason Heyward AGFR-JJH J.J. Hardy AGFR-JM Justin Masterson AGFR-JMA Joe Mauer AGFR-JP Jake Peavy AGFR-JPA J.P. Arencibia AGFR-JU Justin Upton AGFR-JZ Jordan Zimmermann AGFR-LD Lucas Duda AGFR-MM Miguel Montero AGFR-MR Mariano Rivera AGFR-RB Ryan Braun AGFR-RC Rod Carew AGFR-RJ Reggie Jackson AGFR-RK Ralph Kiner AGFR-RW Rickie Weeks AGFR-RY Robin Yount AGFR-RZ Ryan Zimmerman AGFR-SC Steve Carlton AGFR-SMC Shaun Marcum AGFR-SR Scott Rolen AGFR-SS Stephen Strasburg AGFR-TG Tony Gwynn AGFR-TH Todd Helton AGFR-UJ Ubaldo Jimenez
DNA RELICS
DNA-AH1 Alexander Hamilton DNA-AH2 Alexander Hamilton DNA-AH3 Alexander Hamilton DNA-AH4 Alexander Hamilton DNA-AH5 Alexander Hamilton DNA-E1 Edward VIII DNA-E2 Edward VIII DNA-JB John Brown DNA-JFK1 John F. Kennedy DNA-JFK2 John F. Kennedy
ODDITY RELICS
OR-BK Grassy Knoll
OR-KHW Kim & Kris
OR-OIT President Obama
OR-WF Wrigley FieldTM
DOUBLE BAT KNOBS
DBK-CJ Robinson Cano DBK-CJ Reggie Jackson DBK-LK Ian Kinsler DBK-LK Evan Longoria
DBK-LW David Wright DBK-LW Evan Longoria
DBK-SB Albert Belle DBK-SB Drew Stubbs
DBK-SG Brett Gardner DBK-SG Gary Sheffield
DOUBLE JUMBO PATCH BOOK CARDS
Brandon Beachy Jason Heyward
Ian Kinsler Adrian Beltre Tim Lincecum Madison Bumgarner
Aroldis Chapman Mike Leake Buster Posey Matt Cain Cal Ripken Jr. Adam Jones
David Ortiz Jon Lester Yu Darvish Mike Olt Matt Moore David Price Stephen Strasburg Jordan Zimmermann
Mark Trumbo Mike Trout Adam Wainwright David Freese
Jayson Werth Ryan Zimmerman
CUT SIGNATURES
CS-AB Andrea Bocelli
CS-BC Bill Clinton CS-BG Benny Goodman
CS-DE Dwight Eisenhower
CS-EA Eddie Arcaro
CS-GF Gerald Ford
CS-GWB George W. Bush
CS-HC Howard Cosell
CS-JC Jimmy Carter
CS-JG John Grisham
CS-JN Jack Nicklaus
CS-JW John Wooden CS-ME Michael Eisner CS-MF Malcolm Forbes
CS-RN Richard Nixon
CS-RR Ray Romano
CS-SDJ Sammy Davis Jr.
CS-SS Stan Smith
CS-TB Tony Bennett
CS-TK Ted Koppel
OVERSIZED BOX-LOADER RELIC
OBLR-AR Alex Rodriguez OBLR-BP Brandon Phillips OBLR-DJ Derek Jeter OBLR-DJN Desmond Jennings OBLR-HC Hank Conger OBLR-JB Jay Bruce OBLR-JV Justin Verlander OBLR-MC Matt Cain OBLR-MR Mariano Rivera OBLR-SC Starlin Castro
OVERSIZED BOX-LOADER CUT SIGS
OBCS-TW Ted Williams
CABINET BOX LOADER RELICS
CBLR-AD Adam Dunn CBLR-AR Alex Rodriguez CBLR-CL Cliff Lee CBLR-DP David Price CBLR-JB Jay Bruce CBLR-JJ Jon Jay CBLR-MK Matt Kemp CBLR-MO Mike Olt CBLR-NC Nelson Cruz CBLR-RB Ryan Braun
CABINET BOXLOADER BOOK RELIC
CBBR-BR Jay Bruce CBBR-BR Scott Rolen CBBR-CF Nelson Cruz CBBR-CF Neftali Feliz CBBR-CP David Price CBBR-CP Alex Cobb CBBR-DS Adam Dunn CBBR-DS Chris Sale CBBR-HG Corey Hart CBBR-HG Matt Garza CBBR-JM Jason Motte CBBR-JM Jon Jay CBBR-KB Ryan Braun CBBR-KB Matt Kemp CBBR-LC Johnny Cueto CBBR-LC Cliff Lee CBBR-OC Mike Olt CBBR-OC Nelson Cruz CBBR-PS Jake Peavy CBBR-PS Chris Sale
AUTOGRAPHS
AGA-AB Amelia Boone AGA-AC Alex Cobb AGA-AE Adam Eaton
AGA-AG Avisail Garcia
AGA-AGO Anthony Gose
AGA-AGZ Adrian Gonzalez
AGA-AJ Adam Jones
AGA-ALA Artie Lange
AGA-AR Adam Richman
AGA-ARO Axl Rose
AGA-ARZ Anthony Rizzo
AGA-AV Abe Vigoda
AGA-B Byamba AGA-BB Bobby Bowden
AGA-BBE Bonnie Bernstein
AGA-BBU Bill Buckner AGA-BJ Brett Jackson AGA-BK Brian Kelly AGA-BL Brett Lawrie AGA-BM Barry Melrose AGA-BP Brandon Phillips
AGA-BS Bud Selig
AGA-BSU Bruce Sutter
AGA-BW Bill Walton
AGA-CA Chris Archer AGA-CF Cecil Fielder AGA-CG Carlos Gonzalez AGA-CH Chase Headley AGA-CI Chanel Iman AGA-CK Casey Kelly AGA-CKM Craig Kimbrel AGA-CM Chris Mortensen AGA-CR Cal Ripken Jr. AGA-CT Chrissy Teigen AGA-DB Dylan Bundy AGA-DM Dale Murphy AGA-DMT Don Mattingly AGA-DP Dustin Pedroia AGA-DS Don Sutton AGA-EK Ekolu Kalama AGA-EO Ed O'Neill AGA-FD Felix Doubront AGA-FR Freddie Roach AGA-GRD Guillaume Robert-Demolaize
AGA-HA Hank Aaron AGA-HR Henry Rollins
AGA-JC John Calipari
AGA-JCU Johnny Cueto
AGA-JD Jason Dufner
AGA-JH Josh Hamilton
AGA-JK Jason Kipnis AGA-JM Julia Mancuso
AGA-JML Juan Marichal
AGA-JP Jurickson Profar
AGA-JPA Jarrod Parker
AGA-JR Josh Reddick
AGA-JRC Jim Rice AGA-JS Jean Segura
AGA-JSD James Shields
AGA-JZ Jordan Zimmermann
AGA-KH Kevin Harvick
AGA-LA Luis Aparicio AGA-LL Lance Lynn AGA-LV Lindsey Vonn
AGA-MB Matthias Blonski
AGA-MBU Madison Bumgarner
AGA-MBY Matthew Berry
AGA-MC Mark Cuban
AGA-MCN Matt Cain AGA-MH Mike Richter
AGA-MHL Monty Hall
AGA-MJO Mike Joy
AGA-MM McKayla Maroney
AGA-MMC Mike McCarthy
AGA-MMD Manny Machado
AGA-MO Mike Olt AGA-MS Mike Schmidt AGA-MT Mark Trumbo AGA-MTT Mike Trout
AGA-MW Maury Wills
AGA-NM Nana Meriwether
AGA-NS Nick Saban
AGA-NW Nik Wallenda
AGA-OC Olivia Culpo
AGA-P Pele AGA-PF Prince Fielder AGA-PG Paul Goldschmidt AGA-PH Phil Heath AGA-PM Penny Marshall
AGA-PO Paul O'Neill
AGA-RD R.A. Dickey
AGA-RJR Roy Jones Jr.
AGA-RVP Robin van Persie
AGA-RZ Ryan Zimmerman
AGA-SD Scott Diamond
AGA-SH Scott Hamilton
AGA-SK Sandy Koufax
AGA-SM Starling Marte
AGA-SMI Shelby Miller
AGA-SN Shawn Nadelen
AGA-SP Salvador Perez
AGA-TB Trevor Bauer
AGA-TCG Tony Cingrani AGA-TL Tommy Lee AGA-TM Tommy Milone AGA-TS Tyler Skaggs
AGA-VB Vida Blue
AGA-WC Will Clark
AGA-WJ Wally Joyner
AGA-WM Wil Myers
AGA-WMB Will Middlebrooks
AGA-WP Wily Peralta
AGA-WR Wilin Rosario AGA-YC Yoenis Cespedes AGA-YD Yu Darvish AGA-YG Yasmani Grandal
AGA-YP Yasiel Puig
AGA-ZC Zack Cozart
AGA-ZM Ziggy Marley
OVERSIZED BOXLOADER AUTOGRAPHS
OBLA-AG Adrian Gonzalez OBLA-BG Bob Gibson OBLA-BP Buster Posey OBLA-CG Carlos Gonzalez OBLA-DB Dylan Bundy OBLA-DO David Ortiz OBLA-MM Manny Machado OBLA-MT Mike Trout OBLA-TB Trevor Bauer OBLA-WM Willie Mays
RIP CARDS
RIP-1  Duke Snider
RIP-2  Cliff Lee
RIP-3  Ted Williams
RIP-4  Ralph Kiner
RIP-5  Shelby Miller
RIP-6  Jason Heyward
RIP-7  Mike Olt
RIP-8  Yoenis Cespedes
RIP-9  Roberto Clemente
RIP-10  Stan Musial
RIP-11  Mike Schmidt
RIP-12  Darryl Strawberry
RIP-13  Carlos Gonzalez
RIP-14  Miguel Cabrera
RIP-15  Ty Cobb
RIP-16  Ken Griffey Jr.
RIP-17  Ryan Braun
RIP-18  Jose Bautista
RIP-19  Tim Lincecum
RIP-20  Manny Machado
RIP-21  David Wright
RIP-22  Felix Hernandez
RIP-23  C.J. Wilson
RIP-24  David Freese
RIP-25  Robinson Cano
RIP-26  R.A. Dickey
RIP-27  Clayton Kershaw
RIP-28  Dwight Gooden
RIP-29  Giancarlo Stanton
RIP-30  Paul O'Neill
RIP-31  George Brett
RIP-32  Tom Seaver
RIP-33  Jered Weaver
RIP-34  Anthony Rizzo
RIP-35  Jackie Robinson
RIP-36  Dylan Bundy
RIP-37  Albert Pujols
RIP-38  Nick Swisher
RIP-39  Jurickson Profar
RIP-40  Evan Longoria
RIP-41  Torii Hunter
RIP-42  Dustin Pedroia
RIP-43  Paul Goldschmidt
RIP-44  Justin Verlander
RIP-45  James Shields
RIP-46  Matt Cain
RIP-47  Gio Gonzalez
RIP-48  Willie McCovey
RIP-49  Brooks Robinson
RIP-50  Lou Gehrig
RIP-51  Allen Craig
RIP-52  Chris Sale
RIP-53  Ernie Banks
RIP-54  Mark Trumbo
RIP-55  Harmon Killebrew
RIP-56  Tony Gwynn
RIP-57  Justin Upton
RIP-58  Gary Carter
RIP-59  Warren Spahn
RIP-60  Wade Boggs
RIP-61  Reggie Jackson
RIP-62  Don Mattingly
RIP-63  Matt Holliday
RIP-64  Ian Kinsler
RIP-65 Mike Trout RIP-66 Joey Votto RIP-67 Hanley Ramirez RIP-68 Jose Reyes RIP-69 Mariano Rivera RIP-70 B.J. Upton RIP-71 Joe Mauer RIP-72 Willie Mays RIP-73 Troy Tulowitzki RIP-74 Bob Gibson RIP-75 Madison Bumgarner RIP-76 David Ortiz RIP-77 Al Kaline RIP-78 Sandy Koufax RIP-79 CC Sabathia RIP-80 Will Middlebrooks RIP-81 Tyler Skaggs RIP-82 Yu Darvish RIP-83 Frank Thomas RIP-84 Adrian Gonzalez RIP-85 Trevor Bauer RIP-86 Carlos Beltran RIP-87 Cal Ripken Jr. RIP-88 Roy Halladay RIP-89 Johnny Bench RIP-90 Andy Pettitte RIP-91 John Smoltz RIP-92 Bryce Harper RIP-93 Adam Eaton RIP-94 Babe Ruth RIP-95 Prince Fielder RIP-96 Josh Hamilton RIP-97 Willie Stargell RIP-98 Josh Beckett RIP-99 Starlin Castro RIP-100 Derek Jeter
DOUBLE RIP CARDS
RIP-101 Tyler Skaggs RIP-101 Adam Eaton RIP-102 B.J. Upton RIP-102 Justin Upton RIP-103 Craig Kimbrel RIP-103 John Smoltz RIP-104 Phil Niekro RIP-104 Warren Spahn RIP-105 Manny Machado RIP-105 Dylan Bundy RIP-106 Cal Ripken Jr. RIP-106 Manny Machado RIP-107 Jim Palmer RIP-107 Dylan Bundy
RIP-108 Cal Ripken Jr. RIP-108 Brooks Robinson RIP-109 Tony Gwynn RIP-109 Cal Ripken Jr. RIP-110 Dustin Pedroia RIP-110 David Ortiz RIP-111 Alex Rodriguez RIP-111 David Ortiz RIP-112 Prince Fielder RIP-112 Miguel Cabrera RIP-113 Mike Trout RIP-113 Miguel Cabrera RIP-114 Mike Trout RIP-114 Josh Hamilton RIP-115 Albert Pujols RIP-115 Mike Trout RIP-116 Josh Hamilton RIP-116 Albert Pujols RIP-117 Ernie Banks RIP-117 Starlin Castro RIP-118 Derek Jeter RIP-118 Ernie Banks RIP-119 Troy Tulowitzki RIP-119 Derek Jeter RIP-120 Reggie Jackson RIP-120 Cecil Fielder RIP-121 Carlos Gonzalez RIP-121 Troy Tulowitzki RIP-122 Paul Konerko RIP-122 Frank Thomas RIP-123 Chris Sale RIP-123 Jake Peavy RIP-124 Albert Belle RIP-124 Nick Swisher RIP-125 Mat Latos RIP-125 Johnny Cueto RIP-126 Joey Votto RIP-126 Johnny Bench RIP-127 Ryan Howard RIP-127 Mike Schmidt RIP-128 Cliff Lee RIP-128 Roy Halladay RIP-129 Ryan Howard RIP-129 Chase Utley RIP-130 Michael Young RIP-130 Mike Schmidt RIP-131 David Price RIP-131 Justin Verlander RIP-132 David Price RIP-132 Evan Longoria RIP-133 David Wright RIP-133 Evan Longoria
RIP-134 David Wright RIP-134 Tom Seaver RIP-135 Tom Seaver RIP-135 Nolan Ryan RIP-136 Yu Darvish RIP-136 Nolan Ryan RIP-137 Bryce Harper RIP-137 Yu Darvish RIP-138 Stephen Strasburg RIP-138 Bryce Harper RIP-139 Nolan Ryan RIP-139 Stephen Strasburg RIP-140 Mike Olt RIP-140 Jurickson Profar RIP-141 Shelby Miller RIP-141 Adam Wainwright RIP-142 Stan Musial RIP-142 Bob Gibson RIP-143 Stan Musial RIP-143 David Freese RIP-144 Matt Cain RIP-144 Tim Lincecum RIP-145 Buster Posey RIP-145 Matt Cain RIP-146 Buster Posey RIP-146 Pablo Sandoval RIP-147 Willie McCovey RIP-147 Willie Mays RIP-148 Sandy Koufax RIP-148 Willie Mays RIP-149 Jackie Robinson RIP-149 Sandy Koufax RIP-150 Willie Mays RIP-150 Jackie Robinson RIP-151 Lou Gehrig RIP-151 Babe Ruth RIP-152 Willie Stargell RIP-152 Roberto Clemente RIP-153 Roberto Clemente RIP-153 Andrew McCutchen RIP-154 George Brett RIP-154 Mike Moustakas RIP-155 Matt Kemp RIP-155 Adrian Gonzalez RIP-156 Zack Greinke RIP-156 Clayton Kershaw RIP-157 Ryu Hyun-Jin RIP-157 Yu Darvish RIP-158 Adrian Gonzalez RIP-158 Hanley Ramirez RIP-159 Sandy Koufax RIP-159 Clayton Kershaw
RIP-160 Ryan Braun RIP-160 Sandy Koufax RIP-161 Robin Yount RIP-161 Ryan Braun RIP-162 Joe Mauer RIP-162 Harmon Killebrew RIP-163 Joe Mauer RIP-163 Buster Posey RIP-164 Robinson Cano RIP-164 Derek Jeter RIP-165 Derek Jeter RIP-165 Don Mattingly RIP-166 Lou Gehrig RIP-166 Don Mattingly RIP-167 Don Mattingly RIP-167 Paul O'Neill RIP-168 Ted Williams RIP-168 Babe Ruth RIP-169 Willie Mays RIP-169 Ted Williams RIP-170 David Ortiz RIP-170 Ted Williams RIP-171 Andre Dawson RIP-171 Gary Carter RIP-172 Rickey Henderson RIP-172 Reggie Jackson RIP-173 Yoenis Cespedes RIP-173 Rickey Henderson RIP-174 Ozzie Smith RIP-174 Tony Gwynn RIP-175 Bob Gibson RIP-175 Ozzie Smith RIP-176 Justin Verlander RIP-176 Felix Hernandez RIP-177 Ken Griffey Jr. RIP-177 Felix Hernandez RIP-178 Cal Ripken Jr. RIP-178 Ken Griffey Jr. RIP-179 R.A. Dickey RIP-179 Phil Niekro RIP-180 Jose Reyes RIP-180 R.A. Dickey RIP-181 Josh Johnson RIP-181 Jose Reyes RIP-182 Babe Ruth RIP-182 Yogi Berra RIP-183 Rod Carew RIP-183 Lou Brock RIP-184 Goose Gossage RIP-184 Whitey Ford RIP-185 Dwight Gooden RIP-185 Gary Carter
RIP-186 Willie Stargell
RIP-186  Ralph Kiner
RIP-187  Eddie Mathews
RIP-187  Jason Heyward
RIP-188  Roberto Clemente
RIP-188  Bill Mazeroski
RIP-189  Joe Morgan
RIP-189  Johnny Cueto
RIP-190  Marco Scutaro
RIP-190  Joe Morgan
RIP-191  Jackie Robinson
RIP-191  Al Barlick
RIP-192  Ryne Sandberg
RIP-192  Ernie Banks
RIP-193  Sandy Koufax
RIP-193  Duke Snider
RIP-194  Duke Snider
RIP-194  Don Sutton
RIP-195  Sparky Anderson
RIP-195  Earl Weaver
RIP-196  Stan Musial
RIP-196  Earl Weaver
RIP-197  Stan Musial
RIP-197  Enos Slaughter
RIP-198  Sandy Koufax
RIP-198  Tommy Lasorda
RIP-199  Miguel Cabrera
RIP-199  Ty Cobb
RIP-200  Ted Williams
RIP-200 Bobby Doerr
ARTISTS ORIGINALS
AO-BG  Bob Gibson
AO-BH  Bryce Harper
AO-BP Buster Posey
AO-BR Babe Ruth
AO-CK Clayton Kershaw
AO-DJ Derek Jeter
AO-DP David Price
AO-DW David Wright AO-FR Frank Robinson
AO-HK Harmon Killebrew
AO-JH Josh Hamilton
AO-JM Joe Mauer
AO-JP Jurickson Profar
AO-JV Joey Votto
AO-LG Lou Gehrig
AO-MC Miguel Cabrera
AO-MM Manny Machado
AO-MS  Mike Schmidt
AO-MT  Mike Trout
AO-NR Nolan Ryan
AO-RAD R.A. Dickey
AO-RC Roberto Clemente
AO-RJ Reggie Jackson
AO-RW Ryan Howard
AO-SM Stan Musial
AO-SS Stephen Strasburg
AO-TW Ted Williams
AO-WM Willie Mays AO-YB Yogi Berra AO-YD Yu Darvish
MINI EXCLUSIVES
351 Mariano Rivera
352 Ted Williams
353 CC Sabathia
354 Ty Cobb
355 Justin Verlander
356 Prince Fielder
357 Cal Ripken Jr.
358 Adrian Gonzalez
359 Ernie Banks
360 Joe Morgan
361 Bryce Harper
362 Jurickson Profar
363 Matt Cain
364 Don Mattingly
365 Roberto Clemente
366 Josh Hamilton
367 Jackie Robinson
368 David Ortiz
369 Cliff Lee
370 Jered Weaver
371 Mike Trout
372 Felix Hernandez
373 Joey Votto
374 R.A. Dickey
375 Dylan Bundy
376 Evan Longoria
377 Clayton Kershaw
378 Manny Machado
379 Miguel Cabrera
380 Willie Mays
381 David Wright
382 Babe Ruth
383 Troy Tulowitzki
384 Ryan Braun
385 Frank Thomas
386 Stan Musial
387 Robinson Cano
388 Johnny Bench
389 Joe Mauer
390 Giancarlo Stanton
391 Ken Griffey Jr.
392 Yu Darvish
393 Mike Schmidt
394 Sandy Koufax
395 Tom Seaver
396 Derek Jeter
397 Bob Gibson
398 Harmon Killebrew
399 Craig Kimbrel
400 Jose Reyes
DOUBLE AUTOGRAPH RELICS
DAR-CR Miguel Cabrera DAR-CR Cal Ripken Jr. DAR-DR Nolan Ryan DAR-DR Yu Darvish DAR-GH Ken Griffey Jr. DAR-GH Felix Hernandez DAR-JC Reggie Jackson DAR-JC Yoenis Cespedes DAR-OP Dustin Pedroia DAR-OP David Ortiz DAR-PC Matt Cain DAR-PC Buster Posey DAR-PL Evan Longoria DAR-PL David Price
OVERSIZED BOXLOADER AUTOGRAPH RELICS
Anthony Rizzo Bob Gibson Dylan Bundy Dustin Pedroia Jurickson Profar Manny Machado Reggie Jackson Sandy Koufax
INSERTS
ACROSS THE YEARS
ATY-AB Adrian Beltre ATY-AC Aroldis Chapman ATY-AE Andre Ethier ATY-AG Adrian Gonzalez ATY-AJ Adam Jones ATY-AP Andy Pettitte ATY-AR Anthony Rizzo
TY-BG  Bob Gibson
ATY-BH  Bryce Harper
ATY-BJU B.J. Upton ATY-BR Brooks Robinson ATY-BRT Babe Ruth ATY-CB Carlos Beltran ATY-CCS CC Sabathia ATY-CG Carlos Gonzalez ATY-CGR Curtis Granderson ATY-CJW C.J. Wilson ATY-CK Craig Kimbrel ATY-CKW Clayton Kershaw ATY-CL Cliff Lee
ATY-CRJ Cal Ripken Jr. ATY-CS Chris Sale ATY-DB Dylan Bundy ATY-DJ Derek Jeter ATY-DM Don Mattingly
ATY-DO  David Ortiz
ATY-DP  Dustin Pedroia
ATY-DW David Wright ATY-EB Ernie Banks ATY-EL Evan Longoria ATY-FH Felix Hernandez ATY-FT Frank Thomas ATY-GG Gio Gonzalez ATY-GS Giancarlo Stanton ATY-HK Harmon Killebrew ATY-IK Ian Kinsler
ATY-JA  Jose Altuve
ATY-JB  Johnny Bench
ATY-JBR Jay Bruce ATY-JBT Jose Bautista ATY-JC Johnny Cueto ATY-JE Jacoby Ellsbury ATY-JH Josh Hamilton ATY-JHY Jason Heyward ATY-JK Jason Kipnis ATY-JM Joe Morgan ATY-JMR Joe Mauer ATY-JMT Jesus Montero ATY-JP Jurickson Profar ATY-JR Jim Rice
ATY-JRB Jackie Robinson ATY-JRD Josh Reddick ATY-JRY Jose Reyes ATY-JS James Shields
ATY-JU  Justin Upton
ATY-JV  Joey Votto
ATY-JVL Justin Verlander ATY-JW Jered Weaver ATY-JWR Jayson Werth
ATY-KGR Ken Griffey Jr. ATY-KM Kris Medlen ATY-LG Lou Gehrig ATY-MC Miguel Cabrera ATY-MCN Matt Cain ATY-MM Manny Machado
ATY-MR  Mariano Rivera
ATY-MS  Mike Schmidt
ATY-MT  Mike Trout
ATY-MTR Mark Trumbo ATY-NS Nick Swisher
ATY-PF  Prince Fielder
ATY-PG  Paul Goldschmidt
ATY-RAD R.A. Dickey
ATY-RB  Ryan Braun
ATY-RC  Robinson Cano
ATY-RCL Roberto Clemente ATY-RH Roy Halladay ATY-RHO Ryan Howard ATY-RJ Reggie Jackson ATY-RS Ryne Sandberg ATY-RZ Ryan Zimmerman ATY-SC Starlin Castro ATY-SKX Sandy Koufax ATY-SM Shelby Miller ATY-SMU Stan Musial ATY-SP Salvador Perez
ATY-TB  Trevor Bauer
ATY-TC  Ty Cobb
ATY-TG Tony Gwynn ATY-TL Tim Lincecum ATY-TS Tyler Skaggs ATY-TSV Tom Seaver ATY-TT Troy Tulowitzki ATY-TW Ted Williams ATY-WB Wade Boggs ATY-WM Will Middlebrooks ATY-WMY Willie Mays ATY-WS Willie Stargell
ATY-YC  Yoenis Cespedes
ATY-YD  Yu Darvish
ONE LITTLE CORNER
OLC-AB Asteroid Belt OLC-CM Comet OLC-CR Ceres OLC-CT Centaur OLC-ER Eris OLC-ERT Earth OLC-HAU Haumea OLC-JPT Jupiter OLC-MK Makemake
OLC-MN Moon
OLC-MS Mars
OLC-MY Mercury OLC-NPT Neptune OLC-PTO Pluto
OLC-SD Scattered Disc OLC-SDN Sedna OLC-STN Saturn OLC-SUN Sun
OLC-URN Uranus OLC-VN Venus
PALACES AND STRONGHOLDS
PS-ALH Alhambra
PS-BP Buckingham Palace PS-CC Chateau de Chambord PS-FC Forbidden City
PS-FK Fort Knox
PS-GY Gyeongbokgung
PS-HP Hohenschwangau Castle PS-LC Leeds Castle
PS-MP Mysore Palace
PS-NC Neuschwanstein Castle PS-PNP Pena National Palace PS-PP Peterhof Palace
PS-PPC Potala Palace
PS-SB Schonbrunn Palace PS-SP Summer Palace
PS-TA  The Alamo
PS-TB  The Bastille
PS-TM Taj Mahal
PS-TP Topkapi Palace PS-VSL Palace of Versailles
MARTIAL MASTERY
MM-AMZ Amazons MM-AP Apache MM-AZ Aztecs MM-GD Gladiators MM-KN Knights MM-RM Romans MM-SM Samurai MM-SP Spartans MM-VK Vikings MM-ZU Zulu
CIVILIZATIONS OF AGES PAST
CAP-ASY Assyrians CAP-AZ Aztecs CAP-BAY Babylonians CAP-BYZ Byzantine CAP-EG Egyptians
CAP-GRK Greeks
CAP-HT Hittites
CAP-IN Inca
CAP-IRV Indus River Valley CAP-MES Mesopotamians CAP-MY Mayans
CAP-OL Olmecs CAP-OTT Ottoman CAP-PER Persians CAP-PH Phoenicians CAP-ROM Romans CAP-SD Shang Dynasty CAP-SU Sumerians CAP-SWA Swahili CAP-VK Vikings
CURIOUS CASES
CC-A51 Roswell/Area 51 CC-CH Chemtrails
CC-DA Denver Airport
CC-FM Faked moon landings? CC-H HAARP
CC-JFK Assassination of JFK
CC-MK MKULTRA
CC-NOW The Illuminati/New World Order CC-PE The Philadelphia Experiment CC-UVB UVB-76
THE FIRST AMERICANS
TFA-ALG Algonquian TFA-AP Apache TFA-BNK Bannock TFA-CHK Cherokee TFA-CHY Cheyenne TFA-CM Comanche TFA-HPI Hopi TFA-IRQ Iroquois TFA-LK Lakota TFA-NV Navajo TFA-PUB Pueblo TFA-PWN Pawnee TFA-SX Sioux TFA-WCT Wichita TFA-ZN Zuni
INQUIRING MINDS
IM-AR  Aristotle
IM-AS  Arthur Schopenhauer
IM-AUG St. Augustine IM-BS Baruch Spinoza IM-EP Epicurus
IM-FB Francis Bacon
IM-FN Friedrich Nietzsche
IM-GH Georg Wilhelm Friedrich Hegel IM-HA Hannah Arendt
IM-IK Immanuel Kant
IM-JL John Locke
IM-JPS Jean-Paul Sartre
IM-KM Karl Marx
IM-NM Niccolo Machiavelli
IM-PTO Plato
IM-RD Rene Descartes
IM-SCR Socrates
IM-SDB Simone de Beauvoir
IM-ST Sun Tzu
IM-TA Thomas Aquinas
IM-TH Thomas Hobbes
HEAVY HANGS THE HEAD
HHH-ALX Alexander I
HHH-ATG Alexander the Great
HHH-AUG Augustus
HHH-CHR Charlemagne
HHH-CLE Cleopatra
HHH-CON Constantine
HHH-CTG Cyrus the Great
HHH-DK King David
HHH-EM Emperor Meiji
HHH-FA Ferdinand & Isabella HHH-FRD Frederick II
HHH-GA Gustavus Adolphus HHH-ITT Ivan the Terrible
HHH-JC Julius Caesar
HHH-KH King Henry VIII HHH-KHN King Henry V
HHH-KJ King James I
HHH-KL King Louis XIV
HHH-KR King Richard I
HHH-KW Krishnaraja Wadiyar III HHH-NP Napoleon
HHH-PW Prince William
HHH-QB Queen Beatrix
HHH-QE Queen Elizabeth II HHH-QSH Qin Shi Huang
HHH-QV Queen Victoria
HHH-RAM Ramses II
HHH-SLM Solomon
HHH-STM Suleiman the Magnificent HHH-TUT Tutankhamun
CODES CYPHERS AND CRYPTOGRAPHS
CCC-BC Beale Ciphers CCC-DAG D'agapeyeff Cipher CCC-DC Dorabella Cipher
CCC-IS Indus Script
CCC-KRY Kryptos
CCC-LA Linear A
CCC-PD The Phaistos Disc
CCC-SHE Shugborough Hall Inscription CCC-VM The Voynich Manuscript CCC-ZK Zodiac Killer
PEACEMAKERS
PM-AL Abraham Lincoln PM-BC Bill Clinton PM-DL Dalai Lama PM-GND Gandhi
PM-GW George Washington PM-HT Harriet Tubman PM-JA Jane Addams PM-JC Jimmy Carter PM-MT Mother Teresa PM-NM Nelson Mandela
FAMOUS FINDS
FF-CA The Cave of Altamira FF-CG Cairo Geniza
FF-DSS Dead Sea Scrolls FF-KTT King Tut's Tomb
FF-L Olduvai Gorge/Lucy
FF-NHL Nag Hammadi Library
FF-P Pompeii
FF-PS The Pilate Stone
FF-QSH The Tomb of the Qin Shi Huang FF-RS Rosetta Stone
OVERSIZED BOXLOADERS
OB-AP Albert Pujols OB-BH Bryce Harper OB-DW David Wright OB-GS Giancarlo Stanton OB-JH Josh Hamilton OB-JV Joey Votto OB-MC Miguel Cabrera OB-MK Matt Kemp OB-MT Mike Trout
OB-PF Prince Fielder OB-RAD R.A. Dickey
OB-RB  Ryan Braun
OB-RC  Robinson Cano
OB-SS Stephen Strasburg OB-TT Troy Tulowitzki
WONDERS OF THE WORLD CABINET BOXLOADERS
WOW-1  Great Pyramid of Giza
WOW-2  Hanging Gardens of Babylon
WOW-3  Statue of Zeus at Olympia
WOW-4  Temple of Artemis at Ephesus
WOW-5  Mausoleum at Halicarnassus
WOW-6  Colossus of Rhodes
WOW-7  Lighthouse of Alexandria
WOW-8  Channel Tunnel
WOW-9  CN Tower
WOW-10  Empire State Building
WOW-11  Golden Gate Bridge
WOW-12  Itaipu Dam
WOW-13  Delta Works
WOW-14  Panama Canal
WOW-15  Grand Canyon
WOW-16  Great Barrier Reef
WOW-17  Harbor of Rio de Janeiro
WOW-18  Mount Everest
WOW-19  Aurora
WOW-20  Paricutin Volcano
WOW-21  Victoria Falls