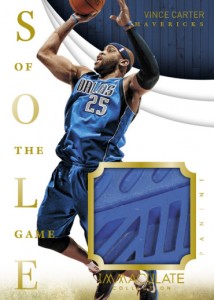 By Stephen Laroche | Beckett Basketball Editor
Panini America made a major splash among collectors with the debut edition of Immaculate Basketball last season and due to its tremendous success, it will be back on store shelves yet again in 2013-14.
With each six-card box being loaded with five autograph or memorabilia cards, there are plenty of big hits to go around and many popular collections are set to be a part of the encore. One type of card that is sure to be getting some serious attention are from the Sole of the Game insert collection which will be featuring the tread from the game-used sneakers of many top stars.
That is only just a taste, however, as some of the other memorabilia highlights teased by Panini are Autographed NBA Logoman cards and Rookie Patch Autographs. Fans of the company's prime swatches are also in for a treat with big pieces to be found in such sets as Nameplate, Team Logo, Patches, Jersey Number and Insignias.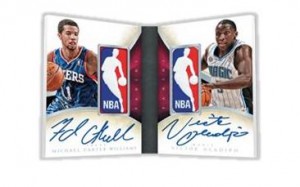 Collectors who have an affinity for booklet cards will also be pleased to see Rookie Logoman Autographs Booklets, which are limited to just one copy each and should command a lot of interest once they hit the market. If that is not enough, there are also full letters from jerseys in Nameplate Nobility and the chase will be on to spell out the name of your favorite stars.
There are also plenty of autographs to be found as well, including HOF Heroes, Scorers Club, Elite Scorers Club and The Greatest – all of which have been signed in gold ink.
Expect to find 2013-14 Panini Immaculate Basketball  in stores on September 3.
Stephen Laroche is the editor of Beckett Hockey and Beckett Basketball magazines. Have a comment, question or idea? Send an e-mail to him at SLaroche@beckett.com. Follow him on Twitter @Stephen_Laroche.