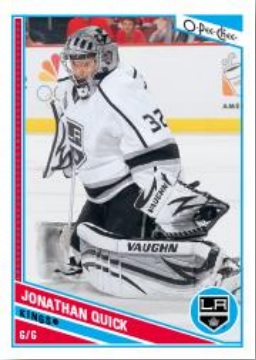 By Susan Lulgjuraj | Beckett Hockey Editor
Set collectors get ready for 2013-14 O-Pee-Chee Hockey.
The 500-card base set will feature all the top stars, rookies and all the players in between when it comes out in August.
Each hobby box will come with eight cards per pack and 32 packs in every box. There will also be plenty of inserts.
Each box contains:
– 32 Retro parallels
– Eight Marquee Rookies
– Eight Marquee Legends
– Eight Rainbow Foil parallels
– 10 OPC Stickers
– Two OPC Rings, new to the product this year.
Autographs are hard to come by with three autos in every case, including a Team Canada Signature.
Rare hits include Buyback Autographs from players such as Sidney Crosby, Alexander Ovechkin and Steven Stamkos. In addition, Upper Deck is including Sport Royalty Bobby Orr autographs.
Team Logo Patches back for a second year with a 100-card set featuring six levels of scarcity. These logos highlight teams from 1917 to the present day and can be found just four per case.
Remember to hold on to your wrappers. Upper Deck announced at the Industry Summit it was doing a wrapper redemption program again.
Susan Lulgjuraj is an editor of Beckett Hockey. You can email her here with questions, comments or ideas. Follow her on Twitter here. Follow Beckett Media on Facebook and Twitter.
---
2013-14 NHL O-Pee-Chee Final Checklist
Set Name Card Description Team City Team Name Odds Group Serial #d Auto Rookie Retired
Base Set 1 Phil Kessel Toronto Maple Leafs
Base Set 2 Benoit Pouliot Tampa Bay Lightning
Base Set 3 Semyon Varlamov Colorado Avalanche
Base Set 4 Andrew Ference Boston Bruins
Base Set 5 Jonathan Bernier Los Angeles Kings
Base Set 6 Daniel Girardi New York Rangers
Base Set 7 Douglas Murray Pittsburgh Penguins
Base Set 8 Ray Whitney Dallas Stars
Base Set 9 Daniel Briere Philadelphia Flyers
Base Set 10 Johan Franzen Detroit Red Wings
Base Set 11 Pavel Bure Vancouver Canucks Retired
Base Set 12 Nick Spaling Nashville Predators
Base Set 13 Dwight King Los Angeles Kings
Base Set 14 Devin Setoguchi Minnesota Wild
Base Set 15 Andrej Sekera Buffalo Sabres
Base Set 16 Patrick Dwyer Carolina Hurricanes
Base Set 17 John-Michael Liles Toronto Maple Leafs
Base Set 18 Michael Grabner New York Islanders
Base Set 19 Guillaume Latendresse Ottawa Senators
Base Set 20 Derick Brassard New York Rangers
Base Set 21 Matt Read Philadelphia Flyers
Base Set 22 Duncan Keith Chicago Blackhawks
Base Set 23 Colin Wilson Nashville Predators
Base Set 24 Jordan Eberle Edmonton Oilers
Base Set 25 Drayson Bowman Carolina Hurricanes
Base Set 26 Jordin Tootoo Detroit Red Wings
Base Set 27 Justin Williams Los Angeles Kings
Base Set 28 Kyle Wellwood Winnipeg Jets
Base Set 29 Larry Robinson Montreal Canadiens Retired
Base Set 30 Tyler Kennedy Pittsburgh Penguins
Base Set 31 Kevin Klein Nashville Predators
Base Set 32 Loui Eriksson Dallas Stars
Base Set 33 Alexander Semin Carolina Hurricanes
Base Set 34 Cody Franson Toronto Maple Leafs
Base Set 35 Erik Condra Ottawa Senators
Base Set 36 Nik Antropov Winnipeg Jets
Base Set 37 Peter Holland Anaheim Ducks
Base Set 38 Drew Miller Detroit Red Wings
Base Set 39 Henrik Sedin Vancouver Canucks
Base Set 40 Curtis Glencross Calgary Flames
Base Set 41 Mike Richards Los Angeles Kings
Base Set 42 Ryane Clowe New York Rangers
Base Set 43 Carl Gunnarsson Toronto Maple Leafs
Base Set 44 Evgeni Nabokov New York Islanders
Base Set 45 James Wisniewski Columbus Blue Jackets
Base Set 46 Brian Gionta Montreal Canadiens
Base Set 47 Scott Hartnell Philadelphia Flyers
Base Set 48 Shawn Matthias Florida Panthers
Base Set 49 Jonathan Toews Chicago Blackhawks
Base Set 50 Luc Robitaille Los Angeles Kings Retired
Base Set 51 Joey MacDonald Calgary Flames
Base Set 52 Alex Pietrangelo St. Louis Blues
Base Set 53 Brayden Schenn Philadelphia Flyers
Base Set 54 Paul Gaustad Nashville Predators
Base Set 55 Radim Vrbata Phoenix Coyotes
Base Set 56 Mark Fistric Edmonton Oilers
Base Set 57 Cory Emmerton Detroit Red Wings
Base Set 58 Matt Carle Tampa Bay Lightning
Base Set 59 John Carlson Washington Capitals
Base Set 60 Zenon Konopka Minnesota Wild
Base Set 61 Jiri Tlusty Carolina Hurricanes
Base Set 62 Alex Tanguay Calgary Flames
Base Set 63 Viktor Stalberg Chicago Blackhawks
Base Set 64 Daniel Alfredsson Ottawa Senators
Base Set 65 Colin McDonald New York Islanders
Base Set 66 Dennis Seidenberg Boston Bruins
Base Set 67 Steven Stamkos Tampa Bay Lightning
Base Set 68 R.J. Umberger Columbus Blue Jackets
Base Set 69 Rob Scuderi Los Angeles Kings
Base Set 70 Nikolai Khabibulin Edmonton Oilers
Base Set 71 Jaroslav Halak St. Louis Blues
Base Set 72 Steve Ott Buffalo Sabres
Base Set 73 Joni Pitkanen Carolina Hurricanes
Base Set 74 Henrik Zetterberg Detroit Red Wings
Base Set 75 Jason Chimera Washington Capitals
Base Set 76 Victor Hedman Tampa Bay Lightning
Base Set 77 Sergei Bobrovsky Columbus Blue Jackets
Base Set 78 Oliver Ekman-Larsson Phoenix Coyotes
Base Set 79 Mark Messier Edmonton Oilers Retired
Base Set 80 Martin Erat Washington Capitals
Base Set 81 Wayne Simmonds Philadelphia Flyers
Base Set 82 Jordan Leopold St. Louis Blues
Base Set 83 Craig Smith Nashville Predators
Base Set 84 Matt Cooke Pittsburgh Penguins
Base Set 85 Jay McClement Toronto Maple Leafs
Base Set 86 Fedor Tyutin Columbus Blue Jackets
Base Set 87 Rick Nash New York Rangers
Base Set 88 Kyle Turris Ottawa Senators
Base Set 89 Andrew MacDonald New York Islanders
Base Set 90 Bobby Orr Boston Bruins Retired
Base Set 91 Vernon Fiddler Dallas Stars
Base Set 92 Joffrey Lupul Toronto Maple Leafs
Base Set 93 Patrik Berglund St. Louis Blues
Base Set 94 Braden Holtby Washington Capitals
Base Set 95 Patrick Kane Chicago Blackhawks
Base Set 96 Steve Sullivan New Jersey Devils
Base Set 97 Martin Hanzal Phoenix Coyotes
Base Set 98 Cam Atkinson Columbus Blue Jackets
Base Set 99 James Sheppard San Jose Sharks
Base Set 100 T.J. Oshie St. Louis Blues
Base Set 101 Brooks Orpik Pittsburgh Penguins
Base Set 102 Derek Roy Vancouver Canucks
Base Set 103 Mike Weber Buffalo Sabres
Base Set 104 Blake Comeau Columbus Blue Jackets
Base Set 105 Colton Orr Toronto Maple Leafs
Base Set 106 Jussi Jokinen Pittsburgh Penguins
Base Set 107 Patrice Bergeron Boston Bruins
Base Set 108 Justin Abdelkader Detroit Red Wings
Base Set 109 Robin Lehner Ottawa Senators
Base Set 110 Teemu Selanne Anaheim Ducks
Base Set 111 Peter Mueller Florida Panthers
Base Set 112 Cal Clutterbuck Minnesota Wild
Base Set 113 Troy Brouwer Washington Capitals
Base Set 114 Mike Bossy New York Islanders Retired
Base Set 115 Paul Martin Pittsburgh Penguins
Base Set 116 Joe Pavelski San Jose Sharks
Base Set 117 Tom Pyatt Tampa Bay Lightning
Base Set 118 Jan Hejda Colorado Avalanche
Base Set 119 Brandon Sutter Pittsburgh Penguins
Base Set 120 Marcus Foligno Buffalo Sabres
Base Set 121 Pierre-Marc Bouchard Minnesota Wild
Base Set 122 Chris Neil Ottawa Senators
Base Set 123 Filip Kuba Florida Panthers
Base Set 124 David Perron St. Louis Blues
Base Set 125 Jonathan Ericsson Detroit Red Wings
Base Set 126 Doug Gilmour Toronto Maple Leafs Retired
Base Set 127 P.K. Subban Montreal Canadiens
Base Set 128 Sheldon Souray Anaheim Ducks
Base Set 129 Marc Staal New York Rangers
Base Set 130 Stephen Gionta New Jersey Devils
Base Set 131 Tom Gilbert Minnesota Wild
Base Set 132 Jacob Markstrom Florida Panthers
Base Set 133 Jim Howard Detroit Red Wings
Base Set 134 Jay Harrison Carolina Hurricanes
Base Set 135 Chris Kelly Boston Bruins
Base Set 136 Mark Letestu Columbus Blue Jackets
Base Set 137 Nick Schultz Edmonton Oilers
Base Set 138 Taylor Pyatt New York Rangers
Base Set 139 Mikhail Grabovski Toronto Maple Leafs
Base Set 140 Tomas Kopecky Florida Panthers
Base Set 141 Mikkel Boedker Phoenix Coyotes
Base Set 142 Cody Eakin Dallas Stars
Base Set 143 Dustin Byfuglien Winnipeg Jets
Base Set 144 Richard Clune Nashville Predators
Base Set 145 Kevin Bieksa Vancouver Canucks
Base Set 146 Anton Volchenkov New Jersey Devils
Base Set 147 Francois Beauchemin Anaheim Ducks
Base Set 148 Gregory Campbell Boston Bruins
Base Set 149 Carey Price Montreal Canadiens
Base Set 150 Casey Cizikas New York Islanders
Base Set 151 Reilly Smith Dallas Stars
Base Set 152 Marc-Andre Fleury Pittsburgh Penguins
Base Set 153 Brian Campbell Florida Panthers
Base Set 154 Brandon Saad Chicago Blackhawks
Base Set 155 Clayton Stoner Minnesota Wild
Base Set 156 Jakub Kindl Detroit Red Wings
Base Set 157 Zack Smith Ottawa Senators
Base Set 158 Alexander Edler Vancouver Canucks
Base Set 159 Andrew Ladd Winnipeg Jets
Base Set 160 Raffi Torres San Jose Sharks
Base Set 161 John Tavares New York Islanders
Base Set 162 Dmitry Kulikov Florida Panthers
Base Set 163 Ryan Ellis Nashville Predators
Base Set 164 Teddy Purcell Tampa Bay Lightning
Base Set 165 Tyson Barrie Colorado Avalanche
Base Set 166 Mathieu Perreault Washington Capitals
Base Set 167 Dale Hawerchuk Winnipeg Jets Retired
Base Set 168 Marian Hossa Chicago Blackhawks
Base Set 169 Luca Sbisa Anaheim Ducks
Base Set 170 Shawn Horcoff Edmonton Oilers
Base Set 171 James Neal Pittsburgh Penguins
Base Set 172 Mike Fisher Nashville Predators
Base Set 173 Henrik Lundqvist New York Rangers
Base Set 174 Brett Hull Dallas Stars Retired
Base Set 175 Stephen Weiss Florida Panthers
Base Set 176 Saku Koivu Anaheim Ducks
Base Set 177 Sam Gagner Edmonton Oilers
Base Set 178 Mike Ribeiro Washington Capitals
Base Set 179 Tuukka Rask Boston Bruins
Base Set 180 Marc Methot Ottawa Senators
Base Set 181 David Backes St. Louis Blues
Base Set 182 Jiri Hudler Calgary Flames
Base Set 183 Steve Yzerman Detroit Red Wings Retired
Base Set 184 Shea Weber Nashville Predators
Base Set 185 Philip Larsen Dallas Stars
Base Set 186 Brad Marchand Boston Bruins
Base Set 187 Jamie McBain Carolina Hurricanes
Base Set 188 Ryan Nugent-Hopkins Edmonton Oilers
Base Set 189 Chris Phillips Ottawa Senators
Base Set 190 Mike Green Washington Capitals
Base Set 191 Frans Nielsen New York Islanders
Base Set 192 Ruslan Fedotenko Philadelphia Flyers
Base Set 193 Kyle Brodziak Minnesota Wild
Base Set 194 Ryan Carter New Jersey Devils
Base Set 195 Niklas Hjalmarsson Chicago Blackhawks
Base Set 196 Marcel Goc Florida Panthers
Base Set 197 Ryan McDonagh New York Rangers
Base Set 198 Joe Corvo Carolina Hurricanes
Base Set 199 Dion Phaneuf Toronto Maple Leafs
Base Set 200 Tomas Vokoun Pittsburgh Penguins
Base Set 201 Craig Anderson Ottawa Senators
Base Set 202 Dan Hamhuis Vancouver Canucks
Base Set 203 Logan Couture San Jose Sharks
Base Set 204 Kari Lehtonen Dallas Stars
Base Set 205 Vincent Lecavalier Tampa Bay Lightning
Base Set 206 Devan Dubnyk Edmonton Oilers
Base Set 207 Roman Josi Nashville Predators
Base Set 208 Barret Jackman St. Louis Blues
Base Set 209 Evgeni Malkin Pittsburgh Penguins
Base Set 210 Dany Heatley Minnesota Wild
Base Set 211 Jochen Hecht Buffalo Sabres
Base Set 212 Marcus Johansson Washington Capitals
Base Set 213 Matt Calvert Columbus Blue Jackets
Base Set 214 Boyd Gordon Phoenix Coyotes
Base Set 215 Alexandre Burrows Vancouver Canucks
Base Set 216 Erik Johnson Colorado Avalanche
Base Set 217 Erik Karlsson Ottawa Senators
Base Set 218 Eric Brewer Tampa Bay Lightning
Base Set 219 Tomas Fleischmann Florida Panthers
Base Set 220 Brandon Prust Montreal Canadiens
Base Set 221 Daniel Winnik Anaheim Ducks
Base Set 222 Brent Burns San Jose Sharks
Base Set 223 Andrew Shaw Chicago Blackhawks
Base Set 224 Torrey Mitchell Minnesota Wild
Base Set 225 Gustav Nyquist Detroit Red Wings
Base Set 226 Patrick Wiercioch Ottawa Senators
Base Set 227 Trevor Daley Dallas Stars
Base Set 228 Nazem Kadri Toronto Maple Leafs
Base Set 229 Keith Yandle Phoenix Coyotes
Base Set 230 Mark Stuart Winnipeg Jets
Base Set 231 Michael Del Zotto New York Rangers
Base Set 232 Nick Foligno Columbus Blue Jackets
Base Set 233 David Desharnais Montreal Canadiens
Base Set 234 Bryan Bickell Chicago Blackhawks
Base Set 235 Jakub Voracek Philadelphia Flyers
Base Set 236 Brian McGrattan Calgary Flames
Base Set 237 Rob Klinkhammer Phoenix Coyotes
Base Set 238 Joel Ward Washington Capitals
Base Set 239 Marian Gaborik Columbus Blue Jackets
Base Set 240 Ryan Miller Buffalo Sabres
Base Set 241 Josh Gorges Montreal Canadiens
Base Set 242 Travis Hamonic New York Islanders
Base Set 243 Carl Hagelin New York Rangers
Base Set 244 Tobias Enstrom Winnipeg Jets
Base Set 245 Scott Gomez San Jose Sharks
Base Set 246 Corey Crawford Chicago Blackhawks
Base Set 247 Francis Bouillon Montreal Canadiens
Base Set 248 Miikka Kiprusoff Calgary Flames
Base Set 249 Nate Thompson Tampa Bay Lightning
Base Set 250 Lauri Korpikoski Phoenix Coyotes
Base Set 251 Alexander Ovechkin Washington Capitals
Base Set 252 Jake Muzzin Los Angeles Kings
Base Set 253 Ryan Kesler Vancouver Canucks
Base Set 254 Pascal Dupuis Pittsburgh Penguins
Base Set 255 Ray Bourque Boston Bruins Retired
Base Set 256 Kimmo Timonen Philadelphia Flyers
Base Set 257 Andy McDonald St. Louis Blues
Base Set 258 Corey Perry Anaheim Ducks
Base Set 259 Matt Hendricks Washington Capitals
Base Set 260 Marcus Kruger Chicago Blackhawks
Base Set 261 Milan Hejduk Colorado Avalanche
Base Set 262 Tyler Ennis Buffalo Sabres
Base Set 263 John Moore New York Rangers
Base Set 264 Kris Versteeg Florida Panthers
Base Set 265 Chad LaRose Carolina Hurricanes
Base Set 266 David Legwand Nashville Predators
Base Set 267 Daniel Sedin Vancouver Canucks
Base Set 268 Martin St. Louis Tampa Bay Lightning
Base Set 269 Patrick Eaves Detroit Red Wings
Base Set 270 James van Riemsdyk Toronto Maple Leafs
Base Set 271 Jay Bouwmeester St. Louis Blues
Base Set 272 Nicklas Backstrom Washington Capitals
Base Set 273 Andre Benoit Ottawa Senators
Base Set 274 Nikita Nikitin Columbus Blue Jackets
Base Set 275 Brad Boyes New York Islanders
Base Set 276 Andrei Markov Montreal Canadiens
Base Set 277 Matt Beleskey Anaheim Ducks
Base Set 278 Brian Elliott St. Louis Blues
Base Set 279 Chris Butler Calgary Flames
Base Set 280 Ilya Kovalchuk New Jersey Devils
Base Set 281 Lubomir Visnovsky New York Islanders
Base Set 282 Ray Emery Chicago Blackhawks
Base Set 283 Mikko Koivu Minnesota Wild
Base Set 284 Dominik Hasek Buffalo Sabres Retired
Base Set 285 Alex Goligoski Dallas Stars
Base Set 286 Marc-Edouard Vlasic San Jose Sharks
Base Set 287 Vaclav Prospal Columbus Blue Jackets
Base Set 288 Antoine Vermette Phoenix Coyotes
Base Set 289 David Jones Colorado Avalanche
Base Set 290 Brian Boyle New York Rangers
Base Set 291 Kris Letang Pittsburgh Penguins
Base Set 292 Justin Peters Carolina Hurricanes
Base Set 293 Simon Gagne Philadelphia Flyers
Base Set 294 Rich Peverley Boston Bruins
Base Set 295 Gabriel Landeskog Colorado Avalanche
Base Set 296 Adam Larsson New Jersey Devils
Base Set 297 Kyle Okposo New York Islanders
Base Set 298 Martin Havlat San Jose Sharks
Base Set 299 Maxime Talbot Philadelphia Flyers
Base Set 300 B.J. Crombeen Tampa Bay Lightning
Base Set 301 Karl Alzner Washington Capitals
Base Set 302 Eric Staal Carolina Hurricanes
Base Set 303 Ryan Whitney Edmonton Oilers
Base Set 304 Kyle Clifford Los Angeles Kings
Base Set 305 Sean Couturier Philadelphia Flyers
Base Set 306 Matthew Lombardi Anaheim Ducks
Base Set 307 Michael Ryder Montreal Canadiens
Base Set 308 Brenden Morrow Pittsburgh Penguins
Base Set 309 Dan Cleary Detroit Red Wings
Base Set 310 Theoren Fleury Calgary Flames Retired
Base Set 311 Cory Schneider Vancouver Canucks
Base Set 312 Johan Hedberg New Jersey Devils
Base Set 313 Matt Martin New York Islanders
Base Set 314 Cody Hodgson Buffalo Sabres
Base Set 315 Tyler Seguin Boston Bruins
Base Set 316 Brent Seabrook Chicago Blackhawks
Base Set 317 Ryan O'Reilly Colorado Avalanche
Base Set 318 Patrick Roy Montreal Canadiens Retired
Base Set 319 Ryan Garbutt Dallas Stars
Base Set 320 Jack Johnson Columbus Blue Jackets
Base Set 321 Lee Stempniak Calgary Flames
Base Set 322 Patrick Sharp Chicago Blackhawks
Base Set 323 Milan Lucic Boston Bruins
Base Set 324 Anders Lindback Tampa Bay Lightning
Base Set 325 Eric Tangradi Winnipeg Jets
Base Set 326 Jamie Benn Dallas Stars
Base Set 327 Tyler Bozak Toronto Maple Leafs
Base Set 328 Martin Brodeur New Jersey Devils
Base Set 329 Roberto Luongo Vancouver Canucks
Base Set 330 Pekka Rinne Nashville Predators
Base Set 331 Clarke MacArthur Toronto Maple Leafs
Base Set 332 Michal Neuvirth Washington Capitals
Base Set 333 Colin Greening Ottawa Senators
Base Set 334 Robyn Regehr Los Angeles Kings
Base Set 335 Bryce Salvador New Jersey Devils
Base Set 336 Jared Spurgeon Minnesota Wild
Base Set 337 Grant Clitsome Winnipeg Jets
Base Set 338 Nikolai Kulemin Toronto Maple Leafs
Base Set 339 Jonas Hiller Anaheim Ducks
Base Set 340 Derek Stepan New York Rangers
Base Set 341 David Krejci Boston Bruins
Base Set 342 Jack Skille Florida Panthers
Base Set 343 Andy Greene New Jersey Devils
Base Set 344 Dan Ellis Carolina Hurricanes
Base Set 345 Nick Bonino Anaheim Ducks
Base Set 346 Eric Lindros Philadelphia Flyers Retired
Base Set 347 Ladislav Smid Edmonton Oilers
Base Set 348 Chris Higgins Vancouver Canucks
Base Set 349 Matt Frattin Toronto Maple Leafs
Base Set 350 Steve Begin Calgary Flames
Base Set 351 John Mitchell Colorado Avalanche
Base Set 352 Anton Khudobin Boston Bruins
Base Set 353 Tim Jackman Calgary Flames
Base Set 354 Patrik Elias New Jersey Devils
Base Set 355 Drew Doughty Los Angeles Kings
Base Set 356 Ryan Smyth Edmonton Oilers
Base Set 357 Aaron Palushaj Colorado Avalanche
Base Set 358 Thomas Vanek Buffalo Sabres
Base Set 359 Derek Morris Phoenix Coyotes
Base Set 360 Marek Zidlicky New Jersey Devils
Base Set 361 Niklas Kronwall Detroit Red Wings
Base Set 362 Matt Moulson New York Islanders
Base Set 363 Matt Cullen Minnesota Wild
Base Set 364 Matt Stajan Calgary Flames
Base Set 365 Zac Rinaldo Philadelphia Flyers
Base Set 366 Antti Niemi San Jose Sharks
Base Set 367 Shane Doan Phoenix Coyotes
Base Set 368 Eric Nystrom Dallas Stars
Base Set 369 Josh Bailey New York Islanders
Base Set 370 Vladimir Sobotka St. Louis Blues
Base Set 371 Brandon Dubinsky Columbus Blue Jackets
Base Set 372 Bobby Clarke Philadelphia Flyers Retired
Base Set 373 Cam Fowler Anaheim Ducks
Base Set 374 Matt Duchene Colorado Avalanche
Base Set 375 Brandon Yip Nashville Predators
Base Set 376 Ryan Callahan New York Rangers
Base Set 377 Justin Faulk Carolina Hurricanes
Base Set 378 Jason LaBarbera Phoenix Coyotes
Base Set 379 Cody McLeod Colorado Avalanche
Base Set 380 Kyle Palmieri Anaheim Ducks
Base Set 381 Sami Salo Tampa Bay Lightning
Base Set 382 Valtteri Filppula Detroit Red Wings
Base Set 383 Zdeno Chara Boston Bruins
Base Set 384 Ilya Bryzgalov Philadelphia Flyers
Base Set 385 Jeff Skinner Carolina Hurricanes
Base Set 386 Ben Scrivens Toronto Maple Leafs
Base Set 387 Joe Thornton San Jose Sharks
Base Set 388 Jarret Stoll Los Angeles Kings
Base Set 389 Anton Stralman New York Rangers
Base Set 390 Jannik Hansen Vancouver Canucks
Base Set 391 Jeff Petry Edmonton Oilers
Base Set 392 P.A. Parenteau Colorado Avalanche
Base Set 393 Ales Hemsky Edmonton Oilers
Base Set 394 Ian White Detroit Red Wings
Base Set 395 Michal Handzus Chicago Blackhawks
Base Set 396 Ryan Getzlaf Anaheim Ducks
Base Set 397 Wayne Gretzky Edmonton Oilers Retired
Base Set 398 Tyler Myers Buffalo Sabres
Base Set 399 Brad Stuart San Jose Sharks
Base Set 400 George Parros Florida Panthers
Base Set 401 Mason Raymond Vancouver Canucks
Base Set 402 Adrian Aucoin Columbus Blue Jackets
Base Set 403 Daniel Paille Boston Bruins
Base Set 404 Travis Zajac New Jersey Devils
Base Set 405 Taylor Hall Edmonton Oilers
Base Set 406 Jamie McGinn Colorado Avalanche
Base Set 407 Evander Kane Winnipeg Jets
Base Set 408 Alexei Emelin Montreal Canadiens
Base Set 409 Magnus Paajarvi Edmonton Oilers
Base Set 410 Erik Cole Dallas Stars
Base Set 411 Christian Ehrhoff Buffalo Sabres
Base Set 412 Jeff Carter Los Angeles Kings
Base Set 413 Ryan Johansen Columbus Blue Jackets
Base Set 414 Eric Fehr Washington Capitals
Base Set 415 David Moss Phoenix Coyotes
Base Set 416 David Clarkson New Jersey Devils
Base Set 417 Ville Leino Buffalo Sabres
Base Set 418 Nick Leddy Chicago Blackhawks
Base Set 419 Andrew Cogliano Anaheim Ducks
Base Set 420 Gabriel Bourque Nashville Predators
Base Set 421 Jonathan Quick Los Angeles Kings
Base Set 422 Nathan Horton Boston Bruins
Base Set 423 Paul Coffey Edmonton Oilers Retired
Base Set 424 Nathan Gerbe Buffalo Sabres
Base Set 425 Ryan Suter Minnesota Wild
Base Set 426 Ryan Malone Tampa Bay Lightning
Base Set 427 Rene Bourque Montreal Canadiens
Base Set 428 Alexander Burmistrov Winnipeg Jets
Base Set 429 Sergei Kostitsyn Nashville Predators
Base Set 430 Nicklas Lidstrom Detroit Red Wings Retired
Base Set 431 Mike Smith Phoenix Coyotes
Base Set 432 Bryan Trottier New York Islanders Retired
Base Set 433 Paul Stastny Colorado Avalanche
Base Set 434 Jaden Schwartz St. Louis Blues
Base Set 435 Artem Anisimov Columbus Blue Jackets
Base Set 436 Michael Cammalleri Calgary Flames
Base Set 437 Bobby Ryan Anaheim Ducks
Base Set 438 Rostislav Klesla Phoenix Coyotes
Base Set 439 Jason Garrison Vancouver Canucks
Base Set 440 Max Pacioretty Montreal Canadiens
Base Set 441 Olli Jokinen Winnipeg Jets
Base Set 442 Zach Parise Minnesota Wild
Base Set 443 Chris Kunitz Pittsburgh Penguins
Base Set 444 Anze Kopitar Los Angeles Kings
Base Set 445 Kevin Shattenkirk St. Louis Blues
Base Set 446 Jakob Silfverberg Ottawa Senators
Base Set 447 Andrei Loktionov New Jersey Devils
Base Set 448 Tommy Wingels San Jose Sharks
Base Set 449 Lars Eller Montreal Canadiens
Base Set 450 Ondrej Pavelec Winnipeg Jets
Base Set 451 Drew Stafford Buffalo Sabres
Base Set 452 Pavel Datsyuk Detroit Red Wings
Base Set 453 Dustin Brown Los Angeles Kings
Base Set 454 Alexander Steen St. Louis Blues
Base Set 455 Ben Bishop Tampa Bay Lightning
Base Set 456 Erik Gudbranson Florida Panthers
Base Set 457 Maxim Lapierre Vancouver Canucks
Base Set 458 Adam Henrique New Jersey Devils
Base Set 459 Jordan Staal Carolina Hurricanes
Base Set 460 Milan Michalek Ottawa Senators
Base Set 461 Dave Bolland Chicago Blackhawks
Base Set 462 Adam Burish San Jose Sharks
Base Set 463 Mark Streit New York Islanders
Base Set 464 Jaromir Jagr Boston Bruins
Base Set 465 James Reimer Toronto Maple Leafs
Base Set 466 Jason Pominville Minnesota Wild
Base Set 467 Trevor Lewis Los Angeles Kings
Base Set 468 Stephane Robidas Dallas Stars
Base Set 469 Dennis Wideman Calgary Flames
Base Set 470 Bryan Little Winnipeg Jets
Base Set 471 Kyle Chipchura Phoenix Coyotes
Base Set 472 Roman Polak St. Louis Blues
Base Set 473 Tomas Plekanec Montreal Canadiens
Base Set 474 Mark Giordano Calgary Flames
Base Set 475 Sidney Crosby Pittsburgh Penguins
Base Set 476 Blake Wheeler Winnipeg Jets
Base Set 477 Luke Schenn Philadelphia Flyers
Base Set 478 Niklas Backstrom Minnesota Wild
Base Set 479 Brad Richards New York Rangers
Base Set 480 Sergei Gonchar Ottawa Senators
Base Set 481 Cam Ward Carolina Hurricanes
Base Set 482 Jarome Iginla Pittsburgh Penguins
Base Set 483 Keaton Ellerby Los Angeles Kings
Base Set 484 Dan Boyle San Jose Sharks
Base Set 485 Raphael Diaz Montreal Canadiens
Base Set 486 Patric Hornqvist Nashville Predators
Base Set 487 T.J. Brodie Calgary Flames
Base Set 488 Claude Giroux Philadelphia Flyers
Base Set 489 Scott Clemmensen Florida Panthers
Base Set 490 Joe Sakic Colorado Avalanche Retired
Base Set 491 Slava Voynov Los Angeles Kings
Base Set 492 Justin Falk Minnesota Wild
Base Set 493 Chris Stewart St. Louis Blues
Base Set 494 Ron Hainsey Winnipeg Jets
Base Set 495 Patrick Marleau San Jose Sharks
Base Set 496 Checklist None None
Base Set 497 Checklist None None
Base Set 498 Checklist None None
Base Set 499 Checklist None None
Base Set 500 Checklist None None
Marquee Rookies 501 Nail Yakupov Edmonton Oilers 1:2 h, 1:2 r, 1:2 b Rookie
Marquee Rookies 502 Ryan Murphy Carolina Hurricanes 1:2 h, 1:2 r, 1:2 b Rookie
Marquee Rookies 503 Jon Rheault Florida Panthers 1:2 h, 1:2 r, 1:2 b Rookie
Marquee Rookies 504 Sean Collins Columbus Blue Jackets 1:2 h, 1:2 r, 1:2 b Rookie
Marquee Rookies 505 Roman Cervenka Calgary Flames 1:2 h, 1:2 r, 1:2 b Rookie
Marquee Rookies 506 Quinton Howden Florida Panthers 1:2 h, 1:2 r, 1:2 b Rookie
Marquee Rookies 507 Matt Anderson New Jersey Devils 1:2 h, 1:2 r, 1:2 b Rookie
Marquee Rookies 508 Matt Tennyson San Jose Sharks 1:2 h, 1:2 r, 1:2 b Rookie
Marquee Rookies 509 Christian Thomas New York Rangers 1:2 h, 1:2 r, 1:2 b Rookie
Marquee Rookies 510 Chris Brown Phoenix Coyotes 1:2 h, 1:2 r, 1:2 b Rookie
Marquee Rookies 511 Mark Barberio Tampa Bay Lightning 1:2 h, 1:2 r, 1:2 b Rookie
Marquee Rookies 512 Zach Redmond Winnipeg Jets 1:2 h, 1:2 r, 1:2 b Rookie
Marquee Rookies 513 Steve Pinizzotto Vancouver Canucks 1:2 h, 1:2 r, 1:2 b Rookie
Marquee Rookies 514 Calvin Pickard Colorado Avalanche 1:2 h, 1:2 r, 1:2 b Rookie
Marquee Rookies 515 Jean-Gabriel Pageau Ottawa Senators 1:2 h, 1:2 r, 1:2 b Rookie
Marquee Rookies 516 Darcy Kuemper Minnesota Wild 1:2 h, 1:2 r, 1:2 b Rookie
Marquee Rookies 517 Viktor Fasth Anaheim Ducks 1:2 h, 1:2 r, 1:2 b Rookie
Marquee Rookies 518 Brett Bellemore Carolina Hurricanes 1:2 h, 1:2 r, 1:2 b Rookie
Marquee Rookies 519 Dan DeKeyser Detroit Red Wings 1:2 h, 1:2 r, 1:2 b Rookie
Marquee Rookies 520 Brendan Gallagher Montreal Canadiens 1:2 h, 1:2 r, 1:2 b Rookie
Marquee Rookies 521 Oliver Lauridsen Philadelphia Flyers 1:2 h, 1:2 r, 1:2 b Rookie
Marquee Rookies 522 Leo Komarov Toronto Maple Leafs 1:2 h, 1:2 r, 1:2 b Rookie
Marquee Rookies 523 Michal Jordan Carolina Hurricanes 1:2 h, 1:2 r, 1:2 b Rookie
Marquee Rookies 524 Nick Petrecki San Jose Sharks 1:2 h, 1:2 r, 1:2 b Rookie
Marquee Rookies 525 Filip Forsberg Nashville Predators 1:2 h, 1:2 r, 1:2 b Rookie
Marquee Rookies 526 Michael Sgarbossa Colorado Avalanche 1:2 h, 1:2 r, 1:2 b Rookie
Marquee Rookies 527 Mikhail Grigorenko Buffalo Sabres 1:2 h, 1:2 r, 1:2 b Rookie
Marquee Rookies 528 Emerson Etem Anaheim Ducks 1:2 h, 1:2 r, 1:2 b Rookie
Marquee Rookies 529 Alex Chiasson Dallas Stars 1:2 h, 1:2 r, 1:2 b Rookie
Marquee Rookies 530 Ben Street Calgary Flames 1:2 h, 1:2 r, 1:2 b Rookie
Marquee Rookies 531 Dougie Hamilton Boston Bruins 1:2 h, 1:2 r, 1:2 b Rookie
Marquee Rookies 532 Mark Arcobello Edmonton Oilers 1:2 h, 1:2 r, 1:2 b Rookie
Marquee Rookies 533 Victor Bartley Nashville Predators 1:2 h, 1:2 r, 1:2 b Rookie
Marquee Rookies 534 Beau Bennett Pittsburgh Penguins 1:2 h, 1:2 r, 1:2 b Rookie
Marquee Rookies 535 Steve Oleksy Washington Capitals 1:2 h, 1:2 r, 1:2 b Rookie
Marquee Rookies 536 Radko Gudas Tampa Bay Lightning 1:2 h, 1:2 r, 1:2 b Rookie
Marquee Rookies 537 Vladimir Tarasenko St. Louis Blues 1:2 h, 1:2 r, 1:2 b Rookie
Marquee Rookies 538 Eric Gryba Ottawa Senators 1:2 h, 1:2 r, 1:2 b Rookie
Marquee Rookies 539 Jarred Tinordi Montreal Canadiens 1:2 h, 1:2 r, 1:2 b Rookie
Marquee Rookies 540 Eric Selleck Florida Panthers 1:2 h, 1:2 r, 1:2 b Rookie
Marquee Rookies 541 Patrick Bordeleau Colorado Avalanche 1:2 h, 1:2 r, 1:2 b Rookie
Marquee Rookies 542 Sami Vatanen Anaheim Ducks 1:2 h, 1:2 r, 1:2 b Rookie
Marquee Rookies 543 Brian Lashoff Detroit Red Wings 1:2 h, 1:2 r, 1:2 b Rookie
Marquee Rookies 544 Drew Shore Florida Panthers 1:2 h, 1:2 r, 1:2 b Rookie
Marquee Rookies 545 Cameron Schilling Washington Capitals 1:2 h, 1:2 r, 1:2 b Rookie
Marquee Rookies 546 David Dziurzynski Ottawa Senators 1:2 h, 1:2 r, 1:2 b Rookie
Marquee Rookies 547 Mike Kostka Toronto Maple Leafs 1:2 h, 1:2 r, 1:2 b Rookie
Marquee Rookies 548 Anthony Peluso Winnipeg Jets 1:2 h, 1:2 r, 1:2 b Rookie
Marquee Rookies 549 Thomas Hickey New York Islanders 1:2 h, 1:2 r, 1:2 b Rookie
Marquee Rookies 550 Daniel Bang Nashville Predators 1:2 h, 1:2 r, 1:2 b Rookie
Marquee Rookies 551 Greg Pateryn Montreal Canadiens 1:2 h, 1:2 r, 1:2 b Rookie
Marquee Rookies 552 Tye McGinn Philadelphia Flyers 1:2 h, 1:2 r, 1:2 b Rookie
Marquee Rookies 553 Stefan Matteau New Jersey Devils 1:2 h, 1:2 r, 1:2 b Rookie
Marquee Rookies 554 Charlie Coyle Minnesota Wild 1:2 h, 1:2 r, 1:2 b Rookie
Marquee Rookies 555 Jonathan Huberdeau Florida Panthers 1:2 h, 1:2 r, 1:2 b Rookie
Marquee Rookies 556 Petr Mrazek Detroit Red Wings 1:2 h, 1:2 r, 1:2 b Rookie
Marquee Rookies 557 Max Reinhart Calgary Flames 1:2 h, 1:2 r, 1:2 b Rookie
Marquee Rookies 558 Rickard Rakell Anaheim Ducks 1:2 h, 1:2 r, 1:2 b Rookie
Marquee Rookies 559 Anders Lee New York Islanders 1:2 h, 1:2 r, 1:2 b Rookie
Marquee Rookies 560 Tyler Toffoli Los Angeles Kings 1:2 h, 1:2 r, 1:2 b Rookie
Marquee Rookies 561 Tyler Johnson Tampa Bay Lightning 1:2 h, 1:2 r, 1:2 b Rookie
Marquee Rookies 562 Philipp Grubauer Washington Capitals 1:2 h, 1:2 r, 1:2 b Rookie
Marquee Rookies 563 Brian Flynn Buffalo Sabres 1:2 h, 1:2 r, 1:2 b Rookie
Marquee Rookies 564 Mark Pysyk Buffalo Sabres 1:2 h, 1:2 r, 1:2 b Rookie
Marquee Rookies 565 Ryan Spooner Boston Bruins 1:2 h, 1:2 r, 1:2 b Rookie
Marquee Rookies 566 Cory Conacher Ottawa Senators 1:2 h, 1:2 r, 1:2 b Rookie
Marquee Rookies 567 Andrej Sustr Tampa Bay Lightning 1:2 h, 1:2 r, 1:2 b Rookie
Marquee Rookies 568 Justin Schultz Edmonton Oilers 1:2 h, 1:2 r, 1:2 b Rookie
Marquee Rookies 569 Jamie Oleksiak Dallas Stars 1:2 h, 1:2 r, 1:2 b Rookie
Marquee Rookies 570 Jamie Tardif Boston Bruins 1:2 h, 1:2 r, 1:2 b Rookie
Marquee Rookies 571 Michael Caruso Florida Panthers 1:2 h, 1:2 r, 1:2 b Rookie
Marquee Rookies 572 Derek Grant Ottawa Senators 1:2 h, 1:2 r, 1:2 b Rookie
Marquee Rookies 573 Nicklas Jensen Vancouver Canucks 1:2 h, 1:2 r, 1:2 b Rookie
Marquee Rookies 574 Dmitrij Jaskin St. Louis Blues 1:2 h, 1:2 r, 1:2 b Rookie
Marquee Rookies 575 Alex Galchenyuk Montreal Canadiens 1:2 h, 1:2 r, 1:2 b Rookie
Marquee Rookies 576 Jonas Brodin Minnesota Wild 1:2 h, 1:2 r, 1:2 b Rookie
Marquee Rookies 577 Richard Panik Tampa Bay Lightning 1:2 h, 1:2 r, 1:2 b Rookie
Marquee Rookies 578 J.T. Miller New York Rangers 1:2 h, 1:2 r, 1:2 b Rookie
Marquee Rookies 579 Nathan Beaulieu Montreal Canadiens 1:2 h, 1:2 r, 1:2 b Rookie
Marquee Rookies 580 Ondrej Palat Tampa Bay Lightning 1:2 h, 1:2 r, 1:2 b Rookie
Marquee Rookies 581 Scott Laughton Philadelphia Flyers 1:2 h, 1:2 r, 1:2 b Rookie
Marquee Rookies 582 Austin Watson Nashville Predators 1:2 h, 1:2 r, 1:2 b Rookie
Marquee Rookies 583 Jordan Schroeder Vancouver Canucks 1:2 h, 1:2 r, 1:2 b Rookie
Marquee Rookies 584 Chris Terry Carolina Hurricanes 1:2 h, 1:2 r, 1:2 b Rookie
Marquee Rookies 585 Jonathan Audy-Marchessault Columbus Blue Jackets 1:2 h, 1:2 r, 1:2 b Rookie
Marquee Rookies 586 Cristopher Nilstorp Dallas Stars 1:2 h, 1:2 r, 1:2 b Rookie
Marquee Rookies 587 Harri Pesonen New Jersey Devils 1:2 h, 1:2 r, 1:2 b Rookie
Marquee Rookies 588 Matthew Irwin San Jose Sharks 1:2 h, 1:2 r, 1:2 b Rookie
Marquee Rookies 589 Johan Larsson Buffalo Sabres 1:2 h, 1:2 r, 1:2 b Rookie
Marquee Rookies 590 Damien Brunner Detroit Red Wings 1:2 h, 1:2 r, 1:2 b Rookie
Marquee Rookies 591 Mikael Granlund Minnesota Wild 1:2 h, 1:2 r, 1:2 b Rookie
Marquee Rookies 592 Chad Ruhwedel Buffalo Sabres 1:2 h, 1:2 r, 1:2 b Rookie
Marquee Rookies 593 Alex Killorn Tampa Bay Lightning 1:2 h, 1:2 r, 1:2 b Rookie
Marquee Rookies 594 Nicolas Blanchard Carolina Hurricanes 1:2 h, 1:2 r, 1:2 b Rookie
Marquee Rookies 595 Nick Bjugstad Florida Panthers 1:2 h, 1:2 r, 1:2 b Rookie
Marquee Rookies 596 Ben Hanowski Calgary Flames 1:2 h, 1:2 r, 1:2 b Rookie
Marquee Rookies 597 Antoine Roussel Dallas Stars 1:2 h, 1:2 r, 1:2 b Rookie
Marquee Rookies 598 Sami Aittokallio Colorado Avalanche 1:2 h, 1:2 r, 1:2 b Rookie
Marquee Rookies 599 Jack Campbell Dallas Stars 1:2 h, 1:2 r, 1:2 b Rookie
Marquee Rookies 600 Checklist None None 1:2 h, 1:2 r, 1:2 b
Rainbow Foil 1 Phil Kessel Toronto Maple Leafs 1:4 h, 1:8 r, 1:7 b
Rainbow Foil 2 Benoit Pouliot Tampa Bay Lightning 1:4 h, 1:8 r, 1:7 b
Rainbow Foil 3 Semyon Varlamov Colorado Avalanche 1:4 h, 1:8 r, 1:7 b
Rainbow Foil 4 Andrew Ference Boston Bruins 1:4 h, 1:8 r, 1:7 b
Rainbow Foil 5 Jonathan Bernier Los Angeles Kings 1:4 h, 1:8 r, 1:7 b
Rainbow Foil 6 Daniel Girardi New York Rangers 1:4 h, 1:8 r, 1:7 b
Rainbow Foil 7 Douglas Murray Pittsburgh Penguins 1:4 h, 1:8 r, 1:7 b
Rainbow Foil 8 Ray Whitney Dallas Stars 1:4 h, 1:8 r, 1:7 b
Rainbow Foil 9 Daniel Briere Philadelphia Flyers 1:4 h, 1:8 r, 1:7 b
Rainbow Foil 10 Johan Franzen Detroit Red Wings 1:4 h, 1:8 r, 1:7 b
Rainbow Foil 11 Pavel Bure Vancouver Canucks 1:4 h, 1:8 r, 1:7 b Retired
Rainbow Foil 12 Nick Spaling Nashville Predators 1:4 h, 1:8 r, 1:7 b
Rainbow Foil 13 Dwight King Los Angeles Kings 1:4 h, 1:8 r, 1:7 b
Rainbow Foil 14 Devin Setoguchi Minnesota Wild 1:4 h, 1:8 r, 1:7 b
Rainbow Foil 15 Andrej Sekera Buffalo Sabres 1:4 h, 1:8 r, 1:7 b
Rainbow Foil 16 Patrick Dwyer Carolina Hurricanes 1:4 h, 1:8 r, 1:7 b
Rainbow Foil 17 John-Michael Liles Toronto Maple Leafs 1:4 h, 1:8 r, 1:7 b
Rainbow Foil 18 Michael Grabner New York Islanders 1:4 h, 1:8 r, 1:7 b
Rainbow Foil 19 Guillaume Latendresse Ottawa Senators 1:4 h, 1:8 r, 1:7 b
Rainbow Foil 20 Derick Brassard New York Rangers 1:4 h, 1:8 r, 1:7 b
Rainbow Foil 21 Matt Read Philadelphia Flyers 1:4 h, 1:8 r, 1:7 b
Rainbow Foil 22 Duncan Keith Chicago Blackhawks 1:4 h, 1:8 r, 1:7 b
Rainbow Foil 23 Colin Wilson Nashville Predators 1:4 h, 1:8 r, 1:7 b
Rainbow Foil 24 Jordan Eberle Edmonton Oilers 1:4 h, 1:8 r, 1:7 b
Rainbow Foil 25 Drayson Bowman Carolina Hurricanes 1:4 h, 1:8 r, 1:7 b
Rainbow Foil 26 Jordin Tootoo Detroit Red Wings 1:4 h, 1:8 r, 1:7 b
Rainbow Foil 27 Justin Williams Los Angeles Kings 1:4 h, 1:8 r, 1:7 b
Rainbow Foil 28 Kyle Wellwood Winnipeg Jets 1:4 h, 1:8 r, 1:7 b
Rainbow Foil 29 Larry Robinson Montreal Canadiens 1:4 h, 1:8 r, 1:7 b Retired
Rainbow Foil 30 Tyler Kennedy Pittsburgh Penguins 1:4 h, 1:8 r, 1:7 b
Rainbow Foil 31 Kevin Klein Nashville Predators 1:4 h, 1:8 r, 1:7 b
Rainbow Foil 32 Loui Eriksson Dallas Stars 1:4 h, 1:8 r, 1:7 b
Rainbow Foil 33 Alexander Semin Carolina Hurricanes 1:4 h, 1:8 r, 1:7 b
Rainbow Foil 34 Cody Franson Toronto Maple Leafs 1:4 h, 1:8 r, 1:7 b
Rainbow Foil 35 Erik Condra Ottawa Senators 1:4 h, 1:8 r, 1:7 b
Rainbow Foil 36 Nik Antropov Winnipeg Jets 1:4 h, 1:8 r, 1:7 b
Rainbow Foil 37 Peter Holland Anaheim Ducks 1:4 h, 1:8 r, 1:7 b
Rainbow Foil 38 Drew Miller Detroit Red Wings 1:4 h, 1:8 r, 1:7 b
Rainbow Foil 39 Henrik Sedin Vancouver Canucks 1:4 h, 1:8 r, 1:7 b
Rainbow Foil 40 Curtis Glencross Calgary Flames 1:4 h, 1:8 r, 1:7 b
Rainbow Foil 41 Mike Richards Los Angeles Kings 1:4 h, 1:8 r, 1:7 b
Rainbow Foil 42 Ryane Clowe New York Rangers 1:4 h, 1:8 r, 1:7 b
Rainbow Foil 43 Carl Gunnarsson Toronto Maple Leafs 1:4 h, 1:8 r, 1:7 b
Rainbow Foil 44 Evgeni Nabokov New York Islanders 1:4 h, 1:8 r, 1:7 b
Rainbow Foil 45 James Wisniewski Columbus Blue Jackets 1:4 h, 1:8 r, 1:7 b
Rainbow Foil 46 Brian Gionta Montreal Canadiens 1:4 h, 1:8 r, 1:7 b
Rainbow Foil 47 Scott Hartnell Philadelphia Flyers 1:4 h, 1:8 r, 1:7 b
Rainbow Foil 48 Shawn Matthias Florida Panthers 1:4 h, 1:8 r, 1:7 b
Rainbow Foil 49 Jonathan Toews Chicago Blackhawks 1:4 h, 1:8 r, 1:7 b
Rainbow Foil 50 Luc Robitaille Los Angeles Kings 1:4 h, 1:8 r, 1:7 b Retired
Rainbow Foil 51 Joey MacDonald Calgary Flames 1:4 h, 1:8 r, 1:7 b
Rainbow Foil 52 Alex Pietrangelo St. Louis Blues 1:4 h, 1:8 r, 1:7 b
Rainbow Foil 53 Brayden Schenn Philadelphia Flyers 1:4 h, 1:8 r, 1:7 b
Rainbow Foil 54 Paul Gaustad Nashville Predators 1:4 h, 1:8 r, 1:7 b
Rainbow Foil 55 Radim Vrbata Phoenix Coyotes 1:4 h, 1:8 r, 1:7 b
Rainbow Foil 56 Mark Fistric Edmonton Oilers 1:4 h, 1:8 r, 1:7 b
Rainbow Foil 57 Cory Emmerton Detroit Red Wings 1:4 h, 1:8 r, 1:7 b
Rainbow Foil 58 Matt Carle Tampa Bay Lightning 1:4 h, 1:8 r, 1:7 b
Rainbow Foil 59 John Carlson Washington Capitals 1:4 h, 1:8 r, 1:7 b
Rainbow Foil 60 Zenon Konopka Minnesota Wild 1:4 h, 1:8 r, 1:7 b
Rainbow Foil 61 Jiri Tlusty Carolina Hurricanes 1:4 h, 1:8 r, 1:7 b
Rainbow Foil 62 Alex Tanguay Calgary Flames 1:4 h, 1:8 r, 1:7 b
Rainbow Foil 63 Viktor Stalberg Chicago Blackhawks 1:4 h, 1:8 r, 1:7 b
Rainbow Foil 64 Daniel Alfredsson Ottawa Senators 1:4 h, 1:8 r, 1:7 b
Rainbow Foil 65 Colin McDonald New York Islanders 1:4 h, 1:8 r, 1:7 b
Rainbow Foil 66 Dennis Seidenberg Boston Bruins 1:4 h, 1:8 r, 1:7 b
Rainbow Foil 67 Steven Stamkos Tampa Bay Lightning 1:4 h, 1:8 r, 1:7 b
Rainbow Foil 68 R.J. Umberger Columbus Blue Jackets 1:4 h, 1:8 r, 1:7 b
Rainbow Foil 69 Rob Scuderi Los Angeles Kings 1:4 h, 1:8 r, 1:7 b
Rainbow Foil 70 Nikolai Khabibulin Edmonton Oilers 1:4 h, 1:8 r, 1:7 b
Rainbow Foil 71 Jaroslav Halak St. Louis Blues 1:4 h, 1:8 r, 1:7 b
Rainbow Foil 72 Steve Ott Buffalo Sabres 1:4 h, 1:8 r, 1:7 b
Rainbow Foil 73 Joni Pitkanen Carolina Hurricanes 1:4 h, 1:8 r, 1:7 b
Rainbow Foil 74 Henrik Zetterberg Detroit Red Wings 1:4 h, 1:8 r, 1:7 b
Rainbow Foil 75 Jason Chimera Washington Capitals 1:4 h, 1:8 r, 1:7 b
Rainbow Foil 76 Victor Hedman Tampa Bay Lightning 1:4 h, 1:8 r, 1:7 b
Rainbow Foil 77 Sergei Bobrovsky Columbus Blue Jackets 1:4 h, 1:8 r, 1:7 b
Rainbow Foil 78 Oliver Ekman-Larsson Phoenix Coyotes 1:4 h, 1:8 r, 1:7 b
Rainbow Foil 79 Mark Messier Edmonton Oilers 1:4 h, 1:8 r, 1:7 b Retired
Rainbow Foil 80 Martin Erat Washington Capitals 1:4 h, 1:8 r, 1:7 b
Rainbow Foil 81 Wayne Simmonds Philadelphia Flyers 1:4 h, 1:8 r, 1:7 b
Rainbow Foil 82 Jordan Leopold St. Louis Blues 1:4 h, 1:8 r, 1:7 b
Rainbow Foil 83 Craig Smith Nashville Predators 1:4 h, 1:8 r, 1:7 b
Rainbow Foil 84 Matt Cooke Pittsburgh Penguins 1:4 h, 1:8 r, 1:7 b
Rainbow Foil 85 Jay McClement Toronto Maple Leafs 1:4 h, 1:8 r, 1:7 b
Rainbow Foil 86 Fedor Tyutin Columbus Blue Jackets 1:4 h, 1:8 r, 1:7 b
Rainbow Foil 87 Rick Nash New York Rangers 1:4 h, 1:8 r, 1:7 b
Rainbow Foil 88 Kyle Turris Ottawa Senators 1:4 h, 1:8 r, 1:7 b
Rainbow Foil 89 Andrew MacDonald New York Islanders 1:4 h, 1:8 r, 1:7 b
Rainbow Foil 90 Bobby Orr Boston Bruins 1:4 h, 1:8 r, 1:7 b Retired
Rainbow Foil 91 Vernon Fiddler Dallas Stars 1:4 h, 1:8 r, 1:7 b
Rainbow Foil 92 Joffrey Lupul Toronto Maple Leafs 1:4 h, 1:8 r, 1:7 b
Rainbow Foil 93 Patrik Berglund St. Louis Blues 1:4 h, 1:8 r, 1:7 b
Rainbow Foil 94 Braden Holtby Washington Capitals 1:4 h, 1:8 r, 1:7 b
Rainbow Foil 95 Patrick Kane Chicago Blackhawks 1:4 h, 1:8 r, 1:7 b
Rainbow Foil 96 Steve Sullivan New Jersey Devils 1:4 h, 1:8 r, 1:7 b
Rainbow Foil 97 Martin Hanzal Phoenix Coyotes 1:4 h, 1:8 r, 1:7 b
Rainbow Foil 98 Cam Atkinson Columbus Blue Jackets 1:4 h, 1:8 r, 1:7 b
Rainbow Foil 99 James Sheppard San Jose Sharks 1:4 h, 1:8 r, 1:7 b
Rainbow Foil 100 T.J. Oshie St. Louis Blues 1:4 h, 1:8 r, 1:7 b
Rainbow Foil 101 Brooks Orpik Pittsburgh Penguins 1:4 h, 1:8 r, 1:7 b
Rainbow Foil 102 Derek Roy Vancouver Canucks 1:4 h, 1:8 r, 1:7 b
Rainbow Foil 103 Mike Weber Buffalo Sabres 1:4 h, 1:8 r, 1:7 b
Rainbow Foil 104 Blake Comeau Columbus Blue Jackets 1:4 h, 1:8 r, 1:7 b
Rainbow Foil 105 Colton Orr Toronto Maple Leafs 1:4 h, 1:8 r, 1:7 b
Rainbow Foil 106 Jussi Jokinen Pittsburgh Penguins 1:4 h, 1:8 r, 1:7 b
Rainbow Foil 107 Patrice Bergeron Boston Bruins 1:4 h, 1:8 r, 1:7 b
Rainbow Foil 108 Justin Abdelkader Detroit Red Wings 1:4 h, 1:8 r, 1:7 b
Rainbow Foil 109 Robin Lehner Ottawa Senators 1:4 h, 1:8 r, 1:7 b
Rainbow Foil 110 Teemu Selanne Anaheim Ducks 1:4 h, 1:8 r, 1:7 b
Rainbow Foil 111 Peter Mueller Florida Panthers 1:4 h, 1:8 r, 1:7 b
Rainbow Foil 112 Cal Clutterbuck Minnesota Wild 1:4 h, 1:8 r, 1:7 b
Rainbow Foil 113 Troy Brouwer Washington Capitals 1:4 h, 1:8 r, 1:7 b
Rainbow Foil 114 Mike Bossy New York Islanders 1:4 h, 1:8 r, 1:7 b Retired
Rainbow Foil 115 Paul Martin Pittsburgh Penguins 1:4 h, 1:8 r, 1:7 b
Rainbow Foil 116 Joe Pavelski San Jose Sharks 1:4 h, 1:8 r, 1:7 b
Rainbow Foil 117 Tom Pyatt Tampa Bay Lightning 1:4 h, 1:8 r, 1:7 b
Rainbow Foil 118 Jan Hejda Colorado Avalanche 1:4 h, 1:8 r, 1:7 b
Rainbow Foil 119 Brandon Sutter Pittsburgh Penguins 1:4 h, 1:8 r, 1:7 b
Rainbow Foil 120 Marcus Foligno Buffalo Sabres 1:4 h, 1:8 r, 1:7 b
Rainbow Foil 121 Pierre-Marc Bouchard Minnesota Wild 1:4 h, 1:8 r, 1:7 b
Rainbow Foil 122 Chris Neil Ottawa Senators 1:4 h, 1:8 r, 1:7 b
Rainbow Foil 123 Filip Kuba Florida Panthers 1:4 h, 1:8 r, 1:7 b
Rainbow Foil 124 David Perron St. Louis Blues 1:4 h, 1:8 r, 1:7 b
Rainbow Foil 125 Jonathan Ericsson Detroit Red Wings 1:4 h, 1:8 r, 1:7 b
Rainbow Foil 126 Doug Gilmour Toronto Maple Leafs 1:4 h, 1:8 r, 1:7 b Retired
Rainbow Foil 127 P.K. Subban Montreal Canadiens 1:4 h, 1:8 r, 1:7 b
Rainbow Foil 128 Sheldon Souray Anaheim Ducks 1:4 h, 1:8 r, 1:7 b
Rainbow Foil 129 Marc Staal New York Rangers 1:4 h, 1:8 r, 1:7 b
Rainbow Foil 130 Stephen Gionta New Jersey Devils 1:4 h, 1:8 r, 1:7 b
Rainbow Foil 131 Tom Gilbert Minnesota Wild 1:4 h, 1:8 r, 1:7 b
Rainbow Foil 132 Jacob Markstrom Florida Panthers 1:4 h, 1:8 r, 1:7 b
Rainbow Foil 133 Jim Howard Detroit Red Wings 1:4 h, 1:8 r, 1:7 b
Rainbow Foil 134 Jay Harrison Carolina Hurricanes 1:4 h, 1:8 r, 1:7 b
Rainbow Foil 135 Chris Kelly Boston Bruins 1:4 h, 1:8 r, 1:7 b
Rainbow Foil 136 Mark Letestu Columbus Blue Jackets 1:4 h, 1:8 r, 1:7 b
Rainbow Foil 137 Nick Schultz Edmonton Oilers 1:4 h, 1:8 r, 1:7 b
Rainbow Foil 138 Taylor Pyatt New York Rangers 1:4 h, 1:8 r, 1:7 b
Rainbow Foil 139 Mikhail Grabovski Toronto Maple Leafs 1:4 h, 1:8 r, 1:7 b
Rainbow Foil 140 Tomas Kopecky Florida Panthers 1:4 h, 1:8 r, 1:7 b
Rainbow Foil 141 Mikkel Boedker Phoenix Coyotes 1:4 h, 1:8 r, 1:7 b
Rainbow Foil 142 Cody Eakin Dallas Stars 1:4 h, 1:8 r, 1:7 b
Rainbow Foil 143 Dustin Byfuglien Winnipeg Jets 1:4 h, 1:8 r, 1:7 b
Rainbow Foil 144 Richard Clune Nashville Predators 1:4 h, 1:8 r, 1:7 b
Rainbow Foil 145 Kevin Bieksa Vancouver Canucks 1:4 h, 1:8 r, 1:7 b
Rainbow Foil 146 Anton Volchenkov New Jersey Devils 1:4 h, 1:8 r, 1:7 b
Rainbow Foil 147 Francois Beauchemin Anaheim Ducks 1:4 h, 1:8 r, 1:7 b
Rainbow Foil 148 Gregory Campbell Boston Bruins 1:4 h, 1:8 r, 1:7 b
Rainbow Foil 149 Carey Price Montreal Canadiens 1:4 h, 1:8 r, 1:7 b
Rainbow Foil 150 Casey Cizikas New York Islanders 1:4 h, 1:8 r, 1:7 b
Rainbow Foil 151 Reilly Smith Dallas Stars 1:4 h, 1:8 r, 1:7 b
Rainbow Foil 152 Marc-Andre Fleury Pittsburgh Penguins 1:4 h, 1:8 r, 1:7 b
Rainbow Foil 153 Brian Campbell Florida Panthers 1:4 h, 1:8 r, 1:7 b
Rainbow Foil 154 Brandon Saad Chicago Blackhawks 1:4 h, 1:8 r, 1:7 b
Rainbow Foil 155 Clayton Stoner Minnesota Wild 1:4 h, 1:8 r, 1:7 b
Rainbow Foil 156 Jakub Kindl Detroit Red Wings 1:4 h, 1:8 r, 1:7 b
Rainbow Foil 157 Zack Smith Ottawa Senators 1:4 h, 1:8 r, 1:7 b
Rainbow Foil 158 Alexander Edler Vancouver Canucks 1:4 h, 1:8 r, 1:7 b
Rainbow Foil 159 Andrew Ladd Winnipeg Jets 1:4 h, 1:8 r, 1:7 b
Rainbow Foil 160 Raffi Torres San Jose Sharks 1:4 h, 1:8 r, 1:7 b
Rainbow Foil 161 John Tavares New York Islanders 1:4 h, 1:8 r, 1:7 b
Rainbow Foil 162 Dmitry Kulikov Florida Panthers 1:4 h, 1:8 r, 1:7 b
Rainbow Foil 163 Ryan Ellis Nashville Predators 1:4 h, 1:8 r, 1:7 b
Rainbow Foil 164 Teddy Purcell Tampa Bay Lightning 1:4 h, 1:8 r, 1:7 b
Rainbow Foil 165 Tyson Barrie Colorado Avalanche 1:4 h, 1:8 r, 1:7 b
Rainbow Foil 166 Mathieu Perreault Washington Capitals 1:4 h, 1:8 r, 1:7 b
Rainbow Foil 167 Dale Hawerchuk Winnipeg Jets 1:4 h, 1:8 r, 1:7 b Retired
Rainbow Foil 168 Marian Hossa Chicago Blackhawks 1:4 h, 1:8 r, 1:7 b
Rainbow Foil 169 Luca Sbisa Anaheim Ducks 1:4 h, 1:8 r, 1:7 b
Rainbow Foil 170 Shawn Horcoff Edmonton Oilers 1:4 h, 1:8 r, 1:7 b
Rainbow Foil 171 James Neal Pittsburgh Penguins 1:4 h, 1:8 r, 1:7 b
Rainbow Foil 172 Mike Fisher Nashville Predators 1:4 h, 1:8 r, 1:7 b
Rainbow Foil 173 Henrik Lundqvist New York Rangers 1:4 h, 1:8 r, 1:7 b
Rainbow Foil 174 Brett Hull Dallas Stars 1:4 h, 1:8 r, 1:7 b Retired
Rainbow Foil 175 Stephen Weiss Florida Panthers 1:4 h, 1:8 r, 1:7 b
Rainbow Foil 176 Saku Koivu Anaheim Ducks 1:4 h, 1:8 r, 1:7 b
Rainbow Foil 177 Sam Gagner Edmonton Oilers 1:4 h, 1:8 r, 1:7 b
Rainbow Foil 178 Mike Ribeiro Washington Capitals 1:4 h, 1:8 r, 1:7 b
Rainbow Foil 179 Tuukka Rask Boston Bruins 1:4 h, 1:8 r, 1:7 b
Rainbow Foil 180 Marc Methot Ottawa Senators 1:4 h, 1:8 r, 1:7 b
Rainbow Foil 181 David Backes St. Louis Blues 1:4 h, 1:8 r, 1:7 b
Rainbow Foil 182 Jiri Hudler Calgary Flames 1:4 h, 1:8 r, 1:7 b
Rainbow Foil 183 Steve Yzerman Detroit Red Wings 1:4 h, 1:8 r, 1:7 b Retired
Rainbow Foil 184 Shea Weber Nashville Predators 1:4 h, 1:8 r, 1:7 b
Rainbow Foil 185 Philip Larsen Dallas Stars 1:4 h, 1:8 r, 1:7 b
Rainbow Foil 186 Brad Marchand Boston Bruins 1:4 h, 1:8 r, 1:7 b
Rainbow Foil 187 Jamie McBain Carolina Hurricanes 1:4 h, 1:8 r, 1:7 b
Rainbow Foil 188 Ryan Nugent-Hopkins Edmonton Oilers 1:4 h, 1:8 r, 1:7 b
Rainbow Foil 189 Chris Phillips Ottawa Senators 1:4 h, 1:8 r, 1:7 b
Rainbow Foil 190 Mike Green Washington Capitals 1:4 h, 1:8 r, 1:7 b
Rainbow Foil 191 Frans Nielsen New York Islanders 1:4 h, 1:8 r, 1:7 b
Rainbow Foil 192 Ruslan Fedotenko Philadelphia Flyers 1:4 h, 1:8 r, 1:7 b
Rainbow Foil 193 Kyle Brodziak Minnesota Wild 1:4 h, 1:8 r, 1:7 b
Rainbow Foil 194 Ryan Carter New Jersey Devils 1:4 h, 1:8 r, 1:7 b
Rainbow Foil 195 Niklas Hjalmarsson Chicago Blackhawks 1:4 h, 1:8 r, 1:7 b
Rainbow Foil 196 Marcel Goc Florida Panthers 1:4 h, 1:8 r, 1:7 b
Rainbow Foil 197 Ryan McDonagh New York Rangers 1:4 h, 1:8 r, 1:7 b
Rainbow Foil 198 Joe Corvo Carolina Hurricanes 1:4 h, 1:8 r, 1:7 b
Rainbow Foil 199 Dion Phaneuf Toronto Maple Leafs 1:4 h, 1:8 r, 1:7 b
Rainbow Foil 200 Tomas Vokoun Pittsburgh Penguins 1:4 h, 1:8 r, 1:7 b
Rainbow Foil 201 Craig Anderson Ottawa Senators 1:4 h, 1:8 r, 1:7 b
Rainbow Foil 202 Dan Hamhuis Vancouver Canucks 1:4 h, 1:8 r, 1:7 b
Rainbow Foil 203 Logan Couture San Jose Sharks 1:4 h, 1:8 r, 1:7 b
Rainbow Foil 204 Kari Lehtonen Dallas Stars 1:4 h, 1:8 r, 1:7 b
Rainbow Foil 205 Vincent Lecavalier Tampa Bay Lightning 1:4 h, 1:8 r, 1:7 b
Rainbow Foil 206 Devan Dubnyk Edmonton Oilers 1:4 h, 1:8 r, 1:7 b
Rainbow Foil 207 Roman Josi Nashville Predators 1:4 h, 1:8 r, 1:7 b
Rainbow Foil 208 Barret Jackman St. Louis Blues 1:4 h, 1:8 r, 1:7 b
Rainbow Foil 209 Evgeni Malkin Pittsburgh Penguins 1:4 h, 1:8 r, 1:7 b
Rainbow Foil 210 Dany Heatley Minnesota Wild 1:4 h, 1:8 r, 1:7 b
Rainbow Foil 211 Jochen Hecht Buffalo Sabres 1:4 h, 1:8 r, 1:7 b
Rainbow Foil 212 Marcus Johansson Washington Capitals 1:4 h, 1:8 r, 1:7 b
Rainbow Foil 213 Matt Calvert Columbus Blue Jackets 1:4 h, 1:8 r, 1:7 b
Rainbow Foil 214 Boyd Gordon Phoenix Coyotes 1:4 h, 1:8 r, 1:7 b
Rainbow Foil 215 Alexandre Burrows Vancouver Canucks 1:4 h, 1:8 r, 1:7 b
Rainbow Foil 216 Erik Johnson Colorado Avalanche 1:4 h, 1:8 r, 1:7 b
Rainbow Foil 217 Erik Karlsson Ottawa Senators 1:4 h, 1:8 r, 1:7 b
Rainbow Foil 218 Eric Brewer Tampa Bay Lightning 1:4 h, 1:8 r, 1:7 b
Rainbow Foil 219 Tomas Fleischmann Florida Panthers 1:4 h, 1:8 r, 1:7 b
Rainbow Foil 220 Brandon Prust Montreal Canadiens 1:4 h, 1:8 r, 1:7 b
Rainbow Foil 221 Daniel Winnik Anaheim Ducks 1:4 h, 1:8 r, 1:7 b
Rainbow Foil 222 Brent Burns San Jose Sharks 1:4 h, 1:8 r, 1:7 b
Rainbow Foil 223 Andrew Shaw Chicago Blackhawks 1:4 h, 1:8 r, 1:7 b
Rainbow Foil 224 Torrey Mitchell Minnesota Wild 1:4 h, 1:8 r, 1:7 b
Rainbow Foil 225 Gustav Nyquist Detroit Red Wings 1:4 h, 1:8 r, 1:7 b
Rainbow Foil 226 Patrick Wiercioch Ottawa Senators 1:4 h, 1:8 r, 1:7 b
Rainbow Foil 227 Trevor Daley Dallas Stars 1:4 h, 1:8 r, 1:7 b
Rainbow Foil 228 Nazem Kadri Toronto Maple Leafs 1:4 h, 1:8 r, 1:7 b
Rainbow Foil 229 Keith Yandle Phoenix Coyotes 1:4 h, 1:8 r, 1:7 b
Rainbow Foil 230 Mark Stuart Winnipeg Jets 1:4 h, 1:8 r, 1:7 b
Rainbow Foil 231 Michael Del Zotto New York Rangers 1:4 h, 1:8 r, 1:7 b
Rainbow Foil 232 Nick Foligno Columbus Blue Jackets 1:4 h, 1:8 r, 1:7 b
Rainbow Foil 233 David Desharnais Montreal Canadiens 1:4 h, 1:8 r, 1:7 b
Rainbow Foil 234 Bryan Bickell Chicago Blackhawks 1:4 h, 1:8 r, 1:7 b
Rainbow Foil 235 Jakub Voracek Philadelphia Flyers 1:4 h, 1:8 r, 1:7 b
Rainbow Foil 236 Brian McGrattan Calgary Flames 1:4 h, 1:8 r, 1:7 b
Rainbow Foil 237 Rob Klinkhammer Phoenix Coyotes 1:4 h, 1:8 r, 1:7 b
Rainbow Foil 238 Joel Ward Washington Capitals 1:4 h, 1:8 r, 1:7 b
Rainbow Foil 239 Marian Gaborik Columbus Blue Jackets 1:4 h, 1:8 r, 1:7 b
Rainbow Foil 240 Ryan Miller Buffalo Sabres 1:4 h, 1:8 r, 1:7 b
Rainbow Foil 241 Josh Gorges Montreal Canadiens 1:4 h, 1:8 r, 1:7 b
Rainbow Foil 242 Travis Hamonic New York Islanders 1:4 h, 1:8 r, 1:7 b
Rainbow Foil 243 Carl Hagelin New York Rangers 1:4 h, 1:8 r, 1:7 b
Rainbow Foil 244 Tobias Enstrom Winnipeg Jets 1:4 h, 1:8 r, 1:7 b
Rainbow Foil 245 Scott Gomez San Jose Sharks 1:4 h, 1:8 r, 1:7 b
Rainbow Foil 246 Corey Crawford Chicago Blackhawks 1:4 h, 1:8 r, 1:7 b
Rainbow Foil 247 Francis Bouillon Montreal Canadiens 1:4 h, 1:8 r, 1:7 b
Rainbow Foil 248 Miikka Kiprusoff Calgary Flames 1:4 h, 1:8 r, 1:7 b
Rainbow Foil 249 Nate Thompson Tampa Bay Lightning 1:4 h, 1:8 r, 1:7 b
Rainbow Foil 250 Lauri Korpikoski Phoenix Coyotes 1:4 h, 1:8 r, 1:7 b
Rainbow Foil 251 Alexander Ovechkin Washington Capitals 1:4 h, 1:8 r, 1:7 b
Rainbow Foil 252 Jake Muzzin Los Angeles Kings 1:4 h, 1:8 r, 1:7 b
Rainbow Foil 253 Ryan Kesler Vancouver Canucks 1:4 h, 1:8 r, 1:7 b
Rainbow Foil 254 Pascal Dupuis Pittsburgh Penguins 1:4 h, 1:8 r, 1:7 b
Rainbow Foil 255 Ray Bourque Boston Bruins 1:4 h, 1:8 r, 1:7 b Retired
Rainbow Foil 256 Kimmo Timonen Philadelphia Flyers 1:4 h, 1:8 r, 1:7 b
Rainbow Foil 257 Andy McDonald St. Louis Blues 1:4 h, 1:8 r, 1:7 b
Rainbow Foil 258 Corey Perry Anaheim Ducks 1:4 h, 1:8 r, 1:7 b
Rainbow Foil 259 Matt Hendricks Washington Capitals 1:4 h, 1:8 r, 1:7 b
Rainbow Foil 260 Marcus Kruger Chicago Blackhawks 1:4 h, 1:8 r, 1:7 b
Rainbow Foil 261 Milan Hejduk Colorado Avalanche 1:4 h, 1:8 r, 1:7 b
Rainbow Foil 262 Tyler Ennis Buffalo Sabres 1:4 h, 1:8 r, 1:7 b
Rainbow Foil 263 John Moore New York Rangers 1:4 h, 1:8 r, 1:7 b
Rainbow Foil 264 Kris Versteeg Florida Panthers 1:4 h, 1:8 r, 1:7 b
Rainbow Foil 265 Chad LaRose Carolina Hurricanes 1:4 h, 1:8 r, 1:7 b
Rainbow Foil 266 David Legwand Nashville Predators 1:4 h, 1:8 r, 1:7 b
Rainbow Foil 267 Daniel Sedin Vancouver Canucks 1:4 h, 1:8 r, 1:7 b
Rainbow Foil 268 Martin St. Louis Tampa Bay Lightning 1:4 h, 1:8 r, 1:7 b
Rainbow Foil 269 Patrick Eaves Detroit Red Wings 1:4 h, 1:8 r, 1:7 b
Rainbow Foil 270 James van Riemsdyk Toronto Maple Leafs 1:4 h, 1:8 r, 1:7 b
Rainbow Foil 271 Jay Bouwmeester St. Louis Blues 1:4 h, 1:8 r, 1:7 b
Rainbow Foil 272 Nicklas Backstrom Washington Capitals 1:4 h, 1:8 r, 1:7 b
Rainbow Foil 273 Andre Benoit Ottawa Senators 1:4 h, 1:8 r, 1:7 b
Rainbow Foil 274 Nikita Nikitin Columbus Blue Jackets 1:4 h, 1:8 r, 1:7 b
Rainbow Foil 275 Brad Boyes New York Islanders 1:4 h, 1:8 r, 1:7 b
Rainbow Foil 276 Andrei Markov Montreal Canadiens 1:4 h, 1:8 r, 1:7 b
Rainbow Foil 277 Matt Beleskey Anaheim Ducks 1:4 h, 1:8 r, 1:7 b
Rainbow Foil 278 Brian Elliott St. Louis Blues 1:4 h, 1:8 r, 1:7 b
Rainbow Foil 279 Chris Butler Calgary Flames 1:4 h, 1:8 r, 1:7 b
Rainbow Foil 280 Ilya Kovalchuk New Jersey Devils 1:4 h, 1:8 r, 1:7 b
Rainbow Foil 281 Lubomir Visnovsky New York Islanders 1:4 h, 1:8 r, 1:7 b
Rainbow Foil 282 Ray Emery Chicago Blackhawks 1:4 h, 1:8 r, 1:7 b
Rainbow Foil 283 Mikko Koivu Minnesota Wild 1:4 h, 1:8 r, 1:7 b
Rainbow Foil 284 Dominik Hasek Buffalo Sabres 1:4 h, 1:8 r, 1:7 b Retired
Rainbow Foil 285 Alex Goligoski Dallas Stars 1:4 h, 1:8 r, 1:7 b
Rainbow Foil 286 Marc-Edouard Vlasic San Jose Sharks 1:4 h, 1:8 r, 1:7 b
Rainbow Foil 287 Vaclav Prospal Columbus Blue Jackets 1:4 h, 1:8 r, 1:7 b
Rainbow Foil 288 Antoine Vermette Phoenix Coyotes 1:4 h, 1:8 r, 1:7 b
Rainbow Foil 289 David Jones Colorado Avalanche 1:4 h, 1:8 r, 1:7 b
Rainbow Foil 290 Brian Boyle New York Rangers 1:4 h, 1:8 r, 1:7 b
Rainbow Foil 291 Kris Letang Pittsburgh Penguins 1:4 h, 1:8 r, 1:7 b
Rainbow Foil 292 Justin Peters Carolina Hurricanes 1:4 h, 1:8 r, 1:7 b
Rainbow Foil 293 Simon Gagne Philadelphia Flyers 1:4 h, 1:8 r, 1:7 b
Rainbow Foil 294 Rich Peverley Boston Bruins 1:4 h, 1:8 r, 1:7 b
Rainbow Foil 295 Gabriel Landeskog Colorado Avalanche 1:4 h, 1:8 r, 1:7 b
Rainbow Foil 296 Adam Larsson New Jersey Devils 1:4 h, 1:8 r, 1:7 b
Rainbow Foil 297 Kyle Okposo New York Islanders 1:4 h, 1:8 r, 1:7 b
Rainbow Foil 298 Martin Havlat San Jose Sharks 1:4 h, 1:8 r, 1:7 b
Rainbow Foil 299 Maxime Talbot Philadelphia Flyers 1:4 h, 1:8 r, 1:7 b
Rainbow Foil 300 B.J. Crombeen Tampa Bay Lightning 1:4 h, 1:8 r, 1:7 b
Rainbow Foil 301 Karl Alzner Washington Capitals 1:4 h, 1:8 r, 1:7 b
Rainbow Foil 302 Eric Staal Carolina Hurricanes 1:4 h, 1:8 r, 1:7 b
Rainbow Foil 303 Ryan Whitney Edmonton Oilers 1:4 h, 1:8 r, 1:7 b
Rainbow Foil 304 Kyle Clifford Los Angeles Kings 1:4 h, 1:8 r, 1:7 b
Rainbow Foil 305 Sean Couturier Philadelphia Flyers 1:4 h, 1:8 r, 1:7 b
Rainbow Foil 306 Matthew Lombardi Anaheim Ducks 1:4 h, 1:8 r, 1:7 b
Rainbow Foil 307 Michael Ryder Montreal Canadiens 1:4 h, 1:8 r, 1:7 b
Rainbow Foil 308 Brenden Morrow Pittsburgh Penguins 1:4 h, 1:8 r, 1:7 b
Rainbow Foil 309 Dan Cleary Detroit Red Wings 1:4 h, 1:8 r, 1:7 b
Rainbow Foil 310 Theoren Fleury Calgary Flames 1:4 h, 1:8 r, 1:7 b Retired
Rainbow Foil 311 Cory Schneider Vancouver Canucks 1:4 h, 1:8 r, 1:7 b
Rainbow Foil 312 Johan Hedberg New Jersey Devils 1:4 h, 1:8 r, 1:7 b
Rainbow Foil 313 Matt Martin New York Islanders 1:4 h, 1:8 r, 1:7 b
Rainbow Foil 314 Cody Hodgson Buffalo Sabres 1:4 h, 1:8 r, 1:7 b
Rainbow Foil 315 Tyler Seguin Boston Bruins 1:4 h, 1:8 r, 1:7 b
Rainbow Foil 316 Brent Seabrook Chicago Blackhawks 1:4 h, 1:8 r, 1:7 b
Rainbow Foil 317 Ryan O'Reilly Colorado Avalanche 1:4 h, 1:8 r, 1:7 b
Rainbow Foil 318 Patrick Roy Montreal Canadiens 1:4 h, 1:8 r, 1:7 b Retired
Rainbow Foil 319 Ryan Garbutt Dallas Stars 1:4 h, 1:8 r, 1:7 b
Rainbow Foil 320 Jack Johnson Columbus Blue Jackets 1:4 h, 1:8 r, 1:7 b
Rainbow Foil 321 Lee Stempniak Calgary Flames 1:4 h, 1:8 r, 1:7 b
Rainbow Foil 322 Patrick Sharp Chicago Blackhawks 1:4 h, 1:8 r, 1:7 b
Rainbow Foil 323 Milan Lucic Boston Bruins 1:4 h, 1:8 r, 1:7 b
Rainbow Foil 324 Anders Lindback Tampa Bay Lightning 1:4 h, 1:8 r, 1:7 b
Rainbow Foil 325 Eric Tangradi Winnipeg Jets 1:4 h, 1:8 r, 1:7 b
Rainbow Foil 326 Jamie Benn Dallas Stars 1:4 h, 1:8 r, 1:7 b
Rainbow Foil 327 Tyler Bozak Toronto Maple Leafs 1:4 h, 1:8 r, 1:7 b
Rainbow Foil 328 Martin Brodeur New Jersey Devils 1:4 h, 1:8 r, 1:7 b
Rainbow Foil 329 Roberto Luongo Vancouver Canucks 1:4 h, 1:8 r, 1:7 b
Rainbow Foil 330 Pekka Rinne Nashville Predators 1:4 h, 1:8 r, 1:7 b
Rainbow Foil 331 Clarke MacArthur Toronto Maple Leafs 1:4 h, 1:8 r, 1:7 b
Rainbow Foil 332 Michal Neuvirth Washington Capitals 1:4 h, 1:8 r, 1:7 b
Rainbow Foil 333 Colin Greening Ottawa Senators 1:4 h, 1:8 r, 1:7 b
Rainbow Foil 334 Robyn Regehr Los Angeles Kings 1:4 h, 1:8 r, 1:7 b
Rainbow Foil 335 Bryce Salvador New Jersey Devils 1:4 h, 1:8 r, 1:7 b
Rainbow Foil 336 Jared Spurgeon Minnesota Wild 1:4 h, 1:8 r, 1:7 b
Rainbow Foil 337 Grant Clitsome Winnipeg Jets 1:4 h, 1:8 r, 1:7 b
Rainbow Foil 338 Nikolai Kulemin Toronto Maple Leafs 1:4 h, 1:8 r, 1:7 b
Rainbow Foil 339 Jonas Hiller Anaheim Ducks 1:4 h, 1:8 r, 1:7 b
Rainbow Foil 340 Derek Stepan New York Rangers 1:4 h, 1:8 r, 1:7 b
Rainbow Foil 341 David Krejci Boston Bruins 1:4 h, 1:8 r, 1:7 b
Rainbow Foil 342 Jack Skille Florida Panthers 1:4 h, 1:8 r, 1:7 b
Rainbow Foil 343 Andy Greene New Jersey Devils 1:4 h, 1:8 r, 1:7 b
Rainbow Foil 344 Dan Ellis Carolina Hurricanes 1:4 h, 1:8 r, 1:7 b
Rainbow Foil 345 Nick Bonino Anaheim Ducks 1:4 h, 1:8 r, 1:7 b
Rainbow Foil 346 Eric Lindros Philadelphia Flyers 1:4 h, 1:8 r, 1:7 b Retired
Rainbow Foil 347 Ladislav Smid Edmonton Oilers 1:4 h, 1:8 r, 1:7 b
Rainbow Foil 348 Chris Higgins Vancouver Canucks 1:4 h, 1:8 r, 1:7 b
Rainbow Foil 349 Matt Frattin Toronto Maple Leafs 1:4 h, 1:8 r, 1:7 b
Rainbow Foil 350 Steve Begin Calgary Flames 1:4 h, 1:8 r, 1:7 b
Rainbow Foil 351 John Mitchell Colorado Avalanche 1:4 h, 1:8 r, 1:7 b
Rainbow Foil 352 Anton Khudobin Boston Bruins 1:4 h, 1:8 r, 1:7 b
Rainbow Foil 353 Tim Jackman Calgary Flames 1:4 h, 1:8 r, 1:7 b
Rainbow Foil 354 Patrik Elias New Jersey Devils 1:4 h, 1:8 r, 1:7 b
Rainbow Foil 355 Drew Doughty Los Angeles Kings 1:4 h, 1:8 r, 1:7 b
Rainbow Foil 356 Ryan Smyth Edmonton Oilers 1:4 h, 1:8 r, 1:7 b
Rainbow Foil 357 Aaron Palushaj Colorado Avalanche 1:4 h, 1:8 r, 1:7 b
Rainbow Foil 358 Thomas Vanek Buffalo Sabres 1:4 h, 1:8 r, 1:7 b
Rainbow Foil 359 Derek Morris Phoenix Coyotes 1:4 h, 1:8 r, 1:7 b
Rainbow Foil 360 Marek Zidlicky New Jersey Devils 1:4 h, 1:8 r, 1:7 b
Rainbow Foil 361 Niklas Kronwall Detroit Red Wings 1:4 h, 1:8 r, 1:7 b
Rainbow Foil 362 Matt Moulson New York Islanders 1:4 h, 1:8 r, 1:7 b
Rainbow Foil 363 Matt Cullen Minnesota Wild 1:4 h, 1:8 r, 1:7 b
Rainbow Foil 364 Matt Stajan Calgary Flames 1:4 h, 1:8 r, 1:7 b
Rainbow Foil 365 Zac Rinaldo Philadelphia Flyers 1:4 h, 1:8 r, 1:7 b
Rainbow Foil 366 Antti Niemi San Jose Sharks 1:4 h, 1:8 r, 1:7 b
Rainbow Foil 367 Shane Doan Phoenix Coyotes 1:4 h, 1:8 r, 1:7 b
Rainbow Foil 368 Eric Nystrom Dallas Stars 1:4 h, 1:8 r, 1:7 b
Rainbow Foil 369 Josh Bailey New York Islanders 1:4 h, 1:8 r, 1:7 b
Rainbow Foil 370 Vladimir Sobotka St. Louis Blues 1:4 h, 1:8 r, 1:7 b
Rainbow Foil 371 Brandon Dubinsky Columbus Blue Jackets 1:4 h, 1:8 r, 1:7 b
Rainbow Foil 372 Bobby Clarke Philadelphia Flyers 1:4 h, 1:8 r, 1:7 b Retired
Rainbow Foil 373 Cam Fowler Anaheim Ducks 1:4 h, 1:8 r, 1:7 b
Rainbow Foil 374 Matt Duchene Colorado Avalanche 1:4 h, 1:8 r, 1:7 b
Rainbow Foil 375 Brandon Yip Nashville Predators 1:4 h, 1:8 r, 1:7 b
Rainbow Foil 376 Ryan Callahan New York Rangers 1:4 h, 1:8 r, 1:7 b
Rainbow Foil 377 Justin Faulk Carolina Hurricanes 1:4 h, 1:8 r, 1:7 b
Rainbow Foil 378 Jason LaBarbera Phoenix Coyotes 1:4 h, 1:8 r, 1:7 b
Rainbow Foil 379 Cody McLeod Colorado Avalanche 1:4 h, 1:8 r, 1:7 b
Rainbow Foil 380 Kyle Palmieri Anaheim Ducks 1:4 h, 1:8 r, 1:7 b
Rainbow Foil 381 Sami Salo Tampa Bay Lightning 1:4 h, 1:8 r, 1:7 b
Rainbow Foil 382 Valtteri Filppula Detroit Red Wings 1:4 h, 1:8 r, 1:7 b
Rainbow Foil 383 Zdeno Chara Boston Bruins 1:4 h, 1:8 r, 1:7 b
Rainbow Foil 384 Ilya Bryzgalov Philadelphia Flyers 1:4 h, 1:8 r, 1:7 b
Rainbow Foil 385 Jeff Skinner Carolina Hurricanes 1:4 h, 1:8 r, 1:7 b
Rainbow Foil 386 Ben Scrivens Toronto Maple Leafs 1:4 h, 1:8 r, 1:7 b
Rainbow Foil 387 Joe Thornton San Jose Sharks 1:4 h, 1:8 r, 1:7 b
Rainbow Foil 388 Jarret Stoll Los Angeles Kings 1:4 h, 1:8 r, 1:7 b
Rainbow Foil 389 Anton Stralman New York Rangers 1:4 h, 1:8 r, 1:7 b
Rainbow Foil 390 Jannik Hansen Vancouver Canucks 1:4 h, 1:8 r, 1:7 b
Rainbow Foil 391 Jeff Petry Edmonton Oilers 1:4 h, 1:8 r, 1:7 b
Rainbow Foil 392 P.A. Parenteau Colorado Avalanche 1:4 h, 1:8 r, 1:7 b
Rainbow Foil 393 Ales Hemsky Edmonton Oilers 1:4 h, 1:8 r, 1:7 b
Rainbow Foil 394 Ian White Detroit Red Wings 1:4 h, 1:8 r, 1:7 b
Rainbow Foil 395 Michal Handzus Chicago Blackhawks 1:4 h, 1:8 r, 1:7 b
Rainbow Foil 396 Ryan Getzlaf Anaheim Ducks 1:4 h, 1:8 r, 1:7 b
Rainbow Foil 397 Wayne Gretzky Edmonton Oilers 1:4 h, 1:8 r, 1:7 b Retired
Rainbow Foil 398 Tyler Myers Buffalo Sabres 1:4 h, 1:8 r, 1:7 b
Rainbow Foil 399 Brad Stuart San Jose Sharks 1:4 h, 1:8 r, 1:7 b
Rainbow Foil 400 George Parros Florida Panthers 1:4 h, 1:8 r, 1:7 b
Rainbow Foil 401 Mason Raymond Vancouver Canucks 1:4 h, 1:8 r, 1:7 b
Rainbow Foil 402 Adrian Aucoin Columbus Blue Jackets 1:4 h, 1:8 r, 1:7 b
Rainbow Foil 403 Daniel Paille Boston Bruins 1:4 h, 1:8 r, 1:7 b
Rainbow Foil 404 Travis Zajac New Jersey Devils 1:4 h, 1:8 r, 1:7 b
Rainbow Foil 405 Taylor Hall Edmonton Oilers 1:4 h, 1:8 r, 1:7 b
Rainbow Foil 406 Jamie McGinn Colorado Avalanche 1:4 h, 1:8 r, 1:7 b
Rainbow Foil 407 Evander Kane Winnipeg Jets 1:4 h, 1:8 r, 1:7 b
Rainbow Foil 408 Alexei Emelin Montreal Canadiens 1:4 h, 1:8 r, 1:7 b
Rainbow Foil 409 Magnus Paajarvi Edmonton Oilers 1:4 h, 1:8 r, 1:7 b
Rainbow Foil 410 Erik Cole Dallas Stars 1:4 h, 1:8 r, 1:7 b
Rainbow Foil 411 Christian Ehrhoff Buffalo Sabres 1:4 h, 1:8 r, 1:7 b
Rainbow Foil 412 Jeff Carter Los Angeles Kings 1:4 h, 1:8 r, 1:7 b
Rainbow Foil 413 Ryan Johansen Columbus Blue Jackets 1:4 h, 1:8 r, 1:7 b
Rainbow Foil 414 Eric Fehr Washington Capitals 1:4 h, 1:8 r, 1:7 b
Rainbow Foil 415 David Moss Phoenix Coyotes 1:4 h, 1:8 r, 1:7 b
Rainbow Foil 416 David Clarkson New Jersey Devils 1:4 h, 1:8 r, 1:7 b
Rainbow Foil 417 Ville Leino Buffalo Sabres 1:4 h, 1:8 r, 1:7 b
Rainbow Foil 418 Nick Leddy Chicago Blackhawks 1:4 h, 1:8 r, 1:7 b
Rainbow Foil 419 Andrew Cogliano Anaheim Ducks 1:4 h, 1:8 r, 1:7 b
Rainbow Foil 420 Gabriel Bourque Nashville Predators 1:4 h, 1:8 r, 1:7 b
Rainbow Foil 421 Jonathan Quick Los Angeles Kings 1:4 h, 1:8 r, 1:7 b
Rainbow Foil 422 Nathan Horton Boston Bruins 1:4 h, 1:8 r, 1:7 b
Rainbow Foil 423 Paul Coffey Edmonton Oilers 1:4 h, 1:8 r, 1:7 b Retired
Rainbow Foil 424 Nathan Gerbe Buffalo Sabres 1:4 h, 1:8 r, 1:7 b
Rainbow Foil 425 Ryan Suter Minnesota Wild 1:4 h, 1:8 r, 1:7 b
Rainbow Foil 426 Ryan Malone Tampa Bay Lightning 1:4 h, 1:8 r, 1:7 b
Rainbow Foil 427 Rene Bourque Montreal Canadiens 1:4 h, 1:8 r, 1:7 b
Rainbow Foil 428 Alexander Burmistrov Winnipeg Jets 1:4 h, 1:8 r, 1:7 b
Rainbow Foil 429 Sergei Kostitsyn Nashville Predators 1:4 h, 1:8 r, 1:7 b
Rainbow Foil 430 Nicklas Lidstrom Detroit Red Wings 1:4 h, 1:8 r, 1:7 b Retired
Rainbow Foil 431 Mike Smith Phoenix Coyotes 1:4 h, 1:8 r, 1:7 b
Rainbow Foil 432 Bryan Trottier New York Islanders 1:4 h, 1:8 r, 1:7 b Retired
Rainbow Foil 433 Paul Stastny Colorado Avalanche 1:4 h, 1:8 r, 1:7 b
Rainbow Foil 434 Jaden Schwartz St. Louis Blues 1:4 h, 1:8 r, 1:7 b
Rainbow Foil 435 Artem Anisimov Columbus Blue Jackets 1:4 h, 1:8 r, 1:7 b
Rainbow Foil 436 Michael Cammalleri Calgary Flames 1:4 h, 1:8 r, 1:7 b
Rainbow Foil 437 Bobby Ryan Anaheim Ducks 1:4 h, 1:8 r, 1:7 b
Rainbow Foil 438 Rostislav Klesla Phoenix Coyotes 1:4 h, 1:8 r, 1:7 b
Rainbow Foil 439 Jason Garrison Vancouver Canucks 1:4 h, 1:8 r, 1:7 b
Rainbow Foil 440 Max Pacioretty Montreal Canadiens 1:4 h, 1:8 r, 1:7 b
Rainbow Foil 441 Olli Jokinen Winnipeg Jets 1:4 h, 1:8 r, 1:7 b
Rainbow Foil 442 Zach Parise Minnesota Wild 1:4 h, 1:8 r, 1:7 b
Rainbow Foil 443 Chris Kunitz Pittsburgh Penguins 1:4 h, 1:8 r, 1:7 b
Rainbow Foil 444 Anze Kopitar Los Angeles Kings 1:4 h, 1:8 r, 1:7 b
Rainbow Foil 445 Kevin Shattenkirk St. Louis Blues 1:4 h, 1:8 r, 1:7 b
Rainbow Foil 446 Jakob Silfverberg Ottawa Senators 1:4 h, 1:8 r, 1:7 b
Rainbow Foil 447 Andrei Loktionov New Jersey Devils 1:4 h, 1:8 r, 1:7 b
Rainbow Foil 448 Tommy Wingels San Jose Sharks 1:4 h, 1:8 r, 1:7 b
Rainbow Foil 449 Lars Eller Montreal Canadiens 1:4 h, 1:8 r, 1:7 b
Rainbow Foil 450 Ondrej Pavelec Winnipeg Jets 1:4 h, 1:8 r, 1:7 b
Rainbow Foil 451 Drew Stafford Buffalo Sabres 1:4 h, 1:8 r, 1:7 b
Rainbow Foil 452 Pavel Datsyuk Detroit Red Wings 1:4 h, 1:8 r, 1:7 b
Rainbow Foil 453 Dustin Brown Los Angeles Kings 1:4 h, 1:8 r, 1:7 b
Rainbow Foil 454 Alexander Steen St. Louis Blues 1:4 h, 1:8 r, 1:7 b
Rainbow Foil 455 Ben Bishop Tampa Bay Lightning 1:4 h, 1:8 r, 1:7 b
Rainbow Foil 456 Erik Gudbranson Florida Panthers 1:4 h, 1:8 r, 1:7 b
Rainbow Foil 457 Maxim Lapierre Vancouver Canucks 1:4 h, 1:8 r, 1:7 b
Rainbow Foil 458 Adam Henrique New Jersey Devils 1:4 h, 1:8 r, 1:7 b
Rainbow Foil 459 Jordan Staal Carolina Hurricanes 1:4 h, 1:8 r, 1:7 b
Rainbow Foil 460 Milan Michalek Ottawa Senators 1:4 h, 1:8 r, 1:7 b
Rainbow Foil 461 Dave Bolland Chicago Blackhawks 1:4 h, 1:8 r, 1:7 b
Rainbow Foil 462 Adam Burish San Jose Sharks 1:4 h, 1:8 r, 1:7 b
Rainbow Foil 463 Mark Streit New York Islanders 1:4 h, 1:8 r, 1:7 b
Rainbow Foil 464 Jaromir Jagr Boston Bruins 1:4 h, 1:8 r, 1:7 b
Rainbow Foil 465 James Reimer Toronto Maple Leafs 1:4 h, 1:8 r, 1:7 b
Rainbow Foil 466 Jason Pominville Minnesota Wild 1:4 h, 1:8 r, 1:7 b
Rainbow Foil 467 Trevor Lewis Los Angeles Kings 1:4 h, 1:8 r, 1:7 b
Rainbow Foil 468 Stephane Robidas Dallas Stars 1:4 h, 1:8 r, 1:7 b
Rainbow Foil 469 Dennis Wideman Calgary Flames 1:4 h, 1:8 r, 1:7 b
Rainbow Foil 470 Bryan Little Winnipeg Jets 1:4 h, 1:8 r, 1:7 b
Rainbow Foil 471 Kyle Chipchura Phoenix Coyotes 1:4 h, 1:8 r, 1:7 b
Rainbow Foil 472 Roman Polak St. Louis Blues 1:4 h, 1:8 r, 1:7 b
Rainbow Foil 473 Tomas Plekanec Montreal Canadiens 1:4 h, 1:8 r, 1:7 b
Rainbow Foil 474 Mark Giordano Calgary Flames 1:4 h, 1:8 r, 1:7 b
Rainbow Foil 475 Sidney Crosby Pittsburgh Penguins 1:4 h, 1:8 r, 1:7 b
Rainbow Foil 476 Blake Wheeler Winnipeg Jets 1:4 h, 1:8 r, 1:7 b
Rainbow Foil 477 Luke Schenn Philadelphia Flyers 1:4 h, 1:8 r, 1:7 b
Rainbow Foil 478 Niklas Backstrom Minnesota Wild 1:4 h, 1:8 r, 1:7 b
Rainbow Foil 479 Brad Richards New York Rangers 1:4 h, 1:8 r, 1:7 b
Rainbow Foil 480 Sergei Gonchar Ottawa Senators 1:4 h, 1:8 r, 1:7 b
Rainbow Foil 481 Cam Ward Carolina Hurricanes 1:4 h, 1:8 r, 1:7 b
Rainbow Foil 482 Jarome Iginla Pittsburgh Penguins 1:4 h, 1:8 r, 1:7 b
Rainbow Foil 483 Keaton Ellerby Los Angeles Kings 1:4 h, 1:8 r, 1:7 b
Rainbow Foil 484 Dan Boyle San Jose Sharks 1:4 h, 1:8 r, 1:7 b
Rainbow Foil 485 Raphael Diaz Montreal Canadiens 1:4 h, 1:8 r, 1:7 b
Rainbow Foil 486 Patric Hornqvist Nashville Predators 1:4 h, 1:8 r, 1:7 b
Rainbow Foil 487 T.J. Brodie Calgary Flames 1:4 h, 1:8 r, 1:7 b
Rainbow Foil 488 Claude Giroux Philadelphia Flyers 1:4 h, 1:8 r, 1:7 b
Rainbow Foil 489 Scott Clemmensen Florida Panthers 1:4 h, 1:8 r, 1:7 b
Rainbow Foil 490 Joe Sakic Colorado Avalanche 1:4 h, 1:8 r, 1:7 b Retired
Rainbow Foil 491 Slava Voynov Los Angeles Kings 1:4 h, 1:8 r, 1:7 b
Rainbow Foil 492 Justin Falk Minnesota Wild 1:4 h, 1:8 r, 1:7 b
Rainbow Foil 493 Chris Stewart St. Louis Blues 1:4 h, 1:8 r, 1:7 b
Rainbow Foil 494 Ron Hainsey Winnipeg Jets 1:4 h, 1:8 r, 1:7 b
Rainbow Foil 495 Patrick Marleau San Jose Sharks 1:4 h, 1:8 r, 1:7 b
Rainbow Foil 496 Checklist None None 1:4 h, 1:8 r, 1:7 b
Rainbow Foil 497 Checklist None None 1:4 h, 1:8 r, 1:7 b
Rainbow Foil 498 Checklist None None 1:4 h, 1:8 r, 1:7 b
Rainbow Foil 499 Checklist None None 1:4 h, 1:8 r, 1:7 b
Rainbow Foil 500 Checklist None None 1:4 h, 1:8 r, 1:7 b
Rainbow Foil Marquee Rookies 501 Nail Yakupov Edmonton Oilers 1:4 h, 1:8 r, 1:7 b Rookie
Rainbow Foil Marquee Rookies 502 Ryan Murphy Carolina Hurricanes 1:4 h, 1:8 r, 1:7 b Rookie
Rainbow Foil Marquee Rookies 503 Jon Rheault Florida Panthers 1:4 h, 1:8 r, 1:7 b Rookie
Rainbow Foil Marquee Rookies 504 Sean Collins Columbus Blue Jackets 1:4 h, 1:8 r, 1:7 b Rookie
Rainbow Foil Marquee Rookies 505 Roman Cervenka Calgary Flames 1:4 h, 1:8 r, 1:7 b Rookie
Rainbow Foil Marquee Rookies 506 Quinton Howden Florida Panthers 1:4 h, 1:8 r, 1:7 b Rookie
Rainbow Foil Marquee Rookies 507 Matt Anderson New Jersey Devils 1:4 h, 1:8 r, 1:7 b Rookie
Rainbow Foil Marquee Rookies 508 Matt Tennyson San Jose Sharks 1:4 h, 1:8 r, 1:7 b Rookie
Rainbow Foil Marquee Rookies 509 Christian Thomas New York Rangers 1:4 h, 1:8 r, 1:7 b Rookie
Rainbow Foil Marquee Rookies 510 Chris Brown Phoenix Coyotes 1:4 h, 1:8 r, 1:7 b Rookie
Rainbow Foil Marquee Rookies 511 Mark Barberio Tampa Bay Lightning 1:4 h, 1:8 r, 1:7 b Rookie
Rainbow Foil Marquee Rookies 512 Zach Redmond Winnipeg Jets 1:4 h, 1:8 r, 1:7 b Rookie
Rainbow Foil Marquee Rookies 513 Steve Pinizzotto Vancouver Canucks 1:4 h, 1:8 r, 1:7 b Rookie
Rainbow Foil Marquee Rookies 514 Calvin Pickard Colorado Avalanche 1:4 h, 1:8 r, 1:7 b Rookie
Rainbow Foil Marquee Rookies 515 Jean-Gabriel Pageau Ottawa Senators 1:4 h, 1:8 r, 1:7 b Rookie
Rainbow Foil Marquee Rookies 516 Darcy Kuemper Minnesota Wild 1:4 h, 1:8 r, 1:7 b Rookie
Rainbow Foil Marquee Rookies 517 Viktor Fasth Anaheim Ducks 1:4 h, 1:8 r, 1:7 b Rookie
Rainbow Foil Marquee Rookies 518 Brett Bellemore Carolina Hurricanes 1:4 h, 1:8 r, 1:7 b Rookie
Rainbow Foil Marquee Rookies 519 Dan DeKeyser Detroit Red Wings 1:4 h, 1:8 r, 1:7 b Rookie
Rainbow Foil Marquee Rookies 520 Brendan Gallagher Montreal Canadiens 1:4 h, 1:8 r, 1:7 b Rookie
Rainbow Foil Marquee Rookies 521 Oliver Lauridsen Philadelphia Flyers 1:4 h, 1:8 r, 1:7 b Rookie
Rainbow Foil Marquee Rookies 522 Leo Komarov Toronto Maple Leafs 1:4 h, 1:8 r, 1:7 b Rookie
Rainbow Foil Marquee Rookies 523 Michal Jordan Carolina Hurricanes 1:4 h, 1:8 r, 1:7 b Rookie
Rainbow Foil Marquee Rookies 524 Nick Petrecki San Jose Sharks 1:4 h, 1:8 r, 1:7 b Rookie
Rainbow Foil Marquee Rookies 525 Filip Forsberg Nashville Predators 1:4 h, 1:8 r, 1:7 b Rookie
Rainbow Foil Marquee Rookies 526 Michael Sgarbossa Colorado Avalanche 1:4 h, 1:8 r, 1:7 b Rookie
Rainbow Foil Marquee Rookies 527 Mikhail Grigorenko Buffalo Sabres 1:4 h, 1:8 r, 1:7 b Rookie
Rainbow Foil Marquee Rookies 528 Emerson Etem Anaheim Ducks 1:4 h, 1:8 r, 1:7 b Rookie
Rainbow Foil Marquee Rookies 529 Alex Chiasson Dallas Stars 1:4 h, 1:8 r, 1:7 b Rookie
Rainbow Foil Marquee Rookies 530 Ben Street Calgary Flames 1:4 h, 1:8 r, 1:7 b Rookie
Rainbow Foil Marquee Rookies 531 Dougie Hamilton Boston Bruins 1:4 h, 1:8 r, 1:7 b Rookie
Rainbow Foil Marquee Rookies 532 Mark Arcobello Edmonton Oilers 1:4 h, 1:8 r, 1:7 b Rookie
Rainbow Foil Marquee Rookies 533 Victor Bartley Nashville Predators 1:4 h, 1:8 r, 1:7 b Rookie
Rainbow Foil Marquee Rookies 534 Beau Bennett Pittsburgh Penguins 1:4 h, 1:8 r, 1:7 b Rookie
Rainbow Foil Marquee Rookies 535 Steve Oleksy Washington Capitals 1:4 h, 1:8 r, 1:7 b Rookie
Rainbow Foil Marquee Rookies 536 Radko Gudas Tampa Bay Lightning 1:4 h, 1:8 r, 1:7 b Rookie
Rainbow Foil Marquee Rookies 537 Vladimir Tarasenko St. Louis Blues 1:4 h, 1:8 r, 1:7 b Rookie
Rainbow Foil Marquee Rookies 538 Eric Gryba Ottawa Senators 1:4 h, 1:8 r, 1:7 b Rookie
Rainbow Foil Marquee Rookies 539 Jarred Tinordi Montreal Canadiens 1:4 h, 1:8 r, 1:7 b Rookie
Rainbow Foil Marquee Rookies 540 Eric Selleck Florida Panthers 1:4 h, 1:8 r, 1:7 b Rookie
Rainbow Foil Marquee Rookies 541 Patrick Bordeleau Colorado Avalanche 1:4 h, 1:8 r, 1:7 b Rookie
Rainbow Foil Marquee Rookies 542 Sami Vatanen Anaheim Ducks 1:4 h, 1:8 r, 1:7 b Rookie
Rainbow Foil Marquee Rookies 543 Brian Lashoff Detroit Red Wings 1:4 h, 1:8 r, 1:7 b Rookie
Rainbow Foil Marquee Rookies 544 Drew Shore Florida Panthers 1:4 h, 1:8 r, 1:7 b Rookie
Rainbow Foil Marquee Rookies 545 Cameron Schilling Washington Capitals 1:4 h, 1:8 r, 1:7 b Rookie
Rainbow Foil Marquee Rookies 546 David Dziurzynski Ottawa Senators 1:4 h, 1:8 r, 1:7 b Rookie
Rainbow Foil Marquee Rookies 547 Mike Kostka Toronto Maple Leafs 1:4 h, 1:8 r, 1:7 b Rookie
Rainbow Foil Marquee Rookies 548 Anthony Peluso Winnipeg Jets 1:4 h, 1:8 r, 1:7 b Rookie
Rainbow Foil Marquee Rookies 549 Thomas Hickey New York Islanders 1:4 h, 1:8 r, 1:7 b Rookie
Rainbow Foil Marquee Rookies 550 Daniel Bang Nashville Predators 1:4 h, 1:8 r, 1:7 b Rookie
Rainbow Foil Marquee Rookies 551 Greg Pateryn Montreal Canadiens 1:4 h, 1:8 r, 1:7 b Rookie
Rainbow Foil Marquee Rookies 552 Tye McGinn Philadelphia Flyers 1:4 h, 1:8 r, 1:7 b Rookie
Rainbow Foil Marquee Rookies 553 Stefan Matteau New Jersey Devils 1:4 h, 1:8 r, 1:7 b Rookie
Rainbow Foil Marquee Rookies 554 Charlie Coyle Minnesota Wild 1:4 h, 1:8 r, 1:7 b Rookie
Rainbow Foil Marquee Rookies 555 Jonathan Huberdeau Florida Panthers 1:4 h, 1:8 r, 1:7 b Rookie
Rainbow Foil Marquee Rookies 556 Petr Mrazek Detroit Red Wings 1:4 h, 1:8 r, 1:7 b Rookie
Rainbow Foil Marquee Rookies 557 Max Reinhart Calgary Flames 1:4 h, 1:8 r, 1:7 b Rookie
Rainbow Foil Marquee Rookies 558 Rickard Rakell Anaheim Ducks 1:4 h, 1:8 r, 1:7 b Rookie
Rainbow Foil Marquee Rookies 559 Anders Lee New York Islanders 1:4 h, 1:8 r, 1:7 b Rookie
Rainbow Foil Marquee Rookies 560 Tyler Toffoli Los Angeles Kings 1:4 h, 1:8 r, 1:7 b Rookie
Rainbow Foil Marquee Rookies 561 Tyler Johnson Tampa Bay Lightning 1:4 h, 1:8 r, 1:7 b Rookie
Rainbow Foil Marquee Rookies 562 Philipp Grubauer Washington Capitals 1:4 h, 1:8 r, 1:7 b Rookie
Rainbow Foil Marquee Rookies 563 Brian Flynn Buffalo Sabres 1:4 h, 1:8 r, 1:7 b Rookie
Rainbow Foil Marquee Rookies 564 Mark Pysyk Buffalo Sabres 1:4 h, 1:8 r, 1:7 b Rookie
Rainbow Foil Marquee Rookies 565 Ryan Spooner Boston Bruins 1:4 h, 1:8 r, 1:7 b Rookie
Rainbow Foil Marquee Rookies 566 Cory Conacher Ottawa Senators 1:4 h, 1:8 r, 1:7 b Rookie
Rainbow Foil Marquee Rookies 567 Andrej Sustr Tampa Bay Lightning 1:4 h, 1:8 r, 1:7 b Rookie
Rainbow Foil Marquee Rookies 568 Justin Schultz Edmonton Oilers 1:4 h, 1:8 r, 1:7 b Rookie
Rainbow Foil Marquee Rookies 569 Jamie Oleksiak Dallas Stars 1:4 h, 1:8 r, 1:7 b Rookie
Rainbow Foil Marquee Rookies 570 Jamie Tardif Boston Bruins 1:4 h, 1:8 r, 1:7 b Rookie
Rainbow Foil Marquee Rookies 571 Michael Caruso Florida Panthers 1:4 h, 1:8 r, 1:7 b Rookie
Rainbow Foil Marquee Rookies 572 Derek Grant Ottawa Senators 1:4 h, 1:8 r, 1:7 b Rookie
Rainbow Foil Marquee Rookies 573 Nicklas Jensen Vancouver Canucks 1:4 h, 1:8 r, 1:7 b Rookie
Rainbow Foil Marquee Rookies 574 Dmitrij Jaskin St. Louis Blues 1:4 h, 1:8 r, 1:7 b Rookie
Rainbow Foil Marquee Rookies 575 Alex Galchenyuk Montreal Canadiens 1:4 h, 1:8 r, 1:7 b Rookie
Rainbow Foil Marquee Rookies 576 Jonas Brodin Minnesota Wild 1:4 h, 1:8 r, 1:7 b Rookie
Rainbow Foil Marquee Rookies 577 Richard Panik Tampa Bay Lightning 1:4 h, 1:8 r, 1:7 b Rookie
Rainbow Foil Marquee Rookies 578 J.T. Miller New York Rangers 1:4 h, 1:8 r, 1:7 b Rookie
Rainbow Foil Marquee Rookies 579 Nathan Beaulieu Montreal Canadiens 1:4 h, 1:8 r, 1:7 b Rookie
Rainbow Foil Marquee Rookies 580 Ondrej Palat Tampa Bay Lightning 1:4 h, 1:8 r, 1:7 b Rookie
Rainbow Foil Marquee Rookies 581 Scott Laughton Philadelphia Flyers 1:4 h, 1:8 r, 1:7 b Rookie
Rainbow Foil Marquee Rookies 582 Austin Watson Nashville Predators 1:4 h, 1:8 r, 1:7 b Rookie
Rainbow Foil Marquee Rookies 583 Jordan Schroeder Vancouver Canucks 1:4 h, 1:8 r, 1:7 b Rookie
Rainbow Foil Marquee Rookies 584 Chris Terry Carolina Hurricanes 1:4 h, 1:8 r, 1:7 b Rookie
Rainbow Foil Marquee Rookies 585 Jonathan Audy-Marchessault Columbus Blue Jackets 1:4 h, 1:8 r, 1:7 b Rookie
Rainbow Foil Marquee Rookies 586 Cristopher Nilstorp Dallas Stars 1:4 h, 1:8 r, 1:7 b Rookie
Rainbow Foil Marquee Rookies 587 Harri Pesonen New Jersey Devils 1:4 h, 1:8 r, 1:7 b Rookie
Rainbow Foil Marquee Rookies 588 Matthew Irwin San Jose Sharks 1:4 h, 1:8 r, 1:7 b Rookie
Rainbow Foil Marquee Rookies 589 Johan Larsson Buffalo Sabres 1:4 h, 1:8 r, 1:7 b Rookie
Rainbow Foil Marquee Rookies 590 Damien Brunner Detroit Red Wings 1:4 h, 1:8 r, 1:7 b Rookie
Rainbow Foil Marquee Rookies 591 Mikael Granlund Minnesota Wild 1:4 h, 1:8 r, 1:7 b Rookie
Rainbow Foil Marquee Rookies 592 Chad Ruhwedel Buffalo Sabres 1:4 h, 1:8 r, 1:7 b Rookie
Rainbow Foil Marquee Rookies 593 Alex Killorn Tampa Bay Lightning 1:4 h, 1:8 r, 1:7 b Rookie
Rainbow Foil Marquee Rookies 594 Nicolas Blanchard Carolina Hurricanes 1:4 h, 1:8 r, 1:7 b Rookie
Rainbow Foil Marquee Rookies 595 Nick Bjugstad Florida Panthers 1:4 h, 1:8 r, 1:7 b Rookie
Rainbow Foil Marquee Rookies 596 Ben Hanowski Calgary Flames 1:4 h, 1:8 r, 1:7 b Rookie
Rainbow Foil Marquee Rookies 597 Antoine Roussel Dallas Stars 1:4 h, 1:8 r, 1:7 b Rookie
Rainbow Foil Marquee Rookies 598 Sami Aittokallio Colorado Avalanche 1:4 h, 1:8 r, 1:7 b Rookie
Rainbow Foil Marquee Rookies 599 Jack Campbell Dallas Stars 1:4 h, 1:8 r, 1:7 b Rookie
Rainbow Foil Marquee Rookies 600 Checklist None None 1:4 h, 1:8 r, 1:7 b
Black Rainbow Foil 1 Phil Kessel Toronto Maple Leafs Random Inserts in Hobby Packs 100
Black Rainbow Foil 2 Benoit Pouliot Tampa Bay Lightning Random Inserts in Hobby Packs 100
Black Rainbow Foil 3 Semyon Varlamov Colorado Avalanche Random Inserts in Hobby Packs 100
Black Rainbow Foil 4 Andrew Ference Boston Bruins Random Inserts in Hobby Packs 100
Black Rainbow Foil 5 Jonathan Bernier Los Angeles Kings Random Inserts in Hobby Packs 100
Black Rainbow Foil 6 Daniel Girardi New York Rangers Random Inserts in Hobby Packs 100
Black Rainbow Foil 7 Douglas Murray Pittsburgh Penguins Random Inserts in Hobby Packs 100
Black Rainbow Foil 8 Ray Whitney Dallas Stars Random Inserts in Hobby Packs 100
Black Rainbow Foil 9 Daniel Briere Philadelphia Flyers Random Inserts in Hobby Packs 100
Black Rainbow Foil 10 Johan Franzen Detroit Red Wings Random Inserts in Hobby Packs 100
Black Rainbow Foil 11 Pavel Bure Vancouver Canucks Random Inserts in Hobby Packs 100 Retired
Black Rainbow Foil 12 Nick Spaling Nashville Predators Random Inserts in Hobby Packs 100
Black Rainbow Foil 13 Dwight King Los Angeles Kings Random Inserts in Hobby Packs 100
Black Rainbow Foil 14 Devin Setoguchi Minnesota Wild Random Inserts in Hobby Packs 100
Black Rainbow Foil 15 Andrej Sekera Buffalo Sabres Random Inserts in Hobby Packs 100
Black Rainbow Foil 16 Patrick Dwyer Carolina Hurricanes Random Inserts in Hobby Packs 100
Black Rainbow Foil 17 John-Michael Liles Toronto Maple Leafs Random Inserts in Hobby Packs 100
Black Rainbow Foil 18 Michael Grabner New York Islanders Random Inserts in Hobby Packs 100
Black Rainbow Foil 19 Guillaume Latendresse Ottawa Senators Random Inserts in Hobby Packs 100
Black Rainbow Foil 20 Derick Brassard New York Rangers Random Inserts in Hobby Packs 100
Black Rainbow Foil 21 Matt Read Philadelphia Flyers Random Inserts in Hobby Packs 100
Black Rainbow Foil 22 Duncan Keith Chicago Blackhawks Random Inserts in Hobby Packs 100
Black Rainbow Foil 23 Colin Wilson Nashville Predators Random Inserts in Hobby Packs 100
Black Rainbow Foil 24 Jordan Eberle Edmonton Oilers Random Inserts in Hobby Packs 100
Black Rainbow Foil 25 Drayson Bowman Carolina Hurricanes Random Inserts in Hobby Packs 100
Black Rainbow Foil 26 Jordin Tootoo Detroit Red Wings Random Inserts in Hobby Packs 100
Black Rainbow Foil 27 Justin Williams Los Angeles Kings Random Inserts in Hobby Packs 100
Black Rainbow Foil 28 Kyle Wellwood Winnipeg Jets Random Inserts in Hobby Packs 100
Black Rainbow Foil 29 Larry Robinson Montreal Canadiens Random Inserts in Hobby Packs 100 Retired
Black Rainbow Foil 30 Tyler Kennedy Pittsburgh Penguins Random Inserts in Hobby Packs 100
Black Rainbow Foil 31 Kevin Klein Nashville Predators Random Inserts in Hobby Packs 100
Black Rainbow Foil 32 Loui Eriksson Dallas Stars Random Inserts in Hobby Packs 100
Black Rainbow Foil 33 Alexander Semin Carolina Hurricanes Random Inserts in Hobby Packs 100
Black Rainbow Foil 34 Cody Franson Toronto Maple Leafs Random Inserts in Hobby Packs 100
Black Rainbow Foil 35 Erik Condra Ottawa Senators Random Inserts in Hobby Packs 100
Black Rainbow Foil 36 Nik Antropov Winnipeg Jets Random Inserts in Hobby Packs 100
Black Rainbow Foil 37 Peter Holland Anaheim Ducks Random Inserts in Hobby Packs 100
Black Rainbow Foil 38 Drew Miller Detroit Red Wings Random Inserts in Hobby Packs 100
Black Rainbow Foil 39 Henrik Sedin Vancouver Canucks Random Inserts in Hobby Packs 100
Black Rainbow Foil 40 Curtis Glencross Calgary Flames Random Inserts in Hobby Packs 100
Black Rainbow Foil 41 Mike Richards Los Angeles Kings Random Inserts in Hobby Packs 100
Black Rainbow Foil 42 Ryane Clowe New York Rangers Random Inserts in Hobby Packs 100
Black Rainbow Foil 43 Carl Gunnarsson Toronto Maple Leafs Random Inserts in Hobby Packs 100
Black Rainbow Foil 44 Evgeni Nabokov New York Islanders Random Inserts in Hobby Packs 100
Black Rainbow Foil 45 James Wisniewski Columbus Blue Jackets Random Inserts in Hobby Packs 100
Black Rainbow Foil 46 Brian Gionta Montreal Canadiens Random Inserts in Hobby Packs 100
Black Rainbow Foil 47 Scott Hartnell Philadelphia Flyers Random Inserts in Hobby Packs 100
Black Rainbow Foil 48 Shawn Matthias Florida Panthers Random Inserts in Hobby Packs 100
Black Rainbow Foil 49 Jonathan Toews Chicago Blackhawks Random Inserts in Hobby Packs 100
Black Rainbow Foil 50 Luc Robitaille Los Angeles Kings Random Inserts in Hobby Packs 100 Retired
Black Rainbow Foil 51 Joey MacDonald Calgary Flames Random Inserts in Hobby Packs 100
Black Rainbow Foil 52 Alex Pietrangelo St. Louis Blues Random Inserts in Hobby Packs 100
Black Rainbow Foil 53 Brayden Schenn Philadelphia Flyers Random Inserts in Hobby Packs 100
Black Rainbow Foil 54 Paul Gaustad Nashville Predators Random Inserts in Hobby Packs 100
Black Rainbow Foil 55 Radim Vrbata Phoenix Coyotes Random Inserts in Hobby Packs 100
Black Rainbow Foil 56 Mark Fistric Edmonton Oilers Random Inserts in Hobby Packs 100
Black Rainbow Foil 57 Cory Emmerton Detroit Red Wings Random Inserts in Hobby Packs 100
Black Rainbow Foil 58 Matt Carle Tampa Bay Lightning Random Inserts in Hobby Packs 100
Black Rainbow Foil 59 John Carlson Washington Capitals Random Inserts in Hobby Packs 100
Black Rainbow Foil 60 Zenon Konopka Minnesota Wild Random Inserts in Hobby Packs 100
Black Rainbow Foil 61 Jiri Tlusty Carolina Hurricanes Random Inserts in Hobby Packs 100
Black Rainbow Foil 62 Alex Tanguay Calgary Flames Random Inserts in Hobby Packs 100
Black Rainbow Foil 63 Viktor Stalberg Chicago Blackhawks Random Inserts in Hobby Packs 100
Black Rainbow Foil 64 Daniel Alfredsson Ottawa Senators Random Inserts in Hobby Packs 100
Black Rainbow Foil 65 Colin McDonald New York Islanders Random Inserts in Hobby Packs 100
Black Rainbow Foil 66 Dennis Seidenberg Boston Bruins Random Inserts in Hobby Packs 100
Black Rainbow Foil 67 Steven Stamkos Tampa Bay Lightning Random Inserts in Hobby Packs 100
Black Rainbow Foil 68 R.J. Umberger Columbus Blue Jackets Random Inserts in Hobby Packs 100
Black Rainbow Foil 69 Rob Scuderi Los Angeles Kings Random Inserts in Hobby Packs 100
Black Rainbow Foil 70 Nikolai Khabibulin Edmonton Oilers Random Inserts in Hobby Packs 100
Black Rainbow Foil 71 Jaroslav Halak St. Louis Blues Random Inserts in Hobby Packs 100
Black Rainbow Foil 72 Steve Ott Buffalo Sabres Random Inserts in Hobby Packs 100
Black Rainbow Foil 73 Joni Pitkanen Carolina Hurricanes Random Inserts in Hobby Packs 100
Black Rainbow Foil 74 Henrik Zetterberg Detroit Red Wings Random Inserts in Hobby Packs 100
Black Rainbow Foil 75 Jason Chimera Washington Capitals Random Inserts in Hobby Packs 100
Black Rainbow Foil 76 Victor Hedman Tampa Bay Lightning Random Inserts in Hobby Packs 100
Black Rainbow Foil 77 Sergei Bobrovsky Columbus Blue Jackets Random Inserts in Hobby Packs 100
Black Rainbow Foil 78 Oliver Ekman-Larsson Phoenix Coyotes Random Inserts in Hobby Packs 100
Black Rainbow Foil 79 Mark Messier Edmonton Oilers Random Inserts in Hobby Packs 100 Retired
Black Rainbow Foil 80 Martin Erat Washington Capitals Random Inserts in Hobby Packs 100
Black Rainbow Foil 81 Wayne Simmonds Philadelphia Flyers Random Inserts in Hobby Packs 100
Black Rainbow Foil 82 Jordan Leopold St. Louis Blues Random Inserts in Hobby Packs 100
Black Rainbow Foil 83 Craig Smith Nashville Predators Random Inserts in Hobby Packs 100
Black Rainbow Foil 84 Matt Cooke Pittsburgh Penguins Random Inserts in Hobby Packs 100
Black Rainbow Foil 85 Jay McClement Toronto Maple Leafs Random Inserts in Hobby Packs 100
Black Rainbow Foil 86 Fedor Tyutin Columbus Blue Jackets Random Inserts in Hobby Packs 100
Black Rainbow Foil 87 Rick Nash New York Rangers Random Inserts in Hobby Packs 100
Black Rainbow Foil 88 Kyle Turris Ottawa Senators Random Inserts in Hobby Packs 100
Black Rainbow Foil 89 Andrew MacDonald New York Islanders Random Inserts in Hobby Packs 100
Black Rainbow Foil 90 Bobby Orr Boston Bruins Random Inserts in Hobby Packs 100 Retired
Black Rainbow Foil 91 Vernon Fiddler Dallas Stars Random Inserts in Hobby Packs 100
Black Rainbow Foil 92 Joffrey Lupul Toronto Maple Leafs Random Inserts in Hobby Packs 100
Black Rainbow Foil 93 Patrik Berglund St. Louis Blues Random Inserts in Hobby Packs 100
Black Rainbow Foil 94 Braden Holtby Washington Capitals Random Inserts in Hobby Packs 100
Black Rainbow Foil 95 Patrick Kane Chicago Blackhawks Random Inserts in Hobby Packs 100
Black Rainbow Foil 96 Steve Sullivan New Jersey Devils Random Inserts in Hobby Packs 100
Black Rainbow Foil 97 Martin Hanzal Phoenix Coyotes Random Inserts in Hobby Packs 100
Black Rainbow Foil 98 Cam Atkinson Columbus Blue Jackets Random Inserts in Hobby Packs 100
Black Rainbow Foil 99 James Sheppard San Jose Sharks Random Inserts in Hobby Packs 100
Black Rainbow Foil 100 T.J. Oshie St. Louis Blues Random Inserts in Hobby Packs 100
Black Rainbow Foil 101 Brooks Orpik Pittsburgh Penguins Random Inserts in Hobby Packs 100
Black Rainbow Foil 102 Derek Roy Vancouver Canucks Random Inserts in Hobby Packs 100
Black Rainbow Foil 103 Mike Weber Buffalo Sabres Random Inserts in Hobby Packs 100
Black Rainbow Foil 104 Blake Comeau Columbus Blue Jackets Random Inserts in Hobby Packs 100
Black Rainbow Foil 105 Colton Orr Toronto Maple Leafs Random Inserts in Hobby Packs 100
Black Rainbow Foil 106 Jussi Jokinen Pittsburgh Penguins Random Inserts in Hobby Packs 100
Black Rainbow Foil 107 Patrice Bergeron Boston Bruins Random Inserts in Hobby Packs 100
Black Rainbow Foil 108 Justin Abdelkader Detroit Red Wings Random Inserts in Hobby Packs 100
Black Rainbow Foil 109 Robin Lehner Ottawa Senators Random Inserts in Hobby Packs 100
Black Rainbow Foil 110 Teemu Selanne Anaheim Ducks Random Inserts in Hobby Packs 100
Black Rainbow Foil 111 Peter Mueller Florida Panthers Random Inserts in Hobby Packs 100
Black Rainbow Foil 112 Cal Clutterbuck Minnesota Wild Random Inserts in Hobby Packs 100
Black Rainbow Foil 113 Troy Brouwer Washington Capitals Random Inserts in Hobby Packs 100
Black Rainbow Foil 114 Mike Bossy New York Islanders Random Inserts in Hobby Packs 100 Retired
Black Rainbow Foil 115 Paul Martin Pittsburgh Penguins Random Inserts in Hobby Packs 100
Black Rainbow Foil 116 Joe Pavelski San Jose Sharks Random Inserts in Hobby Packs 100
Black Rainbow Foil 117 Tom Pyatt Tampa Bay Lightning Random Inserts in Hobby Packs 100
Black Rainbow Foil 118 Jan Hejda Colorado Avalanche Random Inserts in Hobby Packs 100
Black Rainbow Foil 119 Brandon Sutter Pittsburgh Penguins Random Inserts in Hobby Packs 100
Black Rainbow Foil 120 Marcus Foligno Buffalo Sabres Random Inserts in Hobby Packs 100
Black Rainbow Foil 121 Pierre-Marc Bouchard Minnesota Wild Random Inserts in Hobby Packs 100
Black Rainbow Foil 122 Chris Neil Ottawa Senators Random Inserts in Hobby Packs 100
Black Rainbow Foil 123 Filip Kuba Florida Panthers Random Inserts in Hobby Packs 100
Black Rainbow Foil 124 David Perron St. Louis Blues Random Inserts in Hobby Packs 100
Black Rainbow Foil 125 Jonathan Ericsson Detroit Red Wings Random Inserts in Hobby Packs 100
Black Rainbow Foil 126 Doug Gilmour Toronto Maple Leafs Random Inserts in Hobby Packs 100 Retired
Black Rainbow Foil 127 P.K. Subban Montreal Canadiens Random Inserts in Hobby Packs 100
Black Rainbow Foil 128 Sheldon Souray Anaheim Ducks Random Inserts in Hobby Packs 100
Black Rainbow Foil 129 Marc Staal New York Rangers Random Inserts in Hobby Packs 100
Black Rainbow Foil 130 Stephen Gionta New Jersey Devils Random Inserts in Hobby Packs 100
Black Rainbow Foil 131 Tom Gilbert Minnesota Wild Random Inserts in Hobby Packs 100
Black Rainbow Foil 132 Jacob Markstrom Florida Panthers Random Inserts in Hobby Packs 100
Black Rainbow Foil 133 Jim Howard Detroit Red Wings Random Inserts in Hobby Packs 100
Black Rainbow Foil 134 Jay Harrison Carolina Hurricanes Random Inserts in Hobby Packs 100
Black Rainbow Foil 135 Chris Kelly Boston Bruins Random Inserts in Hobby Packs 100
Black Rainbow Foil 136 Mark Letestu Columbus Blue Jackets Random Inserts in Hobby Packs 100
Black Rainbow Foil 137 Nick Schultz Edmonton Oilers Random Inserts in Hobby Packs 100
Black Rainbow Foil 138 Taylor Pyatt New York Rangers Random Inserts in Hobby Packs 100
Black Rainbow Foil 139 Mikhail Grabovski Toronto Maple Leafs Random Inserts in Hobby Packs 100
Black Rainbow Foil 140 Tomas Kopecky Florida Panthers Random Inserts in Hobby Packs 100
Black Rainbow Foil 141 Mikkel Boedker Phoenix Coyotes Random Inserts in Hobby Packs 100
Black Rainbow Foil 142 Cody Eakin Dallas Stars Random Inserts in Hobby Packs 100
Black Rainbow Foil 143 Dustin Byfuglien Winnipeg Jets Random Inserts in Hobby Packs 100
Black Rainbow Foil 144 Richard Clune Nashville Predators Random Inserts in Hobby Packs 100
Black Rainbow Foil 145 Kevin Bieksa Vancouver Canucks Random Inserts in Hobby Packs 100
Black Rainbow Foil 146 Anton Volchenkov New Jersey Devils Random Inserts in Hobby Packs 100
Black Rainbow Foil 147 Francois Beauchemin Anaheim Ducks Random Inserts in Hobby Packs 100
Black Rainbow Foil 148 Gregory Campbell Boston Bruins Random Inserts in Hobby Packs 100
Black Rainbow Foil 149 Carey Price Montreal Canadiens Random Inserts in Hobby Packs 100
Black Rainbow Foil 150 Casey Cizikas New York Islanders Random Inserts in Hobby Packs 100
Black Rainbow Foil 151 Reilly Smith Dallas Stars Random Inserts in Hobby Packs 100
Black Rainbow Foil 152 Marc-Andre Fleury Pittsburgh Penguins Random Inserts in Hobby Packs 100
Black Rainbow Foil 153 Brian Campbell Florida Panthers Random Inserts in Hobby Packs 100
Black Rainbow Foil 154 Brandon Saad Chicago Blackhawks Random Inserts in Hobby Packs 100
Black Rainbow Foil 155 Clayton Stoner Minnesota Wild Random Inserts in Hobby Packs 100
Black Rainbow Foil 156 Jakub Kindl Detroit Red Wings Random Inserts in Hobby Packs 100
Black Rainbow Foil 157 Zack Smith Ottawa Senators Random Inserts in Hobby Packs 100
Black Rainbow Foil 158 Alexander Edler Vancouver Canucks Random Inserts in Hobby Packs 100
Black Rainbow Foil 159 Andrew Ladd Winnipeg Jets Random Inserts in Hobby Packs 100
Black Rainbow Foil 160 Raffi Torres San Jose Sharks Random Inserts in Hobby Packs 100
Black Rainbow Foil 161 John Tavares New York Islanders Random Inserts in Hobby Packs 100
Black Rainbow Foil 162 Dmitry Kulikov Florida Panthers Random Inserts in Hobby Packs 100
Black Rainbow Foil 163 Ryan Ellis Nashville Predators Random Inserts in Hobby Packs 100
Black Rainbow Foil 164 Teddy Purcell Tampa Bay Lightning Random Inserts in Hobby Packs 100
Black Rainbow Foil 165 Tyson Barrie Colorado Avalanche Random Inserts in Hobby Packs 100
Black Rainbow Foil 166 Mathieu Perreault Washington Capitals Random Inserts in Hobby Packs 100
Black Rainbow Foil 167 Dale Hawerchuk Winnipeg Jets Random Inserts in Hobby Packs 100 Retired
Black Rainbow Foil 168 Marian Hossa Chicago Blackhawks Random Inserts in Hobby Packs 100
Black Rainbow Foil 169 Luca Sbisa Anaheim Ducks Random Inserts in Hobby Packs 100
Black Rainbow Foil 170 Shawn Horcoff Edmonton Oilers Random Inserts in Hobby Packs 100
Black Rainbow Foil 171 James Neal Pittsburgh Penguins Random Inserts in Hobby Packs 100
Black Rainbow Foil 172 Mike Fisher Nashville Predators Random Inserts in Hobby Packs 100
Black Rainbow Foil 173 Henrik Lundqvist New York Rangers Random Inserts in Hobby Packs 100
Black Rainbow Foil 174 Brett Hull Dallas Stars Random Inserts in Hobby Packs 100 Retired
Black Rainbow Foil 175 Stephen Weiss Florida Panthers Random Inserts in Hobby Packs 100
Black Rainbow Foil 176 Saku Koivu Anaheim Ducks Random Inserts in Hobby Packs 100
Black Rainbow Foil 177 Sam Gagner Edmonton Oilers Random Inserts in Hobby Packs 100
Black Rainbow Foil 178 Mike Ribeiro Washington Capitals Random Inserts in Hobby Packs 100
Black Rainbow Foil 179 Tuukka Rask Boston Bruins Random Inserts in Hobby Packs 100
Black Rainbow Foil 180 Marc Methot Ottawa Senators Random Inserts in Hobby Packs 100
Black Rainbow Foil 181 David Backes St. Louis Blues Random Inserts in Hobby Packs 100
Black Rainbow Foil 182 Jiri Hudler Calgary Flames Random Inserts in Hobby Packs 100
Black Rainbow Foil 183 Steve Yzerman Detroit Red Wings Random Inserts in Hobby Packs 100 Retired
Black Rainbow Foil 184 Shea Weber Nashville Predators Random Inserts in Hobby Packs 100
Black Rainbow Foil 185 Philip Larsen Dallas Stars Random Inserts in Hobby Packs 100
Black Rainbow Foil 186 Brad Marchand Boston Bruins Random Inserts in Hobby Packs 100
Black Rainbow Foil 187 Jamie McBain Carolina Hurricanes Random Inserts in Hobby Packs 100
Black Rainbow Foil 188 Ryan Nugent-Hopkins Edmonton Oilers Random Inserts in Hobby Packs 100
Black Rainbow Foil 189 Chris Phillips Ottawa Senators Random Inserts in Hobby Packs 100
Black Rainbow Foil 190 Mike Green Washington Capitals Random Inserts in Hobby Packs 100
Black Rainbow Foil 191 Frans Nielsen New York Islanders Random Inserts in Hobby Packs 100
Black Rainbow Foil 192 Ruslan Fedotenko Philadelphia Flyers Random Inserts in Hobby Packs 100
Black Rainbow Foil 193 Kyle Brodziak Minnesota Wild Random Inserts in Hobby Packs 100
Black Rainbow Foil 194 Ryan Carter New Jersey Devils Random Inserts in Hobby Packs 100
Black Rainbow Foil 195 Niklas Hjalmarsson Chicago Blackhawks Random Inserts in Hobby Packs 100
Black Rainbow Foil 196 Marcel Goc Florida Panthers Random Inserts in Hobby Packs 100
Black Rainbow Foil 197 Ryan McDonagh New York Rangers Random Inserts in Hobby Packs 100
Black Rainbow Foil 198 Joe Corvo Carolina Hurricanes Random Inserts in Hobby Packs 100
Black Rainbow Foil 199 Dion Phaneuf Toronto Maple Leafs Random Inserts in Hobby Packs 100
Black Rainbow Foil 200 Tomas Vokoun Pittsburgh Penguins Random Inserts in Hobby Packs 100
Black Rainbow Foil 201 Craig Anderson Ottawa Senators Random Inserts in Hobby Packs 100
Black Rainbow Foil 202 Dan Hamhuis Vancouver Canucks Random Inserts in Hobby Packs 100
Black Rainbow Foil 203 Logan Couture San Jose Sharks Random Inserts in Hobby Packs 100
Black Rainbow Foil 204 Kari Lehtonen Dallas Stars Random Inserts in Hobby Packs 100
Black Rainbow Foil 205 Vincent Lecavalier Tampa Bay Lightning Random Inserts in Hobby Packs 100
Black Rainbow Foil 206 Devan Dubnyk Edmonton Oilers Random Inserts in Hobby Packs 100
Black Rainbow Foil 207 Roman Josi Nashville Predators Random Inserts in Hobby Packs 100
Black Rainbow Foil 208 Barret Jackman St. Louis Blues Random Inserts in Hobby Packs 100
Black Rainbow Foil 209 Evgeni Malkin Pittsburgh Penguins Random Inserts in Hobby Packs 100
Black Rainbow Foil 210 Dany Heatley Minnesota Wild Random Inserts in Hobby Packs 100
Black Rainbow Foil 211 Jochen Hecht Buffalo Sabres Random Inserts in Hobby Packs 100
Black Rainbow Foil 212 Marcus Johansson Washington Capitals Random Inserts in Hobby Packs 100
Black Rainbow Foil 213 Matt Calvert Columbus Blue Jackets Random Inserts in Hobby Packs 100
Black Rainbow Foil 214 Boyd Gordon Phoenix Coyotes Random Inserts in Hobby Packs 100
Black Rainbow Foil 215 Alexandre Burrows Vancouver Canucks Random Inserts in Hobby Packs 100
Black Rainbow Foil 216 Erik Johnson Colorado Avalanche Random Inserts in Hobby Packs 100
Black Rainbow Foil 217 Erik Karlsson Ottawa Senators Random Inserts in Hobby Packs 100
Black Rainbow Foil 218 Eric Brewer Tampa Bay Lightning Random Inserts in Hobby Packs 100
Black Rainbow Foil 219 Tomas Fleischmann Florida Panthers Random Inserts in Hobby Packs 100
Black Rainbow Foil 220 Brandon Prust Montreal Canadiens Random Inserts in Hobby Packs 100
Black Rainbow Foil 221 Daniel Winnik Anaheim Ducks Random Inserts in Hobby Packs 100
Black Rainbow Foil 222 Brent Burns San Jose Sharks Random Inserts in Hobby Packs 100
Black Rainbow Foil 223 Andrew Shaw Chicago Blackhawks Random Inserts in Hobby Packs 100
Black Rainbow Foil 224 Torrey Mitchell Minnesota Wild Random Inserts in Hobby Packs 100
Black Rainbow Foil 225 Gustav Nyquist Detroit Red Wings Random Inserts in Hobby Packs 100
Black Rainbow Foil 226 Patrick Wiercioch Ottawa Senators Random Inserts in Hobby Packs 100
Black Rainbow Foil 227 Trevor Daley Dallas Stars Random Inserts in Hobby Packs 100
Black Rainbow Foil 228 Nazem Kadri Toronto Maple Leafs Random Inserts in Hobby Packs 100
Black Rainbow Foil 229 Keith Yandle Phoenix Coyotes Random Inserts in Hobby Packs 100
Black Rainbow Foil 230 Mark Stuart Winnipeg Jets Random Inserts in Hobby Packs 100
Black Rainbow Foil 231 Michael Del Zotto New York Rangers Random Inserts in Hobby Packs 100
Black Rainbow Foil 232 Nick Foligno Columbus Blue Jackets Random Inserts in Hobby Packs 100
Black Rainbow Foil 233 David Desharnais Montreal Canadiens Random Inserts in Hobby Packs 100
Black Rainbow Foil 234 Bryan Bickell Chicago Blackhawks Random Inserts in Hobby Packs 100
Black Rainbow Foil 235 Jakub Voracek Philadelphia Flyers Random Inserts in Hobby Packs 100
Black Rainbow Foil 236 Brian McGrattan Calgary Flames Random Inserts in Hobby Packs 100
Black Rainbow Foil 237 Rob Klinkhammer Phoenix Coyotes Random Inserts in Hobby Packs 100
Black Rainbow Foil 238 Joel Ward Washington Capitals Random Inserts in Hobby Packs 100
Black Rainbow Foil 239 Marian Gaborik Columbus Blue Jackets Random Inserts in Hobby Packs 100
Black Rainbow Foil 240 Ryan Miller Buffalo Sabres Random Inserts in Hobby Packs 100
Black Rainbow Foil 241 Josh Gorges Montreal Canadiens Random Inserts in Hobby Packs 100
Black Rainbow Foil 242 Travis Hamonic New York Islanders Random Inserts in Hobby Packs 100
Black Rainbow Foil 243 Carl Hagelin New York Rangers Random Inserts in Hobby Packs 100
Black Rainbow Foil 244 Tobias Enstrom Winnipeg Jets Random Inserts in Hobby Packs 100
Black Rainbow Foil 245 Scott Gomez San Jose Sharks Random Inserts in Hobby Packs 100
Black Rainbow Foil 246 Corey Crawford Chicago Blackhawks Random Inserts in Hobby Packs 100
Black Rainbow Foil 247 Francis Bouillon Montreal Canadiens Random Inserts in Hobby Packs 100
Black Rainbow Foil 248 Miikka Kiprusoff Calgary Flames Random Inserts in Hobby Packs 100
Black Rainbow Foil 249 Nate Thompson Tampa Bay Lightning Random Inserts in Hobby Packs 100
Black Rainbow Foil 250 Lauri Korpikoski Phoenix Coyotes Random Inserts in Hobby Packs 100
Black Rainbow Foil 251 Alexander Ovechkin Washington Capitals Random Inserts in Hobby Packs 100
Black Rainbow Foil 252 Jake Muzzin Los Angeles Kings Random Inserts in Hobby Packs 100
Black Rainbow Foil 253 Ryan Kesler Vancouver Canucks Random Inserts in Hobby Packs 100
Black Rainbow Foil 254 Pascal Dupuis Pittsburgh Penguins Random Inserts in Hobby Packs 100
Black Rainbow Foil 255 Ray Bourque Boston Bruins Random Inserts in Hobby Packs 100 Retired
Black Rainbow Foil 256 Kimmo Timonen Philadelphia Flyers Random Inserts in Hobby Packs 100
Black Rainbow Foil 257 Andy McDonald St. Louis Blues Random Inserts in Hobby Packs 100
Black Rainbow Foil 258 Corey Perry Anaheim Ducks Random Inserts in Hobby Packs 100
Black Rainbow Foil 259 Matt Hendricks Washington Capitals Random Inserts in Hobby Packs 100
Black Rainbow Foil 260 Marcus Kruger Chicago Blackhawks Random Inserts in Hobby Packs 100
Black Rainbow Foil 261 Milan Hejduk Colorado Avalanche Random Inserts in Hobby Packs 100
Black Rainbow Foil 262 Tyler Ennis Buffalo Sabres Random Inserts in Hobby Packs 100
Black Rainbow Foil 263 John Moore New York Rangers Random Inserts in Hobby Packs 100
Black Rainbow Foil 264 Kris Versteeg Florida Panthers Random Inserts in Hobby Packs 100
Black Rainbow Foil 265 Chad LaRose Carolina Hurricanes Random Inserts in Hobby Packs 100
Black Rainbow Foil 266 David Legwand Nashville Predators Random Inserts in Hobby Packs 100
Black Rainbow Foil 267 Daniel Sedin Vancouver Canucks Random Inserts in Hobby Packs 100
Black Rainbow Foil 268 Martin St. Louis Tampa Bay Lightning Random Inserts in Hobby Packs 100
Black Rainbow Foil 269 Patrick Eaves Detroit Red Wings Random Inserts in Hobby Packs 100
Black Rainbow Foil 270 James van Riemsdyk Toronto Maple Leafs Random Inserts in Hobby Packs 100
Black Rainbow Foil 271 Jay Bouwmeester St. Louis Blues Random Inserts in Hobby Packs 100
Black Rainbow Foil 272 Nicklas Backstrom Washington Capitals Random Inserts in Hobby Packs 100
Black Rainbow Foil 273 Andre Benoit Ottawa Senators Random Inserts in Hobby Packs 100
Black Rainbow Foil 274 Nikita Nikitin Columbus Blue Jackets Random Inserts in Hobby Packs 100
Black Rainbow Foil 275 Brad Boyes New York Islanders Random Inserts in Hobby Packs 100
Black Rainbow Foil 276 Andrei Markov Montreal Canadiens Random Inserts in Hobby Packs 100
Black Rainbow Foil 277 Matt Beleskey Anaheim Ducks Random Inserts in Hobby Packs 100
Black Rainbow Foil 278 Brian Elliott St. Louis Blues Random Inserts in Hobby Packs 100
Black Rainbow Foil 279 Chris Butler Calgary Flames Random Inserts in Hobby Packs 100
Black Rainbow Foil 280 Ilya Kovalchuk New Jersey Devils Random Inserts in Hobby Packs 100
Black Rainbow Foil 281 Lubomir Visnovsky New York Islanders Random Inserts in Hobby Packs 100
Black Rainbow Foil 282 Ray Emery Chicago Blackhawks Random Inserts in Hobby Packs 100
Black Rainbow Foil 283 Mikko Koivu Minnesota Wild Random Inserts in Hobby Packs 100
Black Rainbow Foil 284 Dominik Hasek Buffalo Sabres Random Inserts in Hobby Packs 100 Retired
Black Rainbow Foil 285 Alex Goligoski Dallas Stars Random Inserts in Hobby Packs 100
Black Rainbow Foil 286 Marc-Edouard Vlasic San Jose Sharks Random Inserts in Hobby Packs 100
Black Rainbow Foil 287 Vaclav Prospal Columbus Blue Jackets Random Inserts in Hobby Packs 100
Black Rainbow Foil 288 Antoine Vermette Phoenix Coyotes Random Inserts in Hobby Packs 100
Black Rainbow Foil 289 David Jones Colorado Avalanche Random Inserts in Hobby Packs 100
Black Rainbow Foil 290 Brian Boyle New York Rangers Random Inserts in Hobby Packs 100
Black Rainbow Foil 291 Kris Letang Pittsburgh Penguins Random Inserts in Hobby Packs 100
Black Rainbow Foil 292 Justin Peters Carolina Hurricanes Random Inserts in Hobby Packs 100
Black Rainbow Foil 293 Simon Gagne Philadelphia Flyers Random Inserts in Hobby Packs 100
Black Rainbow Foil 294 Rich Peverley Boston Bruins Random Inserts in Hobby Packs 100
Black Rainbow Foil 295 Gabriel Landeskog Colorado Avalanche Random Inserts in Hobby Packs 100
Black Rainbow Foil 296 Adam Larsson New Jersey Devils Random Inserts in Hobby Packs 100
Black Rainbow Foil 297 Kyle Okposo New York Islanders Random Inserts in Hobby Packs 100
Black Rainbow Foil 298 Martin Havlat San Jose Sharks Random Inserts in Hobby Packs 100
Black Rainbow Foil 299 Maxime Talbot Philadelphia Flyers Random Inserts in Hobby Packs 100
Black Rainbow Foil 300 B.J. Crombeen Tampa Bay Lightning Random Inserts in Hobby Packs 100
Black Rainbow Foil 301 Karl Alzner Washington Capitals Random Inserts in Hobby Packs 100
Black Rainbow Foil 302 Eric Staal Carolina Hurricanes Random Inserts in Hobby Packs 100
Black Rainbow Foil 303 Ryan Whitney Edmonton Oilers Random Inserts in Hobby Packs 100
Black Rainbow Foil 304 Kyle Clifford Los Angeles Kings Random Inserts in Hobby Packs 100
Black Rainbow Foil 305 Sean Couturier Philadelphia Flyers Random Inserts in Hobby Packs 100
Black Rainbow Foil 306 Matthew Lombardi Anaheim Ducks Random Inserts in Hobby Packs 100
Black Rainbow Foil 307 Michael Ryder Montreal Canadiens Random Inserts in Hobby Packs 100
Black Rainbow Foil 308 Brenden Morrow Pittsburgh Penguins Random Inserts in Hobby Packs 100
Black Rainbow Foil 309 Dan Cleary Detroit Red Wings Random Inserts in Hobby Packs 100
Black Rainbow Foil 310 Theoren Fleury Calgary Flames Random Inserts in Hobby Packs 100 Retired
Black Rainbow Foil 311 Cory Schneider Vancouver Canucks Random Inserts in Hobby Packs 100
Black Rainbow Foil 312 Johan Hedberg New Jersey Devils Random Inserts in Hobby Packs 100
Black Rainbow Foil 313 Matt Martin New York Islanders Random Inserts in Hobby Packs 100
Black Rainbow Foil 314 Cody Hodgson Buffalo Sabres Random Inserts in Hobby Packs 100
Black Rainbow Foil 315 Tyler Seguin Boston Bruins Random Inserts in Hobby Packs 100
Black Rainbow Foil 316 Brent Seabrook Chicago Blackhawks Random Inserts in Hobby Packs 100
Black Rainbow Foil 317 Ryan O'Reilly Colorado Avalanche Random Inserts in Hobby Packs 100
Black Rainbow Foil 318 Patrick Roy Montreal Canadiens Random Inserts in Hobby Packs 100 Retired
Black Rainbow Foil 319 Ryan Garbutt Dallas Stars Random Inserts in Hobby Packs 100
Black Rainbow Foil 320 Jack Johnson Columbus Blue Jackets Random Inserts in Hobby Packs 100
Black Rainbow Foil 321 Lee Stempniak Calgary Flames Random Inserts in Hobby Packs 100
Black Rainbow Foil 322 Patrick Sharp Chicago Blackhawks Random Inserts in Hobby Packs 100
Black Rainbow Foil 323 Milan Lucic Boston Bruins Random Inserts in Hobby Packs 100
Black Rainbow Foil 324 Anders Lindback Tampa Bay Lightning Random Inserts in Hobby Packs 100
Black Rainbow Foil 325 Eric Tangradi Winnipeg Jets Random Inserts in Hobby Packs 100
Black Rainbow Foil 326 Jamie Benn Dallas Stars Random Inserts in Hobby Packs 100
Black Rainbow Foil 327 Tyler Bozak Toronto Maple Leafs Random Inserts in Hobby Packs 100
Black Rainbow Foil 328 Martin Brodeur New Jersey Devils Random Inserts in Hobby Packs 100
Black Rainbow Foil 329 Roberto Luongo Vancouver Canucks Random Inserts in Hobby Packs 100
Black Rainbow Foil 330 Pekka Rinne Nashville Predators Random Inserts in Hobby Packs 100
Black Rainbow Foil 331 Clarke MacArthur Toronto Maple Leafs Random Inserts in Hobby Packs 100
Black Rainbow Foil 332 Michal Neuvirth Washington Capitals Random Inserts in Hobby Packs 100
Black Rainbow Foil 333 Colin Greening Ottawa Senators Random Inserts in Hobby Packs 100
Black Rainbow Foil 334 Robyn Regehr Los Angeles Kings Random Inserts in Hobby Packs 100
Black Rainbow Foil 335 Bryce Salvador New Jersey Devils Random Inserts in Hobby Packs 100
Black Rainbow Foil 336 Jared Spurgeon Minnesota Wild Random Inserts in Hobby Packs 100
Black Rainbow Foil 337 Grant Clitsome Winnipeg Jets Random Inserts in Hobby Packs 100
Black Rainbow Foil 338 Nikolai Kulemin Toronto Maple Leafs Random Inserts in Hobby Packs 100
Black Rainbow Foil 339 Jonas Hiller Anaheim Ducks Random Inserts in Hobby Packs 100
Black Rainbow Foil 340 Derek Stepan New York Rangers Random Inserts in Hobby Packs 100
Black Rainbow Foil 341 David Krejci Boston Bruins Random Inserts in Hobby Packs 100
Black Rainbow Foil 342 Jack Skille Florida Panthers Random Inserts in Hobby Packs 100
Black Rainbow Foil 343 Andy Greene New Jersey Devils Random Inserts in Hobby Packs 100
Black Rainbow Foil 344 Dan Ellis Carolina Hurricanes Random Inserts in Hobby Packs 100
Black Rainbow Foil 345 Nick Bonino Anaheim Ducks Random Inserts in Hobby Packs 100
Black Rainbow Foil 346 Eric Lindros Philadelphia Flyers Random Inserts in Hobby Packs 100 Retired
Black Rainbow Foil 347 Ladislav Smid Edmonton Oilers Random Inserts in Hobby Packs 100
Black Rainbow Foil 348 Chris Higgins Vancouver Canucks Random Inserts in Hobby Packs 100
Black Rainbow Foil 349 Matt Frattin Toronto Maple Leafs Random Inserts in Hobby Packs 100
Black Rainbow Foil 350 Steve Begin Calgary Flames Random Inserts in Hobby Packs 100
Black Rainbow Foil 351 John Mitchell Colorado Avalanche Random Inserts in Hobby Packs 100
Black Rainbow Foil 352 Anton Khudobin Boston Bruins Random Inserts in Hobby Packs 100
Black Rainbow Foil 353 Tim Jackman Calgary Flames Random Inserts in Hobby Packs 100
Black Rainbow Foil 354 Patrik Elias New Jersey Devils Random Inserts in Hobby Packs 100
Black Rainbow Foil 355 Drew Doughty Los Angeles Kings Random Inserts in Hobby Packs 100
Black Rainbow Foil 356 Ryan Smyth Edmonton Oilers Random Inserts in Hobby Packs 100
Black Rainbow Foil 357 Aaron Palushaj Colorado Avalanche Random Inserts in Hobby Packs 100
Black Rainbow Foil 358 Thomas Vanek Buffalo Sabres Random Inserts in Hobby Packs 100
Black Rainbow Foil 359 Derek Morris Phoenix Coyotes Random Inserts in Hobby Packs 100
Black Rainbow Foil 360 Marek Zidlicky New Jersey Devils Random Inserts in Hobby Packs 100
Black Rainbow Foil 361 Niklas Kronwall Detroit Red Wings Random Inserts in Hobby Packs 100
Black Rainbow Foil 362 Matt Moulson New York Islanders Random Inserts in Hobby Packs 100
Black Rainbow Foil 363 Matt Cullen Minnesota Wild Random Inserts in Hobby Packs 100
Black Rainbow Foil 364 Matt Stajan Calgary Flames Random Inserts in Hobby Packs 100
Black Rainbow Foil 365 Zac Rinaldo Philadelphia Flyers Random Inserts in Hobby Packs 100
Black Rainbow Foil 366 Antti Niemi San Jose Sharks Random Inserts in Hobby Packs 100
Black Rainbow Foil 367 Shane Doan Phoenix Coyotes Random Inserts in Hobby Packs 100
Black Rainbow Foil 368 Eric Nystrom Dallas Stars Random Inserts in Hobby Packs 100
Black Rainbow Foil 369 Josh Bailey New York Islanders Random Inserts in Hobby Packs 100
Black Rainbow Foil 370 Vladimir Sobotka St. Louis Blues Random Inserts in Hobby Packs 100
Black Rainbow Foil 371 Brandon Dubinsky Columbus Blue Jackets Random Inserts in Hobby Packs 100
Black Rainbow Foil 372 Bobby Clarke Philadelphia Flyers Random Inserts in Hobby Packs 100 Retired
Black Rainbow Foil 373 Cam Fowler Anaheim Ducks Random Inserts in Hobby Packs 100
Black Rainbow Foil 374 Matt Duchene Colorado Avalanche Random Inserts in Hobby Packs 100
Black Rainbow Foil 375 Brandon Yip Nashville Predators Random Inserts in Hobby Packs 100
Black Rainbow Foil 376 Ryan Callahan New York Rangers Random Inserts in Hobby Packs 100
Black Rainbow Foil 377 Justin Faulk Carolina Hurricanes Random Inserts in Hobby Packs 100
Black Rainbow Foil 378 Jason LaBarbera Phoenix Coyotes Random Inserts in Hobby Packs 100
Black Rainbow Foil 379 Cody McLeod Colorado Avalanche Random Inserts in Hobby Packs 100
Black Rainbow Foil 380 Kyle Palmieri Anaheim Ducks Random Inserts in Hobby Packs 100
Black Rainbow Foil 381 Sami Salo Tampa Bay Lightning Random Inserts in Hobby Packs 100
Black Rainbow Foil 382 Valtteri Filppula Detroit Red Wings Random Inserts in Hobby Packs 100
Black Rainbow Foil 383 Zdeno Chara Boston Bruins Random Inserts in Hobby Packs 100
Black Rainbow Foil 384 Ilya Bryzgalov Philadelphia Flyers Random Inserts in Hobby Packs 100
Black Rainbow Foil 385 Jeff Skinner Carolina Hurricanes Random Inserts in Hobby Packs 100
Black Rainbow Foil 386 Ben Scrivens Toronto Maple Leafs Random Inserts in Hobby Packs 100
Black Rainbow Foil 387 Joe Thornton San Jose Sharks Random Inserts in Hobby Packs 100
Black Rainbow Foil 388 Jarret Stoll Los Angeles Kings Random Inserts in Hobby Packs 100
Black Rainbow Foil 389 Anton Stralman New York Rangers Random Inserts in Hobby Packs 100
Black Rainbow Foil 390 Jannik Hansen Vancouver Canucks Random Inserts in Hobby Packs 100
Black Rainbow Foil 391 Jeff Petry Edmonton Oilers Random Inserts in Hobby Packs 100
Black Rainbow Foil 392 P.A. Parenteau Colorado Avalanche Random Inserts in Hobby Packs 100
Black Rainbow Foil 393 Ales Hemsky Edmonton Oilers Random Inserts in Hobby Packs 100
Black Rainbow Foil 394 Ian White Detroit Red Wings Random Inserts in Hobby Packs 100
Black Rainbow Foil 395 Michal Handzus Chicago Blackhawks Random Inserts in Hobby Packs 100
Black Rainbow Foil 396 Ryan Getzlaf Anaheim Ducks Random Inserts in Hobby Packs 100
Black Rainbow Foil 397 Wayne Gretzky Edmonton Oilers Random Inserts in Hobby Packs 100 Retired
Black Rainbow Foil 398 Tyler Myers Buffalo Sabres Random Inserts in Hobby Packs 100
Black Rainbow Foil 399 Brad Stuart San Jose Sharks Random Inserts in Hobby Packs 100
Black Rainbow Foil 400 George Parros Florida Panthers Random Inserts in Hobby Packs 100
Black Rainbow Foil 401 Mason Raymond Vancouver Canucks Random Inserts in Hobby Packs 100
Black Rainbow Foil 402 Adrian Aucoin Columbus Blue Jackets Random Inserts in Hobby Packs 100
Black Rainbow Foil 403 Daniel Paille Boston Bruins Random Inserts in Hobby Packs 100
Black Rainbow Foil 404 Travis Zajac New Jersey Devils Random Inserts in Hobby Packs 100
Black Rainbow Foil 405 Taylor Hall Edmonton Oilers Random Inserts in Hobby Packs 100
Black Rainbow Foil 406 Jamie McGinn Colorado Avalanche Random Inserts in Hobby Packs 100
Black Rainbow Foil 407 Evander Kane Winnipeg Jets Random Inserts in Hobby Packs 100
Black Rainbow Foil 408 Alexei Emelin Montreal Canadiens Random Inserts in Hobby Packs 100
Black Rainbow Foil 409 Magnus Paajarvi Edmonton Oilers Random Inserts in Hobby Packs 100
Black Rainbow Foil 410 Erik Cole Dallas Stars Random Inserts in Hobby Packs 100
Black Rainbow Foil 411 Christian Ehrhoff Buffalo Sabres Random Inserts in Hobby Packs 100
Black Rainbow Foil 412 Jeff Carter Los Angeles Kings Random Inserts in Hobby Packs 100
Black Rainbow Foil 413 Ryan Johansen Columbus Blue Jackets Random Inserts in Hobby Packs 100
Black Rainbow Foil 414 Eric Fehr Washington Capitals Random Inserts in Hobby Packs 100
Black Rainbow Foil 415 David Moss Phoenix Coyotes Random Inserts in Hobby Packs 100
Black Rainbow Foil 416 David Clarkson New Jersey Devils Random Inserts in Hobby Packs 100
Black Rainbow Foil 417 Ville Leino Buffalo Sabres Random Inserts in Hobby Packs 100
Black Rainbow Foil 418 Nick Leddy Chicago Blackhawks Random Inserts in Hobby Packs 100
Black Rainbow Foil 419 Andrew Cogliano Anaheim Ducks Random Inserts in Hobby Packs 100
Black Rainbow Foil 420 Gabriel Bourque Nashville Predators Random Inserts in Hobby Packs 100
Black Rainbow Foil 421 Jonathan Quick Los Angeles Kings Random Inserts in Hobby Packs 100
Black Rainbow Foil 422 Nathan Horton Boston Bruins Random Inserts in Hobby Packs 100
Black Rainbow Foil 423 Paul Coffey Edmonton Oilers Random Inserts in Hobby Packs 100 Retired
Black Rainbow Foil 424 Nathan Gerbe Buffalo Sabres Random Inserts in Hobby Packs 100
Black Rainbow Foil 425 Ryan Suter Minnesota Wild Random Inserts in Hobby Packs 100
Black Rainbow Foil 426 Ryan Malone Tampa Bay Lightning Random Inserts in Hobby Packs 100
Black Rainbow Foil 427 Rene Bourque Montreal Canadiens Random Inserts in Hobby Packs 100
Black Rainbow Foil 428 Alexander Burmistrov Winnipeg Jets Random Inserts in Hobby Packs 100
Black Rainbow Foil 429 Sergei Kostitsyn Nashville Predators Random Inserts in Hobby Packs 100
Black Rainbow Foil 430 Nicklas Lidstrom Detroit Red Wings Random Inserts in Hobby Packs 100 Retired
Black Rainbow Foil 431 Mike Smith Phoenix Coyotes Random Inserts in Hobby Packs 100
Black Rainbow Foil 432 Bryan Trottier New York Islanders Random Inserts in Hobby Packs 100 Retired
Black Rainbow Foil 433 Paul Stastny Colorado Avalanche Random Inserts in Hobby Packs 100
Black Rainbow Foil 434 Jaden Schwartz St. Louis Blues Random Inserts in Hobby Packs 100
Black Rainbow Foil 435 Artem Anisimov Columbus Blue Jackets Random Inserts in Hobby Packs 100
Black Rainbow Foil 436 Michael Cammalleri Calgary Flames Random Inserts in Hobby Packs 100
Black Rainbow Foil 437 Bobby Ryan Anaheim Ducks Random Inserts in Hobby Packs 100
Black Rainbow Foil 438 Rostislav Klesla Phoenix Coyotes Random Inserts in Hobby Packs 100
Black Rainbow Foil 439 Jason Garrison Vancouver Canucks Random Inserts in Hobby Packs 100
Black Rainbow Foil 440 Max Pacioretty Montreal Canadiens Random Inserts in Hobby Packs 100
Black Rainbow Foil 441 Olli Jokinen Winnipeg Jets Random Inserts in Hobby Packs 100
Black Rainbow Foil 442 Zach Parise Minnesota Wild Random Inserts in Hobby Packs 100
Black Rainbow Foil 443 Chris Kunitz Pittsburgh Penguins Random Inserts in Hobby Packs 100
Black Rainbow Foil 444 Anze Kopitar Los Angeles Kings Random Inserts in Hobby Packs 100
Black Rainbow Foil 445 Kevin Shattenkirk St. Louis Blues Random Inserts in Hobby Packs 100
Black Rainbow Foil 446 Jakob Silfverberg Ottawa Senators Random Inserts in Hobby Packs 100
Black Rainbow Foil 447 Andrei Loktionov New Jersey Devils Random Inserts in Hobby Packs 100
Black Rainbow Foil 448 Tommy Wingels San Jose Sharks Random Inserts in Hobby Packs 100
Black Rainbow Foil 449 Lars Eller Montreal Canadiens Random Inserts in Hobby Packs 100
Black Rainbow Foil 450 Ondrej Pavelec Winnipeg Jets Random Inserts in Hobby Packs 100
Black Rainbow Foil 451 Drew Stafford Buffalo Sabres Random Inserts in Hobby Packs 100
Black Rainbow Foil 452 Pavel Datsyuk Detroit Red Wings Random Inserts in Hobby Packs 100
Black Rainbow Foil 453 Dustin Brown Los Angeles Kings Random Inserts in Hobby Packs 100
Black Rainbow Foil 454 Alexander Steen St. Louis Blues Random Inserts in Hobby Packs 100
Black Rainbow Foil 455 Ben Bishop Tampa Bay Lightning Random Inserts in Hobby Packs 100
Black Rainbow Foil 456 Erik Gudbranson Florida Panthers Random Inserts in Hobby Packs 100
Black Rainbow Foil 457 Maxim Lapierre Vancouver Canucks Random Inserts in Hobby Packs 100
Black Rainbow Foil 458 Adam Henrique New Jersey Devils Random Inserts in Hobby Packs 100
Black Rainbow Foil 459 Jordan Staal Carolina Hurricanes Random Inserts in Hobby Packs 100
Black Rainbow Foil 460 Milan Michalek Ottawa Senators Random Inserts in Hobby Packs 100
Black Rainbow Foil 461 Dave Bolland Chicago Blackhawks Random Inserts in Hobby Packs 100
Black Rainbow Foil 462 Adam Burish San Jose Sharks Random Inserts in Hobby Packs 100
Black Rainbow Foil 463 Mark Streit New York Islanders Random Inserts in Hobby Packs 100
Black Rainbow Foil 464 Jaromir Jagr Boston Bruins Random Inserts in Hobby Packs 100
Black Rainbow Foil 465 James Reimer Toronto Maple Leafs Random Inserts in Hobby Packs 100
Black Rainbow Foil 466 Jason Pominville Minnesota Wild Random Inserts in Hobby Packs 100
Black Rainbow Foil 467 Trevor Lewis Los Angeles Kings Random Inserts in Hobby Packs 100
Black Rainbow Foil 468 Stephane Robidas Dallas Stars Random Inserts in Hobby Packs 100
Black Rainbow Foil 469 Dennis Wideman Calgary Flames Random Inserts in Hobby Packs 100
Black Rainbow Foil 470 Bryan Little Winnipeg Jets Random Inserts in Hobby Packs 100
Black Rainbow Foil 471 Kyle Chipchura Phoenix Coyotes Random Inserts in Hobby Packs 100
Black Rainbow Foil 472 Roman Polak St. Louis Blues Random Inserts in Hobby Packs 100
Black Rainbow Foil 473 Tomas Plekanec Montreal Canadiens Random Inserts in Hobby Packs 100
Black Rainbow Foil 474 Mark Giordano Calgary Flames Random Inserts in Hobby Packs 100
Black Rainbow Foil 475 Sidney Crosby Pittsburgh Penguins Random Inserts in Hobby Packs 100
Black Rainbow Foil 476 Blake Wheeler Winnipeg Jets Random Inserts in Hobby Packs 100
Black Rainbow Foil 477 Luke Schenn Philadelphia Flyers Random Inserts in Hobby Packs 100
Black Rainbow Foil 478 Niklas Backstrom Minnesota Wild Random Inserts in Hobby Packs 100
Black Rainbow Foil 479 Brad Richards New York Rangers Random Inserts in Hobby Packs 100
Black Rainbow Foil 480 Sergei Gonchar Ottawa Senators Random Inserts in Hobby Packs 100
Black Rainbow Foil 481 Cam Ward Carolina Hurricanes Random Inserts in Hobby Packs 100
Black Rainbow Foil 482 Jarome Iginla Pittsburgh Penguins Random Inserts in Hobby Packs 100
Black Rainbow Foil 483 Keaton Ellerby Los Angeles Kings Random Inserts in Hobby Packs 100
Black Rainbow Foil 484 Dan Boyle San Jose Sharks Random Inserts in Hobby Packs 100
Black Rainbow Foil 485 Raphael Diaz Montreal Canadiens Random Inserts in Hobby Packs 100
Black Rainbow Foil 486 Patric Hornqvist Nashville Predators Random Inserts in Hobby Packs 100
Black Rainbow Foil 487 T.J. Brodie Calgary Flames Random Inserts in Hobby Packs 100
Black Rainbow Foil 488 Claude Giroux Philadelphia Flyers Random Inserts in Hobby Packs 100
Black Rainbow Foil 489 Scott Clemmensen Florida Panthers Random Inserts in Hobby Packs 100
Black Rainbow Foil 490 Joe Sakic Colorado Avalanche Random Inserts in Hobby Packs 100 Retired
Black Rainbow Foil 491 Slava Voynov Los Angeles Kings Random Inserts in Hobby Packs 100
Black Rainbow Foil 492 Justin Falk Minnesota Wild Random Inserts in Hobby Packs 100
Black Rainbow Foil 493 Chris Stewart St. Louis Blues Random Inserts in Hobby Packs 100
Black Rainbow Foil 494 Ron Hainsey Winnipeg Jets Random Inserts in Hobby Packs 100
Black Rainbow Foil 495 Patrick Marleau San Jose Sharks Random Inserts in Hobby Packs 100
Black Rainbow Foil 496 Checklist None None Random Inserts in Hobby Packs 100
Black Rainbow Foil 497 Checklist None None Random Inserts in Hobby Packs 100
Black Rainbow Foil 498 Checklist None None Random Inserts in Hobby Packs 100
Black Rainbow Foil 499 Checklist None None Random Inserts in Hobby Packs 100
Black Rainbow Foil 500 Checklist None None Random Inserts in Hobby Packs 100
Black Rainbow Foil Marquee Rookies 501 Nail Yakupov Edmonton Oilers Random Inserts in Hobby Packs 100 Rookie
Black Rainbow Foil Marquee Rookies 502 Ryan Murphy Carolina Hurricanes Random Inserts in Hobby Packs 100 Rookie
Black Rainbow Foil Marquee Rookies 503 Jon Rheault Florida Panthers Random Inserts in Hobby Packs 100 Rookie
Black Rainbow Foil Marquee Rookies 504 Sean Collins Columbus Blue Jackets Random Inserts in Hobby Packs 100 Rookie
Black Rainbow Foil Marquee Rookies 505 Roman Cervenka Calgary Flames Random Inserts in Hobby Packs 100 Rookie
Black Rainbow Foil Marquee Rookies 506 Quinton Howden Florida Panthers Random Inserts in Hobby Packs 100 Rookie
Black Rainbow Foil Marquee Rookies 507 Matt Anderson New Jersey Devils Random Inserts in Hobby Packs 100 Rookie
Black Rainbow Foil Marquee Rookies 508 Matt Tennyson San Jose Sharks Random Inserts in Hobby Packs 100 Rookie
Black Rainbow Foil Marquee Rookies 509 Christian Thomas New York Rangers Random Inserts in Hobby Packs 100 Rookie
Black Rainbow Foil Marquee Rookies 510 Chris Brown Phoenix Coyotes Random Inserts in Hobby Packs 100 Rookie
Black Rainbow Foil Marquee Rookies 511 Mark Barberio Tampa Bay Lightning Random Inserts in Hobby Packs 100 Rookie
Black Rainbow Foil Marquee Rookies 512 Zach Redmond Winnipeg Jets Random Inserts in Hobby Packs 100 Rookie
Black Rainbow Foil Marquee Rookies 513 Steve Pinizzotto Vancouver Canucks Random Inserts in Hobby Packs 100 Rookie
Black Rainbow Foil Marquee Rookies 514 Calvin Pickard Colorado Avalanche Random Inserts in Hobby Packs 100 Rookie
Black Rainbow Foil Marquee Rookies 515 Jean-Gabriel Pageau Ottawa Senators Random Inserts in Hobby Packs 100 Rookie
Black Rainbow Foil Marquee Rookies 516 Darcy Kuemper Minnesota Wild Random Inserts in Hobby Packs 100 Rookie
Black Rainbow Foil Marquee Rookies 517 Viktor Fasth Anaheim Ducks Random Inserts in Hobby Packs 100 Rookie
Black Rainbow Foil Marquee Rookies 518 Brett Bellemore Carolina Hurricanes Random Inserts in Hobby Packs 100 Rookie
Black Rainbow Foil Marquee Rookies 519 Dan DeKeyser Detroit Red Wings Random Inserts in Hobby Packs 100 Rookie
Black Rainbow Foil Marquee Rookies 520 Brendan Gallagher Montreal Canadiens Random Inserts in Hobby Packs 100 Rookie
Black Rainbow Foil Marquee Rookies 521 Oliver Lauridsen Philadelphia Flyers Random Inserts in Hobby Packs 100 Rookie
Black Rainbow Foil Marquee Rookies 522 Leo Komarov Toronto Maple Leafs Random Inserts in Hobby Packs 100 Rookie
Black Rainbow Foil Marquee Rookies 523 Michal Jordan Carolina Hurricanes Random Inserts in Hobby Packs 100 Rookie
Black Rainbow Foil Marquee Rookies 524 Nick Petrecki San Jose Sharks Random Inserts in Hobby Packs 100 Rookie
Black Rainbow Foil Marquee Rookies 525 Filip Forsberg Nashville Predators Random Inserts in Hobby Packs 100 Rookie
Black Rainbow Foil Marquee Rookies 526 Michael Sgarbossa Colorado Avalanche Random Inserts in Hobby Packs 100 Rookie
Black Rainbow Foil Marquee Rookies 527 Mikhail Grigorenko Buffalo Sabres Random Inserts in Hobby Packs 100 Rookie
Black Rainbow Foil Marquee Rookies 528 Emerson Etem Anaheim Ducks Random Inserts in Hobby Packs 100 Rookie
Black Rainbow Foil Marquee Rookies 529 Alex Chiasson Dallas Stars Random Inserts in Hobby Packs 100 Rookie
Black Rainbow Foil Marquee Rookies 530 Ben Street Calgary Flames Random Inserts in Hobby Packs 100 Rookie
Black Rainbow Foil Marquee Rookies 531 Dougie Hamilton Boston Bruins Random Inserts in Hobby Packs 100 Rookie
Black Rainbow Foil Marquee Rookies 532 Mark Arcobello Edmonton Oilers Random Inserts in Hobby Packs 100 Rookie
Black Rainbow Foil Marquee Rookies 533 Victor Bartley Nashville Predators Random Inserts in Hobby Packs 100 Rookie
Black Rainbow Foil Marquee Rookies 534 Beau Bennett Pittsburgh Penguins Random Inserts in Hobby Packs 100 Rookie
Black Rainbow Foil Marquee Rookies 535 Steve Oleksy Washington Capitals Random Inserts in Hobby Packs 100 Rookie
Black Rainbow Foil Marquee Rookies 536 Radko Gudas Tampa Bay Lightning Random Inserts in Hobby Packs 100 Rookie
Black Rainbow Foil Marquee Rookies 537 Vladimir Tarasenko St. Louis Blues Random Inserts in Hobby Packs 100 Rookie
Black Rainbow Foil Marquee Rookies 538 Eric Gryba Ottawa Senators Random Inserts in Hobby Packs 100 Rookie
Black Rainbow Foil Marquee Rookies 539 Jarred Tinordi Montreal Canadiens Random Inserts in Hobby Packs 100 Rookie
Black Rainbow Foil Marquee Rookies 540 Eric Selleck Florida Panthers Random Inserts in Hobby Packs 100 Rookie
Black Rainbow Foil Marquee Rookies 541 Patrick Bordeleau Colorado Avalanche Random Inserts in Hobby Packs 100 Rookie
Black Rainbow Foil Marquee Rookies 542 Sami Vatanen Anaheim Ducks Random Inserts in Hobby Packs 100 Rookie
Black Rainbow Foil Marquee Rookies 543 Brian Lashoff Detroit Red Wings Random Inserts in Hobby Packs 100 Rookie
Black Rainbow Foil Marquee Rookies 544 Drew Shore Florida Panthers Random Inserts in Hobby Packs 100 Rookie
Black Rainbow Foil Marquee Rookies 545 Cameron Schilling Washington Capitals Random Inserts in Hobby Packs 100 Rookie
Black Rainbow Foil Marquee Rookies 546 David Dziurzynski Ottawa Senators Random Inserts in Hobby Packs 100 Rookie
Black Rainbow Foil Marquee Rookies 547 Mike Kostka Toronto Maple Leafs Random Inserts in Hobby Packs 100 Rookie
Black Rainbow Foil Marquee Rookies 548 Anthony Peluso Winnipeg Jets Random Inserts in Hobby Packs 100 Rookie
Black Rainbow Foil Marquee Rookies 549 Thomas Hickey New York Islanders Random Inserts in Hobby Packs 100 Rookie
Black Rainbow Foil Marquee Rookies 550 Daniel Bang Nashville Predators Random Inserts in Hobby Packs 100 Rookie
Black Rainbow Foil Marquee Rookies 551 Greg Pateryn Montreal Canadiens Random Inserts in Hobby Packs 100 Rookie
Black Rainbow Foil Marquee Rookies 552 Tye McGinn Philadelphia Flyers Random Inserts in Hobby Packs 100 Rookie
Black Rainbow Foil Marquee Rookies 553 Stefan Matteau New Jersey Devils Random Inserts in Hobby Packs 100 Rookie
Black Rainbow Foil Marquee Rookies 554 Charlie Coyle Minnesota Wild Random Inserts in Hobby Packs 100 Rookie
Black Rainbow Foil Marquee Rookies 555 Jonathan Huberdeau Florida Panthers Random Inserts in Hobby Packs 100 Rookie
Black Rainbow Foil Marquee Rookies 556 Petr Mrazek Detroit Red Wings Random Inserts in Hobby Packs 100 Rookie
Black Rainbow Foil Marquee Rookies 557 Max Reinhart Calgary Flames Random Inserts in Hobby Packs 100 Rookie
Black Rainbow Foil Marquee Rookies 558 Rickard Rakell Anaheim Ducks Random Inserts in Hobby Packs 100 Rookie
Black Rainbow Foil Marquee Rookies 559 Anders Lee New York Islanders Random Inserts in Hobby Packs 100 Rookie
Black Rainbow Foil Marquee Rookies 560 Tyler Toffoli Los Angeles Kings Random Inserts in Hobby Packs 100 Rookie
Black Rainbow Foil Marquee Rookies 561 Tyler Johnson Tampa Bay Lightning Random Inserts in Hobby Packs 100 Rookie
Black Rainbow Foil Marquee Rookies 562 Philipp Grubauer Washington Capitals Random Inserts in Hobby Packs 100 Rookie
Black Rainbow Foil Marquee Rookies 563 Brian Flynn Buffalo Sabres Random Inserts in Hobby Packs 100 Rookie
Black Rainbow Foil Marquee Rookies 564 Mark Pysyk Buffalo Sabres Random Inserts in Hobby Packs 100 Rookie
Black Rainbow Foil Marquee Rookies 565 Ryan Spooner Boston Bruins Random Inserts in Hobby Packs 100 Rookie
Black Rainbow Foil Marquee Rookies 566 Cory Conacher Ottawa Senators Random Inserts in Hobby Packs 100 Rookie
Black Rainbow Foil Marquee Rookies 567 Andrej Sustr Tampa Bay Lightning Random Inserts in Hobby Packs 100 Rookie
Black Rainbow Foil Marquee Rookies 568 Justin Schultz Edmonton Oilers Random Inserts in Hobby Packs 100 Rookie
Black Rainbow Foil Marquee Rookies 569 Jamie Oleksiak Dallas Stars Random Inserts in Hobby Packs 100 Rookie
Black Rainbow Foil Marquee Rookies 570 Jamie Tardif Boston Bruins Random Inserts in Hobby Packs 100 Rookie
Black Rainbow Foil Marquee Rookies 571 Michael Caruso Florida Panthers Random Inserts in Hobby Packs 100 Rookie
Black Rainbow Foil Marquee Rookies 572 Derek Grant Ottawa Senators Random Inserts in Hobby Packs 100 Rookie
Black Rainbow Foil Marquee Rookies 573 Nicklas Jensen Vancouver Canucks Random Inserts in Hobby Packs 100 Rookie
Black Rainbow Foil Marquee Rookies 574 Dmitrij Jaskin St. Louis Blues Random Inserts in Hobby Packs 100 Rookie
Black Rainbow Foil Marquee Rookies 575 Alex Galchenyuk Montreal Canadiens Random Inserts in Hobby Packs 100 Rookie
Black Rainbow Foil Marquee Rookies 576 Jonas Brodin Minnesota Wild Random Inserts in Hobby Packs 100 Rookie
Black Rainbow Foil Marquee Rookies 577 Richard Panik Tampa Bay Lightning Random Inserts in Hobby Packs 100 Rookie
Black Rainbow Foil Marquee Rookies 578 J.T. Miller New York Rangers Random Inserts in Hobby Packs 100 Rookie
Black Rainbow Foil Marquee Rookies 579 Nathan Beaulieu Montreal Canadiens Random Inserts in Hobby Packs 100 Rookie
Black Rainbow Foil Marquee Rookies 580 Ondrej Palat Tampa Bay Lightning Random Inserts in Hobby Packs 100 Rookie
Black Rainbow Foil Marquee Rookies 581 Scott Laughton Philadelphia Flyers Random Inserts in Hobby Packs 100 Rookie
Black Rainbow Foil Marquee Rookies 582 Austin Watson Nashville Predators Random Inserts in Hobby Packs 100 Rookie
Black Rainbow Foil Marquee Rookies 583 Jordan Schroeder Vancouver Canucks Random Inserts in Hobby Packs 100 Rookie
Black Rainbow Foil Marquee Rookies 584 Chris Terry Carolina Hurricanes Random Inserts in Hobby Packs 100 Rookie
Black Rainbow Foil Marquee Rookies 585 Jonathan Audy-Marchessault Columbus Blue Jackets Random Inserts in Hobby Packs 100 Rookie
Black Rainbow Foil Marquee Rookies 586 Cristopher Nilstorp Dallas Stars Random Inserts in Hobby Packs 100 Rookie
Black Rainbow Foil Marquee Rookies 587 Harri Pesonen New Jersey Devils Random Inserts in Hobby Packs 100 Rookie
Black Rainbow Foil Marquee Rookies 588 Matthew Irwin San Jose Sharks Random Inserts in Hobby Packs 100 Rookie
Black Rainbow Foil Marquee Rookies 589 Johan Larsson Buffalo Sabres Random Inserts in Hobby Packs 100 Rookie
Black Rainbow Foil Marquee Rookies 590 Damien Brunner Detroit Red Wings Random Inserts in Hobby Packs 100 Rookie
Black Rainbow Foil Marquee Rookies 591 Mikael Granlund Minnesota Wild Random Inserts in Hobby Packs 100 Rookie
Black Rainbow Foil Marquee Rookies 592 Chad Ruhwedel Buffalo Sabres Random Inserts in Hobby Packs 100 Rookie
Black Rainbow Foil Marquee Rookies 593 Alex Killorn Tampa Bay Lightning Random Inserts in Hobby Packs 100 Rookie
Black Rainbow Foil Marquee Rookies 594 Nicolas Blanchard Carolina Hurricanes Random Inserts in Hobby Packs 100 Rookie
Black Rainbow Foil Marquee Rookies 595 Nick Bjugstad Florida Panthers Random Inserts in Hobby Packs 100 Rookie
Black Rainbow Foil Marquee Rookies 596 Ben Hanowski Calgary Flames Random Inserts in Hobby Packs 100 Rookie
Black Rainbow Foil Marquee Rookies 597 Antoine Roussel Dallas Stars Random Inserts in Hobby Packs 100 Rookie
Black Rainbow Foil Marquee Rookies 598 Sami Aittokallio Colorado Avalanche Random Inserts in Hobby Packs 100 Rookie
Black Rainbow Foil Marquee Rookies 599 Jack Campbell Dallas Stars Random Inserts in Hobby Packs 100 Rookie
Black Rainbow Foil Marquee Rookies 600 Checklist None None Random Inserts in Hobby Packs 100
Red Border 1 Phil Kessel Toronto Maple Leafs 5 Reds per Wrapper Redemption Pack
Red Border 2 Benoit Pouliot Tampa Bay Lightning 5 Reds per Wrapper Redemption Pack
Red Border 3 Semyon Varlamov Colorado Avalanche 5 Reds per Wrapper Redemption Pack
Red Border 4 Andrew Ference Boston Bruins 5 Reds per Wrapper Redemption Pack
Red Border 5 Jonathan Bernier Los Angeles Kings 5 Reds per Wrapper Redemption Pack
Red Border 6 Daniel Girardi New York Rangers 5 Reds per Wrapper Redemption Pack
Red Border 7 Douglas Murray Pittsburgh Penguins 5 Reds per Wrapper Redemption Pack
Red Border 8 Ray Whitney Dallas Stars 5 Reds per Wrapper Redemption Pack
Red Border 9 Daniel Briere Philadelphia Flyers 5 Reds per Wrapper Redemption Pack
Red Border 10 Johan Franzen Detroit Red Wings 5 Reds per Wrapper Redemption Pack
Red Border 11 Pavel Bure Vancouver Canucks 5 Reds per Wrapper Redemption Pack Retired
Red Border 12 Nick Spaling Nashville Predators 5 Reds per Wrapper Redemption Pack
Red Border 13 Dwight King Los Angeles Kings 5 Reds per Wrapper Redemption Pack
Red Border 14 Devin Setoguchi Minnesota Wild 5 Reds per Wrapper Redemption Pack
Red Border 15 Andrej Sekera Buffalo Sabres 5 Reds per Wrapper Redemption Pack
Red Border 16 Patrick Dwyer Carolina Hurricanes 5 Reds per Wrapper Redemption Pack
Red Border 17 John-Michael Liles Toronto Maple Leafs 5 Reds per Wrapper Redemption Pack
Red Border 18 Michael Grabner New York Islanders 5 Reds per Wrapper Redemption Pack
Red Border 19 Guillaume Latendresse Ottawa Senators 5 Reds per Wrapper Redemption Pack
Red Border 20 Derick Brassard New York Rangers 5 Reds per Wrapper Redemption Pack
Red Border 21 Matt Read Philadelphia Flyers 5 Reds per Wrapper Redemption Pack
Red Border 22 Duncan Keith Chicago Blackhawks 5 Reds per Wrapper Redemption Pack
Red Border 23 Colin Wilson Nashville Predators 5 Reds per Wrapper Redemption Pack
Red Border 24 Jordan Eberle Edmonton Oilers 5 Reds per Wrapper Redemption Pack
Red Border 25 Drayson Bowman Carolina Hurricanes 5 Reds per Wrapper Redemption Pack
Red Border 26 Jordin Tootoo Detroit Red Wings 5 Reds per Wrapper Redemption Pack
Red Border 27 Justin Williams Los Angeles Kings 5 Reds per Wrapper Redemption Pack
Red Border 28 Kyle Wellwood Winnipeg Jets 5 Reds per Wrapper Redemption Pack
Red Border 29 Larry Robinson Montreal Canadiens 5 Reds per Wrapper Redemption Pack Retired
Red Border 30 Tyler Kennedy Pittsburgh Penguins 5 Reds per Wrapper Redemption Pack
Red Border 31 Kevin Klein Nashville Predators 5 Reds per Wrapper Redemption Pack
Red Border 32 Loui Eriksson Dallas Stars 5 Reds per Wrapper Redemption Pack
Red Border 33 Alexander Semin Carolina Hurricanes 5 Reds per Wrapper Redemption Pack
Red Border 34 Cody Franson Toronto Maple Leafs 5 Reds per Wrapper Redemption Pack
Red Border 35 Erik Condra Ottawa Senators 5 Reds per Wrapper Redemption Pack
Red Border 36 Nik Antropov Winnipeg Jets 5 Reds per Wrapper Redemption Pack
Red Border 37 Peter Holland Anaheim Ducks 5 Reds per Wrapper Redemption Pack
Red Border 38 Drew Miller Detroit Red Wings 5 Reds per Wrapper Redemption Pack
Red Border 39 Henrik Sedin Vancouver Canucks 5 Reds per Wrapper Redemption Pack
Red Border 40 Curtis Glencross Calgary Flames 5 Reds per Wrapper Redemption Pack
Red Border 41 Mike Richards Los Angeles Kings 5 Reds per Wrapper Redemption Pack
Red Border 42 Ryane Clowe New York Rangers 5 Reds per Wrapper Redemption Pack
Red Border 43 Carl Gunnarsson Toronto Maple Leafs 5 Reds per Wrapper Redemption Pack
Red Border 44 Evgeni Nabokov New York Islanders 5 Reds per Wrapper Redemption Pack
Red Border 45 James Wisniewski Columbus Blue Jackets 5 Reds per Wrapper Redemption Pack
Red Border 46 Brian Gionta Montreal Canadiens 5 Reds per Wrapper Redemption Pack
Red Border 47 Scott Hartnell Philadelphia Flyers 5 Reds per Wrapper Redemption Pack
Red Border 48 Shawn Matthias Florida Panthers 5 Reds per Wrapper Redemption Pack
Red Border 49 Jonathan Toews Chicago Blackhawks 5 Reds per Wrapper Redemption Pack
Red Border 50 Luc Robitaille Los Angeles Kings 5 Reds per Wrapper Redemption Pack Retired
Red Border 51 Joey MacDonald Calgary Flames 5 Reds per Wrapper Redemption Pack
Red Border 52 Alex Pietrangelo St. Louis Blues 5 Reds per Wrapper Redemption Pack
Red Border 53 Brayden Schenn Philadelphia Flyers 5 Reds per Wrapper Redemption Pack
Red Border 54 Paul Gaustad Nashville Predators 5 Reds per Wrapper Redemption Pack
Red Border 55 Radim Vrbata Phoenix Coyotes 5 Reds per Wrapper Redemption Pack
Red Border 56 Mark Fistric Edmonton Oilers 5 Reds per Wrapper Redemption Pack
Red Border 57 Cory Emmerton Detroit Red Wings 5 Reds per Wrapper Redemption Pack
Red Border 58 Matt Carle Tampa Bay Lightning 5 Reds per Wrapper Redemption Pack
Red Border 59 John Carlson Washington Capitals 5 Reds per Wrapper Redemption Pack
Red Border 60 Zenon Konopka Minnesota Wild 5 Reds per Wrapper Redemption Pack
Red Border 61 Jiri Tlusty Carolina Hurricanes 5 Reds per Wrapper Redemption Pack
Red Border 62 Alex Tanguay Calgary Flames 5 Reds per Wrapper Redemption Pack
Red Border 63 Viktor Stalberg Chicago Blackhawks 5 Reds per Wrapper Redemption Pack
Red Border 64 Daniel Alfredsson Ottawa Senators 5 Reds per Wrapper Redemption Pack
Red Border 65 Colin McDonald New York Islanders 5 Reds per Wrapper Redemption Pack
Red Border 66 Dennis Seidenberg Boston Bruins 5 Reds per Wrapper Redemption Pack
Red Border 67 Steven Stamkos Tampa Bay Lightning 5 Reds per Wrapper Redemption Pack
Red Border 68 R.J. Umberger Columbus Blue Jackets 5 Reds per Wrapper Redemption Pack
Red Border 69 Rob Scuderi Los Angeles Kings 5 Reds per Wrapper Redemption Pack
Red Border 70 Nikolai Khabibulin Edmonton Oilers 5 Reds per Wrapper Redemption Pack
Red Border 71 Jaroslav Halak St. Louis Blues 5 Reds per Wrapper Redemption Pack
Red Border 72 Steve Ott Buffalo Sabres 5 Reds per Wrapper Redemption Pack
Red Border 73 Joni Pitkanen Carolina Hurricanes 5 Reds per Wrapper Redemption Pack
Red Border 74 Henrik Zetterberg Detroit Red Wings 5 Reds per Wrapper Redemption Pack
Red Border 75 Jason Chimera Washington Capitals 5 Reds per Wrapper Redemption Pack
Red Border 76 Victor Hedman Tampa Bay Lightning 5 Reds per Wrapper Redemption Pack
Red Border 77 Sergei Bobrovsky Columbus Blue Jackets 5 Reds per Wrapper Redemption Pack
Red Border 78 Oliver Ekman-Larsson Phoenix Coyotes 5 Reds per Wrapper Redemption Pack
Red Border 79 Mark Messier Edmonton Oilers 5 Reds per Wrapper Redemption Pack Retired
Red Border 80 Martin Erat Washington Capitals 5 Reds per Wrapper Redemption Pack
Red Border 81 Wayne Simmonds Philadelphia Flyers 5 Reds per Wrapper Redemption Pack
Red Border 82 Jordan Leopold St. Louis Blues 5 Reds per Wrapper Redemption Pack
Red Border 83 Craig Smith Nashville Predators 5 Reds per Wrapper Redemption Pack
Red Border 84 Matt Cooke Pittsburgh Penguins 5 Reds per Wrapper Redemption Pack
Red Border 85 Jay McClement Toronto Maple Leafs 5 Reds per Wrapper Redemption Pack
Red Border 86 Fedor Tyutin Columbus Blue Jackets 5 Reds per Wrapper Redemption Pack
Red Border 87 Rick Nash New York Rangers 5 Reds per Wrapper Redemption Pack
Red Border 88 Kyle Turris Ottawa Senators 5 Reds per Wrapper Redemption Pack
Red Border 89 Andrew MacDonald New York Islanders 5 Reds per Wrapper Redemption Pack
Red Border 90 Bobby Orr Boston Bruins 5 Reds per Wrapper Redemption Pack Retired
Red Border 91 Vernon Fiddler Dallas Stars 5 Reds per Wrapper Redemption Pack
Red Border 92 Joffrey Lupul Toronto Maple Leafs 5 Reds per Wrapper Redemption Pack
Red Border 93 Patrik Berglund St. Louis Blues 5 Reds per Wrapper Redemption Pack
Red Border 94 Braden Holtby Washington Capitals 5 Reds per Wrapper Redemption Pack
Red Border 95 Patrick Kane Chicago Blackhawks 5 Reds per Wrapper Redemption Pack
Red Border 96 Steve Sullivan New Jersey Devils 5 Reds per Wrapper Redemption Pack
Red Border 97 Martin Hanzal Phoenix Coyotes 5 Reds per Wrapper Redemption Pack
Red Border 98 Cam Atkinson Columbus Blue Jackets 5 Reds per Wrapper Redemption Pack
Red Border 99 James Sheppard San Jose Sharks 5 Reds per Wrapper Redemption Pack
Red Border 100 T.J. Oshie St. Louis Blues 5 Reds per Wrapper Redemption Pack
Red Border 101 Brooks Orpik Pittsburgh Penguins 5 Reds per Wrapper Redemption Pack
Red Border 102 Derek Roy Vancouver Canucks 5 Reds per Wrapper Redemption Pack
Red Border 103 Mike Weber Buffalo Sabres 5 Reds per Wrapper Redemption Pack
Red Border 104 Blake Comeau Columbus Blue Jackets 5 Reds per Wrapper Redemption Pack
Red Border 105 Colton Orr Toronto Maple Leafs 5 Reds per Wrapper Redemption Pack
Red Border 106 Jussi Jokinen Pittsburgh Penguins 5 Reds per Wrapper Redemption Pack
Red Border 107 Patrice Bergeron Boston Bruins 5 Reds per Wrapper Redemption Pack
Red Border 108 Justin Abdelkader Detroit Red Wings 5 Reds per Wrapper Redemption Pack
Red Border 109 Robin Lehner Ottawa Senators 5 Reds per Wrapper Redemption Pack
Red Border 110 Teemu Selanne Anaheim Ducks 5 Reds per Wrapper Redemption Pack
Red Border 111 Peter Mueller Florida Panthers 5 Reds per Wrapper Redemption Pack
Red Border 112 Cal Clutterbuck Minnesota Wild 5 Reds per Wrapper Redemption Pack
Red Border 113 Troy Brouwer Washington Capitals 5 Reds per Wrapper Redemption Pack
Red Border 114 Mike Bossy New York Islanders 5 Reds per Wrapper Redemption Pack Retired
Red Border 115 Paul Martin Pittsburgh Penguins 5 Reds per Wrapper Redemption Pack
Red Border 116 Joe Pavelski San Jose Sharks 5 Reds per Wrapper Redemption Pack
Red Border 117 Tom Pyatt Tampa Bay Lightning 5 Reds per Wrapper Redemption Pack
Red Border 118 Jan Hejda Colorado Avalanche 5 Reds per Wrapper Redemption Pack
Red Border 119 Brandon Sutter Pittsburgh Penguins 5 Reds per Wrapper Redemption Pack
Red Border 120 Marcus Foligno Buffalo Sabres 5 Reds per Wrapper Redemption Pack
Red Border 121 Pierre-Marc Bouchard Minnesota Wild 5 Reds per Wrapper Redemption Pack
Red Border 122 Chris Neil Ottawa Senators 5 Reds per Wrapper Redemption Pack
Red Border 123 Filip Kuba Florida Panthers 5 Reds per Wrapper Redemption Pack
Red Border 124 David Perron St. Louis Blues 5 Reds per Wrapper Redemption Pack
Red Border 125 Jonathan Ericsson Detroit Red Wings 5 Reds per Wrapper Redemption Pack
Red Border 126 Doug Gilmour Toronto Maple Leafs 5 Reds per Wrapper Redemption Pack Retired
Red Border 127 P.K. Subban Montreal Canadiens 5 Reds per Wrapper Redemption Pack
Red Border 128 Sheldon Souray Anaheim Ducks 5 Reds per Wrapper Redemption Pack
Red Border 129 Marc Staal New York Rangers 5 Reds per Wrapper Redemption Pack
Red Border 130 Stephen Gionta New Jersey Devils 5 Reds per Wrapper Redemption Pack
Red Border 131 Tom Gilbert Minnesota Wild 5 Reds per Wrapper Redemption Pack
Red Border 132 Jacob Markstrom Florida Panthers 5 Reds per Wrapper Redemption Pack
Red Border 133 Jim Howard Detroit Red Wings 5 Reds per Wrapper Redemption Pack
Red Border 134 Jay Harrison Carolina Hurricanes 5 Reds per Wrapper Redemption Pack
Red Border 135 Chris Kelly Boston Bruins 5 Reds per Wrapper Redemption Pack
Red Border 136 Mark Letestu Columbus Blue Jackets 5 Reds per Wrapper Redemption Pack
Red Border 137 Nick Schultz Edmonton Oilers 5 Reds per Wrapper Redemption Pack
Red Border 138 Taylor Pyatt New York Rangers 5 Reds per Wrapper Redemption Pack
Red Border 139 Mikhail Grabovski Toronto Maple Leafs 5 Reds per Wrapper Redemption Pack
Red Border 140 Tomas Kopecky Florida Panthers 5 Reds per Wrapper Redemption Pack
Red Border 141 Mikkel Boedker Phoenix Coyotes 5 Reds per Wrapper Redemption Pack
Red Border 142 Cody Eakin Dallas Stars 5 Reds per Wrapper Redemption Pack
Red Border 143 Dustin Byfuglien Winnipeg Jets 5 Reds per Wrapper Redemption Pack
Red Border 144 Richard Clune Nashville Predators 5 Reds per Wrapper Redemption Pack
Red Border 145 Kevin Bieksa Vancouver Canucks 5 Reds per Wrapper Redemption Pack
Red Border 146 Anton Volchenkov New Jersey Devils 5 Reds per Wrapper Redemption Pack
Red Border 147 Francois Beauchemin Anaheim Ducks 5 Reds per Wrapper Redemption Pack
Red Border 148 Gregory Campbell Boston Bruins 5 Reds per Wrapper Redemption Pack
Red Border 149 Carey Price Montreal Canadiens 5 Reds per Wrapper Redemption Pack
Red Border 150 Casey Cizikas New York Islanders 5 Reds per Wrapper Redemption Pack
Red Border 151 Reilly Smith Dallas Stars 5 Reds per Wrapper Redemption Pack
Red Border 152 Marc-Andre Fleury Pittsburgh Penguins 5 Reds per Wrapper Redemption Pack
Red Border 153 Brian Campbell Florida Panthers 5 Reds per Wrapper Redemption Pack
Red Border 154 Brandon Saad Chicago Blackhawks 5 Reds per Wrapper Redemption Pack
Red Border 155 Clayton Stoner Minnesota Wild 5 Reds per Wrapper Redemption Pack
Red Border 156 Jakub Kindl Detroit Red Wings 5 Reds per Wrapper Redemption Pack
Red Border 157 Zack Smith Ottawa Senators 5 Reds per Wrapper Redemption Pack
Red Border 158 Alexander Edler Vancouver Canucks 5 Reds per Wrapper Redemption Pack
Red Border 159 Andrew Ladd Winnipeg Jets 5 Reds per Wrapper Redemption Pack
Red Border 160 Raffi Torres San Jose Sharks 5 Reds per Wrapper Redemption Pack
Red Border 161 John Tavares New York Islanders 5 Reds per Wrapper Redemption Pack
Red Border 162 Dmitry Kulikov Florida Panthers 5 Reds per Wrapper Redemption Pack
Red Border 163 Ryan Ellis Nashville Predators 5 Reds per Wrapper Redemption Pack
Red Border 164 Teddy Purcell Tampa Bay Lightning 5 Reds per Wrapper Redemption Pack
Red Border 165 Tyson Barrie Colorado Avalanche 5 Reds per Wrapper Redemption Pack
Red Border 166 Mathieu Perreault Washington Capitals 5 Reds per Wrapper Redemption Pack
Red Border 167 Dale Hawerchuk Winnipeg Jets 5 Reds per Wrapper Redemption Pack Retired
Red Border 168 Marian Hossa Chicago Blackhawks 5 Reds per Wrapper Redemption Pack
Red Border 169 Luca Sbisa Anaheim Ducks 5 Reds per Wrapper Redemption Pack
Red Border 170 Shawn Horcoff Edmonton Oilers 5 Reds per Wrapper Redemption Pack
Red Border 171 James Neal Pittsburgh Penguins 5 Reds per Wrapper Redemption Pack
Red Border 172 Mike Fisher Nashville Predators 5 Reds per Wrapper Redemption Pack
Red Border 173 Henrik Lundqvist New York Rangers 5 Reds per Wrapper Redemption Pack
Red Border 174 Brett Hull Dallas Stars 5 Reds per Wrapper Redemption Pack Retired
Red Border 175 Stephen Weiss Florida Panthers 5 Reds per Wrapper Redemption Pack
Red Border 176 Saku Koivu Anaheim Ducks 5 Reds per Wrapper Redemption Pack
Red Border 177 Sam Gagner Edmonton Oilers 5 Reds per Wrapper Redemption Pack
Red Border 178 Mike Ribeiro Washington Capitals 5 Reds per Wrapper Redemption Pack
Red Border 179 Tuukka Rask Boston Bruins 5 Reds per Wrapper Redemption Pack
Red Border 180 Marc Methot Ottawa Senators 5 Reds per Wrapper Redemption Pack
Red Border 181 David Backes St. Louis Blues 5 Reds per Wrapper Redemption Pack
Red Border 182 Jiri Hudler Calgary Flames 5 Reds per Wrapper Redemption Pack
Red Border 183 Steve Yzerman Detroit Red Wings 5 Reds per Wrapper Redemption Pack Retired
Red Border 184 Shea Weber Nashville Predators 5 Reds per Wrapper Redemption Pack
Red Border 185 Philip Larsen Dallas Stars 5 Reds per Wrapper Redemption Pack
Red Border 186 Brad Marchand Boston Bruins 5 Reds per Wrapper Redemption Pack
Red Border 187 Jamie McBain Carolina Hurricanes 5 Reds per Wrapper Redemption Pack
Red Border 188 Ryan Nugent-Hopkins Edmonton Oilers 5 Reds per Wrapper Redemption Pack
Red Border 189 Chris Phillips Ottawa Senators 5 Reds per Wrapper Redemption Pack
Red Border 190 Mike Green Washington Capitals 5 Reds per Wrapper Redemption Pack
Red Border 191 Frans Nielsen New York Islanders 5 Reds per Wrapper Redemption Pack
Red Border 192 Ruslan Fedotenko Philadelphia Flyers 5 Reds per Wrapper Redemption Pack
Red Border 193 Kyle Brodziak Minnesota Wild 5 Reds per Wrapper Redemption Pack
Red Border 194 Ryan Carter New Jersey Devils 5 Reds per Wrapper Redemption Pack
Red Border 195 Niklas Hjalmarsson Chicago Blackhawks 5 Reds per Wrapper Redemption Pack
Red Border 196 Marcel Goc Florida Panthers 5 Reds per Wrapper Redemption Pack
Red Border 197 Ryan McDonagh New York Rangers 5 Reds per Wrapper Redemption Pack
Red Border 198 Joe Corvo Carolina Hurricanes 5 Reds per Wrapper Redemption Pack
Red Border 199 Dion Phaneuf Toronto Maple Leafs 5 Reds per Wrapper Redemption Pack
Red Border 200 Tomas Vokoun Pittsburgh Penguins 5 Reds per Wrapper Redemption Pack
Red Border 201 Craig Anderson Ottawa Senators 5 Reds per Wrapper Redemption Pack
Red Border 202 Dan Hamhuis Vancouver Canucks 5 Reds per Wrapper Redemption Pack
Red Border 203 Logan Couture San Jose Sharks 5 Reds per Wrapper Redemption Pack
Red Border 204 Kari Lehtonen Dallas Stars 5 Reds per Wrapper Redemption Pack
Red Border 205 Vincent Lecavalier Tampa Bay Lightning 5 Reds per Wrapper Redemption Pack
Red Border 206 Devan Dubnyk Edmonton Oilers 5 Reds per Wrapper Redemption Pack
Red Border 207 Roman Josi Nashville Predators 5 Reds per Wrapper Redemption Pack
Red Border 208 Barret Jackman St. Louis Blues 5 Reds per Wrapper Redemption Pack
Red Border 209 Evgeni Malkin Pittsburgh Penguins 5 Reds per Wrapper Redemption Pack
Red Border 210 Dany Heatley Minnesota Wild 5 Reds per Wrapper Redemption Pack
Red Border 211 Jochen Hecht Buffalo Sabres 5 Reds per Wrapper Redemption Pack
Red Border 212 Marcus Johansson Washington Capitals 5 Reds per Wrapper Redemption Pack
Red Border 213 Matt Calvert Columbus Blue Jackets 5 Reds per Wrapper Redemption Pack
Red Border 214 Boyd Gordon Phoenix Coyotes 5 Reds per Wrapper Redemption Pack
Red Border 215 Alexandre Burrows Vancouver Canucks 5 Reds per Wrapper Redemption Pack
Red Border 216 Erik Johnson Colorado Avalanche 5 Reds per Wrapper Redemption Pack
Red Border 217 Erik Karlsson Ottawa Senators 5 Reds per Wrapper Redemption Pack
Red Border 218 Eric Brewer Tampa Bay Lightning 5 Reds per Wrapper Redemption Pack
Red Border 219 Tomas Fleischmann Florida Panthers 5 Reds per Wrapper Redemption Pack
Red Border 220 Brandon Prust Montreal Canadiens 5 Reds per Wrapper Redemption Pack
Red Border 221 Daniel Winnik Anaheim Ducks 5 Reds per Wrapper Redemption Pack
Red Border 222 Brent Burns San Jose Sharks 5 Reds per Wrapper Redemption Pack
Red Border 223 Andrew Shaw Chicago Blackhawks 5 Reds per Wrapper Redemption Pack
Red Border 224 Torrey Mitchell Minnesota Wild 5 Reds per Wrapper Redemption Pack
Red Border 225 Gustav Nyquist Detroit Red Wings 5 Reds per Wrapper Redemption Pack
Red Border 226 Patrick Wiercioch Ottawa Senators 5 Reds per Wrapper Redemption Pack
Red Border 227 Trevor Daley Dallas Stars 5 Reds per Wrapper Redemption Pack
Red Border 228 Nazem Kadri Toronto Maple Leafs 5 Reds per Wrapper Redemption Pack
Red Border 229 Keith Yandle Phoenix Coyotes 5 Reds per Wrapper Redemption Pack
Red Border 230 Mark Stuart Winnipeg Jets 5 Reds per Wrapper Redemption Pack
Red Border 231 Michael Del Zotto New York Rangers 5 Reds per Wrapper Redemption Pack
Red Border 232 Nick Foligno Columbus Blue Jackets 5 Reds per Wrapper Redemption Pack
Red Border 233 David Desharnais Montreal Canadiens 5 Reds per Wrapper Redemption Pack
Red Border 234 Bryan Bickell Chicago Blackhawks 5 Reds per Wrapper Redemption Pack
Red Border 235 Jakub Voracek Philadelphia Flyers 5 Reds per Wrapper Redemption Pack
Red Border 236 Brian McGrattan Calgary Flames 5 Reds per Wrapper Redemption Pack
Red Border 237 Rob Klinkhammer Phoenix Coyotes 5 Reds per Wrapper Redemption Pack
Red Border 238 Joel Ward Washington Capitals 5 Reds per Wrapper Redemption Pack
Red Border 239 Marian Gaborik Columbus Blue Jackets 5 Reds per Wrapper Redemption Pack
Red Border 240 Ryan Miller Buffalo Sabres 5 Reds per Wrapper Redemption Pack
Red Border 241 Josh Gorges Montreal Canadiens 5 Reds per Wrapper Redemption Pack
Red Border 242 Travis Hamonic New York Islanders 5 Reds per Wrapper Redemption Pack
Red Border 243 Carl Hagelin New York Rangers 5 Reds per Wrapper Redemption Pack
Red Border 244 Tobias Enstrom Winnipeg Jets 5 Reds per Wrapper Redemption Pack
Red Border 245 Scott Gomez San Jose Sharks 5 Reds per Wrapper Redemption Pack
Red Border 246 Corey Crawford Chicago Blackhawks 5 Reds per Wrapper Redemption Pack
Red Border 247 Francis Bouillon Montreal Canadiens 5 Reds per Wrapper Redemption Pack
Red Border 248 Miikka Kiprusoff Calgary Flames 5 Reds per Wrapper Redemption Pack
Red Border 249 Nate Thompson Tampa Bay Lightning 5 Reds per Wrapper Redemption Pack
Red Border 250 Lauri Korpikoski Phoenix Coyotes 5 Reds per Wrapper Redemption Pack
Red Border 251 Alexander Ovechkin Washington Capitals 5 Reds per Wrapper Redemption Pack
Red Border 252 Jake Muzzin Los Angeles Kings 5 Reds per Wrapper Redemption Pack
Red Border 253 Ryan Kesler Vancouver Canucks 5 Reds per Wrapper Redemption Pack
Red Border 254 Pascal Dupuis Pittsburgh Penguins 5 Reds per Wrapper Redemption Pack
Red Border 255 Ray Bourque Boston Bruins 5 Reds per Wrapper Redemption Pack Retired
Red Border 256 Kimmo Timonen Philadelphia Flyers 5 Reds per Wrapper Redemption Pack
Red Border 257 Andy McDonald St. Louis Blues 5 Reds per Wrapper Redemption Pack
Red Border 258 Corey Perry Anaheim Ducks 5 Reds per Wrapper Redemption Pack
Red Border 259 Matt Hendricks Washington Capitals 5 Reds per Wrapper Redemption Pack
Red Border 260 Marcus Kruger Chicago Blackhawks 5 Reds per Wrapper Redemption Pack
Red Border 261 Milan Hejduk Colorado Avalanche 5 Reds per Wrapper Redemption Pack
Red Border 262 Tyler Ennis Buffalo Sabres 5 Reds per Wrapper Redemption Pack
Red Border 263 John Moore New York Rangers 5 Reds per Wrapper Redemption Pack
Red Border 264 Kris Versteeg Florida Panthers 5 Reds per Wrapper Redemption Pack
Red Border 265 Chad LaRose Carolina Hurricanes 5 Reds per Wrapper Redemption Pack
Red Border 266 David Legwand Nashville Predators 5 Reds per Wrapper Redemption Pack
Red Border 267 Daniel Sedin Vancouver Canucks 5 Reds per Wrapper Redemption Pack
Red Border 268 Martin St. Louis Tampa Bay Lightning 5 Reds per Wrapper Redemption Pack
Red Border 269 Patrick Eaves Detroit Red Wings 5 Reds per Wrapper Redemption Pack
Red Border 270 James van Riemsdyk Toronto Maple Leafs 5 Reds per Wrapper Redemption Pack
Red Border 271 Jay Bouwmeester St. Louis Blues 5 Reds per Wrapper Redemption Pack
Red Border 272 Nicklas Backstrom Washington Capitals 5 Reds per Wrapper Redemption Pack
Red Border 273 Andre Benoit Ottawa Senators 5 Reds per Wrapper Redemption Pack
Red Border 274 Nikita Nikitin Columbus Blue Jackets 5 Reds per Wrapper Redemption Pack
Red Border 275 Brad Boyes New York Islanders 5 Reds per Wrapper Redemption Pack
Red Border 276 Andrei Markov Montreal Canadiens 5 Reds per Wrapper Redemption Pack
Red Border 277 Matt Beleskey Anaheim Ducks 5 Reds per Wrapper Redemption Pack
Red Border 278 Brian Elliott St. Louis Blues 5 Reds per Wrapper Redemption Pack
Red Border 279 Chris Butler Calgary Flames 5 Reds per Wrapper Redemption Pack
Red Border 280 Ilya Kovalchuk New Jersey Devils 5 Reds per Wrapper Redemption Pack
Red Border 281 Lubomir Visnovsky New York Islanders 5 Reds per Wrapper Redemption Pack
Red Border 282 Ray Emery Chicago Blackhawks 5 Reds per Wrapper Redemption Pack
Red Border 283 Mikko Koivu Minnesota Wild 5 Reds per Wrapper Redemption Pack
Red Border 284 Dominik Hasek Buffalo Sabres 5 Reds per Wrapper Redemption Pack Retired
Red Border 285 Alex Goligoski Dallas Stars 5 Reds per Wrapper Redemption Pack
Red Border 286 Marc-Edouard Vlasic San Jose Sharks 5 Reds per Wrapper Redemption Pack
Red Border 287 Vaclav Prospal Columbus Blue Jackets 5 Reds per Wrapper Redemption Pack
Red Border 288 Antoine Vermette Phoenix Coyotes 5 Reds per Wrapper Redemption Pack
Red Border 289 David Jones Colorado Avalanche 5 Reds per Wrapper Redemption Pack
Red Border 290 Brian Boyle New York Rangers 5 Reds per Wrapper Redemption Pack
Red Border 291 Kris Letang Pittsburgh Penguins 5 Reds per Wrapper Redemption Pack
Red Border 292 Justin Peters Carolina Hurricanes 5 Reds per Wrapper Redemption Pack
Red Border 293 Simon Gagne Philadelphia Flyers 5 Reds per Wrapper Redemption Pack
Red Border 294 Rich Peverley Boston Bruins 5 Reds per Wrapper Redemption Pack
Red Border 295 Gabriel Landeskog Colorado Avalanche 5 Reds per Wrapper Redemption Pack
Red Border 296 Adam Larsson New Jersey Devils 5 Reds per Wrapper Redemption Pack
Red Border 297 Kyle Okposo New York Islanders 5 Reds per Wrapper Redemption Pack
Red Border 298 Martin Havlat San Jose Sharks 5 Reds per Wrapper Redemption Pack
Red Border 299 Maxime Talbot Philadelphia Flyers 5 Reds per Wrapper Redemption Pack
Red Border 300 B.J. Crombeen Tampa Bay Lightning 5 Reds per Wrapper Redemption Pack
Red Border 301 Karl Alzner Washington Capitals 5 Reds per Wrapper Redemption Pack
Red Border 302 Eric Staal Carolina Hurricanes 5 Reds per Wrapper Redemption Pack
Red Border 303 Ryan Whitney Edmonton Oilers 5 Reds per Wrapper Redemption Pack
Red Border 304 Kyle Clifford Los Angeles Kings 5 Reds per Wrapper Redemption Pack
Red Border 305 Sean Couturier Philadelphia Flyers 5 Reds per Wrapper Redemption Pack
Red Border 306 Matthew Lombardi Anaheim Ducks 5 Reds per Wrapper Redemption Pack
Red Border 307 Michael Ryder Montreal Canadiens 5 Reds per Wrapper Redemption Pack
Red Border 308 Brenden Morrow Pittsburgh Penguins 5 Reds per Wrapper Redemption Pack
Red Border 309 Dan Cleary Detroit Red Wings 5 Reds per Wrapper Redemption Pack
Red Border 310 Theoren Fleury Calgary Flames 5 Reds per Wrapper Redemption Pack Retired
Red Border 311 Cory Schneider Vancouver Canucks 5 Reds per Wrapper Redemption Pack
Red Border 312 Johan Hedberg New Jersey Devils 5 Reds per Wrapper Redemption Pack
Red Border 313 Matt Martin New York Islanders 5 Reds per Wrapper Redemption Pack
Red Border 314 Cody Hodgson Buffalo Sabres 5 Reds per Wrapper Redemption Pack
Red Border 315 Tyler Seguin Boston Bruins 5 Reds per Wrapper Redemption Pack
Red Border 316 Brent Seabrook Chicago Blackhawks 5 Reds per Wrapper Redemption Pack
Red Border 317 Ryan O'Reilly Colorado Avalanche 5 Reds per Wrapper Redemption Pack
Red Border 318 Patrick Roy Montreal Canadiens 5 Reds per Wrapper Redemption Pack Retired
Red Border 319 Ryan Garbutt Dallas Stars 5 Reds per Wrapper Redemption Pack
Red Border 320 Jack Johnson Columbus Blue Jackets 5 Reds per Wrapper Redemption Pack
Red Border 321 Lee Stempniak Calgary Flames 5 Reds per Wrapper Redemption Pack
Red Border 322 Patrick Sharp Chicago Blackhawks 5 Reds per Wrapper Redemption Pack
Red Border 323 Milan Lucic Boston Bruins 5 Reds per Wrapper Redemption Pack
Red Border 324 Anders Lindback Tampa Bay Lightning 5 Reds per Wrapper Redemption Pack
Red Border 325 Eric Tangradi Winnipeg Jets 5 Reds per Wrapper Redemption Pack
Red Border 326 Jamie Benn Dallas Stars 5 Reds per Wrapper Redemption Pack
Red Border 327 Tyler Bozak Toronto Maple Leafs 5 Reds per Wrapper Redemption Pack
Red Border 328 Martin Brodeur New Jersey Devils 5 Reds per Wrapper Redemption Pack
Red Border 329 Roberto Luongo Vancouver Canucks 5 Reds per Wrapper Redemption Pack
Red Border 330 Pekka Rinne Nashville Predators 5 Reds per Wrapper Redemption Pack
Red Border 331 Clarke MacArthur Toronto Maple Leafs 5 Reds per Wrapper Redemption Pack
Red Border 332 Michal Neuvirth Washington Capitals 5 Reds per Wrapper Redemption Pack
Red Border 333 Colin Greening Ottawa Senators 5 Reds per Wrapper Redemption Pack
Red Border 334 Robyn Regehr Los Angeles Kings 5 Reds per Wrapper Redemption Pack
Red Border 335 Bryce Salvador New Jersey Devils 5 Reds per Wrapper Redemption Pack
Red Border 336 Jared Spurgeon Minnesota Wild 5 Reds per Wrapper Redemption Pack
Red Border 337 Grant Clitsome Winnipeg Jets 5 Reds per Wrapper Redemption Pack
Red Border 338 Nikolai Kulemin Toronto Maple Leafs 5 Reds per Wrapper Redemption Pack
Red Border 339 Jonas Hiller Anaheim Ducks 5 Reds per Wrapper Redemption Pack
Red Border 340 Derek Stepan New York Rangers 5 Reds per Wrapper Redemption Pack
Red Border 341 David Krejci Boston Bruins 5 Reds per Wrapper Redemption Pack
Red Border 342 Jack Skille Florida Panthers 5 Reds per Wrapper Redemption Pack
Red Border 343 Andy Greene New Jersey Devils 5 Reds per Wrapper Redemption Pack
Red Border 344 Dan Ellis Carolina Hurricanes 5 Reds per Wrapper Redemption Pack
Red Border 345 Nick Bonino Anaheim Ducks 5 Reds per Wrapper Redemption Pack
Red Border 346 Eric Lindros Philadelphia Flyers 5 Reds per Wrapper Redemption Pack Retired
Red Border 347 Ladislav Smid Edmonton Oilers 5 Reds per Wrapper Redemption Pack
Red Border 348 Chris Higgins Vancouver Canucks 5 Reds per Wrapper Redemption Pack
Red Border 349 Matt Frattin Toronto Maple Leafs 5 Reds per Wrapper Redemption Pack
Red Border 350 Steve Begin Calgary Flames 5 Reds per Wrapper Redemption Pack
Red Border 351 John Mitchell Colorado Avalanche 5 Reds per Wrapper Redemption Pack
Red Border 352 Anton Khudobin Boston Bruins 5 Reds per Wrapper Redemption Pack
Red Border 353 Tim Jackman Calgary Flames 5 Reds per Wrapper Redemption Pack
Red Border 354 Patrik Elias New Jersey Devils 5 Reds per Wrapper Redemption Pack
Red Border 355 Drew Doughty Los Angeles Kings 5 Reds per Wrapper Redemption Pack
Red Border 356 Ryan Smyth Edmonton Oilers 5 Reds per Wrapper Redemption Pack
Red Border 357 Aaron Palushaj Colorado Avalanche 5 Reds per Wrapper Redemption Pack
Red Border 358 Thomas Vanek Buffalo Sabres 5 Reds per Wrapper Redemption Pack
Red Border 359 Derek Morris Phoenix Coyotes 5 Reds per Wrapper Redemption Pack
Red Border 360 Marek Zidlicky New Jersey Devils 5 Reds per Wrapper Redemption Pack
Red Border 361 Niklas Kronwall Detroit Red Wings 5 Reds per Wrapper Redemption Pack
Red Border 362 Matt Moulson New York Islanders 5 Reds per Wrapper Redemption Pack
Red Border 363 Matt Cullen Minnesota Wild 5 Reds per Wrapper Redemption Pack
Red Border 364 Matt Stajan Calgary Flames 5 Reds per Wrapper Redemption Pack
Red Border 365 Zac Rinaldo Philadelphia Flyers 5 Reds per Wrapper Redemption Pack
Red Border 366 Antti Niemi San Jose Sharks 5 Reds per Wrapper Redemption Pack
Red Border 367 Shane Doan Phoenix Coyotes 5 Reds per Wrapper Redemption Pack
Red Border 368 Eric Nystrom Dallas Stars 5 Reds per Wrapper Redemption Pack
Red Border 369 Josh Bailey New York Islanders 5 Reds per Wrapper Redemption Pack
Red Border 370 Vladimir Sobotka St. Louis Blues 5 Reds per Wrapper Redemption Pack
Red Border 371 Brandon Dubinsky Columbus Blue Jackets 5 Reds per Wrapper Redemption Pack
Red Border 372 Bobby Clarke Philadelphia Flyers 5 Reds per Wrapper Redemption Pack Retired
Red Border 373 Cam Fowler Anaheim Ducks 5 Reds per Wrapper Redemption Pack
Red Border 374 Matt Duchene Colorado Avalanche 5 Reds per Wrapper Redemption Pack
Red Border 375 Brandon Yip Nashville Predators 5 Reds per Wrapper Redemption Pack
Red Border 376 Ryan Callahan New York Rangers 5 Reds per Wrapper Redemption Pack
Red Border 377 Justin Faulk Carolina Hurricanes 5 Reds per Wrapper Redemption Pack
Red Border 378 Jason LaBarbera Phoenix Coyotes 5 Reds per Wrapper Redemption Pack
Red Border 379 Cody McLeod Colorado Avalanche 5 Reds per Wrapper Redemption Pack
Red Border 380 Kyle Palmieri Anaheim Ducks 5 Reds per Wrapper Redemption Pack
Red Border 381 Sami Salo Tampa Bay Lightning 5 Reds per Wrapper Redemption Pack
Red Border 382 Valtteri Filppula Detroit Red Wings 5 Reds per Wrapper Redemption Pack
Red Border 383 Zdeno Chara Boston Bruins 5 Reds per Wrapper Redemption Pack
Red Border 384 Ilya Bryzgalov Philadelphia Flyers 5 Reds per Wrapper Redemption Pack
Red Border 385 Jeff Skinner Carolina Hurricanes 5 Reds per Wrapper Redemption Pack
Red Border 386 Ben Scrivens Toronto Maple Leafs 5 Reds per Wrapper Redemption Pack
Red Border 387 Joe Thornton San Jose Sharks 5 Reds per Wrapper Redemption Pack
Red Border 388 Jarret Stoll Los Angeles Kings 5 Reds per Wrapper Redemption Pack
Red Border 389 Anton Stralman New York Rangers 5 Reds per Wrapper Redemption Pack
Red Border 390 Jannik Hansen Vancouver Canucks 5 Reds per Wrapper Redemption Pack
Red Border 391 Jeff Petry Edmonton Oilers 5 Reds per Wrapper Redemption Pack
Red Border 392 P.A. Parenteau Colorado Avalanche 5 Reds per Wrapper Redemption Pack
Red Border 393 Ales Hemsky Edmonton Oilers 5 Reds per Wrapper Redemption Pack
Red Border 394 Ian White Detroit Red Wings 5 Reds per Wrapper Redemption Pack
Red Border 395 Michal Handzus Chicago Blackhawks 5 Reds per Wrapper Redemption Pack
Red Border 396 Ryan Getzlaf Anaheim Ducks 5 Reds per Wrapper Redemption Pack
Red Border 397 Wayne Gretzky Edmonton Oilers 5 Reds per Wrapper Redemption Pack Retired
Red Border 398 Tyler Myers Buffalo Sabres 5 Reds per Wrapper Redemption Pack
Red Border 399 Brad Stuart San Jose Sharks 5 Reds per Wrapper Redemption Pack
Red Border 400 George Parros Florida Panthers 5 Reds per Wrapper Redemption Pack
Red Border 401 Mason Raymond Vancouver Canucks 5 Reds per Wrapper Redemption Pack
Red Border 402 Adrian Aucoin Columbus Blue Jackets 5 Reds per Wrapper Redemption Pack
Red Border 403 Daniel Paille Boston Bruins 5 Reds per Wrapper Redemption Pack
Red Border 404 Travis Zajac New Jersey Devils 5 Reds per Wrapper Redemption Pack
Red Border 405 Taylor Hall Edmonton Oilers 5 Reds per Wrapper Redemption Pack
Red Border 406 Jamie McGinn Colorado Avalanche 5 Reds per Wrapper Redemption Pack
Red Border 407 Evander Kane Winnipeg Jets 5 Reds per Wrapper Redemption Pack
Red Border 408 Alexei Emelin Montreal Canadiens 5 Reds per Wrapper Redemption Pack
Red Border 409 Magnus Paajarvi Edmonton Oilers 5 Reds per Wrapper Redemption Pack
Red Border 410 Erik Cole Dallas Stars 5 Reds per Wrapper Redemption Pack
Red Border 411 Christian Ehrhoff Buffalo Sabres 5 Reds per Wrapper Redemption Pack
Red Border 412 Jeff Carter Los Angeles Kings 5 Reds per Wrapper Redemption Pack
Red Border 413 Ryan Johansen Columbus Blue Jackets 5 Reds per Wrapper Redemption Pack
Red Border 414 Eric Fehr Washington Capitals 5 Reds per Wrapper Redemption Pack
Red Border 415 David Moss Phoenix Coyotes 5 Reds per Wrapper Redemption Pack
Red Border 416 David Clarkson New Jersey Devils 5 Reds per Wrapper Redemption Pack
Red Border 417 Ville Leino Buffalo Sabres 5 Reds per Wrapper Redemption Pack
Red Border 418 Nick Leddy Chicago Blackhawks 5 Reds per Wrapper Redemption Pack
Red Border 419 Andrew Cogliano Anaheim Ducks 5 Reds per Wrapper Redemption Pack
Red Border 420 Gabriel Bourque Nashville Predators 5 Reds per Wrapper Redemption Pack
Red Border 421 Jonathan Quick Los Angeles Kings 5 Reds per Wrapper Redemption Pack
Red Border 422 Nathan Horton Boston Bruins 5 Reds per Wrapper Redemption Pack
Red Border 423 Paul Coffey Edmonton Oilers 5 Reds per Wrapper Redemption Pack Retired
Red Border 424 Nathan Gerbe Buffalo Sabres 5 Reds per Wrapper Redemption Pack
Red Border 425 Ryan Suter Minnesota Wild 5 Reds per Wrapper Redemption Pack
Red Border 426 Ryan Malone Tampa Bay Lightning 5 Reds per Wrapper Redemption Pack
Red Border 427 Rene Bourque Montreal Canadiens 5 Reds per Wrapper Redemption Pack
Red Border 428 Alexander Burmistrov Winnipeg Jets 5 Reds per Wrapper Redemption Pack
Red Border 429 Sergei Kostitsyn Nashville Predators 5 Reds per Wrapper Redemption Pack
Red Border 430 Nicklas Lidstrom Detroit Red Wings 5 Reds per Wrapper Redemption Pack Retired
Red Border 431 Mike Smith Phoenix Coyotes 5 Reds per Wrapper Redemption Pack
Red Border 432 Bryan Trottier New York Islanders 5 Reds per Wrapper Redemption Pack Retired
Red Border 433 Paul Stastny Colorado Avalanche 5 Reds per Wrapper Redemption Pack
Red Border 434 Jaden Schwartz St. Louis Blues 5 Reds per Wrapper Redemption Pack
Red Border 435 Artem Anisimov Columbus Blue Jackets 5 Reds per Wrapper Redemption Pack
Red Border 436 Michael Cammalleri Calgary Flames 5 Reds per Wrapper Redemption Pack
Red Border 437 Bobby Ryan Anaheim Ducks 5 Reds per Wrapper Redemption Pack
Red Border 438 Rostislav Klesla Phoenix Coyotes 5 Reds per Wrapper Redemption Pack
Red Border 439 Jason Garrison Vancouver Canucks 5 Reds per Wrapper Redemption Pack
Red Border 440 Max Pacioretty Montreal Canadiens 5 Reds per Wrapper Redemption Pack
Red Border 441 Olli Jokinen Winnipeg Jets 5 Reds per Wrapper Redemption Pack
Red Border 442 Zach Parise Minnesota Wild 5 Reds per Wrapper Redemption Pack
Red Border 443 Chris Kunitz Pittsburgh Penguins 5 Reds per Wrapper Redemption Pack
Red Border 444 Anze Kopitar Los Angeles Kings 5 Reds per Wrapper Redemption Pack
Red Border 445 Kevin Shattenkirk St. Louis Blues 5 Reds per Wrapper Redemption Pack
Red Border 446 Jakob Silfverberg Ottawa Senators 5 Reds per Wrapper Redemption Pack
Red Border 447 Andrei Loktionov New Jersey Devils 5 Reds per Wrapper Redemption Pack
Red Border 448 Tommy Wingels San Jose Sharks 5 Reds per Wrapper Redemption Pack
Red Border 449 Lars Eller Montreal Canadiens 5 Reds per Wrapper Redemption Pack
Red Border 450 Ondrej Pavelec Winnipeg Jets 5 Reds per Wrapper Redemption Pack
Red Border 451 Drew Stafford Buffalo Sabres 5 Reds per Wrapper Redemption Pack
Red Border 452 Pavel Datsyuk Detroit Red Wings 5 Reds per Wrapper Redemption Pack
Red Border 453 Dustin Brown Los Angeles Kings 5 Reds per Wrapper Redemption Pack
Red Border 454 Alexander Steen St. Louis Blues 5 Reds per Wrapper Redemption Pack
Red Border 455 Ben Bishop Tampa Bay Lightning 5 Reds per Wrapper Redemption Pack
Red Border 456 Erik Gudbranson Florida Panthers 5 Reds per Wrapper Redemption Pack
Red Border 457 Maxim Lapierre Vancouver Canucks 5 Reds per Wrapper Redemption Pack
Red Border 458 Adam Henrique New Jersey Devils 5 Reds per Wrapper Redemption Pack
Red Border 459 Jordan Staal Carolina Hurricanes 5 Reds per Wrapper Redemption Pack
Red Border 460 Milan Michalek Ottawa Senators 5 Reds per Wrapper Redemption Pack
Red Border 461 Dave Bolland Chicago Blackhawks 5 Reds per Wrapper Redemption Pack
Red Border 462 Adam Burish San Jose Sharks 5 Reds per Wrapper Redemption Pack
Red Border 463 Mark Streit New York Islanders 5 Reds per Wrapper Redemption Pack
Red Border 464 Jaromir Jagr Boston Bruins 5 Reds per Wrapper Redemption Pack
Red Border 465 James Reimer Toronto Maple Leafs 5 Reds per Wrapper Redemption Pack
Red Border 466 Jason Pominville Minnesota Wild 5 Reds per Wrapper Redemption Pack
Red Border 467 Trevor Lewis Los Angeles Kings 5 Reds per Wrapper Redemption Pack
Red Border 468 Stephane Robidas Dallas Stars 5 Reds per Wrapper Redemption Pack
Red Border 469 Dennis Wideman Calgary Flames 5 Reds per Wrapper Redemption Pack
Red Border 470 Bryan Little Winnipeg Jets 5 Reds per Wrapper Redemption Pack
Red Border 471 Kyle Chipchura Phoenix Coyotes 5 Reds per Wrapper Redemption Pack
Red Border 472 Roman Polak St. Louis Blues 5 Reds per Wrapper Redemption Pack
Red Border 473 Tomas Plekanec Montreal Canadiens 5 Reds per Wrapper Redemption Pack
Red Border 474 Mark Giordano Calgary Flames 5 Reds per Wrapper Redemption Pack
Red Border 475 Sidney Crosby Pittsburgh Penguins 5 Reds per Wrapper Redemption Pack
Red Border 476 Blake Wheeler Winnipeg Jets 5 Reds per Wrapper Redemption Pack
Red Border 477 Luke Schenn Philadelphia Flyers 5 Reds per Wrapper Redemption Pack
Red Border 478 Niklas Backstrom Minnesota Wild 5 Reds per Wrapper Redemption Pack
Red Border 479 Brad Richards New York Rangers 5 Reds per Wrapper Redemption Pack
Red Border 480 Sergei Gonchar Ottawa Senators 5 Reds per Wrapper Redemption Pack
Red Border 481 Cam Ward Carolina Hurricanes 5 Reds per Wrapper Redemption Pack
Red Border 482 Jarome Iginla Pittsburgh Penguins 5 Reds per Wrapper Redemption Pack
Red Border 483 Keaton Ellerby Los Angeles Kings 5 Reds per Wrapper Redemption Pack
Red Border 484 Dan Boyle San Jose Sharks 5 Reds per Wrapper Redemption Pack
Red Border 485 Raphael Diaz Montreal Canadiens 5 Reds per Wrapper Redemption Pack
Red Border 486 Patric Hornqvist Nashville Predators 5 Reds per Wrapper Redemption Pack
Red Border 487 T.J. Brodie Calgary Flames 5 Reds per Wrapper Redemption Pack
Red Border 488 Claude Giroux Philadelphia Flyers 5 Reds per Wrapper Redemption Pack
Red Border 489 Scott Clemmensen Florida Panthers 5 Reds per Wrapper Redemption Pack
Red Border 490 Joe Sakic Colorado Avalanche 5 Reds per Wrapper Redemption Pack Retired
Red Border 491 Slava Voynov Los Angeles Kings 5 Reds per Wrapper Redemption Pack
Red Border 492 Justin Falk Minnesota Wild 5 Reds per Wrapper Redemption Pack
Red Border 493 Chris Stewart St. Louis Blues 5 Reds per Wrapper Redemption Pack
Red Border 494 Ron Hainsey Winnipeg Jets 5 Reds per Wrapper Redemption Pack
Red Border 495 Patrick Marleau San Jose Sharks 5 Reds per Wrapper Redemption Pack
Red Border 496 Checklist None None 5 Reds per Wrapper Redemption Pack
Red Border 497 Checklist None None 5 Reds per Wrapper Redemption Pack
Red Border 498 Checklist None None 5 Reds per Wrapper Redemption Pack
Red Border 499 Checklist None None 5 Reds per Wrapper Redemption Pack
Red Border 500 Checklist None None 5 Reds per Wrapper Redemption Pack
Red Border Marquee Rookies 501 Nail Yakupov Edmonton Oilers 5 Reds per Wrapper Redemption Pack Rookie
Red Border Marquee Rookies 502 Ryan Murphy Carolina Hurricanes 5 Reds per Wrapper Redemption Pack Rookie
Red Border Marquee Rookies 503 Jon Rheault Florida Panthers 5 Reds per Wrapper Redemption Pack Rookie
Red Border Marquee Rookies 504 Sean Collins Columbus Blue Jackets 5 Reds per Wrapper Redemption Pack Rookie
Red Border Marquee Rookies 505 Roman Cervenka Calgary Flames 5 Reds per Wrapper Redemption Pack Rookie
Red Border Marquee Rookies 506 Quinton Howden Florida Panthers 5 Reds per Wrapper Redemption Pack Rookie
Red Border Marquee Rookies 507 Matt Anderson New Jersey Devils 5 Reds per Wrapper Redemption Pack Rookie
Red Border Marquee Rookies 508 Matt Tennyson San Jose Sharks 5 Reds per Wrapper Redemption Pack Rookie
Red Border Marquee Rookies 509 Christian Thomas New York Rangers 5 Reds per Wrapper Redemption Pack Rookie
Red Border Marquee Rookies 510 Chris Brown Phoenix Coyotes 5 Reds per Wrapper Redemption Pack Rookie
Red Border Marquee Rookies 511 Mark Barberio Tampa Bay Lightning 5 Reds per Wrapper Redemption Pack Rookie
Red Border Marquee Rookies 512 Zach Redmond Winnipeg Jets 5 Reds per Wrapper Redemption Pack Rookie
Red Border Marquee Rookies 513 Steve Pinizzotto Vancouver Canucks 5 Reds per Wrapper Redemption Pack Rookie
Red Border Marquee Rookies 514 Calvin Pickard Colorado Avalanche 5 Reds per Wrapper Redemption Pack Rookie
Red Border Marquee Rookies 515 Jean-Gabriel Pageau Ottawa Senators 5 Reds per Wrapper Redemption Pack Rookie
Red Border Marquee Rookies 516 Darcy Kuemper Minnesota Wild 5 Reds per Wrapper Redemption Pack Rookie
Red Border Marquee Rookies 517 Viktor Fasth Anaheim Ducks 5 Reds per Wrapper Redemption Pack Rookie
Red Border Marquee Rookies 518 Brett Bellemore Carolina Hurricanes 5 Reds per Wrapper Redemption Pack Rookie
Red Border Marquee Rookies 519 Dan DeKeyser Detroit Red Wings 5 Reds per Wrapper Redemption Pack Rookie
Red Border Marquee Rookies 520 Brendan Gallagher Montreal Canadiens 5 Reds per Wrapper Redemption Pack Rookie
Red Border Marquee Rookies 521 Oliver Lauridsen Philadelphia Flyers 5 Reds per Wrapper Redemption Pack Rookie
Red Border Marquee Rookies 522 Leo Komarov Toronto Maple Leafs 5 Reds per Wrapper Redemption Pack Rookie
Red Border Marquee Rookies 523 Michal Jordan Carolina Hurricanes 5 Reds per Wrapper Redemption Pack Rookie
Red Border Marquee Rookies 524 Nick Petrecki San Jose Sharks 5 Reds per Wrapper Redemption Pack Rookie
Red Border Marquee Rookies 525 Filip Forsberg Nashville Predators 5 Reds per Wrapper Redemption Pack Rookie
Red Border Marquee Rookies 526 Michael Sgarbossa Colorado Avalanche 5 Reds per Wrapper Redemption Pack Rookie
Red Border Marquee Rookies 527 Mikhail Grigorenko Buffalo Sabres 5 Reds per Wrapper Redemption Pack Rookie
Red Border Marquee Rookies 528 Emerson Etem Anaheim Ducks 5 Reds per Wrapper Redemption Pack Rookie
Red Border Marquee Rookies 529 Alex Chiasson Dallas Stars 5 Reds per Wrapper Redemption Pack Rookie
Red Border Marquee Rookies 530 Ben Street Calgary Flames 5 Reds per Wrapper Redemption Pack Rookie
Red Border Marquee Rookies 531 Dougie Hamilton Boston Bruins 5 Reds per Wrapper Redemption Pack Rookie
Red Border Marquee Rookies 532 Mark Arcobello Edmonton Oilers 5 Reds per Wrapper Redemption Pack Rookie
Red Border Marquee Rookies 533 Victor Bartley Nashville Predators 5 Reds per Wrapper Redemption Pack Rookie
Red Border Marquee Rookies 534 Beau Bennett Pittsburgh Penguins 5 Reds per Wrapper Redemption Pack Rookie
Red Border Marquee Rookies 535 Steve Oleksy Washington Capitals 5 Reds per Wrapper Redemption Pack Rookie
Red Border Marquee Rookies 536 Radko Gudas Tampa Bay Lightning 5 Reds per Wrapper Redemption Pack Rookie
Red Border Marquee Rookies 537 Vladimir Tarasenko St. Louis Blues 5 Reds per Wrapper Redemption Pack Rookie
Red Border Marquee Rookies 538 Eric Gryba Ottawa Senators 5 Reds per Wrapper Redemption Pack Rookie
Red Border Marquee Rookies 539 Jarred Tinordi Montreal Canadiens 5 Reds per Wrapper Redemption Pack Rookie
Red Border Marquee Rookies 540 Eric Selleck Florida Panthers 5 Reds per Wrapper Redemption Pack Rookie
Red Border Marquee Rookies 541 Patrick Bordeleau Colorado Avalanche 5 Reds per Wrapper Redemption Pack Rookie
Red Border Marquee Rookies 542 Sami Vatanen Anaheim Ducks 5 Reds per Wrapper Redemption Pack Rookie
Red Border Marquee Rookies 543 Brian Lashoff Detroit Red Wings 5 Reds per Wrapper Redemption Pack Rookie
Red Border Marquee Rookies 544 Drew Shore Florida Panthers 5 Reds per Wrapper Redemption Pack Rookie
Red Border Marquee Rookies 545 Cameron Schilling Washington Capitals 5 Reds per Wrapper Redemption Pack Rookie
Red Border Marquee Rookies 546 David Dziurzynski Ottawa Senators 5 Reds per Wrapper Redemption Pack Rookie
Red Border Marquee Rookies 547 Mike Kostka Toronto Maple Leafs 5 Reds per Wrapper Redemption Pack Rookie
Red Border Marquee Rookies 548 Anthony Peluso Winnipeg Jets 5 Reds per Wrapper Redemption Pack Rookie
Red Border Marquee Rookies 549 Thomas Hickey New York Islanders 5 Reds per Wrapper Redemption Pack Rookie
Red Border Marquee Rookies 550 Daniel Bang Nashville Predators 5 Reds per Wrapper Redemption Pack Rookie
Red Border Marquee Rookies 551 Greg Pateryn Montreal Canadiens 5 Reds per Wrapper Redemption Pack Rookie
Red Border Marquee Rookies 552 Tye McGinn Philadelphia Flyers 5 Reds per Wrapper Redemption Pack Rookie
Red Border Marquee Rookies 553 Stefan Matteau New Jersey Devils 5 Reds per Wrapper Redemption Pack Rookie
Red Border Marquee Rookies 554 Charlie Coyle Minnesota Wild 5 Reds per Wrapper Redemption Pack Rookie
Red Border Marquee Rookies 555 Jonathan Huberdeau Florida Panthers 5 Reds per Wrapper Redemption Pack Rookie
Red Border Marquee Rookies 556 Petr Mrazek Detroit Red Wings 5 Reds per Wrapper Redemption Pack Rookie
Red Border Marquee Rookies 557 Max Reinhart Calgary Flames 5 Reds per Wrapper Redemption Pack Rookie
Red Border Marquee Rookies 558 Rickard Rakell Anaheim Ducks 5 Reds per Wrapper Redemption Pack Rookie
Red Border Marquee Rookies 559 Anders Lee New York Islanders 5 Reds per Wrapper Redemption Pack Rookie
Red Border Marquee Rookies 560 Tyler Toffoli Los Angeles Kings 5 Reds per Wrapper Redemption Pack Rookie
Red Border Marquee Rookies 561 Tyler Johnson Tampa Bay Lightning 5 Reds per Wrapper Redemption Pack Rookie
Red Border Marquee Rookies 562 Philipp Grubauer Washington Capitals 5 Reds per Wrapper Redemption Pack Rookie
Red Border Marquee Rookies 563 Brian Flynn Buffalo Sabres 5 Reds per Wrapper Redemption Pack Rookie
Red Border Marquee Rookies 564 Mark Pysyk Buffalo Sabres 5 Reds per Wrapper Redemption Pack Rookie
Red Border Marquee Rookies 565 Ryan Spooner Boston Bruins 5 Reds per Wrapper Redemption Pack Rookie
Red Border Marquee Rookies 566 Cory Conacher Ottawa Senators 5 Reds per Wrapper Redemption Pack Rookie
Red Border Marquee Rookies 567 Andrej Sustr Tampa Bay Lightning 5 Reds per Wrapper Redemption Pack Rookie
Red Border Marquee Rookies 568 Justin Schultz Edmonton Oilers 5 Reds per Wrapper Redemption Pack Rookie
Red Border Marquee Rookies 569 Jamie Oleksiak Dallas Stars 5 Reds per Wrapper Redemption Pack Rookie
Red Border Marquee Rookies 570 Jamie Tardif Boston Bruins 5 Reds per Wrapper Redemption Pack Rookie
Red Border Marquee Rookies 571 Michael Caruso Florida Panthers 5 Reds per Wrapper Redemption Pack Rookie
Red Border Marquee Rookies 572 Derek Grant Ottawa Senators 5 Reds per Wrapper Redemption Pack Rookie
Red Border Marquee Rookies 573 Nicklas Jensen Vancouver Canucks 5 Reds per Wrapper Redemption Pack Rookie
Red Border Marquee Rookies 574 Dmitrij Jaskin St. Louis Blues 5 Reds per Wrapper Redemption Pack Rookie
Red Border Marquee Rookies 575 Alex Galchenyuk Montreal Canadiens 5 Reds per Wrapper Redemption Pack Rookie
Red Border Marquee Rookies 576 Jonas Brodin Minnesota Wild 5 Reds per Wrapper Redemption Pack Rookie
Red Border Marquee Rookies 577 Richard Panik Tampa Bay Lightning 5 Reds per Wrapper Redemption Pack Rookie
Red Border Marquee Rookies 578 J.T. Miller New York Rangers 5 Reds per Wrapper Redemption Pack Rookie
Red Border Marquee Rookies 579 Nathan Beaulieu Montreal Canadiens 5 Reds per Wrapper Redemption Pack Rookie
Red Border Marquee Rookies 580 Ondrej Palat Tampa Bay Lightning 5 Reds per Wrapper Redemption Pack Rookie
Red Border Marquee Rookies 581 Scott Laughton Philadelphia Flyers 5 Reds per Wrapper Redemption Pack Rookie
Red Border Marquee Rookies 582 Austin Watson Nashville Predators 5 Reds per Wrapper Redemption Pack Rookie
Red Border Marquee Rookies 583 Jordan Schroeder Vancouver Canucks 5 Reds per Wrapper Redemption Pack Rookie
Red Border Marquee Rookies 584 Chris Terry Carolina Hurricanes 5 Reds per Wrapper Redemption Pack Rookie
Red Border Marquee Rookies 585 Jonathan Audy-Marchessault Columbus Blue Jackets 5 Reds per Wrapper Redemption Pack Rookie
Red Border Marquee Rookies 586 Cristopher Nilstorp Dallas Stars 5 Reds per Wrapper Redemption Pack Rookie
Red Border Marquee Rookies 587 Harri Pesonen New Jersey Devils 5 Reds per Wrapper Redemption Pack Rookie
Red Border Marquee Rookies 588 Matthew Irwin San Jose Sharks 5 Reds per Wrapper Redemption Pack Rookie
Red Border Marquee Rookies 589 Johan Larsson Buffalo Sabres 5 Reds per Wrapper Redemption Pack Rookie
Red Border Marquee Rookies 590 Damien Brunner Detroit Red Wings 5 Reds per Wrapper Redemption Pack Rookie
Red Border Marquee Rookies 591 Mikael Granlund Minnesota Wild 5 Reds per Wrapper Redemption Pack Rookie
Red Border Marquee Rookies 592 Chad Ruhwedel Buffalo Sabres 5 Reds per Wrapper Redemption Pack Rookie
Red Border Marquee Rookies 593 Alex Killorn Tampa Bay Lightning 5 Reds per Wrapper Redemption Pack Rookie
Red Border Marquee Rookies 594 Nicolas Blanchard Carolina Hurricanes 5 Reds per Wrapper Redemption Pack Rookie
Red Border Marquee Rookies 595 Nick Bjugstad Florida Panthers 5 Reds per Wrapper Redemption Pack Rookie
Red Border Marquee Rookies 596 Ben Hanowski Calgary Flames 5 Reds per Wrapper Redemption Pack Rookie
Red Border Marquee Rookies 597 Antoine Roussel Dallas Stars 5 Reds per Wrapper Redemption Pack Rookie
Red Border Marquee Rookies 598 Sami Aittokallio Colorado Avalanche 5 Reds per Wrapper Redemption Pack Rookie
Red Border Marquee Rookies 599 Jack Campbell Dallas Stars 5 Reds per Wrapper Redemption Pack Rookie
Red Border Marquee Rookies 600 Checklist None None 5 Reds per Wrapper Redemption Pack
Retro 1 Phil Kessel Toronto Maple Leafs 1:1 h, 1:2 r, 1:2 b
Retro 2 Benoit Pouliot Tampa Bay Lightning 1:1 h, 1:2 r, 1:2 b
Retro 3 Semyon Varlamov Colorado Avalanche 1:1 h, 1:2 r, 1:2 b
Retro 4 Andrew Ference Boston Bruins 1:1 h, 1:2 r, 1:2 b
Retro 5 Jonathan Bernier Los Angeles Kings 1:1 h, 1:2 r, 1:2 b
Retro 6 Daniel Girardi New York Rangers 1:1 h, 1:2 r, 1:2 b
Retro 7 Douglas Murray Pittsburgh Penguins 1:1 h, 1:2 r, 1:2 b
Retro 8 Ray Whitney Dallas Stars 1:1 h, 1:2 r, 1:2 b
Retro 9 Daniel Briere Philadelphia Flyers 1:1 h, 1:2 r, 1:2 b
Retro 10 Johan Franzen Detroit Red Wings 1:1 h, 1:2 r, 1:2 b
Retro 11 Pavel Bure Vancouver Canucks 1:1 h, 1:2 r, 1:2 b Retired
Retro 12 Nick Spaling Nashville Predators 1:1 h, 1:2 r, 1:2 b
Retro 13 Dwight King Los Angeles Kings 1:1 h, 1:2 r, 1:2 b
Retro 14 Devin Setoguchi Minnesota Wild 1:1 h, 1:2 r, 1:2 b
Retro 15 Andrej Sekera Buffalo Sabres 1:1 h, 1:2 r, 1:2 b
Retro 16 Patrick Dwyer Carolina Hurricanes 1:1 h, 1:2 r, 1:2 b
Retro 17 John-Michael Liles Toronto Maple Leafs 1:1 h, 1:2 r, 1:2 b
Retro 18 Michael Grabner New York Islanders 1:1 h, 1:2 r, 1:2 b
Retro 19 Guillaume Latendresse Ottawa Senators 1:1 h, 1:2 r, 1:2 b
Retro 20 Derick Brassard New York Rangers 1:1 h, 1:2 r, 1:2 b
Retro 21 Matt Read Philadelphia Flyers 1:1 h, 1:2 r, 1:2 b
Retro 22 Duncan Keith Chicago Blackhawks 1:1 h, 1:2 r, 1:2 b
Retro 23 Colin Wilson Nashville Predators 1:1 h, 1:2 r, 1:2 b
Retro 24 Jordan Eberle Edmonton Oilers 1:1 h, 1:2 r, 1:2 b
Retro 25 Drayson Bowman Carolina Hurricanes 1:1 h, 1:2 r, 1:2 b
Retro 26 Jordin Tootoo Detroit Red Wings 1:1 h, 1:2 r, 1:2 b
Retro 27 Justin Williams Los Angeles Kings 1:1 h, 1:2 r, 1:2 b
Retro 28 Kyle Wellwood Winnipeg Jets 1:1 h, 1:2 r, 1:2 b
Retro 29 Larry Robinson Montreal Canadiens 1:1 h, 1:2 r, 1:2 b Retired
Retro 30 Tyler Kennedy Pittsburgh Penguins 1:1 h, 1:2 r, 1:2 b
Retro 31 Kevin Klein Nashville Predators 1:1 h, 1:2 r, 1:2 b
Retro 32 Loui Eriksson Dallas Stars 1:1 h, 1:2 r, 1:2 b
Retro 33 Alexander Semin Carolina Hurricanes 1:1 h, 1:2 r, 1:2 b
Retro 34 Cody Franson Toronto Maple Leafs 1:1 h, 1:2 r, 1:2 b
Retro 35 Erik Condra Ottawa Senators 1:1 h, 1:2 r, 1:2 b
Retro 36 Nik Antropov Winnipeg Jets 1:1 h, 1:2 r, 1:2 b
Retro 37 Peter Holland Anaheim Ducks 1:1 h, 1:2 r, 1:2 b
Retro 38 Drew Miller Detroit Red Wings 1:1 h, 1:2 r, 1:2 b
Retro 39 Henrik Sedin Vancouver Canucks 1:1 h, 1:2 r, 1:2 b
Retro 40 Curtis Glencross Calgary Flames 1:1 h, 1:2 r, 1:2 b
Retro 41 Mike Richards Los Angeles Kings 1:1 h, 1:2 r, 1:2 b
Retro 42 Ryane Clowe New York Rangers 1:1 h, 1:2 r, 1:2 b
Retro 43 Carl Gunnarsson Toronto Maple Leafs 1:1 h, 1:2 r, 1:2 b
Retro 44 Evgeni Nabokov New York Islanders 1:1 h, 1:2 r, 1:2 b
Retro 45 James Wisniewski Columbus Blue Jackets 1:1 h, 1:2 r, 1:2 b
Retro 46 Brian Gionta Montreal Canadiens 1:1 h, 1:2 r, 1:2 b
Retro 47 Scott Hartnell Philadelphia Flyers 1:1 h, 1:2 r, 1:2 b
Retro 48 Shawn Matthias Florida Panthers 1:1 h, 1:2 r, 1:2 b
Retro 49 Jonathan Toews Chicago Blackhawks 1:1 h, 1:2 r, 1:2 b
Retro 50 Luc Robitaille Los Angeles Kings 1:1 h, 1:2 r, 1:2 b Retired
Retro 51 Joey MacDonald Calgary Flames 1:1 h, 1:2 r, 1:2 b
Retro 52 Alex Pietrangelo St. Louis Blues 1:1 h, 1:2 r, 1:2 b
Retro 53 Brayden Schenn Philadelphia Flyers 1:1 h, 1:2 r, 1:2 b
Retro 54 Paul Gaustad Nashville Predators 1:1 h, 1:2 r, 1:2 b
Retro 55 Radim Vrbata Phoenix Coyotes 1:1 h, 1:2 r, 1:2 b
Retro 56 Mark Fistric Edmonton Oilers 1:1 h, 1:2 r, 1:2 b
Retro 57 Cory Emmerton Detroit Red Wings 1:1 h, 1:2 r, 1:2 b
Retro 58 Matt Carle Tampa Bay Lightning 1:1 h, 1:2 r, 1:2 b
Retro 59 John Carlson Washington Capitals 1:1 h, 1:2 r, 1:2 b
Retro 60 Zenon Konopka Minnesota Wild 1:1 h, 1:2 r, 1:2 b
Retro 61 Jiri Tlusty Carolina Hurricanes 1:1 h, 1:2 r, 1:2 b
Retro 62 Alex Tanguay Calgary Flames 1:1 h, 1:2 r, 1:2 b
Retro 63 Viktor Stalberg Chicago Blackhawks 1:1 h, 1:2 r, 1:2 b
Retro 64 Daniel Alfredsson Ottawa Senators 1:1 h, 1:2 r, 1:2 b
Retro 65 Colin McDonald New York Islanders 1:1 h, 1:2 r, 1:2 b
Retro 66 Dennis Seidenberg Boston Bruins 1:1 h, 1:2 r, 1:2 b
Retro 67 Steven Stamkos Tampa Bay Lightning 1:1 h, 1:2 r, 1:2 b
Retro 68 R.J. Umberger Columbus Blue Jackets 1:1 h, 1:2 r, 1:2 b
Retro 69 Rob Scuderi Los Angeles Kings 1:1 h, 1:2 r, 1:2 b
Retro 70 Nikolai Khabibulin Edmonton Oilers 1:1 h, 1:2 r, 1:2 b
Retro 71 Jaroslav Halak St. Louis Blues 1:1 h, 1:2 r, 1:2 b
Retro 72 Steve Ott Buffalo Sabres 1:1 h, 1:2 r, 1:2 b
Retro 73 Joni Pitkanen Carolina Hurricanes 1:1 h, 1:2 r, 1:2 b
Retro 74 Henrik Zetterberg Detroit Red Wings 1:1 h, 1:2 r, 1:2 b
Retro 75 Jason Chimera Washington Capitals 1:1 h, 1:2 r, 1:2 b
Retro 76 Victor Hedman Tampa Bay Lightning 1:1 h, 1:2 r, 1:2 b
Retro 77 Sergei Bobrovsky Columbus Blue Jackets 1:1 h, 1:2 r, 1:2 b
Retro 78 Oliver Ekman-Larsson Phoenix Coyotes 1:1 h, 1:2 r, 1:2 b
Retro 79 Mark Messier Edmonton Oilers 1:1 h, 1:2 r, 1:2 b Retired
Retro 80 Martin Erat Washington Capitals 1:1 h, 1:2 r, 1:2 b
Retro 81 Wayne Simmonds Philadelphia Flyers 1:1 h, 1:2 r, 1:2 b
Retro 82 Jordan Leopold St. Louis Blues 1:1 h, 1:2 r, 1:2 b
Retro 83 Craig Smith Nashville Predators 1:1 h, 1:2 r, 1:2 b
Retro 84 Matt Cooke Pittsburgh Penguins 1:1 h, 1:2 r, 1:2 b
Retro 85 Jay McClement Toronto Maple Leafs 1:1 h, 1:2 r, 1:2 b
Retro 86 Fedor Tyutin Columbus Blue Jackets 1:1 h, 1:2 r, 1:2 b
Retro 87 Rick Nash New York Rangers 1:1 h, 1:2 r, 1:2 b
Retro 88 Kyle Turris Ottawa Senators 1:1 h, 1:2 r, 1:2 b
Retro 89 Andrew MacDonald New York Islanders 1:1 h, 1:2 r, 1:2 b
Retro 90 Bobby Orr Boston Bruins 1:1 h, 1:2 r, 1:2 b Retired
Retro 91 Vernon Fiddler Dallas Stars 1:1 h, 1:2 r, 1:2 b
Retro 92 Joffrey Lupul Toronto Maple Leafs 1:1 h, 1:2 r, 1:2 b
Retro 93 Patrik Berglund St. Louis Blues 1:1 h, 1:2 r, 1:2 b
Retro 94 Braden Holtby Washington Capitals 1:1 h, 1:2 r, 1:2 b
Retro 95 Patrick Kane Chicago Blackhawks 1:1 h, 1:2 r, 1:2 b
Retro 96 Steve Sullivan New Jersey Devils 1:1 h, 1:2 r, 1:2 b
Retro 97 Martin Hanzal Phoenix Coyotes 1:1 h, 1:2 r, 1:2 b
Retro 98 Cam Atkinson Columbus Blue Jackets 1:1 h, 1:2 r, 1:2 b
Retro 99 James Sheppard San Jose Sharks 1:1 h, 1:2 r, 1:2 b
Retro 100 T.J. Oshie St. Louis Blues 1:1 h, 1:2 r, 1:2 b
Retro 101 Brooks Orpik Pittsburgh Penguins 1:1 h, 1:2 r, 1:2 b
Retro 102 Derek Roy Vancouver Canucks 1:1 h, 1:2 r, 1:2 b
Retro 103 Mike Weber Buffalo Sabres 1:1 h, 1:2 r, 1:2 b
Retro 104 Blake Comeau Columbus Blue Jackets 1:1 h, 1:2 r, 1:2 b
Retro 105 Colton Orr Toronto Maple Leafs 1:1 h, 1:2 r, 1:2 b
Retro 106 Jussi Jokinen Pittsburgh Penguins 1:1 h, 1:2 r, 1:2 b
Retro 107 Patrice Bergeron Boston Bruins 1:1 h, 1:2 r, 1:2 b
Retro 108 Justin Abdelkader Detroit Red Wings 1:1 h, 1:2 r, 1:2 b
Retro 109 Robin Lehner Ottawa Senators 1:1 h, 1:2 r, 1:2 b
Retro 110 Teemu Selanne Anaheim Ducks 1:1 h, 1:2 r, 1:2 b
Retro 111 Peter Mueller Florida Panthers 1:1 h, 1:2 r, 1:2 b
Retro 112 Cal Clutterbuck Minnesota Wild 1:1 h, 1:2 r, 1:2 b
Retro 113 Troy Brouwer Washington Capitals 1:1 h, 1:2 r, 1:2 b
Retro 114 Mike Bossy New York Islanders 1:1 h, 1:2 r, 1:2 b Retired
Retro 115 Paul Martin Pittsburgh Penguins 1:1 h, 1:2 r, 1:2 b
Retro 116 Joe Pavelski San Jose Sharks 1:1 h, 1:2 r, 1:2 b
Retro 117 Tom Pyatt Tampa Bay Lightning 1:1 h, 1:2 r, 1:2 b
Retro 118 Jan Hejda Colorado Avalanche 1:1 h, 1:2 r, 1:2 b
Retro 119 Brandon Sutter Pittsburgh Penguins 1:1 h, 1:2 r, 1:2 b
Retro 120 Marcus Foligno Buffalo Sabres 1:1 h, 1:2 r, 1:2 b
Retro 121 Pierre-Marc Bouchard Minnesota Wild 1:1 h, 1:2 r, 1:2 b
Retro 122 Chris Neil Ottawa Senators 1:1 h, 1:2 r, 1:2 b
Retro 123 Filip Kuba Florida Panthers 1:1 h, 1:2 r, 1:2 b
Retro 124 David Perron St. Louis Blues 1:1 h, 1:2 r, 1:2 b
Retro 125 Jonathan Ericsson Detroit Red Wings 1:1 h, 1:2 r, 1:2 b
Retro 126 Doug Gilmour Toronto Maple Leafs 1:1 h, 1:2 r, 1:2 b Retired
Retro 127 P.K. Subban Montreal Canadiens 1:1 h, 1:2 r, 1:2 b
Retro 128 Sheldon Souray Anaheim Ducks 1:1 h, 1:2 r, 1:2 b
Retro 129 Marc Staal New York Rangers 1:1 h, 1:2 r, 1:2 b
Retro 130 Stephen Gionta New Jersey Devils 1:1 h, 1:2 r, 1:2 b
Retro 131 Tom Gilbert Minnesota Wild 1:1 h, 1:2 r, 1:2 b
Retro 132 Jacob Markstrom Florida Panthers 1:1 h, 1:2 r, 1:2 b
Retro 133 Jim Howard Detroit Red Wings 1:1 h, 1:2 r, 1:2 b
Retro 134 Jay Harrison Carolina Hurricanes 1:1 h, 1:2 r, 1:2 b
Retro 135 Chris Kelly Boston Bruins 1:1 h, 1:2 r, 1:2 b
Retro 136 Mark Letestu Columbus Blue Jackets 1:1 h, 1:2 r, 1:2 b
Retro 137 Nick Schultz Edmonton Oilers 1:1 h, 1:2 r, 1:2 b
Retro 138 Taylor Pyatt New York Rangers 1:1 h, 1:2 r, 1:2 b
Retro 139 Mikhail Grabovski Toronto Maple Leafs 1:1 h, 1:2 r, 1:2 b
Retro 140 Tomas Kopecky Florida Panthers 1:1 h, 1:2 r, 1:2 b
Retro 141 Mikkel Boedker Phoenix Coyotes 1:1 h, 1:2 r, 1:2 b
Retro 142 Cody Eakin Dallas Stars 1:1 h, 1:2 r, 1:2 b
Retro 143 Dustin Byfuglien Winnipeg Jets 1:1 h, 1:2 r, 1:2 b
Retro 144 Richard Clune Nashville Predators 1:1 h, 1:2 r, 1:2 b
Retro 145 Kevin Bieksa Vancouver Canucks 1:1 h, 1:2 r, 1:2 b
Retro 146 Anton Volchenkov New Jersey Devils 1:1 h, 1:2 r, 1:2 b
Retro 147 Francois Beauchemin Anaheim Ducks 1:1 h, 1:2 r, 1:2 b
Retro 148 Gregory Campbell Boston Bruins 1:1 h, 1:2 r, 1:2 b
Retro 149 Carey Price Montreal Canadiens 1:1 h, 1:2 r, 1:2 b
Retro 150 Casey Cizikas New York Islanders 1:1 h, 1:2 r, 1:2 b
Retro 151 Reilly Smith Dallas Stars 1:1 h, 1:2 r, 1:2 b
Retro 152 Marc-Andre Fleury Pittsburgh Penguins 1:1 h, 1:2 r, 1:2 b
Retro 153 Brian Campbell Florida Panthers 1:1 h, 1:2 r, 1:2 b
Retro 154 Brandon Saad Chicago Blackhawks 1:1 h, 1:2 r, 1:2 b
Retro 155 Clayton Stoner Minnesota Wild 1:1 h, 1:2 r, 1:2 b
Retro 156 Jakub Kindl Detroit Red Wings 1:1 h, 1:2 r, 1:2 b
Retro 157 Zack Smith Ottawa Senators 1:1 h, 1:2 r, 1:2 b
Retro 158 Alexander Edler Vancouver Canucks 1:1 h, 1:2 r, 1:2 b
Retro 159 Andrew Ladd Winnipeg Jets 1:1 h, 1:2 r, 1:2 b
Retro 160 Raffi Torres San Jose Sharks 1:1 h, 1:2 r, 1:2 b
Retro 161 John Tavares New York Islanders 1:1 h, 1:2 r, 1:2 b
Retro 162 Dmitry Kulikov Florida Panthers 1:1 h, 1:2 r, 1:2 b
Retro 163 Ryan Ellis Nashville Predators 1:1 h, 1:2 r, 1:2 b
Retro 164 Teddy Purcell Tampa Bay Lightning 1:1 h, 1:2 r, 1:2 b
Retro 165 Tyson Barrie Colorado Avalanche 1:1 h, 1:2 r, 1:2 b
Retro 166 Mathieu Perreault Washington Capitals 1:1 h, 1:2 r, 1:2 b
Retro 167 Dale Hawerchuk Winnipeg Jets 1:1 h, 1:2 r, 1:2 b Retired
Retro 168 Marian Hossa Chicago Blackhawks 1:1 h, 1:2 r, 1:2 b
Retro 169 Luca Sbisa Anaheim Ducks 1:1 h, 1:2 r, 1:2 b
Retro 170 Shawn Horcoff Edmonton Oilers 1:1 h, 1:2 r, 1:2 b
Retro 171 James Neal Pittsburgh Penguins 1:1 h, 1:2 r, 1:2 b
Retro 172 Mike Fisher Nashville Predators 1:1 h, 1:2 r, 1:2 b
Retro 173 Henrik Lundqvist New York Rangers 1:1 h, 1:2 r, 1:2 b
Retro 174 Brett Hull Dallas Stars 1:1 h, 1:2 r, 1:2 b Retired
Retro 175 Stephen Weiss Florida Panthers 1:1 h, 1:2 r, 1:2 b
Retro 176 Saku Koivu Anaheim Ducks 1:1 h, 1:2 r, 1:2 b
Retro 177 Sam Gagner Edmonton Oilers 1:1 h, 1:2 r, 1:2 b
Retro 178 Mike Ribeiro Washington Capitals 1:1 h, 1:2 r, 1:2 b
Retro 179 Tuukka Rask Boston Bruins 1:1 h, 1:2 r, 1:2 b
Retro 180 Marc Methot Ottawa Senators 1:1 h, 1:2 r, 1:2 b
Retro 181 David Backes St. Louis Blues 1:1 h, 1:2 r, 1:2 b
Retro 182 Jiri Hudler Calgary Flames 1:1 h, 1:2 r, 1:2 b
Retro 183 Steve Yzerman Detroit Red Wings 1:1 h, 1:2 r, 1:2 b Retired
Retro 184 Shea Weber Nashville Predators 1:1 h, 1:2 r, 1:2 b
Retro 185 Philip Larsen Dallas Stars 1:1 h, 1:2 r, 1:2 b
Retro 186 Brad Marchand Boston Bruins 1:1 h, 1:2 r, 1:2 b
Retro 187 Jamie McBain Carolina Hurricanes 1:1 h, 1:2 r, 1:2 b
Retro 188 Ryan Nugent-Hopkins Edmonton Oilers 1:1 h, 1:2 r, 1:2 b
Retro 189 Chris Phillips Ottawa Senators 1:1 h, 1:2 r, 1:2 b
Retro 190 Mike Green Washington Capitals 1:1 h, 1:2 r, 1:2 b
Retro 191 Frans Nielsen New York Islanders 1:1 h, 1:2 r, 1:2 b
Retro 192 Ruslan Fedotenko Philadelphia Flyers 1:1 h, 1:2 r, 1:2 b
Retro 193 Kyle Brodziak Minnesota Wild 1:1 h, 1:2 r, 1:2 b
Retro 194 Ryan Carter New Jersey Devils 1:1 h, 1:2 r, 1:2 b
Retro 195 Niklas Hjalmarsson Chicago Blackhawks 1:1 h, 1:2 r, 1:2 b
Retro 196 Marcel Goc Florida Panthers 1:1 h, 1:2 r, 1:2 b
Retro 197 Ryan McDonagh New York Rangers 1:1 h, 1:2 r, 1:2 b
Retro 198 Joe Corvo Carolina Hurricanes 1:1 h, 1:2 r, 1:2 b
Retro 199 Dion Phaneuf Toronto Maple Leafs 1:1 h, 1:2 r, 1:2 b
Retro 200 Tomas Vokoun Pittsburgh Penguins 1:1 h, 1:2 r, 1:2 b
Retro 201 Craig Anderson Ottawa Senators 1:1 h, 1:2 r, 1:2 b
Retro 202 Dan Hamhuis Vancouver Canucks 1:1 h, 1:2 r, 1:2 b
Retro 203 Logan Couture San Jose Sharks 1:1 h, 1:2 r, 1:2 b
Retro 204 Kari Lehtonen Dallas Stars 1:1 h, 1:2 r, 1:2 b
Retro 205 Vincent Lecavalier Tampa Bay Lightning 1:1 h, 1:2 r, 1:2 b
Retro 206 Devan Dubnyk Edmonton Oilers 1:1 h, 1:2 r, 1:2 b
Retro 207 Roman Josi Nashville Predators 1:1 h, 1:2 r, 1:2 b
Retro 208 Barret Jackman St. Louis Blues 1:1 h, 1:2 r, 1:2 b
Retro 209 Evgeni Malkin Pittsburgh Penguins 1:1 h, 1:2 r, 1:2 b
Retro 210 Dany Heatley Minnesota Wild 1:1 h, 1:2 r, 1:2 b
Retro 211 Jochen Hecht Buffalo Sabres 1:1 h, 1:2 r, 1:2 b
Retro 212 Marcus Johansson Washington Capitals 1:1 h, 1:2 r, 1:2 b
Retro 213 Matt Calvert Columbus Blue Jackets 1:1 h, 1:2 r, 1:2 b
Retro 214 Boyd Gordon Phoenix Coyotes 1:1 h, 1:2 r, 1:2 b
Retro 215 Alexandre Burrows Vancouver Canucks 1:1 h, 1:2 r, 1:2 b
Retro 216 Erik Johnson Colorado Avalanche 1:1 h, 1:2 r, 1:2 b
Retro 217 Erik Karlsson Ottawa Senators 1:1 h, 1:2 r, 1:2 b
Retro 218 Eric Brewer Tampa Bay Lightning 1:1 h, 1:2 r, 1:2 b
Retro 219 Tomas Fleischmann Florida Panthers 1:1 h, 1:2 r, 1:2 b
Retro 220 Brandon Prust Montreal Canadiens 1:1 h, 1:2 r, 1:2 b
Retro 221 Daniel Winnik Anaheim Ducks 1:1 h, 1:2 r, 1:2 b
Retro 222 Brent Burns San Jose Sharks 1:1 h, 1:2 r, 1:2 b
Retro 223 Andrew Shaw Chicago Blackhawks 1:1 h, 1:2 r, 1:2 b
Retro 224 Torrey Mitchell Minnesota Wild 1:1 h, 1:2 r, 1:2 b
Retro 225 Gustav Nyquist Detroit Red Wings 1:1 h, 1:2 r, 1:2 b
Retro 226 Patrick Wiercioch Ottawa Senators 1:1 h, 1:2 r, 1:2 b
Retro 227 Trevor Daley Dallas Stars 1:1 h, 1:2 r, 1:2 b
Retro 228 Nazem Kadri Toronto Maple Leafs 1:1 h, 1:2 r, 1:2 b
Retro 229 Keith Yandle Phoenix Coyotes 1:1 h, 1:2 r, 1:2 b
Retro 230 Mark Stuart Winnipeg Jets 1:1 h, 1:2 r, 1:2 b
Retro 231 Michael Del Zotto New York Rangers 1:1 h, 1:2 r, 1:2 b
Retro 232 Nick Foligno Columbus Blue Jackets 1:1 h, 1:2 r, 1:2 b
Retro 233 David Desharnais Montreal Canadiens 1:1 h, 1:2 r, 1:2 b
Retro 234 Bryan Bickell Chicago Blackhawks 1:1 h, 1:2 r, 1:2 b
Retro 235 Jakub Voracek Philadelphia Flyers 1:1 h, 1:2 r, 1:2 b
Retro 236 Brian McGrattan Calgary Flames 1:1 h, 1:2 r, 1:2 b
Retro 237 Rob Klinkhammer Phoenix Coyotes 1:1 h, 1:2 r, 1:2 b
Retro 238 Joel Ward Washington Capitals 1:1 h, 1:2 r, 1:2 b
Retro 239 Marian Gaborik Columbus Blue Jackets 1:1 h, 1:2 r, 1:2 b
Retro 240 Ryan Miller Buffalo Sabres 1:1 h, 1:2 r, 1:2 b
Retro 241 Josh Gorges Montreal Canadiens 1:1 h, 1:2 r, 1:2 b
Retro 242 Travis Hamonic New York Islanders 1:1 h, 1:2 r, 1:2 b
Retro 243 Carl Hagelin New York Rangers 1:1 h, 1:2 r, 1:2 b
Retro 244 Tobias Enstrom Winnipeg Jets 1:1 h, 1:2 r, 1:2 b
Retro 245 Scott Gomez San Jose Sharks 1:1 h, 1:2 r, 1:2 b
Retro 246 Corey Crawford Chicago Blackhawks 1:1 h, 1:2 r, 1:2 b
Retro 247 Francis Bouillon Montreal Canadiens 1:1 h, 1:2 r, 1:2 b
Retro 248 Miikka Kiprusoff Calgary Flames 1:1 h, 1:2 r, 1:2 b
Retro 249 Nate Thompson Tampa Bay Lightning 1:1 h, 1:2 r, 1:2 b
Retro 250 Lauri Korpikoski Phoenix Coyotes 1:1 h, 1:2 r, 1:2 b
Retro 251 Alexander Ovechkin Washington Capitals 1:1 h, 1:2 r, 1:2 b
Retro 252 Jake Muzzin Los Angeles Kings 1:1 h, 1:2 r, 1:2 b
Retro 253 Ryan Kesler Vancouver Canucks 1:1 h, 1:2 r, 1:2 b
Retro 254 Pascal Dupuis Pittsburgh Penguins 1:1 h, 1:2 r, 1:2 b
Retro 255 Ray Bourque Boston Bruins 1:1 h, 1:2 r, 1:2 b Retired
Retro 256 Kimmo Timonen Philadelphia Flyers 1:1 h, 1:2 r, 1:2 b
Retro 257 Andy McDonald St. Louis Blues 1:1 h, 1:2 r, 1:2 b
Retro 258 Corey Perry Anaheim Ducks 1:1 h, 1:2 r, 1:2 b
Retro 259 Matt Hendricks Washington Capitals 1:1 h, 1:2 r, 1:2 b
Retro 260 Marcus Kruger Chicago Blackhawks 1:1 h, 1:2 r, 1:2 b
Retro 261 Milan Hejduk Colorado Avalanche 1:1 h, 1:2 r, 1:2 b
Retro 262 Tyler Ennis Buffalo Sabres 1:1 h, 1:2 r, 1:2 b
Retro 263 John Moore New York Rangers 1:1 h, 1:2 r, 1:2 b
Retro 264 Kris Versteeg Florida Panthers 1:1 h, 1:2 r, 1:2 b
Retro 265 Chad LaRose Carolina Hurricanes 1:1 h, 1:2 r, 1:2 b
Retro 266 David Legwand Nashville Predators 1:1 h, 1:2 r, 1:2 b
Retro 267 Daniel Sedin Vancouver Canucks 1:1 h, 1:2 r, 1:2 b
Retro 268 Martin St. Louis Tampa Bay Lightning 1:1 h, 1:2 r, 1:2 b
Retro 269 Patrick Eaves Detroit Red Wings 1:1 h, 1:2 r, 1:2 b
Retro 270 James van Riemsdyk Toronto Maple Leafs 1:1 h, 1:2 r, 1:2 b
Retro 271 Jay Bouwmeester St. Louis Blues 1:1 h, 1:2 r, 1:2 b
Retro 272 Nicklas Backstrom Washington Capitals 1:1 h, 1:2 r, 1:2 b
Retro 273 Andre Benoit Ottawa Senators 1:1 h, 1:2 r, 1:2 b
Retro 274 Nikita Nikitin Columbus Blue Jackets 1:1 h, 1:2 r, 1:2 b
Retro 275 Brad Boyes New York Islanders 1:1 h, 1:2 r, 1:2 b
Retro 276 Andrei Markov Montreal Canadiens 1:1 h, 1:2 r, 1:2 b
Retro 277 Matt Beleskey Anaheim Ducks 1:1 h, 1:2 r, 1:2 b
Retro 278 Brian Elliott St. Louis Blues 1:1 h, 1:2 r, 1:2 b
Retro 279 Chris Butler Calgary Flames 1:1 h, 1:2 r, 1:2 b
Retro 280 Ilya Kovalchuk New Jersey Devils 1:1 h, 1:2 r, 1:2 b
Retro 281 Lubomir Visnovsky New York Islanders 1:1 h, 1:2 r, 1:2 b
Retro 282 Ray Emery Chicago Blackhawks 1:1 h, 1:2 r, 1:2 b
Retro 283 Mikko Koivu Minnesota Wild 1:1 h, 1:2 r, 1:2 b
Retro 284 Dominik Hasek Buffalo Sabres 1:1 h, 1:2 r, 1:2 b Retired
Retro 285 Alex Goligoski Dallas Stars 1:1 h, 1:2 r, 1:2 b
Retro 286 Marc-Edouard Vlasic San Jose Sharks 1:1 h, 1:2 r, 1:2 b
Retro 287 Vaclav Prospal Columbus Blue Jackets 1:1 h, 1:2 r, 1:2 b
Retro 288 Antoine Vermette Phoenix Coyotes 1:1 h, 1:2 r, 1:2 b
Retro 289 David Jones Colorado Avalanche 1:1 h, 1:2 r, 1:2 b
Retro 290 Brian Boyle New York Rangers 1:1 h, 1:2 r, 1:2 b
Retro 291 Kris Letang Pittsburgh Penguins 1:1 h, 1:2 r, 1:2 b
Retro 292 Justin Peters Carolina Hurricanes 1:1 h, 1:2 r, 1:2 b
Retro 293 Simon Gagne Philadelphia Flyers 1:1 h, 1:2 r, 1:2 b
Retro 294 Rich Peverley Boston Bruins 1:1 h, 1:2 r, 1:2 b
Retro 295 Gabriel Landeskog Colorado Avalanche 1:1 h, 1:2 r, 1:2 b
Retro 296 Adam Larsson New Jersey Devils 1:1 h, 1:2 r, 1:2 b
Retro 297 Kyle Okposo New York Islanders 1:1 h, 1:2 r, 1:2 b
Retro 298 Martin Havlat San Jose Sharks 1:1 h, 1:2 r, 1:2 b
Retro 299 Maxime Talbot Philadelphia Flyers 1:1 h, 1:2 r, 1:2 b
Retro 300 B.J. Crombeen Tampa Bay Lightning 1:1 h, 1:2 r, 1:2 b
Retro 301 Karl Alzner Washington Capitals 1:1 h, 1:2 r, 1:2 b
Retro 302 Eric Staal Carolina Hurricanes 1:1 h, 1:2 r, 1:2 b
Retro 303 Ryan Whitney Edmonton Oilers 1:1 h, 1:2 r, 1:2 b
Retro 304 Kyle Clifford Los Angeles Kings 1:1 h, 1:2 r, 1:2 b
Retro 305 Sean Couturier Philadelphia Flyers 1:1 h, 1:2 r, 1:2 b
Retro 306 Matthew Lombardi Anaheim Ducks 1:1 h, 1:2 r, 1:2 b
Retro 307 Michael Ryder Montreal Canadiens 1:1 h, 1:2 r, 1:2 b
Retro 308 Brenden Morrow Pittsburgh Penguins 1:1 h, 1:2 r, 1:2 b
Retro 309 Dan Cleary Detroit Red Wings 1:1 h, 1:2 r, 1:2 b
Retro 310 Theoren Fleury Calgary Flames 1:1 h, 1:2 r, 1:2 b Retired
Retro 311 Cory Schneider Vancouver Canucks 1:1 h, 1:2 r, 1:2 b
Retro 312 Johan Hedberg New Jersey Devils 1:1 h, 1:2 r, 1:2 b
Retro 313 Matt Martin New York Islanders 1:1 h, 1:2 r, 1:2 b
Retro 314 Cody Hodgson Buffalo Sabres 1:1 h, 1:2 r, 1:2 b
Retro 315 Tyler Seguin Boston Bruins 1:1 h, 1:2 r, 1:2 b
Retro 316 Brent Seabrook Chicago Blackhawks 1:1 h, 1:2 r, 1:2 b
Retro 317 Ryan O'Reilly Colorado Avalanche 1:1 h, 1:2 r, 1:2 b
Retro 318 Patrick Roy Montreal Canadiens 1:1 h, 1:2 r, 1:2 b Retired
Retro 319 Ryan Garbutt Dallas Stars 1:1 h, 1:2 r, 1:2 b
Retro 320 Jack Johnson Columbus Blue Jackets 1:1 h, 1:2 r, 1:2 b
Retro 321 Lee Stempniak Calgary Flames 1:1 h, 1:2 r, 1:2 b
Retro 322 Patrick Sharp Chicago Blackhawks 1:1 h, 1:2 r, 1:2 b
Retro 323 Milan Lucic Boston Bruins 1:1 h, 1:2 r, 1:2 b
Retro 324 Anders Lindback Tampa Bay Lightning 1:1 h, 1:2 r, 1:2 b
Retro 325 Eric Tangradi Winnipeg Jets 1:1 h, 1:2 r, 1:2 b
Retro 326 Jamie Benn Dallas Stars 1:1 h, 1:2 r, 1:2 b
Retro 327 Tyler Bozak Toronto Maple Leafs 1:1 h, 1:2 r, 1:2 b
Retro 328 Martin Brodeur New Jersey Devils 1:1 h, 1:2 r, 1:2 b
Retro 329 Roberto Luongo Vancouver Canucks 1:1 h, 1:2 r, 1:2 b
Retro 330 Pekka Rinne Nashville Predators 1:1 h, 1:2 r, 1:2 b
Retro 331 Clarke MacArthur Toronto Maple Leafs 1:1 h, 1:2 r, 1:2 b
Retro 332 Michal Neuvirth Washington Capitals 1:1 h, 1:2 r, 1:2 b
Retro 333 Colin Greening Ottawa Senators 1:1 h, 1:2 r, 1:2 b
Retro 334 Robyn Regehr Los Angeles Kings 1:1 h, 1:2 r, 1:2 b
Retro 335 Bryce Salvador New Jersey Devils 1:1 h, 1:2 r, 1:2 b
Retro 336 Jared Spurgeon Minnesota Wild 1:1 h, 1:2 r, 1:2 b
Retro 337 Grant Clitsome Winnipeg Jets 1:1 h, 1:2 r, 1:2 b
Retro 338 Nikolai Kulemin Toronto Maple Leafs 1:1 h, 1:2 r, 1:2 b
Retro 339 Jonas Hiller Anaheim Ducks 1:1 h, 1:2 r, 1:2 b
Retro 340 Derek Stepan New York Rangers 1:1 h, 1:2 r, 1:2 b
Retro 341 David Krejci Boston Bruins 1:1 h, 1:2 r, 1:2 b
Retro 342 Jack Skille Florida Panthers 1:1 h, 1:2 r, 1:2 b
Retro 343 Andy Greene New Jersey Devils 1:1 h, 1:2 r, 1:2 b
Retro 344 Dan Ellis Carolina Hurricanes 1:1 h, 1:2 r, 1:2 b
Retro 345 Nick Bonino Anaheim Ducks 1:1 h, 1:2 r, 1:2 b
Retro 346 Eric Lindros Philadelphia Flyers 1:1 h, 1:2 r, 1:2 b Retired
Retro 347 Ladislav Smid Edmonton Oilers 1:1 h, 1:2 r, 1:2 b
Retro 348 Chris Higgins Vancouver Canucks 1:1 h, 1:2 r, 1:2 b
Retro 349 Matt Frattin Toronto Maple Leafs 1:1 h, 1:2 r, 1:2 b
Retro 350 Steve Begin Calgary Flames 1:1 h, 1:2 r, 1:2 b
Retro 351 John Mitchell Colorado Avalanche 1:1 h, 1:2 r, 1:2 b
Retro 352 Anton Khudobin Boston Bruins 1:1 h, 1:2 r, 1:2 b
Retro 353 Tim Jackman Calgary Flames 1:1 h, 1:2 r, 1:2 b
Retro 354 Patrik Elias New Jersey Devils 1:1 h, 1:2 r, 1:2 b
Retro 355 Drew Doughty Los Angeles Kings 1:1 h, 1:2 r, 1:2 b
Retro 356 Ryan Smyth Edmonton Oilers 1:1 h, 1:2 r, 1:2 b
Retro 357 Aaron Palushaj Colorado Avalanche 1:1 h, 1:2 r, 1:2 b
Retro 358 Thomas Vanek Buffalo Sabres 1:1 h, 1:2 r, 1:2 b
Retro 359 Derek Morris Phoenix Coyotes 1:1 h, 1:2 r, 1:2 b
Retro 360 Marek Zidlicky New Jersey Devils 1:1 h, 1:2 r, 1:2 b
Retro 361 Niklas Kronwall Detroit Red Wings 1:1 h, 1:2 r, 1:2 b
Retro 362 Matt Moulson New York Islanders 1:1 h, 1:2 r, 1:2 b
Retro 363 Matt Cullen Minnesota Wild 1:1 h, 1:2 r, 1:2 b
Retro 364 Matt Stajan Calgary Flames 1:1 h, 1:2 r, 1:2 b
Retro 365 Zac Rinaldo Philadelphia Flyers 1:1 h, 1:2 r, 1:2 b
Retro 366 Antti Niemi San Jose Sharks 1:1 h, 1:2 r, 1:2 b
Retro 367 Shane Doan Phoenix Coyotes 1:1 h, 1:2 r, 1:2 b
Retro 368 Eric Nystrom Dallas Stars 1:1 h, 1:2 r, 1:2 b
Retro 369 Josh Bailey New York Islanders 1:1 h, 1:2 r, 1:2 b
Retro 370 Vladimir Sobotka St. Louis Blues 1:1 h, 1:2 r, 1:2 b
Retro 371 Brandon Dubinsky Columbus Blue Jackets 1:1 h, 1:2 r, 1:2 b
Retro 372 Bobby Clarke Philadelphia Flyers 1:1 h, 1:2 r, 1:2 b Retired
Retro 373 Cam Fowler Anaheim Ducks 1:1 h, 1:2 r, 1:2 b
Retro 374 Matt Duchene Colorado Avalanche 1:1 h, 1:2 r, 1:2 b
Retro 375 Brandon Yip Nashville Predators 1:1 h, 1:2 r, 1:2 b
Retro 376 Ryan Callahan New York Rangers 1:1 h, 1:2 r, 1:2 b
Retro 377 Justin Faulk Carolina Hurricanes 1:1 h, 1:2 r, 1:2 b
Retro 378 Jason LaBarbera Phoenix Coyotes 1:1 h, 1:2 r, 1:2 b
Retro 379 Cody McLeod Colorado Avalanche 1:1 h, 1:2 r, 1:2 b
Retro 380 Kyle Palmieri Anaheim Ducks 1:1 h, 1:2 r, 1:2 b
Retro 381 Sami Salo Tampa Bay Lightning 1:1 h, 1:2 r, 1:2 b
Retro 382 Valtteri Filppula Detroit Red Wings 1:1 h, 1:2 r, 1:2 b
Retro 383 Zdeno Chara Boston Bruins 1:1 h, 1:2 r, 1:2 b
Retro 384 Ilya Bryzgalov Philadelphia Flyers 1:1 h, 1:2 r, 1:2 b
Retro 385 Jeff Skinner Carolina Hurricanes 1:1 h, 1:2 r, 1:2 b
Retro 386 Ben Scrivens Toronto Maple Leafs 1:1 h, 1:2 r, 1:2 b
Retro 387 Joe Thornton San Jose Sharks 1:1 h, 1:2 r, 1:2 b
Retro 388 Jarret Stoll Los Angeles Kings 1:1 h, 1:2 r, 1:2 b
Retro 389 Anton Stralman New York Rangers 1:1 h, 1:2 r, 1:2 b
Retro 390 Jannik Hansen Vancouver Canucks 1:1 h, 1:2 r, 1:2 b
Retro 391 Jeff Petry Edmonton Oilers 1:1 h, 1:2 r, 1:2 b
Retro 392 P.A. Parenteau Colorado Avalanche 1:1 h, 1:2 r, 1:2 b
Retro 393 Ales Hemsky Edmonton Oilers 1:1 h, 1:2 r, 1:2 b
Retro 394 Ian White Detroit Red Wings 1:1 h, 1:2 r, 1:2 b
Retro 395 Michal Handzus Chicago Blackhawks 1:1 h, 1:2 r, 1:2 b
Retro 396 Ryan Getzlaf Anaheim Ducks 1:1 h, 1:2 r, 1:2 b
Retro 397 Wayne Gretzky Edmonton Oilers 1:1 h, 1:2 r, 1:2 b Retired
Retro 398 Tyler Myers Buffalo Sabres 1:1 h, 1:2 r, 1:2 b
Retro 399 Brad Stuart San Jose Sharks 1:1 h, 1:2 r, 1:2 b
Retro 400 George Parros Florida Panthers 1:1 h, 1:2 r, 1:2 b
Retro 401 Mason Raymond Vancouver Canucks 1:1 h, 1:2 r, 1:2 b
Retro 402 Adrian Aucoin Columbus Blue Jackets 1:1 h, 1:2 r, 1:2 b
Retro 403 Daniel Paille Boston Bruins 1:1 h, 1:2 r, 1:2 b
Retro 404 Travis Zajac New Jersey Devils 1:1 h, 1:2 r, 1:2 b
Retro 405 Taylor Hall Edmonton Oilers 1:1 h, 1:2 r, 1:2 b
Retro 406 Jamie McGinn Colorado Avalanche 1:1 h, 1:2 r, 1:2 b
Retro 407 Evander Kane Winnipeg Jets 1:1 h, 1:2 r, 1:2 b
Retro 408 Alexei Emelin Montreal Canadiens 1:1 h, 1:2 r, 1:2 b
Retro 409 Magnus Paajarvi Edmonton Oilers 1:1 h, 1:2 r, 1:2 b
Retro 410 Erik Cole Dallas Stars 1:1 h, 1:2 r, 1:2 b
Retro 411 Christian Ehrhoff Buffalo Sabres 1:1 h, 1:2 r, 1:2 b
Retro 412 Jeff Carter Los Angeles Kings 1:1 h, 1:2 r, 1:2 b
Retro 413 Ryan Johansen Columbus Blue Jackets 1:1 h, 1:2 r, 1:2 b
Retro 414 Eric Fehr Washington Capitals 1:1 h, 1:2 r, 1:2 b
Retro 415 David Moss Phoenix Coyotes 1:1 h, 1:2 r, 1:2 b
Retro 416 David Clarkson New Jersey Devils 1:1 h, 1:2 r, 1:2 b
Retro 417 Ville Leino Buffalo Sabres 1:1 h, 1:2 r, 1:2 b
Retro 418 Nick Leddy Chicago Blackhawks 1:1 h, 1:2 r, 1:2 b
Retro 419 Andrew Cogliano Anaheim Ducks 1:1 h, 1:2 r, 1:2 b
Retro 420 Gabriel Bourque Nashville Predators 1:1 h, 1:2 r, 1:2 b
Retro 421 Jonathan Quick Los Angeles Kings 1:1 h, 1:2 r, 1:2 b
Retro 422 Nathan Horton Boston Bruins 1:1 h, 1:2 r, 1:2 b
Retro 423 Paul Coffey Edmonton Oilers 1:1 h, 1:2 r, 1:2 b Retired
Retro 424 Nathan Gerbe Buffalo Sabres 1:1 h, 1:2 r, 1:2 b
Retro 425 Ryan Suter Minnesota Wild 1:1 h, 1:2 r, 1:2 b
Retro 426 Ryan Malone Tampa Bay Lightning 1:1 h, 1:2 r, 1:2 b
Retro 427 Rene Bourque Montreal Canadiens 1:1 h, 1:2 r, 1:2 b
Retro 428 Alexander Burmistrov Winnipeg Jets 1:1 h, 1:2 r, 1:2 b
Retro 429 Sergei Kostitsyn Nashville Predators 1:1 h, 1:2 r, 1:2 b
Retro 430 Nicklas Lidstrom Detroit Red Wings 1:1 h, 1:2 r, 1:2 b Retired
Retro 431 Mike Smith Phoenix Coyotes 1:1 h, 1:2 r, 1:2 b
Retro 432 Bryan Trottier New York Islanders 1:1 h, 1:2 r, 1:2 b Retired
Retro 433 Paul Stastny Colorado Avalanche 1:1 h, 1:2 r, 1:2 b
Retro 434 Jaden Schwartz St. Louis Blues 1:1 h, 1:2 r, 1:2 b
Retro 435 Artem Anisimov Columbus Blue Jackets 1:1 h, 1:2 r, 1:2 b
Retro 436 Michael Cammalleri Calgary Flames 1:1 h, 1:2 r, 1:2 b
Retro 437 Bobby Ryan Anaheim Ducks 1:1 h, 1:2 r, 1:2 b
Retro 438 Rostislav Klesla Phoenix Coyotes 1:1 h, 1:2 r, 1:2 b
Retro 439 Jason Garrison Vancouver Canucks 1:1 h, 1:2 r, 1:2 b
Retro 440 Max Pacioretty Montreal Canadiens 1:1 h, 1:2 r, 1:2 b
Retro 441 Olli Jokinen Winnipeg Jets 1:1 h, 1:2 r, 1:2 b
Retro 442 Zach Parise Minnesota Wild 1:1 h, 1:2 r, 1:2 b
Retro 443 Chris Kunitz Pittsburgh Penguins 1:1 h, 1:2 r, 1:2 b
Retro 444 Anze Kopitar Los Angeles Kings 1:1 h, 1:2 r, 1:2 b
Retro 445 Kevin Shattenkirk St. Louis Blues 1:1 h, 1:2 r, 1:2 b
Retro 446 Jakob Silfverberg Ottawa Senators 1:1 h, 1:2 r, 1:2 b
Retro 447 Andrei Loktionov New Jersey Devils 1:1 h, 1:2 r, 1:2 b
Retro 448 Tommy Wingels San Jose Sharks 1:1 h, 1:2 r, 1:2 b
Retro 449 Lars Eller Montreal Canadiens 1:1 h, 1:2 r, 1:2 b
Retro 450 Ondrej Pavelec Winnipeg Jets 1:1 h, 1:2 r, 1:2 b
Retro 451 Drew Stafford Buffalo Sabres 1:1 h, 1:2 r, 1:2 b
Retro 452 Pavel Datsyuk Detroit Red Wings 1:1 h, 1:2 r, 1:2 b
Retro 453 Dustin Brown Los Angeles Kings 1:1 h, 1:2 r, 1:2 b
Retro 454 Alexander Steen St. Louis Blues 1:1 h, 1:2 r, 1:2 b
Retro 455 Ben Bishop Tampa Bay Lightning 1:1 h, 1:2 r, 1:2 b
Retro 456 Erik Gudbranson Florida Panthers 1:1 h, 1:2 r, 1:2 b
Retro 457 Maxim Lapierre Vancouver Canucks 1:1 h, 1:2 r, 1:2 b
Retro 458 Adam Henrique New Jersey Devils 1:1 h, 1:2 r, 1:2 b
Retro 459 Jordan Staal Carolina Hurricanes 1:1 h, 1:2 r, 1:2 b
Retro 460 Milan Michalek Ottawa Senators 1:1 h, 1:2 r, 1:2 b
Retro 461 Dave Bolland Chicago Blackhawks 1:1 h, 1:2 r, 1:2 b
Retro 462 Adam Burish San Jose Sharks 1:1 h, 1:2 r, 1:2 b
Retro 463 Mark Streit New York Islanders 1:1 h, 1:2 r, 1:2 b
Retro 464 Jaromir Jagr Boston Bruins 1:1 h, 1:2 r, 1:2 b
Retro 465 James Reimer Toronto Maple Leafs 1:1 h, 1:2 r, 1:2 b
Retro 466 Jason Pominville Minnesota Wild 1:1 h, 1:2 r, 1:2 b
Retro 467 Trevor Lewis Los Angeles Kings 1:1 h, 1:2 r, 1:2 b
Retro 468 Stephane Robidas Dallas Stars 1:1 h, 1:2 r, 1:2 b
Retro 469 Dennis Wideman Calgary Flames 1:1 h, 1:2 r, 1:2 b
Retro 470 Bryan Little Winnipeg Jets 1:1 h, 1:2 r, 1:2 b
Retro 471 Kyle Chipchura Phoenix Coyotes 1:1 h, 1:2 r, 1:2 b
Retro 472 Roman Polak St. Louis Blues 1:1 h, 1:2 r, 1:2 b
Retro 473 Tomas Plekanec Montreal Canadiens 1:1 h, 1:2 r, 1:2 b
Retro 474 Mark Giordano Calgary Flames 1:1 h, 1:2 r, 1:2 b
Retro 475 Sidney Crosby Pittsburgh Penguins 1:1 h, 1:2 r, 1:2 b
Retro 476 Blake Wheeler Winnipeg Jets 1:1 h, 1:2 r, 1:2 b
Retro 477 Luke Schenn Philadelphia Flyers 1:1 h, 1:2 r, 1:2 b
Retro 478 Niklas Backstrom Minnesota Wild 1:1 h, 1:2 r, 1:2 b
Retro 479 Brad Richards New York Rangers 1:1 h, 1:2 r, 1:2 b
Retro 480 Sergei Gonchar Ottawa Senators 1:1 h, 1:2 r, 1:2 b
Retro 481 Cam Ward Carolina Hurricanes 1:1 h, 1:2 r, 1:2 b
Retro 482 Jarome Iginla Pittsburgh Penguins 1:1 h, 1:2 r, 1:2 b
Retro 483 Keaton Ellerby Los Angeles Kings 1:1 h, 1:2 r, 1:2 b
Retro 484 Dan Boyle San Jose Sharks 1:1 h, 1:2 r, 1:2 b
Retro 485 Raphael Diaz Montreal Canadiens 1:1 h, 1:2 r, 1:2 b
Retro 486 Patric Hornqvist Nashville Predators 1:1 h, 1:2 r, 1:2 b
Retro 487 T.J. Brodie Calgary Flames 1:1 h, 1:2 r, 1:2 b
Retro 488 Claude Giroux Philadelphia Flyers 1:1 h, 1:2 r, 1:2 b
Retro 489 Scott Clemmensen Florida Panthers 1:1 h, 1:2 r, 1:2 b
Retro 490 Joe Sakic Colorado Avalanche 1:1 h, 1:2 r, 1:2 b Retired
Retro 491 Slava Voynov Los Angeles Kings 1:1 h, 1:2 r, 1:2 b
Retro 492 Justin Falk Minnesota Wild 1:1 h, 1:2 r, 1:2 b
Retro 493 Chris Stewart St. Louis Blues 1:1 h, 1:2 r, 1:2 b
Retro 494 Ron Hainsey Winnipeg Jets 1:1 h, 1:2 r, 1:2 b
Retro 495 Patrick Marleau San Jose Sharks 1:1 h, 1:2 r, 1:2 b
Retro 496 Checklist None None 1:1 h, 1:2 r, 1:2 b
Retro 497 Checklist None None 1:1 h, 1:2 r, 1:2 b
Retro 498 Checklist None None 1:1 h, 1:2 r, 1:2 b
Retro 499 Checklist None None 1:1 h, 1:2 r, 1:2 b
Retro 500 Checklist None None 1:1 h, 1:2 r, 1:2 b
Retro Marquee Rookies 501 Nail Yakupov Edmonton Oilers 1:1 h, 1:2 r, 1:2 b Rookie
Retro Marquee Rookies 502 Ryan Murphy Carolina Hurricanes 1:1 h, 1:2 r, 1:2 b Rookie
Retro Marquee Rookies 503 Jon Rheault Florida Panthers 1:1 h, 1:2 r, 1:2 b Rookie
Retro Marquee Rookies 504 Sean Collins Columbus Blue Jackets 1:1 h, 1:2 r, 1:2 b Rookie
Retro Marquee Rookies 505 Roman Cervenka Calgary Flames 1:1 h, 1:2 r, 1:2 b Rookie
Retro Marquee Rookies 506 Quinton Howden Florida Panthers 1:1 h, 1:2 r, 1:2 b Rookie
Retro Marquee Rookies 507 Matt Anderson New Jersey Devils 1:1 h, 1:2 r, 1:2 b Rookie
Retro Marquee Rookies 508 Matt Tennyson San Jose Sharks 1:1 h, 1:2 r, 1:2 b Rookie
Retro Marquee Rookies 509 Christian Thomas New York Rangers 1:1 h, 1:2 r, 1:2 b Rookie
Retro Marquee Rookies 510 Chris Brown Phoenix Coyotes 1:1 h, 1:2 r, 1:2 b Rookie
Retro Marquee Rookies 511 Mark Barberio Tampa Bay Lightning 1:1 h, 1:2 r, 1:2 b Rookie
Retro Marquee Rookies 512 Zach Redmond Winnipeg Jets 1:1 h, 1:2 r, 1:2 b Rookie
Retro Marquee Rookies 513 Steve Pinizzotto Vancouver Canucks 1:1 h, 1:2 r, 1:2 b Rookie
Retro Marquee Rookies 514 Calvin Pickard Colorado Avalanche 1:1 h, 1:2 r, 1:2 b Rookie
Retro Marquee Rookies 515 Jean-Gabriel Pageau Ottawa Senators 1:1 h, 1:2 r, 1:2 b Rookie
Retro Marquee Rookies 516 Darcy Kuemper Minnesota Wild 1:1 h, 1:2 r, 1:2 b Rookie
Retro Marquee Rookies 517 Viktor Fasth Anaheim Ducks 1:1 h, 1:2 r, 1:2 b Rookie
Retro Marquee Rookies 518 Brett Bellemore Carolina Hurricanes 1:1 h, 1:2 r, 1:2 b Rookie
Retro Marquee Rookies 519 Dan DeKeyser Detroit Red Wings 1:1 h, 1:2 r, 1:2 b Rookie
Retro Marquee Rookies 520 Brendan Gallagher Montreal Canadiens 1:1 h, 1:2 r, 1:2 b Rookie
Retro Marquee Rookies 521 Oliver Lauridsen Philadelphia Flyers 1:1 h, 1:2 r, 1:2 b Rookie
Retro Marquee Rookies 522 Leo Komarov Toronto Maple Leafs 1:1 h, 1:2 r, 1:2 b Rookie
Retro Marquee Rookies 523 Michal Jordan Carolina Hurricanes 1:1 h, 1:2 r, 1:2 b Rookie
Retro Marquee Rookies 524 Nick Petrecki San Jose Sharks 1:1 h, 1:2 r, 1:2 b Rookie
Retro Marquee Rookies 525 Filip Forsberg Nashville Predators 1:1 h, 1:2 r, 1:2 b Rookie
Retro Marquee Rookies 526 Michael Sgarbossa Colorado Avalanche 1:1 h, 1:2 r, 1:2 b Rookie
Retro Marquee Rookies 527 Mikhail Grigorenko Buffalo Sabres 1:1 h, 1:2 r, 1:2 b Rookie
Retro Marquee Rookies 528 Emerson Etem Anaheim Ducks 1:1 h, 1:2 r, 1:2 b Rookie
Retro Marquee Rookies 529 Alex Chiasson Dallas Stars 1:1 h, 1:2 r, 1:2 b Rookie
Retro Marquee Rookies 530 Ben Street Calgary Flames 1:1 h, 1:2 r, 1:2 b Rookie
Retro Marquee Rookies 531 Dougie Hamilton Boston Bruins 1:1 h, 1:2 r, 1:2 b Rookie
Retro Marquee Rookies 532 Mark Arcobello Edmonton Oilers 1:1 h, 1:2 r, 1:2 b Rookie
Retro Marquee Rookies 533 Victor Bartley Nashville Predators 1:1 h, 1:2 r, 1:2 b Rookie
Retro Marquee Rookies 534 Beau Bennett Pittsburgh Penguins 1:1 h, 1:2 r, 1:2 b Rookie
Retro Marquee Rookies 535 Steve Oleksy Washington Capitals 1:1 h, 1:2 r, 1:2 b Rookie
Retro Marquee Rookies 536 Radko Gudas Tampa Bay Lightning 1:1 h, 1:2 r, 1:2 b Rookie
Retro Marquee Rookies 537 Vladimir Tarasenko St. Louis Blues 1:1 h, 1:2 r, 1:2 b Rookie
Retro Marquee Rookies 538 Eric Gryba Ottawa Senators 1:1 h, 1:2 r, 1:2 b Rookie
Retro Marquee Rookies 539 Jarred Tinordi Montreal Canadiens 1:1 h, 1:2 r, 1:2 b Rookie
Retro Marquee Rookies 540 Eric Selleck Florida Panthers 1:1 h, 1:2 r, 1:2 b Rookie
Retro Marquee Rookies 541 Patrick Bordeleau Colorado Avalanche 1:1 h, 1:2 r, 1:2 b Rookie
Retro Marquee Rookies 542 Sami Vatanen Anaheim Ducks 1:1 h, 1:2 r, 1:2 b Rookie
Retro Marquee Rookies 543 Brian Lashoff Detroit Red Wings 1:1 h, 1:2 r, 1:2 b Rookie
Retro Marquee Rookies 544 Drew Shore Florida Panthers 1:1 h, 1:2 r, 1:2 b Rookie
Retro Marquee Rookies 545 Cameron Schilling Washington Capitals 1:1 h, 1:2 r, 1:2 b Rookie
Retro Marquee Rookies 546 David Dziurzynski Ottawa Senators 1:1 h, 1:2 r, 1:2 b Rookie
Retro Marquee Rookies 547 Mike Kostka Toronto Maple Leafs 1:1 h, 1:2 r, 1:2 b Rookie
Retro Marquee Rookies 548 Anthony Peluso Winnipeg Jets 1:1 h, 1:2 r, 1:2 b Rookie
Retro Marquee Rookies 549 Thomas Hickey New York Islanders 1:1 h, 1:2 r, 1:2 b Rookie
Retro Marquee Rookies 550 Daniel Bang Nashville Predators 1:1 h, 1:2 r, 1:2 b Rookie
Retro Marquee Rookies 551 Greg Pateryn Montreal Canadiens 1:1 h, 1:2 r, 1:2 b Rookie
Retro Marquee Rookies 552 Tye McGinn Philadelphia Flyers 1:1 h, 1:2 r, 1:2 b Rookie
Retro Marquee Rookies 553 Stefan Matteau New Jersey Devils 1:1 h, 1:2 r, 1:2 b Rookie
Retro Marquee Rookies 554 Charlie Coyle Minnesota Wild 1:1 h, 1:2 r, 1:2 b Rookie
Retro Marquee Rookies 555 Jonathan Huberdeau Florida Panthers 1:1 h, 1:2 r, 1:2 b Rookie
Retro Marquee Rookies 556 Petr Mrazek Detroit Red Wings 1:1 h, 1:2 r, 1:2 b Rookie
Retro Marquee Rookies 557 Max Reinhart Calgary Flames 1:1 h, 1:2 r, 1:2 b Rookie
Retro Marquee Rookies 558 Rickard Rakell Anaheim Ducks 1:1 h, 1:2 r, 1:2 b Rookie
Retro Marquee Rookies 559 Anders Lee New York Islanders 1:1 h, 1:2 r, 1:2 b Rookie
Retro Marquee Rookies 560 Tyler Toffoli Los Angeles Kings 1:1 h, 1:2 r, 1:2 b Rookie
Retro Marquee Rookies 561 Tyler Johnson Tampa Bay Lightning 1:1 h, 1:2 r, 1:2 b Rookie
Retro Marquee Rookies 562 Philipp Grubauer Washington Capitals 1:1 h, 1:2 r, 1:2 b Rookie
Retro Marquee Rookies 563 Brian Flynn Buffalo Sabres 1:1 h, 1:2 r, 1:2 b Rookie
Retro Marquee Rookies 564 Mark Pysyk Buffalo Sabres 1:1 h, 1:2 r, 1:2 b Rookie
Retro Marquee Rookies 565 Ryan Spooner Boston Bruins 1:1 h, 1:2 r, 1:2 b Rookie
Retro Marquee Rookies 566 Cory Conacher Ottawa Senators 1:1 h, 1:2 r, 1:2 b Rookie
Retro Marquee Rookies 567 Andrej Sustr Tampa Bay Lightning 1:1 h, 1:2 r, 1:2 b Rookie
Retro Marquee Rookies 568 Justin Schultz Edmonton Oilers 1:1 h, 1:2 r, 1:2 b Rookie
Retro Marquee Rookies 569 Jamie Oleksiak Dallas Stars 1:1 h, 1:2 r, 1:2 b Rookie
Retro Marquee Rookies 570 Jamie Tardif Boston Bruins 1:1 h, 1:2 r, 1:2 b Rookie
Retro Marquee Rookies 571 Michael Caruso Florida Panthers 1:1 h, 1:2 r, 1:2 b Rookie
Retro Marquee Rookies 572 Derek Grant Ottawa Senators 1:1 h, 1:2 r, 1:2 b Rookie
Retro Marquee Rookies 573 Nicklas Jensen Vancouver Canucks 1:1 h, 1:2 r, 1:2 b Rookie
Retro Marquee Rookies 574 Dmitrij Jaskin St. Louis Blues 1:1 h, 1:2 r, 1:2 b Rookie
Retro Marquee Rookies 575 Alex Galchenyuk Montreal Canadiens 1:1 h, 1:2 r, 1:2 b Rookie
Retro Marquee Rookies 576 Jonas Brodin Minnesota Wild 1:1 h, 1:2 r, 1:2 b Rookie
Retro Marquee Rookies 577 Richard Panik Tampa Bay Lightning 1:1 h, 1:2 r, 1:2 b Rookie
Retro Marquee Rookies 578 J.T. Miller New York Rangers 1:1 h, 1:2 r, 1:2 b Rookie
Retro Marquee Rookies 579 Nathan Beaulieu Montreal Canadiens 1:1 h, 1:2 r, 1:2 b Rookie
Retro Marquee Rookies 580 Ondrej Palat Tampa Bay Lightning 1:1 h, 1:2 r, 1:2 b Rookie
Retro Marquee Rookies 581 Scott Laughton Philadelphia Flyers 1:1 h, 1:2 r, 1:2 b Rookie
Retro Marquee Rookies 582 Austin Watson Nashville Predators 1:1 h, 1:2 r, 1:2 b Rookie
Retro Marquee Rookies 583 Jordan Schroeder Vancouver Canucks 1:1 h, 1:2 r, 1:2 b Rookie
Retro Marquee Rookies 584 Chris Terry Carolina Hurricanes 1:1 h, 1:2 r, 1:2 b Rookie
Retro Marquee Rookies 585 Jonathan Audy-Marchessault Columbus Blue Jackets 1:1 h, 1:2 r, 1:2 b Rookie
Retro Marquee Rookies 586 Cristopher Nilstorp Dallas Stars 1:1 h, 1:2 r, 1:2 b Rookie
Retro Marquee Rookies 587 Harri Pesonen New Jersey Devils 1:1 h, 1:2 r, 1:2 b Rookie
Retro Marquee Rookies 588 Matthew Irwin San Jose Sharks 1:1 h, 1:2 r, 1:2 b Rookie
Retro Marquee Rookies 589 Johan Larsson Buffalo Sabres 1:1 h, 1:2 r, 1:2 b Rookie
Retro Marquee Rookies 590 Damien Brunner Detroit Red Wings 1:1 h, 1:2 r, 1:2 b Rookie
Retro Marquee Rookies 591 Mikael Granlund Minnesota Wild 1:1 h, 1:2 r, 1:2 b Rookie
Retro Marquee Rookies 592 Chad Ruhwedel Buffalo Sabres 1:1 h, 1:2 r, 1:2 b Rookie
Retro Marquee Rookies 593 Alex Killorn Tampa Bay Lightning 1:1 h, 1:2 r, 1:2 b Rookie
Retro Marquee Rookies 594 Nicolas Blanchard Carolina Hurricanes 1:1 h, 1:2 r, 1:2 b Rookie
Retro Marquee Rookies 595 Nick Bjugstad Florida Panthers 1:1 h, 1:2 r, 1:2 b Rookie
Retro Marquee Rookies 596 Ben Hanowski Calgary Flames 1:1 h, 1:2 r, 1:2 b Rookie
Retro Marquee Rookies 597 Antoine Roussel Dallas Stars 1:1 h, 1:2 r, 1:2 b Rookie
Retro Marquee Rookies 598 Sami Aittokallio Colorado Avalanche 1:1 h, 1:2 r, 1:2 b Rookie
Retro Marquee Rookies 599 Jack Campbell Dallas Stars 1:1 h, 1:2 r, 1:2 b Rookie
Retro Marquee Rookies 600 Checklist None None 1:1 h, 1:2 r, 1:2 b
Blaster Box Bottoms AG Alex Galchenyuk Montreal Canadiens 2 per Blaster Box Bottom B Rookie
Blaster Box Bottoms AO Alexander Ovechkin Washington Capitals 2 per Blaster Box Bottom B
Blaster Box Bottoms NY Nail Yakupov Edmonton Oilers 2 per Blaster Box Bottom C Rookie
Blaster Box Bottoms SC Sidney Crosby Pittsburgh Penguins 2 per Blaster Box Bottom A
Blaster Box Bottoms SS Steven Stamkos Tampa Bay Lightning 2 per Blaster Box Bottom C
Blaster Box Bottoms VT Vladimir Tarasenko St. Louis Blues 2 per Blaster Box Bottom A Rookie
Retro Hobby Box Bottoms AG Alex Galchenyuk Montreal Canadiens 4 per Hobby Box Bottom C Rookie
Retro Hobby Box Bottoms AO Alexander Ovechkin Washington Capitals 4 per Hobby Box Bottom B
Retro Hobby Box Bottoms CP Carey Price Montreal Canadiens 4 per Hobby Box Bottom B
Retro Hobby Box Bottoms HL Henrik Lundqvist New York Rangers 4 per Hobby Box Bottom A
Retro Hobby Box Bottoms HZ Henrik Zetterberg Detroit Red Wings 4 per Hobby Box Bottom C
Retro Hobby Box Bottoms JH Jonathan Huberdeau Florida Panthers 4 per Hobby Box Bottom A Rookie
Retro Hobby Box Bottoms JT John Tavares New York Islanders 4 per Hobby Box Bottom D
Retro Hobby Box Bottoms MB Martin Brodeur New Jersey Devils 4 per Hobby Box Bottom C
Retro Hobby Box Bottoms NY Nail Yakupov Edmonton Oilers 4 per Hobby Box Bottom D Rookie
Retro Hobby Box Bottoms PK Patrick Kane Chicago Blackhawks 4 per Hobby Box Bottom B
Retro Hobby Box Bottoms RG Ryan Getzlaf Anaheim Ducks 4 per Hobby Box Bottom A
Retro Hobby Box Bottoms SC Sidney Crosby Pittsburgh Penguins 4 per Hobby Box Bottom A
Retro Hobby Box Bottoms SS Steven Stamkos Tampa Bay Lightning 4 per Hobby Box Bottom C
Retro Hobby Box Bottoms TO Jonathan Toews Chicago Blackhawks 4 per Hobby Box Bottom D
Retro Hobby Box Bottoms TR Tuukka Rask Boston Bruins 4 per Hobby Box Bottom D
Retro Hobby Box Bottoms VT Vladimir Tarasenko St. Louis Blues 4 per Hobby Box Bottom B Rookie
Buyback Autographs 8 Alexander Ovechkin '09-10 OPC Washington Capitals Random Inserts in Hobby Packs 23 Auto
Buyback Autographs 87 Sidney Crosby '09-10 OPC Pittsburgh Penguins Random Inserts in Hobby Packs 20 Auto
League Leaders LL-+/- Plus/Minus – Pascal Dupuis/Chris Kunitz/Jonathan Toews Pittsburgh/Pittsburgh/Chicago Penguins/Penguins/Blackhawks 1:10 Canadian Tire Blasters
League Leaders LL-ASSISTS Assists – Martin St. Louis/Sidney Crosby/Nicklas Backstrom Tampa Bay/Pittsburgh/Washington Lightning/Penguins/Capitals 1:10 Canadian Tire Blasters
League Leaders LL-GAA Goals Against Average – Craig Anderson/Jonathan Bernier/Corey Crawford Ottawa/Los Angeles/Chicago Senators/Kings/Blackhawks 1:10 Canadian Tire Blasters
League Leaders LL-GLS Goals – Alexander Ovechkin/Steven Stamkos/John Tavares Washington/Tampa Bay/New York Capitals/Lightning/Islanders 1:10 Canadian Tire Blasters
League Leaders LL-PIM Penalty Minutes – Colton Orr/Chris Neil/Mike Brown Toronto/Ottawa/Edmonton Maple Leafs/Senators/Oilers 1:10 Canadian Tire Blasters
League Leaders LL-PPG Power Play Goals – Alexander Ovechkin/Steven Stamkos/Thomas Vanek Washington/Tampa Bay/Buffalo Capitals/Lightning/Sabres 1:10 Canadian Tire Blasters
League Leaders LL-PTS Points – Martin St. Louis/Steven Stamkos/Sidney Crosby Tampa Bay/Tampa Bay/Pittsburgh Lightning/Lightning/Penguins 1:10 Canadian Tire Blasters
League Leaders LL-RPTS Rookie Points – Nail Yakupov/Jonathan Huberdeau/Cory Conacher Edmonton/Florida/Ottawa Oilers/Panthers/Senators 1:10 Canadian Tire Blasters Rookie
League Leaders LL-SO Shutouts – Jim Howard/Tuukka Rask/Pekka Rinne Detroit/Boston/Nashville Red Wings/Bruins/Predators 1:10 Canadian Tire Blasters
League Leaders LL-WINS Wins – Henrik Lundqvist/Antti Niemi/Niklas Backstrom New York/San Jose/Minnesota Rangers/Sharks/Wild 1:10 Canadian Tire Blasters
Marquee Legends ML-1 Wayne Gretzky Los Angeles Kings 1:4 Fat Packs Retired
Marquee Legends ML-2 Bobby Orr Boston Bruins 1:4 Fat Packs Retired
Marquee Legends ML-3 Steve Yzerman Detroit Red Wings 1:4 Fat Packs Retired
Marquee Legends ML-4 Patrick Roy Montreal Canadiens 1:4 Fat Packs Retired
Marquee Legends ML-5 Mark Messier New York Rangers 1:4 Fat Packs Retired
Marquee Legends ML-6 Joe Sakic Colorado Avalanche 1:4 Fat Packs Retired
Marquee Legends ML-7 Eric Lindros Philadelphia Flyers 1:4 Fat Packs Retired
Marquee Legends ML-8 Theoren Fleury Calgary Flames 1:4 Fat Packs Retired
Marquee Legends ML-9 Dominik Hasek Buffalo Sabres 1:4 Fat Packs Retired
Marquee Legends ML-10 Pavel Bure Vancouver Canucks 1:4 Fat Packs Retired
OPC Rings R-1 Anaheim Ducks Anaheim Ducks 1:16 h, 1:32 r, 1:32 b
OPC Rings R-2 Boston Bruins Boston Bruins 1:16 h, 1:32 r, 1:32 b
OPC Rings R-3 Buffalo Sabres Buffalo Sabres 1:16 h, 1:32 r, 1:32 b
OPC Rings R-4 Calgary Flames Calgary Flames 1:16 h, 1:32 r, 1:32 b
OPC Rings R-5 Carolina Hurricanes Carolina Hurricanes 1:16 h, 1:32 r, 1:32 b
OPC Rings R-6 Chicago Blackhawks Chicago Blackhawks 1:16 h, 1:32 r, 1:32 b
OPC Rings R-7 Colorado Avalanche Colorado Avalanche 1:16 h, 1:32 r, 1:32 b
OPC Rings R-8 Columbus Blue Jackets Columbus Blue Jackets 1:16 h, 1:32 r, 1:32 b
OPC Rings R-9 Dallas Stars Dallas Stars 1:16 h, 1:32 r, 1:32 b
OPC Rings R-10 Detroit Red Wings Detroit Red Wings 1:16 h, 1:32 r, 1:32 b
OPC Rings R-11 Edmonton Oilers Edmonton Oilers 1:16 h, 1:32 r, 1:32 b
OPC Rings R-12 Florida Panthers Florida Panthers 1:16 h, 1:32 r, 1:32 b
OPC Rings R-13 Los Angeles Kings Los Angeles Kings 1:16 h, 1:32 r, 1:32 b
OPC Rings R-14 Minnesota Wild Minnesota Wild 1:16 h, 1:32 r, 1:32 b
OPC Rings R-15 Montreal Canadiens Montreal Canadiens 1:16 h, 1:32 r, 1:32 b
OPC Rings R-16 Nashville Predators Nashville Predators 1:16 h, 1:32 r, 1:32 b
OPC Rings R-17 New Jersey Devils New Jersey Devils 1:16 h, 1:32 r, 1:32 b
OPC Rings R-18 New York Islanders New York Islanders 1:16 h, 1:32 r, 1:32 b
OPC Rings R-19 New York Rangers New York Rangers 1:16 h, 1:32 r, 1:32 b
OPC Rings R-20 Ottawa Senators Ottawa Senators 1:16 h, 1:32 r, 1:32 b
OPC Rings R-21 Philadelphia Flyers Philadelphia Flyers 1:16 h, 1:32 r, 1:32 b
OPC Rings R-22 Phoenix Coyotes Phoenix Coyotes 1:16 h, 1:32 r, 1:32 b
OPC Rings R-23 Pittsburgh Penguins Pittsburgh Penguins 1:16 h, 1:32 r, 1:32 b
OPC Rings R-24 San Jose Sharks San Jose Sharks 1:16 h, 1:32 r, 1:32 b
OPC Rings R-25 St. Louis Blues St. Louis Blues 1:16 h, 1:32 r, 1:32 b
OPC Rings R-26 Tampa Bay Lightning Tampa Bay Lightning 1:16 h, 1:32 r, 1:32 b
OPC Rings R-27 Toronto Maple Leafs Toronto Maple Leafs 1:16 h, 1:32 r, 1:32 b
OPC Rings R-28 Vancouver Canucks Vancouver Canucks 1:16 h, 1:32 r, 1:32 b
OPC Rings R-29 Washington Capitals Washington Capitals 1:16 h, 1:32 r, 1:32 b
OPC Rings R-30 Winnipeg Jets Winnipeg Jets 1:16 h, 1:32 r, 1:32 b
OPC Rings R-31 Wayne Gretzky Edmonton Oilers 1:16 h, 1:32 r, 1:32 b Retired
OPC Rings R-32 Bobby Orr Boston Bruins 1:16 h, 1:32 r, 1:32 b Retired
OPC Rings R-33 Mario Lemieux Pittsburgh Penguins 1:16 h, 1:32 r, 1:32 b Retired
OPC Rings R-34 Patrick Roy Montreal Canadiens 1:16 h, 1:32 r, 1:32 b Retired
OPC Rings R-35 Dave Schultz Philadelphia Flyers 1:16 h, 1:32 r, 1:32 b Retired
OPC Rings R-36 Terry O'Reilly Boston Bruins 1:16 h, 1:32 r, 1:32 b Retired
OPC Rings R-37 Tie Domi Toronto Maple Leafs 1:16 h, 1:32 r, 1:32 b Retired
OPC Rings R-38 Bob Probert Chicago Blackhawks 1:16 h, 1:32 r, 1:32 b Retired
OPC Rings R-39 Marty McSorley Edmonton Oilers 1:16 h, 1:32 r, 1:32 b Retired
OPC Rings R-40 Daniel Carcillo Chicago Blackhawks 1:16 h, 1:32 r, 1:32 b
OPC Rings R-41 Zenon Konopka Minnesota Wild 1:16 h, 1:32 r, 1:32 b
OPC Rings R-42 George Parros Florida Panthers 1:16 h, 1:32 r, 1:32 b
OPC Rings R-43 Sidney Crosby Pittsburgh Penguins 1:16 h, 1:32 r, 1:32 b
OPC Rings R-44 Alexander Ovechkin Washington Capitals 1:16 h, 1:32 r, 1:32 b
OPC Rings R-45 Jonathan Toews Chicago Blackhawks 1:16 h, 1:32 r, 1:32 b
OPC Rings R-46 Steven Stamkos Tampa Bay Lightning 1:16 h, 1:32 r, 1:32 b
OPC Rings R-47 Martin Brodeur New Jersey Devils 1:16 h, 1:32 r, 1:32 b
OPC Rings R-48 Henrik Lundqvist New York Rangers 1:16 h, 1:32 r, 1:32 b
OPC Rings R-49 Carey Price Montreal Canadiens 1:16 h, 1:32 r, 1:32 b
OPC Rings R-50 Jonathan Quick Los Angeles Kings 1:16 h, 1:32 r, 1:32 b
OPC Signatures OPC-AB Adam Burish San Jose Sharks Group C 1:218 (Overall 1:192 h, 1:400 r, 1:800 b) C Auto
OPC Signatures OPC-AG Alex Goligoski Dallas Stars Group B 1:1,747 (Overall 1:192 h, 1:400 r, 1:800 b) B Auto
OPC Signatures OPC-BL Brian Lee Tampa Bay Lightning Group C 1:218 (Overall 1:192 h, 1:400 r, 1:800 b) C Auto
OPC Signatures OPC-BM Brayden McNabb Buffalo Sabres Group C 1:218 (Overall 1:192 h, 1:400 r, 1:800 b) C Auto
OPC Signatures OPC-BO Bobby Orr Boston Bruins Group A 1:17,472 (Overall 1:192 h, 1:400 r, 1:800 b) A Auto Retired
OPC Signatures OPC-BS Brendan Smith Detroit Red Wings Group B 1:1,747 (Overall 1:192 h, 1:400 r, 1:800 b) B Auto
OPC Signatures OPC-CK Chris Kunitz Pittsburgh Penguins Group B 1:1,747 (Overall 1:192 h, 1:400 r, 1:800 b) B Auto
OPC Signatures OPC-CO Cal O'Reilly Pittsburgh Penguins Group C 1:218 (Overall 1:192 h, 1:400 r, 1:800 b) C Auto
OPC Signatures OPC-DC Daniel Carcillo Chicago Blackhawks Group C 1:218 (Overall 1:192 h, 1:400 r, 1:800 b) C Auto
OPC Signatures OPC-EN Evgeni Nabokov New York Islanders Group B 1:1,747 (Overall 1:192 h, 1:400 r, 1:800 b) B Auto
OPC Signatures OPC-ET Eric Tangradi Winnipeg Jets Group C 1:218 (Overall 1:192 h, 1:400 r, 1:800 b) C Auto
OPC Signatures OPC-HS Harri Sateri San Jose Sharks Group C 1:218 (Overall 1:192 h, 1:400 r, 1:800 b) C Auto
OPC Signatures OPC-JB Josh Bailey New York Islanders Group C 1:218 (Overall 1:192 h, 1:400 r, 1:800 b) C Auto
OPC Signatures OPC-JE Jonathan Ericsson Detroit Red Wings Group B 1:1,747 (Overall 1:192 h, 1:400 r, 1:800 b) B Auto
OPC Signatures OPC-JF Justin Falk Minnesota Wild Group C 1:218 (Overall 1:192 h, 1:400 r, 1:800 b) C Auto
OPC Signatures OPC-LB Lance Bouma Calgary Flames Group C 1:218 (Overall 1:192 h, 1:400 r, 1:800 b) C Auto
OPC Signatures OPC-LI Leland Irving Calgary Flames Group B 1:1,747 (Overall 1:192 h, 1:400 r, 1:800 b) B Auto
OPC Signatures OPC-MI Brendan Mikkelson Tampa Bay Lightning Group C 1:218 (Overall 1:192 h, 1:400 r, 1:800 b) C Auto
OPC Signatures OPC-ML Mario Lemieux Pittsburgh Penguins Group A 1:17,472 (Overall 1:192 h, 1:400 r, 1:800 b) A Auto Retired
OPC Signatures OPC-MS Mark Streit New York Islanders Group B 1:1,747 (Overall 1:192 h, 1:400 r, 1:800 b) B Auto
OPC Signatures OPC-NG Nicklas Grossman Philadelphia Flyers Group C 1:218 (Overall 1:192 h, 1:400 r, 1:800 b) C Auto
OPC Signatures OPC-PB Pavel Bure Vancouver Canucks Group A 1:17,472 (Overall 1:192 h, 1:400 r, 1:800 b) A Auto Retired
OPC Signatures OPC-PR Patrick Roy Montreal Canadiens Group A 1:17,472 (Overall 1:192 h, 1:400 r, 1:800 b) A Auto Retired
OPC Signatures OPC-RW Roman Wick Ottawa Senators Group C 1:218 (Overall 1:192 h, 1:400 r, 1:800 b) C Auto
OPC Signatures OPC-SU Mats Sundin Vancouver Canucks Group A 1:17,472 (Overall 1:192 h, 1:400 r, 1:800 b) A Auto Retired
OPC Signatures OPC-TL Trevor Lewis Los Angeles Kings Group C 1:218 (Overall 1:192 h, 1:400 r, 1:800 b) C Auto
OPC Signatures OPC-VF Valtteri Filppula Detroit Red Wings Group C 1:218 (Overall 1:192 h, 1:400 r, 1:800 b) C Auto
OPC Signatures OPC-VS Viktor Stalberg Chicago Blackhawks Group B 1:1,747 (Overall 1:192 h, 1:400 r, 1:800 b) B Auto
OPC Signatures OPC-WG Wayne Gretzky Edmonton Oilers Group A 1:17,472 (Overall 1:192 h, 1:400 r, 1:800 b) A Auto Retired
OPC Signatures OPC-YS Yann Sauve Vancouver Canucks Group C 1:218 (Overall 1:192 h, 1:400 r, 1:800 b) C Auto
OPC Stamps ST-AO Alexander Ovechkin Washington Capitals 1 per Wrapper Redemption Pack
OPC Stamps ST-AP Alex Pietrangelo St. Louis Blues 1 per Wrapper Redemption Pack
OPC Stamps ST-BO Bobby Orr Boston Bruins 1 per Wrapper Redemption Pack Retired
OPC Stamps ST-CG Claude Giroux Philadelphia Flyers 1 per Wrapper Redemption Pack
OPC Stamps ST-CP Corey Perry Anaheim Ducks 1 per Wrapper Redemption Pack
OPC Stamps ST-CS Cory Schneider Vancouver Canucks 1 per Wrapper Redemption Pack
OPC Stamps ST-DD Drew Doughty Los Angeles Kings 1 per Wrapper Redemption Pack
OPC Stamps ST-DS Daniel Sedin Vancouver Canucks 1 per Wrapper Redemption Pack
OPC Stamps ST-EK Erik Karlsson Ottawa Senators 1 per Wrapper Redemption Pack
OPC Stamps ST-EL Eric Lindros Philadelphia Flyers 1 per Wrapper Redemption Pack Retired
OPC Stamps ST-EM Evgeni Malkin Pittsburgh Penguins 1 per Wrapper Redemption Pack
OPC Stamps ST-HL Henrik Lundqvist New York Rangers 1 per Wrapper Redemption Pack
OPC Stamps ST-HS Henrik Sedin Vancouver Canucks 1 per Wrapper Redemption Pack
OPC Stamps ST-HZ Henrik Zetterberg Detroit Red Wings 1 per Wrapper Redemption Pack
OPC Stamps ST-IK Ilya Kovalchuk New Jersey Devils 1 per Wrapper Redemption Pack
OPC Stamps ST-JB Jamie Benn Dallas Stars 1 per Wrapper Redemption Pack
OPC Stamps ST-JH Jim Howard Detroit Red Wings 1 per Wrapper Redemption Pack
OPC Stamps ST-JI Jarome Iginla Calgary Flames 1 per Wrapper Redemption Pack
OPC Stamps ST-JJ Jack Johnson Columbus Blue Jackets 1 per Wrapper Redemption Pack
OPC Stamps ST-JO Joe Sakic Colorado Avalanche 1 per Wrapper Redemption Pack Retired
OPC Stamps ST-JQ Jonathan Quick Los Angeles Kings 1 per Wrapper Redemption Pack
OPC Stamps ST-JS Jeff Skinner Carolina Hurricanes 1 per Wrapper Redemption Pack
OPC Stamps ST-JT Jonathan Toews Chicago Blackhawks 1 per Wrapper Redemption Pack
OPC Stamps ST-KA Evander Kane Winnipeg Jets 1 per Wrapper Redemption Pack
OPC Stamps ST-KE Phil Kessel Toronto Maple Leafs 1 per Wrapper Redemption Pack
OPC Stamps ST-MB Martin Brodeur New Jersey Devils 1 per Wrapper Redemption Pack
OPC Stamps ST-MD Matt Duchene Colorado Avalanche 1 per Wrapper Redemption Pack
OPC Stamps ST-ML Mario Lemieux Pittsburgh Penguins 1 per Wrapper Redemption Pack Retired
OPC Stamps ST-MM Mark Messier Edmonton Oilers 1 per Wrapper Redemption Pack Retired
OPC Stamps ST-MS Mats Sundin Toronto Maple Leafs 1 per Wrapper Redemption Pack Retired
OPC Stamps ST-OP Ondrej Pavelec Winnipeg Jets 1 per Wrapper Redemption Pack
OPC Stamps ST-PB Pavel Bure Vancouver Canucks 1 per Wrapper Redemption Pack Retired
OPC Stamps ST-PC Paul Coffey Edmonton Oilers 1 per Wrapper Redemption Pack Retired
OPC Stamps ST-PD Pavel Datsyuk Detroit Red Wings 1 per Wrapper Redemption Pack
OPC Stamps ST-PK Patrick Kane Chicago Blackhawks 1 per Wrapper Redemption Pack
OPC Stamps ST-PR Carey Price Montreal Canadiens 1 per Wrapper Redemption Pack
OPC Stamps ST-PS P.K. Subban Montreal Canadiens 1 per Wrapper Redemption Pack
OPC Stamps ST-RF Ron Francis Hartford Whalers 1 per Wrapper Redemption Pack Retired
OPC Stamps ST-RM Ryan Miller Buffalo Sabres 1 per Wrapper Redemption Pack
OPC Stamps ST-RN Ryan Nugent-Hopkins Edmonton Oilers 1 per Wrapper Redemption Pack
OPC Stamps ST-RO Patrick Roy Montreal Canadiens 1 per Wrapper Redemption Pack Retired
OPC Stamps ST-SC Sidney Crosby Pittsburgh Penguins 1 per Wrapper Redemption Pack
OPC Stamps ST-SS Steven Stamkos Tampa Bay Lightning 1 per Wrapper Redemption Pack
OPC Stamps ST-TA John Tavares New York Islanders 1 per Wrapper Redemption Pack
OPC Stamps ST-TD Tie Domi Toronto Maple Leafs 1 per Wrapper Redemption Pack Retired
OPC Stamps ST-TH Taylor Hall Edmonton Oilers 1 per Wrapper Redemption Pack
OPC Stamps ST-TS Tyler Seguin Boston Bruins 1 per Wrapper Redemption Pack
OPC Stamps ST-WG Wayne Gretzky Edmonton Oilers 1 per Wrapper Redemption Pack Retired
OPC Stamps ST-ZC Zdeno Chara Boston Bruins 1 per Wrapper Redemption Pack
OPC Stamps ST-ZP Zach Parise Minnesota Wild 1 per Wrapper Redemption Pack
OPC Stickers S-AB Alexandre Burrows Vancouver Canucks 1:3 h, 1:6 r, 1:6 b
OPC Stickers S-AN Antti Niemi San Jose Sharks 1:3 h, 1:6 r, 1:6 b
OPC Stickers S-AO Alexander Ovechkin Washington Capitals 1:3 h, 1:6 r, 1:6 b
OPC Stickers S-BC Bobby Clarke Philadelphia Flyers 1:3 h, 1:6 r, 1:6 b Retired
OPC Stickers S-BE Jean Beliveau Montreal Canadiens 1:3 h, 1:6 r, 1:6 b Retired
OPC Stickers S-BH Braden Holtby Washington Capitals 1:3 h, 1:6 r, 1:6 b
OPC Stickers S-BM Brad Marchand Boston Bruins 1:3 h, 1:6 r, 1:6 b
OPC Stickers S-BO Bobby Orr Boston Bruins 1:3 h, 1:6 r, 1:6 b Retired
OPC Stickers S-BR Bobby Ryan Anaheim Ducks 1:3 h, 1:6 r, 1:6 b
OPC Stickers S-BU Alexander Burmistrov Winnipeg Jets 1:3 h, 1:6 r, 1:6 b
OPC Stickers S-CA Carey Price Montreal Canadiens 1:3 h, 1:6 r, 1:6 b
OPC Stickers S-CC Corey Crawford Chicago Blackhawks 1:3 h, 1:6 r, 1:6 b
OPC Stickers S-CG Claude Giroux Philadelphia Flyers 1:3 h, 1:6 r, 1:6 b
OPC Stickers S-CK Chris Kreider New York Rangers 1:3 h, 1:6 r, 1:6 b
OPC Stickers S-CP Corey Perry Anaheim Ducks 1:3 h, 1:6 r, 1:6 b
OPC Stickers S-CW Cam Ward Carolina Hurricanes 1:3 h, 1:6 r, 1:6 b
OPC Stickers S-DA Daniel Alfredsson Ottawa Senators 1:3 h, 1:6 r, 1:6 b
OPC Stickers S-DD Drew Doughty Los Angeles Kings 1:3 h, 1:6 r, 1:6 b
OPC Stickers S-DH Dany Heatley Minnesota Wild 1:3 h, 1:6 r, 1:6 b
OPC Stickers S-DK David Krejci Boston Bruins 1:3 h, 1:6 r, 1:6 b
OPC Stickers S-DP Dion Phaneuf Toronto Maple Leafs 1:3 h, 1:6 r, 1:6 b
OPC Stickers S-DS Daniel Sedin Vancouver Canucks 1:3 h, 1:6 r, 1:6 b
OPC Stickers S-EK Evander Kane Winnipeg Jets 1:3 h, 1:6 r, 1:6 b
OPC Stickers S-EL Eric Lindros Philadelphia Flyers 1:3 h, 1:6 r, 1:6 b Retired
OPC Stickers S-EM Evgeni Malkin Pittsburgh Penguins 1:3 h, 1:6 r, 1:6 b
OPC Stickers S-ES Eric Staal Carolina Hurricanes 1:3 h, 1:6 r, 1:6 b
OPC Stickers S-GL Gabriel Landeskog Colorado Avalanche 1:3 h, 1:6 r, 1:6 b
OPC Stickers S-GR Mike Green Washington Capitals 1:3 h, 1:6 r, 1:6 b
OPC Stickers S-HA Jaroslav Halak St. Louis Blues 1:3 h, 1:6 r, 1:6 b
OPC Stickers S-HL Henrik Lundqvist New York Rangers 1:3 h, 1:6 r, 1:6 b
OPC Stickers S-HO Jim Howard Detroit Red Wings 1:3 h, 1:6 r, 1:6 b
OPC Stickers S-HS Henrik Sedin Vancouver Canucks 1:3 h, 1:6 r, 1:6 b
OPC Stickers S-HZ Henrik Zetterberg Detroit Red Wings 1:3 h, 1:6 r, 1:6 b
OPC Stickers S-IK Ilya Kovalchuk New Jersey Devils 1:3 h, 1:6 r, 1:6 b
OPC Stickers S-JA Jaromir Jagr Boston Bruins 1:3 h, 1:6 r, 1:6 b
OPC Stickers S-JB Jamie Benn Dallas Stars 1:3 h, 1:6 r, 1:6 b
OPC Stickers S-JE Jordan Eberle Edmonton Oilers 1:3 h, 1:6 r, 1:6 b
OPC Stickers S-JF Johan Franzen Detroit Red Wings 1:3 h, 1:6 r, 1:6 b
OPC Stickers S-JH Jonas Hiller Anaheim Ducks 1:3 h, 1:6 r, 1:6 b
OPC Stickers S-JI Jarome Iginla Pittsburgh Penguins 1:3 h, 1:6 r, 1:6 b
OPC Stickers S-JJ Jack Johnson Columbus Blue Jackets 1:3 h, 1:6 r, 1:6 b
OPC Stickers S-JN James Neal Pittsburgh Penguins 1:3 h, 1:6 r, 1:6 b
OPC Stickers S-JO Joe Thornton San Jose Sharks 1:3 h, 1:6 r, 1:6 b
OPC Stickers S-JQ Jonathan Quick Los Angeles Kings 1:3 h, 1:6 r, 1:6 b
OPC Stickers S-JS Jeff Skinner Carolina Hurricanes 1:3 h, 1:6 r, 1:6 b
OPC Stickers S-JT Jonathan Toews Chicago Blackhawks 1:3 h, 1:6 r, 1:6 b
OPC Stickers S-KE Duncan Keith Chicago Blackhawks 1:3 h, 1:6 r, 1:6 b
OPC Stickers S-KO Mikko Koivu Minnesota Wild 1:3 h, 1:6 r, 1:6 b
OPC Stickers S-KV Kris Versteeg Florida Panthers 1:3 h, 1:6 r, 1:6 b
OPC Stickers S-LC Logan Couture San Jose Sharks 1:3 h, 1:6 r, 1:6 b
OPC Stickers S-MB Martin Brodeur New Jersey Devils 1:3 h, 1:6 r, 1:6 b
OPC Stickers S-MC Michael Cammalleri Calgary Flames 1:3 h, 1:6 r, 1:6 b
OPC Stickers S-MD Matt Duchene Colorado Avalanche 1:3 h, 1:6 r, 1:6 b
OPC Stickers S-MF Marc-Andre Fleury Pittsburgh Penguins 1:3 h, 1:6 r, 1:6 b
OPC Stickers S-MG Marian Gaborik Columbus Blue Jackets 1:3 h, 1:6 r, 1:6 b
OPC Stickers S-MH Marian Hossa Chicago Blackhawks 1:3 h, 1:6 r, 1:6 b
OPC Stickers S-MI Mike Bossy New York Islanders 1:3 h, 1:6 r, 1:6 b Retired
OPC Stickers S-MK Miikka Kiprusoff Calgary Flames 1:3 h, 1:6 r, 1:6 b
OPC Stickers S-ML Mario Lemieux Pittsburgh Penguins 1:3 h, 1:6 r, 1:6 b Retired
OPC Stickers S-MM Mark Messier New York Rangers 1:3 h, 1:6 r, 1:6 b Retired
OPC Stickers S-MO Brenden Morrow Pittsburgh Penguins 1:3 h, 1:6 r, 1:6 b
OPC Stickers S-MR Mike Richards Los Angeles Kings 1:3 h, 1:6 r, 1:6 b
OPC Stickers S-MS Mark Scheifele Winnipeg Jets 1:3 h, 1:6 r, 1:6 b
OPC Stickers S-NB Niklas Backstrom Minnesota Wild 1:3 h, 1:6 r, 1:6 b
OPC Stickers S-NH Nathan Horton Boston Bruins 1:3 h, 1:6 r, 1:6 b
OPC Stickers S-NL Nicklas Lidstrom Detroit Red Wings 1:3 h, 1:6 r, 1:6 b Retired
OPC Stickers S-OP Ondrej Pavelec Winnipeg Jets 1:3 h, 1:6 r, 1:6 b
OPC Stickers S-PB Pavel Bure Vancouver Canucks 1:3 h, 1:6 r, 1:6 b Retired
OPC Stickers S-PC Paul Coffey Edmonton Oilers 1:3 h, 1:6 r, 1:6 b Retired
OPC Stickers S-PD Pavel Datsyuk Detroit Red Wings 1:3 h, 1:6 r, 1:6 b
OPC Stickers S-PH Phil Kessel Toronto Maple Leafs 1:3 h, 1:6 r, 1:6 b
OPC Stickers S-PK Patrick Kane Chicago Blackhawks 1:3 h, 1:6 r, 1:6 b
OPC Stickers S-PM Patrick Marleau San Jose Sharks 1:3 h, 1:6 r, 1:6 b
OPC Stickers S-PR Patrick Roy Montreal Canadiens 1:3 h, 1:6 r, 1:6 b Retired
OPC Stickers S-PS Paul Stastny Colorado Avalanche 1:3 h, 1:6 r, 1:6 b
OPC Stickers S-RG Ryan Getzlaf Anaheim Ducks 1:3 h, 1:6 r, 1:6 b
OPC Stickers S-RI Pekka Rinne Nashville Predators 1:3 h, 1:6 r, 1:6 b
OPC Stickers S-RK Ryan Kesler Vancouver Canucks 1:3 h, 1:6 r, 1:6 b
OPC Stickers S-RM Ryan Miller Buffalo Sabres 1:3 h, 1:6 r, 1:6 b
OPC Stickers S-RN Ryan Nugent-Hopkins Edmonton Oilers 1:3 h, 1:6 r, 1:6 b
OPC Stickers S-RS Ryan Smyth Edmonton Oilers 1:3 h, 1:6 r, 1:6 b
OPC Stickers S-SA Joe Sakic Colorado Avalanche 1:3 h, 1:6 r, 1:6 b Retired
OPC Stickers S-SC Sidney Crosby Pittsburgh Penguins 1:3 h, 1:6 r, 1:6 b
OPC Stickers S-SE Tyler Seguin Boston Bruins 1:3 h, 1:6 r, 1:6 b
OPC Stickers S-SG Sam Gagner Edmonton Oilers 1:3 h, 1:6 r, 1:6 b
OPC Stickers S-SP Jason Spezza Ottawa Senators 1:3 h, 1:6 r, 1:6 b
OPC Stickers S-SS Steven Stamkos Tampa Bay Lightning 1:3 h, 1:6 r, 1:6 b
OPC Stickers S-SU P.K. Subban Montreal Canadiens 1:3 h, 1:6 r, 1:6 b
OPC Stickers S-SW Stephen Weiss Florida Panthers 1:3 h, 1:6 r, 1:6 b
OPC Stickers S-TA John Tavares New York Islanders 1:3 h, 1:6 r, 1:6 b
OPC Stickers S-TD Tie Domi Toronto Maple Leafs 1:3 h, 1:6 r, 1:6 b Retired
OPC Stickers S-TH Taylor Hall Edmonton Oilers 1:3 h, 1:6 r, 1:6 b
OPC Stickers S-TM Tyler Myers Buffalo Sabres 1:3 h, 1:6 r, 1:6 b
OPC Stickers S-TR Tuukka Rask Boston Bruins 1:3 h, 1:6 r, 1:6 b
OPC Stickers S-TS Teemu Selanne Anaheim Ducks 1:3 h, 1:6 r, 1:6 b
OPC Stickers S-TV Thomas Vanek Buffalo Sabres 1:3 h, 1:6 r, 1:6 b
OPC Stickers S-WE Shea Weber Nashville Predators 1:3 h, 1:6 r, 1:6 b
OPC Stickers S-WG Wayne Gretzky Edmonton Oilers 1:3 h, 1:6 r, 1:6 b Retired
OPC Stickers S-ZC Zdeno Chara Boston Bruins 1:3 h, 1:6 r, 1:6 b
OPC Stickers S-ZP Zach Parise Minnesota Wild 1:3 h, 1:6 r, 1:6 b
Sport Royalty Autographs NA Bobby Orr Boston Bruins 1:17,398 h Auto Retired
Team Canada Signatures TC-AH Adam Henrique None Team Canada Group B 1:4,856 (Overall 1:384 h, 1:1,200 r, 1:2,400 b) B Auto
Team Canada Signatures TC-AP Alex Pietrangelo None Team Canada Group B 1:4,856 (Overall 1:384 h, 1:1,200 r, 1:2,400 b) B Auto
Team Canada Signatures TC-AT Alex Tanguay None Team Canada Group C 1:3,237 (Overall 1:384 h, 1:1,200 r, 1:2,400 b) C Auto
Team Canada Signatures TC-BO Bobby Orr None Team Canada Group A 1:32,371 (Overall 1:384 h, 1:1,200 r, 1:2,400 b) A Auto Retired
Team Canada Signatures TC-CA Carter Ashton None Team Canada Group D 1:1,646 (Overall 1:384 h, 1:1,200 r, 1:2,400 b) D Auto
Team Canada Signatures TC-CD Calvin de Haan None Team Canada Group E 1:689 (Overall 1:384 h, 1:1,200 r, 1:2,400 b) E Auto
Team Canada Signatures TC-CE Cody Eakin None Team Canada Group E 1:689 (Overall 1:384 h, 1:1,200 r, 1:2,400 b) E Auto
Team Canada Signatures TC-CS Chris Stewart None Team Canada Group D 1:1,646 (Overall 1:384 h, 1:1,200 r, 1:2,400 b) D Auto
Team Canada Signatures TC-DH Dale Hawerchuk None Team Canada Group B 1:4,856 (Overall 1:384 h, 1:1,200 r, 1:2,400 b) B Auto Retired
Team Canada Signatures TC-DO Dylan Olsen None Team Canada Group B 1:4,856 (Overall 1:384 h, 1:1,200 r, 1:2,400 b) B Auto
Team Canada Signatures TC-DP Dion Phaneuf None Team Canada Group B 1:4,856 (Overall 1:384 h, 1:1,200 r, 1:2,400 b) B Auto
Team Canada Signatures TC-JB Jamie Benn None Team Canada Group B 1:4,856 (Overall 1:384 h, 1:1,200 r, 1:2,400 b) B Auto
Team Canada Signatures TC-JH Josh Harding None Team Canada Group E 1:689 (Overall 1:384 h, 1:1,200 r, 1:2,400 b) E Auto
Team Canada Signatures TC-JT John Tavares None Team Canada Group C 1:3,237 (Overall 1:384 h, 1:1,200 r, 1:2,400 b) C Auto
Team Canada Signatures TC-KA Keith Aulie None Team Canada Group E 1:689 (Overall 1:384 h, 1:1,200 r, 1:2,400 b) E Auto
Team Canada Signatures TC-LL Louis Leblanc None Team Canada Group D 1:1,646 (Overall 1:384 h, 1:1,200 r, 1:2,400 b) D Auto
Team Canada Signatures TC-MF Marcus Foligno None Team Canada Group C 1:3,237 (Overall 1:384 h, 1:1,200 r, 1:2,400 b) C Auto
Team Canada Signatures TC-MH Matthew Halischuk None Team Canada Group E 1:689 (Overall 1:384 h, 1:1,200 r, 1:2,400 b) E Auto
Team Canada Signatures TC-MR Mike Ribeiro None Team Canada Group E 1:689 (Overall 1:384 h, 1:1,200 r, 1:2,400 b) E Auto
Team Canada Signatures TC-MS Martin St. Louis None Team Canada Group C 1:3,237 (Overall 1:384 h, 1:1,200 r, 1:2,400 b) C Auto
Team Canada Signatures TC-RE Ryan Ellis None Team Canada Group E 1:689 (Overall 1:384 h, 1:1,200 r, 1:2,400 b) E Auto
Team Canada Signatures TC-RN Ryan Nugent-Hopkins None Team Canada Group A 1:32,371 (Overall 1:384 h, 1:1,200 r, 1:2,400 b) A Auto
Team Canada Signatures TC-SC Sean Couturier None Team Canada Group B 1:4,856 (Overall 1:384 h, 1:1,200 r, 1:2,400 b) B Auto
Team Canada Signatures TC-SM Shawn Matthias None Team Canada Group E 1:689 (Overall 1:384 h, 1:1,200 r, 1:2,400 b) E Auto
Team Canada Signatures TC-SS Steven Stamkos None Team Canada Group B 1:4,856 (Overall 1:384 h, 1:1,200 r, 1:2,400 b) B Auto
Team Canada Signatures TC-TM Tyler Myers None Team Canada Group D 1:1,646 (Overall 1:384 h, 1:1,200 r, 1:2,400 b) D Auto
Team Canada Signatures TC-WC Wendel Clark None Team Canada Group C 1:3,237 (Overall 1:384 h, 1:1,200 r, 1:2,400 b) C Auto Retired
Team Canada Signatures TC-WG Wayne Gretzky None Team Canada Group A 1:32,371 (Overall 1:384 h, 1:1,200 r, 1:2,400 b) A Auto Retired
Team Canada Signatures TC-ZK Zack Kassian None Team Canada Group D 1:1,646 (Overall 1:384 h, 1:1,200 r, 1:2,400 b) D Auto
Team Logo Patches 101 NHL 1994-95 to 2004-05 (Alternate) None None Modern Era 1:125 (Overall Team Logos 1:96 h)
Team Logo Patches 102 All-Star Game 1980-81 (Primary) None None Modern Era 1:125 (Overall Team Logos 1:96 h)
Team Logo Patches 103 All-Star Game 1990-91 (Primary) None None Modern Era 1:125 (Overall Team Logos 1:96 h)
Team Logo Patches 104 NHL Draft 2006 (Primary) None None Modern Era 1:125 (Overall Team Logos 1:96 h)
Team Logo Patches 105 NHL Draft 2012 (Primary) None None Modern Era 1:125 (Overall Team Logos 1:96 h)
Team Logo Patches 106 Winter Classic 2007-08 (Primary) None None Modern Era 1:125 (Overall Team Logos 1:96 h)
Team Logo Patches 107 Atlanta Thrashers 1999-00 to 2010-11 (Primary) Atlanta Thrashers Modern Era 1:125 (Overall Team Logos 1:96 h)
Team Logo Patches 108 Boston Bruins 1995-96 to 2006-07 (Primary) Boston Bruins Modern Era 1:125 (Overall Team Logos 1:96 h)
Team Logo Patches 109 Boston Bruins 1995-96 to 2006-07 (Alternate) Boston Bruins Modern Era 1:125 (Overall Team Logos 1:96 h)
Team Logo Patches 110 Buffalo Sabres 2006-07 to 2009-10 (Primary) Buffalo Sabres Modern Era 1:125 (Overall Team Logos 1:96 h)
Team Logo Patches 111 Calgary Flames 1980-81 to 1993-94 (Primary) Calgary Flames Modern Era 1:125 (Overall Team Logos 1:96 h)
Team Logo Patches 112 Calgary Flames 1998-99 to 2006-07 (Alternate) Calgary Flames Modern Era 1:125 (Overall Team Logos 1:96 h)
Team Logo Patches 113 Columbus Blue Jackets 2000-01 to 2006-07 (Primary) Columbus Blue Jackets Modern Era 1:125 (Overall Team Logos 1:96 h)
Team Logo Patches 114 Columbus Blue Jackets 2010-11 to Present (Alternate) Columbus Blue Jackets Modern Era 1:125 (Overall Team Logos 1:96 h)
Team Logo Patches 115 Detroit Red Wings 1995-96 to Present (Hockeytown) Detroit Red Wings Modern Era 1:125 (Overall Team Logos 1:96 h)
Team Logo Patches 116 Edmonton Oilers 1996-97 to 2010-11 (Primary) Edmonton Oilers Modern Era 1:125 (Overall Team Logos 1:96 h)
Team Logo Patches 117 Edmonton Oilers 2001-02 to Present (Alternate) Edmonton Oilers Modern Era 1:125 (Overall Team Logos 1:96 h)
Team Logo Patches 118 Hartford Whalers 1979-80 to 1991-92 (Primary) Hartford Whalers Modern Era 1:125 (Overall Team Logos 1:96 h)
Team Logo Patches 119 Hartford Whalers 1979-80 to 1996-97 (Script) Hartford Whalers Modern Era 1:125 (Overall Team Logos 1:96 h)
Team Logo Patches 120 Los Angeles Kings 1988-89 to 1997-98 (Primary) Los Angeles Kings Modern Era 1:125 (Overall Team Logos 1:96 h)
Team Logo Patches 121 Los Angeles Kings 2002-03 to 2010-11 (Primary) Los Angeles Kings Modern Era 1:125 (Overall Team Logos 1:96 h)
Team Logo Patches 122 Minnesota North Stars 1988-89 to 1990-91 (Alternate) Minnesota North Stars Modern Era 1:125 (Overall Team Logos 1:96 h)
Team Logo Patches 123 Montreal Canadiens 2008-09 to 2009-10 (Alternate) Montreal Canadiens Modern Era 1:125 (Overall Team Logos 1:96 h)
Team Logo Patches 124 Nashville Predators 1998-99 to 2010-11 (Primary) Nashville Predators Modern Era 1:125 (Overall Team Logos 1:96 h)
Team Logo Patches 125 Nashville Predators 2006-07 to 2010-11 (Alternate) Nashville Predators Modern Era 1:125 (Overall Team Logos 1:96 h)
Team Logo Patches 126 New Jersey Devils 1982-83 to 1991-92 (Primary) New Jersey Devils Modern Era 1:125 (Overall Team Logos 1:96 h)
Team Logo Patches 127 New York Islanders 1995-96 to 1997-98 (Alternate) New York Islanders Modern Era 1:125 (Overall Team Logos 1:96 h)
Team Logo Patches 128 New York Islanders 1997-98 to 2009-10 (Primary) New York Islanders Modern Era 1:125 (Overall Team Logos 1:96 h)
Team Logo Patches 129 New York Rangers 1996-97 to 2006-07 (Alternate) New York Rangers Modern Era 1:125 (Overall Team Logos 1:96 h)
Team Logo Patches 130 Ottawa Senators 1992-93 to 2006-07 (Alternate) Ottawa Senators Modern Era 1:125 (Overall Team Logos 1:96 h)
Team Logo Patches 131 Ottawa Senators 1997-98 to 2006-07 (Primary) Ottawa Senators Modern Era 1:125 (Overall Team Logos 1:96 h)
Team Logo Patches 132 Philadelphia Flyers 1967-68 to Present (Script) Philadelphia Flyers Modern Era 1:125 (Overall Team Logos 1:96 h)
Team Logo Patches 133 Philadelphia Flyers 2002-03 to 2006-07 (Alternate) Philadelphia Flyers Modern Era 1:125 (Overall Team Logos 1:96 h)
Team Logo Patches 134 Phoenix Coyotes 2003-04 to Present (Alternate) Phoenix Coyotes Modern Era 1:125 (Overall Team Logos 1:96 h)
Team Logo Patches 135 Phoenix Coyotes 2008-09 to Present (Alternate) Phoenix Coyotes Modern Era 1:125 (Overall Team Logos 1:96 h)
Team Logo Patches 136 Pittsburgh Penguins 1992-93 to 1999-00 (Primary) Pittsburgh Penguins Modern Era 1:125 (Overall Team Logos 1:96 h)
Team Logo Patches 137 Pittsburgh Penguins 2008-09 to Present (Script) Pittsburgh Penguins Modern Era 1:125 (Overall Team Logos 1:96 h)
Team Logo Patches 138 Quebec Nordiques 1979-80 to 1994-95 (Alternate) Quebec Nordiques Modern Era 1:125 (Overall Team Logos 1:96 h)
Team Logo Patches 139 Quebec Nordiques 1980-81 to 1994-95 (Alternate) Quebec Nordiques Modern Era 1:125 (Overall Team Logos 1:96 h)
Team Logo Patches 140 San Jose Sharks 1991-92 to 2006-07 (Primary) San Jose Sharks Modern Era 1:125 (Overall Team Logos 1:96 h)
Team Logo Patches 141 St. Louis Blues 1987-88 to 1997-98 (Primary) St. Louis Blues Modern Era 1:125 (Overall Team Logos 1:96 h)
Team Logo Patches 142 St. Louis Blues 1994-95 to 1997-98 (Alternate) St. Louis Blues Modern Era 1:125 (Overall Team Logos 1:96 h)
Team Logo Patches 143 Tampa Bay Lightning 1992-93 to 2000-01 (Primary) Tampa Bay Lightning Modern Era 1:125 (Overall Team Logos 1:96 h)
Team Logo Patches 144 Toronto Maple Leafs 1970-71 to 1981-82 (Primary) Toronto Maple Leafs Modern Era 1:125 (Overall Team Logos 1:96 h)
Team Logo Patches 145 Toronto Maple Leafs 1992-93 to 1999-00 (Secondary) Toronto Maple Leafs Modern Era 1:125 (Overall Team Logos 1:96 h)
Team Logo Patches 146 Vancouver Canucks 1997-98 to 2006-07 (Primary) Vancouver Canucks Modern Era 1:125 (Overall Team Logos 1:96 h)
Team Logo Patches 147 Vancouver Canucks 2007-08 to Present (Alternate) Vancouver Canucks Modern Era 1:125 (Overall Team Logos 1:96 h)
Team Logo Patches 148 Washington Capitals 2002-03 to 2006-07 (Primary) Washington Capitals Modern Era 1:125 (Overall Team Logos 1:96 h)
Team Logo Patches 149 Winnipeg Jets 1979-80 to 1989-90 (Alternate) Winnipeg Jets Modern Era 1:125 (Overall Team Logos 1:96 h)
Team Logo Patches 150 Winnipeg Jets 1990-91 to 1995-96 (Primary) Winnipeg Jets Modern Era 1:125 (Overall Team Logos 1:96 h)
Team Logo Patches 151 Buffalo Sabres 1994-95 (25th Anniversary) Buffalo Sabres Anniversary 1:979 (Overall Team Logos 1:96 h)
Team Logo Patches 152 Calgary Flames 2009-10 (30th Anniversary) Calgary Flames Anniversary 1:979 (Overall Team Logos 1:96 h)
Team Logo Patches 153 Edmonton Oilers 2003-04 (25th Anniversary) Edmonton Oilers Anniversary 1:979 (Overall Team Logos 1:96 h)
Team Logo Patches 154 Los Angeles Kings 1996-97 (30th Anniversary) Los Angeles Kings Anniversary 1:979 (Overall Team Logos 1:96 h)
Team Logo Patches 155 New Jersey Devils 2006-07 (25th Anniversary) New Jersey Devils Anniversary 1:979 (Overall Team Logos 1:96 h)
Team Logo Patches 156 New York Islanders 1996-97 (25th Anniversary) New York Islanders Anniversary 1:979 (Overall Team Logos 1:96 h)
Team Logo Patches 157 Philadelphia Flyers 2006-07 (40th Anniversary) Philadelphia Flyers Anniversary 1:979 (Overall Team Logos 1:96 h)
Team Logo Patches 158 Pittsburgh Penguins 1991-92 (25th Anniversary) Pittsburgh Penguins Anniversary 1:979 (Overall Team Logos 1:96 h)
Team Logo Patches 159 St. Louis Blues 1991-92 (25th Anniversary) St. Louis Blues Anniversary 1:979 (Overall Team Logos 1:96 h)
Team Logo Patches 160 Vancouver Canucks 1994-95 (25th Anniversary) Vancouver Canucks Anniversary 1:979 (Overall Team Logos 1:96 h)
Team Logo Patches 161 Vancouver Canucks 2010-11 (40th Anniversary) Vancouver Canucks Anniversary 1:979 (Overall Team Logos 1:96 h)
Team Logo Patches 162 Washington Capitals 1998-99 (25th Anniversary) Washington Capitals Anniversary 1:979 (Overall Team Logos 1:96 h)
Team Logo Patches 163 California Golden Seals 1967-68 to 1969-70 (Alternate) California Golden Seals Expansion/Post WW2 1:1,146 (Overall Team Logos 1:96 h)
Team Logo Patches 164 California Golden Seals 1974-75 to 1975-76 (Primary) California Golden Seals Expansion/Post WW2 1:1,146 (Overall Team Logos 1:96 h)
Team Logo Patches 165 Cleveland Barons 1976-77 to 1977-78 (Primary) Cleveland Barons Expansion/Post WW2 1:1,146 (Overall Team Logos 1:96 h)
Team Logo Patches 166 Colorado Rockies 1976-77 to 1981-82 (Alternate) Colorado Rockies Expansion/Post WW2 1:1,146 (Overall Team Logos 1:96 h)
Team Logo Patches 167 Colorado Rockies 1976-77 to 1981-82 (Script) Colorado Rockies Expansion/Post WW2 1:1,146 (Overall Team Logos 1:96 h)
Team Logo Patches 168 Los Angeles Kings 1967-68 to 1987-88 (Alternate) Los Angeles Kings Expansion/Post WW2 1:1,146 (Overall Team Logos 1:96 h)
Team Logo Patches 169 Pittsburgh Penguins 1968-69 to 1970-71 (Primary) Pittsburgh Penguins Expansion/Post WW2 1:1,146 (Overall Team Logos 1:96 h)
Team Logo Patches 170 Vancouver Canucks 1970-71 to 1977-78 (Alternate) Vancouver Canucks Expansion/Post WW2 1:1,146 (Overall Team Logos 1:96 h)
Team Logo Patches 171 Boston Bruins 1948-49 (Primary) Boston Bruins Expansion/Post WW2 1:1,146 (Overall Team Logos 1:96 h)
Team Logo Patches 172 Chicago Blackhawks 1955-56 to 1963-64 (Primary) Chicago Blackhawks Expansion/Post WW2 1:1,146 (Overall Team Logos 1:96 h)
Team Logo Patches 173 New York Rangers 1947-48 to 1952-53 (Primary) New York Rangers Expansion/Post WW2 1:1,146 (Overall Team Logos 1:96 h)
Team Logo Patches 174 Toronto Maple Leafs 1938-39 to 1962-63 (Primary) Toronto Maple Leafs Expansion/Post WW2 1:1,146 (Overall Team Logos 1:96 h)
Team Logo Patches 175 Toronto Maple Leafs 1938-39 to 1962-63 (Secondary) Toronto Maple Leafs Expansion/Post WW2 1:1,146 (Overall Team Logos 1:96 h)
Team Logo Patches 176 Toronto Maple Leafs 1966-67 to 1969-70 (Primary) Toronto Maple Leafs Expansion/Post WW2 1:1,146 (Overall Team Logos 1:96 h)
Team Logo Patches 177 Boston Bruins 1932-33 to 1933-34 (Primary) Boston Bruins Pre-WW2 1:1,973 (Overall Team Logos 1:96 h)
Team Logo Patches 178 Boston Bruins 1934-35 to 1947-48 (Primary) Boston Bruins Pre-WW2 1:1,973 (Overall Team Logos 1:96 h)
Team Logo Patches 179 Chicago Blackhawks 1937-38 to 1954-55 (Primary) Chicago Blackhawks Pre-WW2 1:1,973 (Overall Team Logos 1:96 h)
Team Logo Patches 180 Detroit Red Wings 1934-35 to 1947-48 (Primary) Detroit Red Wings Pre-WW2 1:1,973 (Overall Team Logos 1:96 h)
Team Logo Patches 181 Hamilton Tigers 1923-24 to 1924-25 (Primary) Hamilton Tigers Pre-WW2 1:1,973 (Overall Team Logos 1:96 h)
Team Logo Patches 182 Montreal Canadiens 1922-23 to 1924-25 (Primary) Montreal Canadiens Pre-WW2 1:1,973 (Overall Team Logos 1:96 h)
Team Logo Patches 183 Montreal Canadiens 1924-25 (Alternate) Montreal Canadiens Pre-WW2 1:1,973 (Overall Team Logos 1:96 h)
Team Logo Patches 184 Montreal Canadiens 1935-36 to 1946-47 (Primary) Montreal Canadiens Pre-WW2 1:1,973 (Overall Team Logos 1:96 h)
Team Logo Patches 185 New York Americans 1935-36 to 1938-39 (Primary) New York Americans Pre-WW2 1:1,973 (Overall Team Logos 1:96 h)
Team Logo Patches 186 New York Americans 1939-40 to 1940-41 (Primary) New York Americans Pre-WW2 1:1,973 (Overall Team Logos 1:96 h)
Team Logo Patches 187 Toronto Maple Leafs 1927-28 to 1937-38 (Secondary) Toronto Maple Leafs Pre-WW2 1:1,973 (Overall Team Logos 1:96 h)
Team Logo Patches 188 Toronto St. Pats 1926-27 (Primary) Toronto St. Pats Pre-WW2 1:1,973 (Overall Team Logos 1:96 h)
Team Logo Patches 189 Brooklyn Americans 1941-42 (Primary) Brooklyn Americans Pre-WW2 Season One 1:5,074 (Overall Team Logos 1:96 h)
Team Logo Patches 190 Detroit Cougars 1926-27 (Alternate) Detroit Cougars Pre-WW2 Season One 1:5,074 (Overall Team Logos 1:96 h)
Team Logo Patches 191 Detroit Falcons 1930-31 to 1931-32 (Primary) Detroit Falcons Pre-WW2 Season One 1:5,074 (Overall Team Logos 1:96 h)
Team Logo Patches 192 Montreal Wanderers 1917-18 (Primary) Montreal Wanderers Pre-WW2 Season One 1:5,074 (Overall Team Logos 1:96 h)
Team Logo Patches 193 Philadelphia Quakers 1930-31 (Primary) Philadelphia Quakers Pre-WW2 Season One 1:5,074 (Overall Team Logos 1:96 h)
Team Logo Patches 194 Pittsburgh Pirates 1925-26 to 1927-28 (Primary) Pittsburgh Pirates Pre-WW2 Season One 1:5,074 (Overall Team Logos 1:96 h)
Team Logo Patches 195 Pittsburgh Pirates 1925-26 to 1927-28 (Alternate) Pittsburgh Pirates Pre-WW2 Season One 1:5,074 (Overall Team Logos 1:96 h)
Team Logo Patches 196 Toronto St. Pats 1919-20 to 1921-22 (Primary) Toronto St. Pats Pre-WW2 Season One 1:5,074 (Overall Team Logos 1:96 h)
Team Logo Patches 197 Columbus Blue Jackets 2000-01 to 2003-04 (Cartoon) Columbus Blue Jackets Cartoons 1:17,760 (Overall Team Logos 1:96 h)
Team Logo Patches 198 Hamilton Tigers 1921-22 to 1922-23 (Cartoon) Hamilton Tigers Cartoons 1:17,760 (Overall Team Logos 1:96 h)
Team Logo Patches 199 Los Angeles Kings 1995-96 (Cartoon) Los Angeles Kings Cartoons 1:17,760 (Overall Team Logos 1:96 h)
Team Logo Patches 200 Phoenix Coyotes 1996-97 to 2002-03 (Cartoon) Phoenix Coyotes Cartoons 1:17,760 (Overall Team Logos 1:96 h)